It's incredible to think that it is nearly 6 years ago that I began my cycling trip from Alaska to Argentina! That journey took me 18 months to complete, and I passed through many interesting areas along the way. One area which stood out for me, was California. So, when I was asked if someone could guest post about California on Dave's Travel Pages, I looked forward to reading it! And, after I did so, I realised that I had cycled through California far too quickly. I missed so much! I will take my time the next time I cycle there!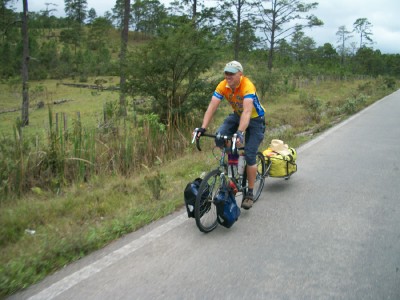 Top 6 Attractions Not to Miss in California
With its gazillion dramatic landscapes, man-made attractions and natural playgrounds, California attracts visitors from all over the globe. It is only in this state where you can experience stunning coastal dives, a lake that provides fun all year round, shows of killer whales, a forest hosting the world's tallest trees, and magical theme parks. Also, there are many options for accommodation including the Bluegreen Resorts where you can stay during your trip. Check out the following list of the top attractions in the Golden State.
1. Redwood National Park
The Redwood National Park offers more than tall trees. In this vast woodland, rivers, and astounding coastline, you can indulge in a broad range of fun outdoor activities. There are guided tours, fascinating walks and nature programs offered in several visitors' centers. These activities include horse riding, mountain biking on well-kept trails, kayaking down rivers, fishing for rainbow trout and salmon. Routes with beautiful scenes enable the visitors to admire waterfalls and wildlife, and amazing redwood trees as they drive on the coastline.
2. Seaworld San Diego
Seaworld, situated in the sunny San Diego, is characterized by marine animals, live shows, and daring rides. Here you can learn about the world's oceans and their creatures such as the polar bears, killer whales, penguins, dolphins, and walruses. The rides include rafting through the Shipwreck Rapids, a flume roller coaster, and a simulated chopper ride to give you an experience of the Wild Arctic. However, the main attraction in Seaworld is the Shamu Show; these are talented performances and dancing fountains by killer whales.
3. General Sherman
General Sherman is a huge sequoia found in the Giant Forest located in the Sequoia National Park, California. This is one among the largest trees in the globe. Five among the ten largest trees in the world are found in this forest. General Sherman, towering 257 feet, is the largest among them all. This tree is thought to be aged between 2,300 and 2,700 years old.
4. Venice Beach
The Venice Beach is among Los Angeles' most renowned beaches. One of the attractions in this area is the three-mile-long sandy beach. During weekends and in the summer, the Ocean Front Walk becomes a hive of street performances and activities such as swimming, biking, sunbathing, roller-skating, and people watching. The Muscle Beach is a special section on the Venice Beach where bodybuilders publicly display their strength.
5. Dante's View-Death Valley
Dante's View is a high point on top of the Black Mountains. It is a terrace offering spectacular views of the Death Valley. This unique valley houses the Badwater Basin, the lowest point in North America. It is also the hottest and driest place in North America. The temperature in the Furnace Creek once reached 134 degrees Fahrenheit. Since these temperatures can be extremely high, it is recommended for travelers to visit Dante's Valley in the early hours of the morning. On a clear day, when you visit Dante's Valley, you can see the highest point in the US, Mt. Whitney, and the lowest point, Badwater Basin
6. Disneyland
Disneyland is a world-renown amusement park located in Anaheim. Here, Walt Disney's characters and movies come alive in a dumbfounding make-believe kingdom. The attractions in Disneyland include dazzling shows, thrilling rides, roller coasters, and colorful districts with an abundance of shops and restaurants. Disneyland has an adventure that is suitable for people of all ages. In themed neighborhoods such as the Main Street, you can travel back in time to the early 1900s; meet characters such as Donald Duck, Mickey Mouse, and Goofy, in Mickey's Toontown. You can also visit Tarzan's Treehouse in an area known as Adventureland.
If you are looking for adventure, whether you are traveling alone, or together with your family, California is the place to go. Here you will enjoy great moments sunbathing on the beach, or wandering in a forest with the tallest trees in the world. You can also cycle of course!
There is a range of accommodation to choose from in California, and one example is Bluegreen Resorts. Thank you very much for bringing back many happy memories of cycling through California! You can read more about my cycling adventures in California here >> Cycling Pan-American Highway and here >> Cycling from the US and into Mexico.