It's time to celebrate a blogiversary everyone – Dave's Travel Pages is 10 years old today! It's amazing to think that this time 10 years ago, I was backpacking around Central and South America, and came up with the crazy idea to start a travelogue. Well, that's what I called it back then, because the term travel blog wasn't really used to the degree that it is now. In fact, Dave's Travel Pages could very well be one of the oldest, continuous travel blogs on the internet. How's that for a claim to fame!
Dave's Travel Pages – 10 Years Online
I originally set Dave's Travel Pages up as a way for family and friends to keep track of my adventures around the world. All I was really doing, was transferring the diary entries from my Moleskine Diary (the best!) along with a few photos whenever I had internet access.
I never even thought I would celebrate a 2nd year blogiversary, let alone a 10th!
As time went on though, more and more people started finding the blog. They would ask for information on some of the places I had visited, and I would answer by email.
I soon recognised that it might be good to put a few 'travel tips' style articles on the site, so that some of the answers could be more easily found. This was the transformation from travelogue to travel blog.
10 Year Blogiversary – Recap Time!
Time flies when you are having fun and all that, but really, where did the time go? What has happened over the last 10 years at Dave's Travel Pages? This post then is a recap of the places I have visited over the last 10 years, as way of celebrating the blogiversary.
So 2005 – This year saw me backpacking through Central and South America.
Mexico
I started my trip off in Mexico, and visited places such as Teotihuacan, Palenque and Monte Alban. I have to say that Teotihuacan was an amazing place, and I hope to visit there again one day. You can read more about that part of my adventure here >> Teotihuacan and Mexico
Leaving Mexico, I then crossed into Belize. I found this to be an intriguing little country, and as well as some beach time, I swam with some stingrays and sharks, and visited the amazing ATM cave. >> Belize
Guatemala
From Belize, I headed into Guatemala, a country I would visit a few years later on my bicycle. This is my travelogue entry from 2005 though >> Guatemala
I did also head to Honduras, but a lack of diary entries or photographs means there is no blog post from that time! See, I tend to keep a travel blog as much so I can remember what I have done than anything else.
The next recorded entry was in>>> Ecuador
Peru
From Ecuador, I travelled into Peru, which I have to say is one of my favourite countries. I've thoroughly enjoyed my times spent there, and on this occasion, got to see the awe inspiring Nazca lines >> Peru
And if Peru wasn't a treat enough, the next place would be >>> Easter Island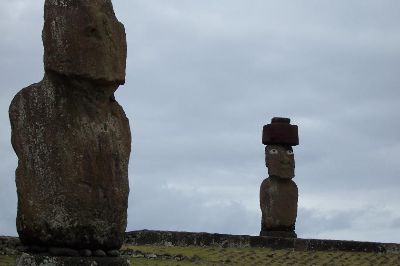 That is definitely another place that I want to visit again. Perhaps I will return for my 20 year blogiversary.
Bolivia
After a week in Easter Island, it was time to head on to Bolivia. This is another fascinating country that I again returned to during my long distance cycling tour from Alaska to Argentina. To read the backpacking travelogue entry though, click here >> Bolivia
And after leaving Bolivia, it was time to head back into Peru for the last time. >> Peru (again!)
I really enjoyed my 2005 travel adventures, but found there was something lacking. The backpacking scene was getting a bit samey, and it wasn't exactly breaking new ground. Perhaps it was the lack of a bicycle? I had ridden around New Zealand a few years before, and it was a brilliant way to travel. Should I do it again?
Cycling England to South Africa
Of course I should! I immediately started saving for my next trip, which was to cycle from England to South Africa!
In 2006, I started a 10 month cycling expedition from England to Cape Town. This trip would see me pass through countries such as Syria, Sudan and Ethiopia as I pedalled my way towards Cape Town. It was an amazing journey, and one which made memories that will stick with me forever. I have a lot of travel blog entries from that time, but I recently wrote a summary which you can read here >> Cycling from England to South Africa
Cycling Alaska to Argentina
Now, I suppose at this point, any normal person would have been satisfied with the amount of travelling they had done, and decided it was time to settle down. Not me though. I had actually started planning the next cycling adventure before I had reached Cape Town! This time, I decided I wanted to cycle from Alaska to Argentina! >> Cycling from Alaska to Argentina
I began this cycling tour in July of 2009, and finished in February 2011. From frozen tundras to rain forest, and desert to mountains, I road my bike the length of the Americas. I even cycled across a salt pan along the way!
And then…
After this trip I returned to the UK in 2011, and began saving for my next long distance cycling expedition. This time, I wanted to cycle around the world, and intended to go for four or five years. It would involve a lot of planning and saving of course, and so I aimed to leave in 2015. During this time a blogiversary or two came and went, and I began to focus my travel blog on the bicycle touring niche, and started creating articles around the subjects that I thought people would be more interested in. I also undertook several smaller trips, such as sailing from Malta to Sicily (originally supposed to be to Tunisia), and cycling the fens region of England. Everything was going well, and I was preparing to countdown to my cycling journey around the world when … … Well, as regular visitors may know, I met a girl and moved to Greece in February 2015!
So, what for Dave's Travel Pages now?
In a way, I am using this blogiversary as a way of looking back over my past travels, and seeing how the site has developed. It has been a continuous process, and so perhaps its next evolution will be to focus on Athens and Greece in general for a while. Who knows? In the mean time, I will continue to write bicycle touring focused blog posts until I decide which direction to take it. Whatever I choose, I hope to see you in 10 years time for the 20th blogiversary!