This collection of inspiring travel quotes is just the thing you need to start planning your next trip or vacation! Here's 50 of the best inspirational quotes about travel.
Inspirational Travel Quotes
Nothing quite beats a good travel quote to get the imagination fired up as you plan your next trip. Whether it's a family vacation to Greece or epic bike touring adventure, these quotes will help.
We've pulled together 50 inspiring travel quotes, and matched them with gorgeous images. They'll look great on your Pinterest collection or vision board!
50 Inspiring Travel Quotes
Travel is all about pushing new boundaries, and learning new things. Often times, the things you learn when traveling are as much about yourself as the world around you!
Some of these quotes come from movies about travel. Others are from books.
Here's our first 10 inspiring quotes:
---
"Man cannot discover new oceans unless he has the courage to lose sight of the shore."
– Andre Gide
---
"Life is either a daring adventure, or nothing at all"
– Helen Keller
---
"I am not the same, having seen the moon shine on the other side of the world."
– Mary Anne Radmacher
---
"Don't tell me how educated you are, tell me how much you have travelled."
– Mohammed
---
"Travel is fatal to prejudice, bigotry, and narrow-mindedness."
– Mark Twain
---
"Surely, of all the wonders of the world, the horizon is the greatest."
– Freya Stark
---
"Life is meant for good friends and great adventures"
– Anonymous
---
"A good traveler has no fixed plans, and is not intent on arriving."
– Lao Tzu
---
"There are no foreign lands. It is the traveler only who is foreign"
– Robert Louis Stevenson
---
"The world is a book, and those who do not travel read only one page."
– Saint Augustine
---
Inspirational Quotes About Travel
Some of these famous travel quotes apply as much to other areas of our life as to travel. Well, they do say that life is a journey after all!
Here's the next 10 quotes in our inspiring travel collection.
"Once a year, go somewhere you have never been before."
– Dalai Lama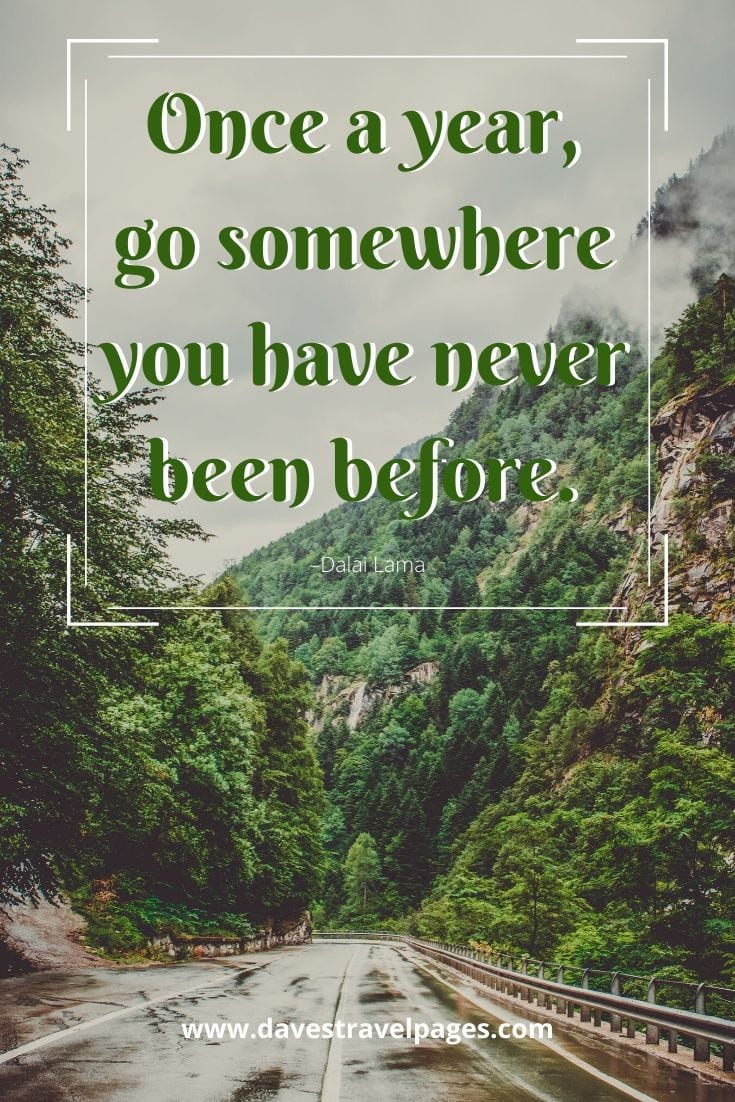 ---
"I haven't been everywhere, but it's on my list."
– Susan Sontag
---
"Two roads diverged in a wood, and I – I took the one less traveled by"
—Robert Frost
---
"A journey is best measured in friends, rather than miles."
–Tim Cahill
---
16. "Wherever you go becomes a part of you somehow."
– Anita Desai
---
"Don't listen to what they say. Go see."
---
"Take only memories, leave only footprints."
– Chief Seattle
Related: Seattle Instagram Captions
---
"Blessed are the curious for they shall have adventures."
– Lovelle Drachman
---
21. "We wander for distraction, but we travel for fulfilment."
— Hilaire Belloc
---
Short Travel Quotes
Why do we like to travel? Is it something deep down inside us that remains from our nomadic hunter gatherer days? Is it just that work sucks, and we like to get away from it?!
Here's the next 10 quotes that will inspire and motivate you to start planning your next trip!
---
"For my part, I travel not to go anywhere, but to go. I travel for travel's sake. The great affair is to move."
– Robert Louis Stevenson
---
"I'm in love with cities I've never been to and people I've never met."
― Melody Truong
---
"This wasn't a strange place; it was a new one."
– Paulo Coelho
---
"If we were meant to stay in one place, we'd have roots instead of feet"
– Rachel Wolchin
---
"Once the travel bug bites there is no known antidote, and I know that I shall be happily infected until the end of my life."
– Michael Palin
---

"Wanderlust:

n. a strong desire for or impulse to wander or travel and explore the world"
---
"We travel for romance, we travel for architecture, and we travel to be lost."
– Ray Bradbury
---
"Twenty years from now you will be more disappointed by the things you didn't do than by the ones you did."
― Mark Twain
---
"People don't take trips, trips take people."
– John Steinbeck
---
"If you think adventure is dangerous, try routine. It's lethal."
– Paulo Coelho
---
Famous Travel Quotes
Have you got a favourite travel quote from this collection yet? We love the Mark Twain ones, but Paulo Coelho also as some insightful remarks.
Here's the next 10 in our collection of inspiring travel quotes. We hope you enjoy them!
---
"Travel is never a matter of money but of courage."
– Paulo Coelho
---
"The real voyage of discovery consists not in seeking new landscapes, but in having new eyes."
– Marcel Proust
---
"I travel because it makes me realize how much I haven't seen, how much I'm not going to see, and how much I still need to see."
– Carew Papritz
---
"A ship in harbor is safe, but that is not what ships are built for."
– John A. Shedd
---
"Jobs fill your pocket, but adventures fill your soul."
– Jamie Lyn Beatty Thi
---
"It feels good to be lost in the right direction"
---
"One's destination is never a place, but a new way of seeing things."
– Henry Miller
---
"Traveling – it leaves you speechless, then turns you into a storyteller."
– Ibn Battuta
---
"Travel far enough, you meet yourself."
― David Mitchell
---
"To travel is to discover that everyone is wrong about other countries."
– Aldous Huxley
---
More Travel Captions
Here's our final selection of travel quotes in this collection. If you'd like to see more of our quotes collections, you'll find links at the end of the post.
Interested in planning a vacation in Greece? Dave's Travel Pages is the number one travel blog for Greece! Just use the menus or search box at the top of the page and look for guides to Greek Islands, Athens and more!
---
"A journey of a thousand miles begins with a single step"
– Lao Tzu
---
"Do you really want to look back on your life and see how wonderful it could have been had you not been afraid to live it?"
– Caroline Myss
---
"Travel is the only thing you buy that makes you richer."
– Anonymous
---
"Because in the end, you won't remember the time you spent working in the office or mowing your lawn. Climb that goddamn mountain."
― Jack Kerouac
---
"Travel makes one modest. You see what a tiny place you occupy in the world."
– Gustave Flaubert
---
"Live life with no excuses, travel with no regret"
– Oscar Wilde
---
"We travel not to escape life, but for life not to escape us."
– Anonymous
---
"I always wonder why birds choose to stay in the same place when they can fly anywhere on earth, then I ask myself the same question."
–Harun Yahya
---
"Actually, the best gift you could have given her was a lifetime of adventures."
–Lewis Carroll, Alice in Wonderland
---
"Fill your life with experiences, not things. Have stories to tell, not stuff to show."
–Unknown
Also read: 100+ Captions About Athens
---
Inspiring Travel Sayings and Quotes
If you'd like to see more inspirational quotes about travel, take a look at our other collections below: