There are 4 ferries per week sailing from Paros to Donoussa in Greece during the summer months, with the quickest ferry taking just 2 hours and 15 minutes to reach Donoussa from Paros.
Donoussa island in Greece
I'll let you in to a secret – tiny Donoussa is one of my favourite islands in the Cyclades of Greece!
It's a perfect Greek island getaway, with lovely beaches, great food, and a relaxed atmosphere.
If you're feeling overwhelmed with the amount of tourists on Paros, Donoussa is a good choice of an island to visit after.
The beaches are 100 times better too!
There are no flights between Paros and Donoussa, so if you want to go there next, you'll need to take a ferry.
Paros to Donoussa ferries
During the peak travel season (May through to September), there may be up to 4 ferries per week from Paros to Donoussa. These ferries to Donoussa from Paros are operated by Blue Star Ferries and SeaJets.
The quickest crossing from Paros going to Donoussa takes around 2 hours and 15 minutes. The slowest ferry boat sailing to Donoussa from Paros island takes around 3 hours and 50 minutes.
If you want more flexibility on your travel days, you could try first taking a ferry from Paros to Naxos, and then a ferry from Naxos to Donoussa. This would take longer in terms of total travel time, but you may be able to get from Paros to Donoussa on every day of the week using this method.
Check out Ferryhopper for Greek ferry tickets and up to date timetables for direct and indirect Paros Donoussa ferries.
Donoussa Island Travel Tips
A few travel tips for visiting the Greek island of Donoussa:
---
---
---
---
---
---
---
How to go to from Paros to Donoussa FAQ
Readers sometimes ask these question about traveling to Donoussa from Paros include:
How do you get to Donoussa island?
You can only reach Donoussa by ferry. There are direct ferries from Piraeus Port in Athens to Donoussa, and there are also many inter-island connections with Donoussa from other islands in the Cyclades.
How can you get to Donoussa from Paros?
The only way to travel from Paros to Donoussa is by using a ferry. There are up to 4 ferries per week sailing to the island of Donoussa from Paros during the summer months.
Is there an airport on Donoussa?
The small Cyclades island of Donoussa does not have an airport. The nearest island with an airport is Naxos, which has regular flights to and from Athens.
How many hours is the ferry from Paros to Donoussa?
The ferries to Donoussa island from Paros take between 2 hours and 15 minutes and 3 hours and 50 minutes. Ferry operators on the Paros Donoussa route may include Blue Star Ferries and SeaJets.
Where can I buy tickets for the ferry to Donoussa?
Ferryhopper is perhaps the easiest site to use when it comes to booking Ferry tickets online. I think it's better that you book your Paros to Donoussa ferry tickets in advance, but you could also use a local travel agency in Greece.
---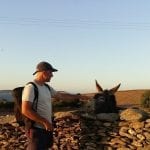 –
Dave Briggs
Dave is a
travel writer
who has been living in Greece and writing about the country since 2015. In addition to creating this guide to ferries from Paros to Donoussa, he's written hundreds more guides to other destinations in Greece. Follow Dave on social media for travel inspiration from Greece and beyond: