The Thermae Sylla Spa Wellness Hotel is located in Edipsos, on the island of Evia in Greece. Just 3 hours drive from Athens, it's a perfect spa weekend retreat!
Dave and a spa weekend? I will be the first to admit that it sounds an odd mix at first! For someone that prefers to cycle around the world, wild camp, and generally be adventurous, a spa weekend retreat in Greece is not a natural connection!
Still, there's a first time for everything, and so I thought why not!
Thermae Sylla Spa and Wellness Hotel in Greece
First things first… I live (or at least did live when this blog post was written), in Athens, Greece. During this time, I've been invited by a few companies to either try their tours, or in this case enjoy a spa weekend at a hotel.
I've never been at a spa resort before, so I decided to give it a try. What was there to lose?
And I have to say, I really enjoyed the experience at the Thermae Sylla Spa Wellness Hotel!
About Thermae Sylla Spa and Wellness Hotel
The thermal springs on which the hotel is built, have been recognised for their healing properties for thousands of years. In fact, the hotel takes its name from a Roman General called Sulla who was cured here in around 83BC.
Today, the Thermae Sylla Spa and Wellness Hotel is a large, renovated complex which surrounds a central pool. Access to different parts of the hotel, can be made via a series of underground tunnels, which is pretty cool!
The thermal waters provide the basis for the luxury spa treatments at the hotel, but there are many other therapies available, such as mud baths, reflexology, and more.
When we were shown around, our guide made a point of saying that this is a spa with hotel facilities, rather than a hotel with spa facilities.
Everything that I saw confirmed this, so if you are visiting Greece, and are looking for a 5 star spa retreat, you should put the Thermae Sylla Spa at the top of your list!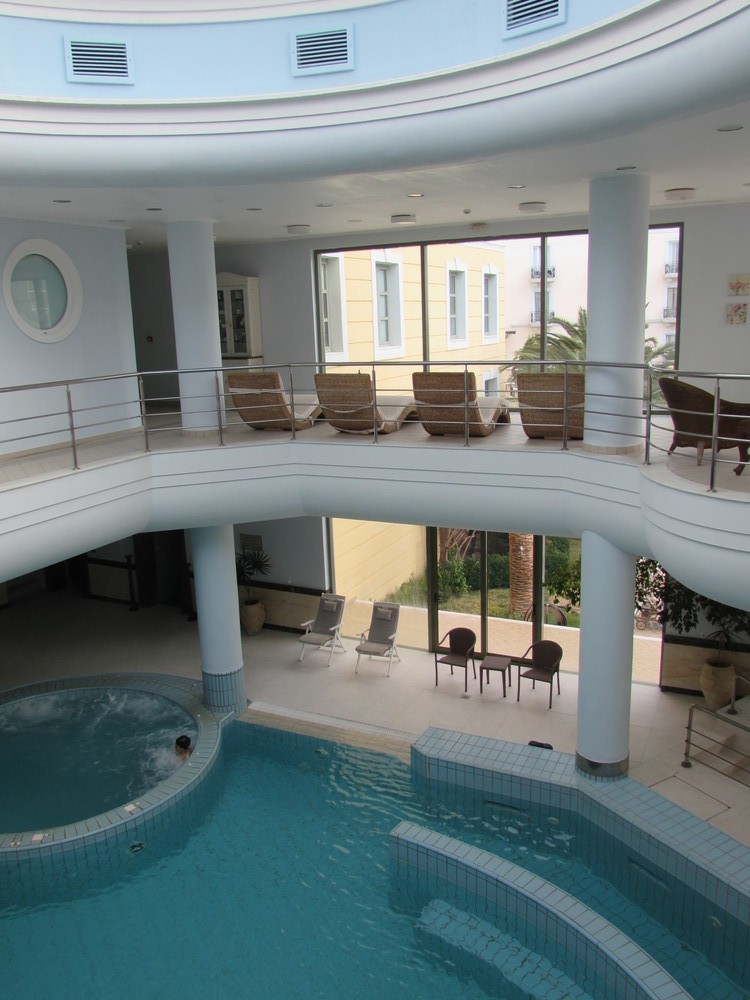 Curious Note – I have always considered 5 star spa resorts to be associated with people who just want to get away from things, and enjoy being pampered for a while.
To me, age is not a factor. In Greece, however, spa treatments are associated with the elderly. Apparently, this is because it used to be common practice for doctors to prescribe thermal therapy cures for elderly patients.
My experience during our time at Thermae Sylla led me to believe this would appeal to anyone looking to get away from things, de-stress, and relax. And isn't that everyone to a certain extent?
So I say to my Greek readers, don't knock it until you've tried it! A luxury spa weekend is great for mind, body, and soul, no matter what your age!
Thermae Sylla Spa and Wellness Hotel Review
On to the hotel and spa review itself then. The short answer, is that I enjoyed my spa weekend at Thermae Sylla Spa and Wellness Hotel, but I suspect that you are after a little more information than that!
So, I have broken it down into sections, together with the things I liked, and aspects I felt could be improved upon. I have also added a short conclusion at the end.
Hotel – The hotel is a huge complex, very well maintained, clean and tidy. In addition to the spa facilities which I will mention below, there is a main dining room, side dining room, bar, and reception. Just opposite the underground car park, there is also a games room with a selection of table games.
The guest rooms were large, with all the amenities you would expect from a five star hotel, such as free WiFi, cable TV, room safe, large bathroom etc.
Two things I would have done to improve the rooms, would have been to install more electrical sockets, and to also have more room for swimming clothes to dry.
Spa – The thermal waters feed an indoor spa pool, and an outdoor pool which is mixed 50% with salt water. Around the indoor spa pool, are saunas and a hamam.
On the floor above, are the spa treatment rooms, where all manner of healthy and beauty therapies are available. Mud baths, reflexology, massage, inhalation therapy… the list goes on!
Whilst I didn't try any myself, the Mrs enjoyed her reflexology session.
Food – Breakfast and lunch were a buffet style arrangement. Having stayed in quite literally hundreds of hotels over the years, I know full well that the quality of the food at a buffet depends a lot on how well you time your arrival there.
Get there as the food is fresh and hot, and it's perfect. Arrive at the buffet at the wrong time though, and it will seem a little cold or bland. We timed our arrival to the buffets great for both breakfast and lunch, so it wasn't an issue.
The evening meal was taken from a set menu, where we were given a choice of three main courses. The dinner on our last night at the Sylla Spa and Wellness Hotel was excellent.
Conclusion
I think the reason I enjoyed my weekend spa break at the Thermae Sylla Spa and Wellness Hotel in Edipsos, was mainly due to the understated nature of its five star rating.
I didn't feel like I was out of place, and all the staff were super friendly, polite and helpful. I felt comfortable and relaxed from the moment I arrived, up until the point I had to leave again.
A very relaxing break, and one which I recommend to anyone who is looking to get away from things for a few days, chill, and unwind.
Further Reading on Greece