If you're looking for travel captions to use on Instagram or Pinterest, you'll love these! We've put together 50 of the best captions about travel for inspiration.
Travel Quotes and Captions
This list of 50 great wanderlust quotes will make anyone want to travel! Whether you're reading these in an office cubicle, college room, or on a phone, they'll have you dreaming of faraway places.
Here's a list of the best travel captions and quotes for inspiring your next adventure. From vacation-inspiring captions to travel quotes by philosophers and writers, there's something here for everyone!
Top 50 Travel Captions
Here's our favourite 50 travel quotes paired with beautiful images. We hope you like these inspiring travel captions as much as we do!
"I'm Havana great time."
---
"It's rude to leave a vacation waiting."
---
"Traveling like a first class chick on an economy budget."
---
"This is my resting beach face."
---
"Travel, because money returns. Time doesn't."
---
"Now is the time to seas the day."
---
"I'm in a complicated relationship with my suitcase."
---
"Let's taco 'bout these lunch views."
---
"Lost at sea? I'm not shore."
---
"Having to unpack my suitcase after vacation is like the ultimate emotional baggage."
---
Travel Slogans
"I'm a succa for nature."
---
"In travel mode. Do not disturb."
---
"Don't know where to go? Just wing it."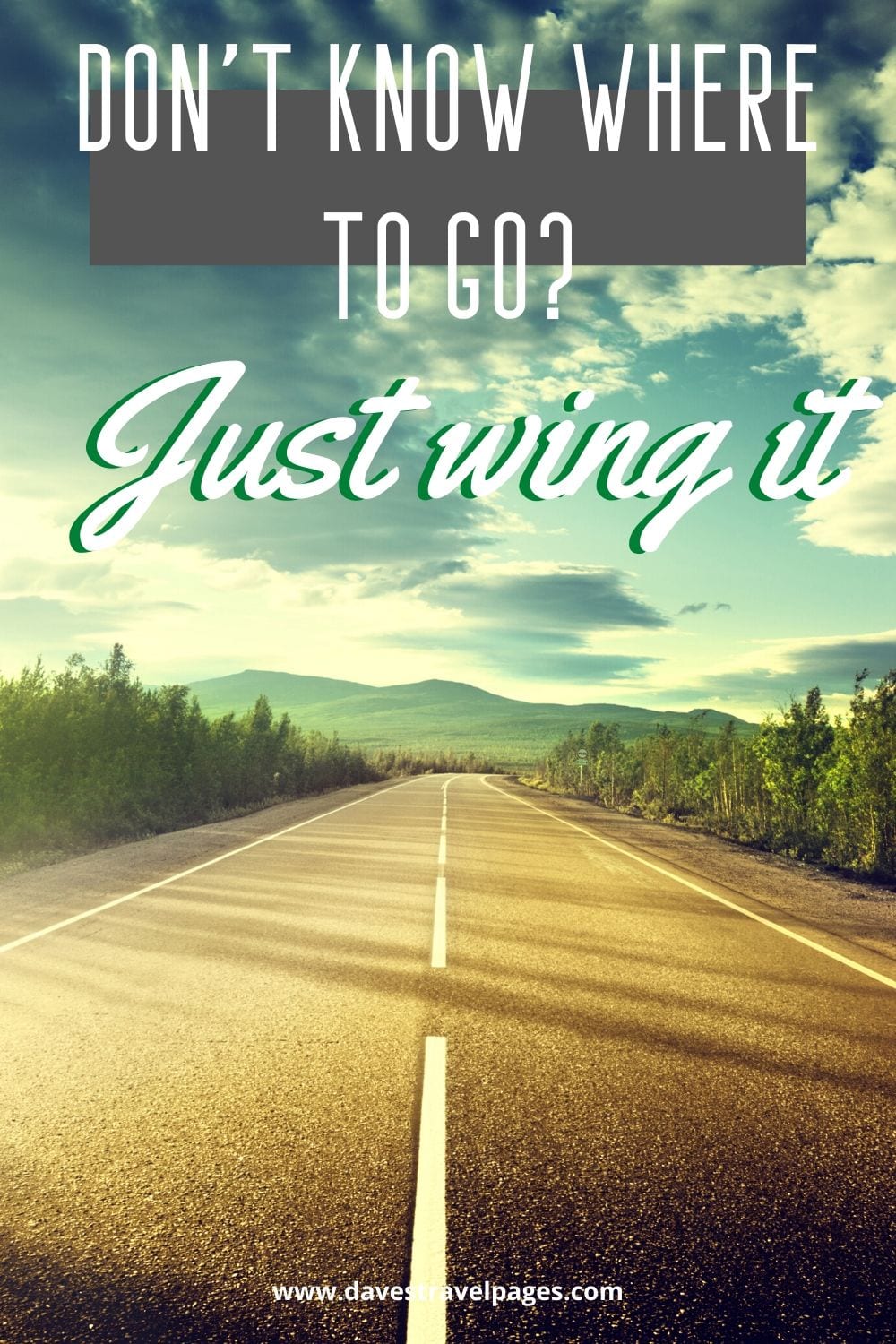 ---
"Peace out, beaches."
---
"Having suite dreams."
---
"I'm free to Rome in Italy."
---
"Thanks for your message, but I am currently OOO."
---
"Nothing about this trip is plane."
Also read: Advantages and Disadvantages of Traveling by Plane
---
"Alexa, play the piña colada song."
---
"Maybe she's born with it. Maybe it's maple leaves."
---
Travel Captions For Instagram
Here's our next selection of travel slogans and phrases. Are you in the mood to hit the beach yet?!
"I'm getting used to wearing flip flops everywhere. It's a dangerous place to be. Next thing you know, I'm gonna show to a board meeting in sandals."
---
"Get ready, (jet)set, and go."
---
"May the forest be with you."
---
"I want someone to look at me the way I look at a travel brochure."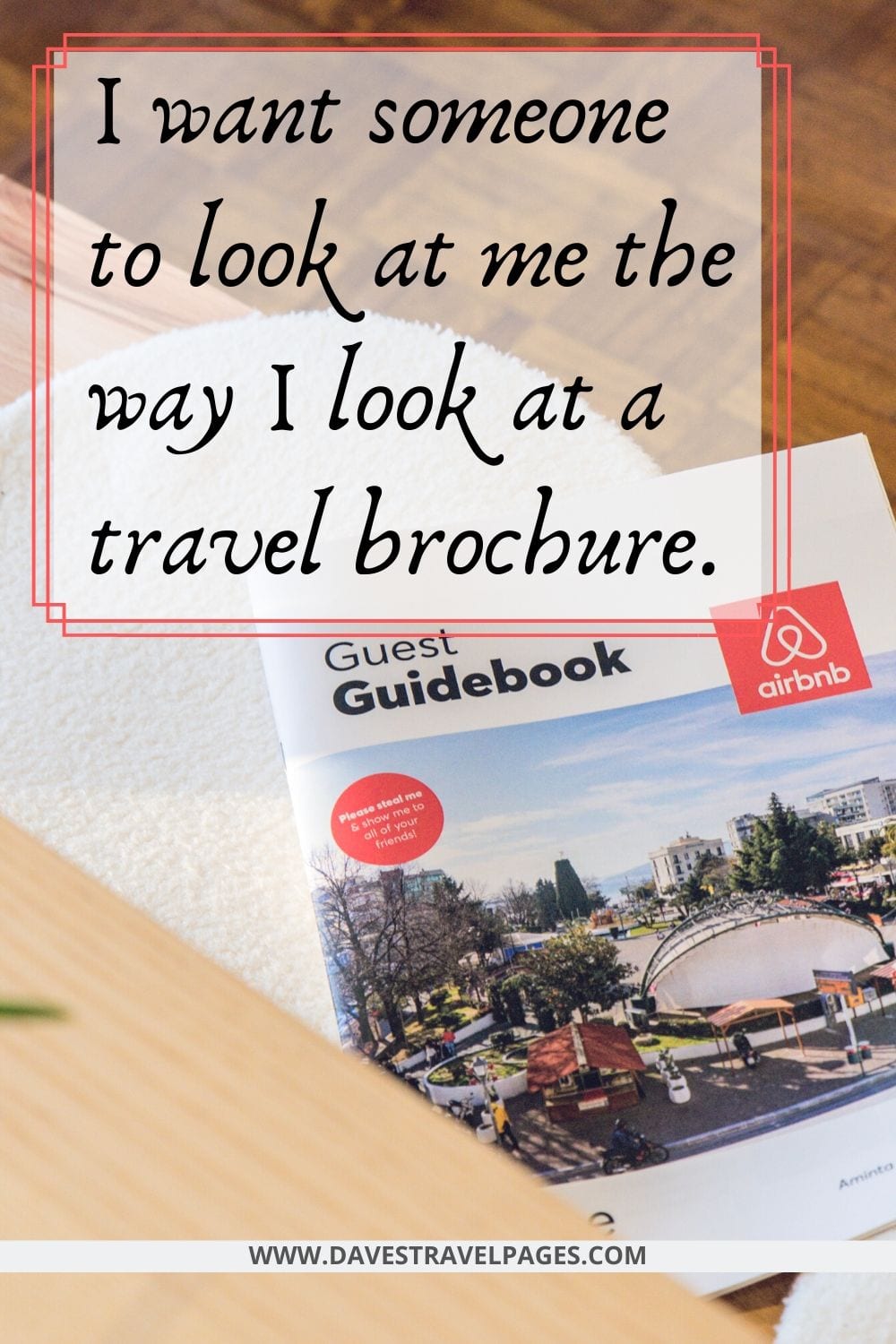 ---
"Jet lag is for amateurs." — Dick Clark
---
"What did the river say to the hiker with the clunky boots? WATER THOSE?!"
---
"Vacation mood: on."
---
"Keep palm and carry on."
---
"Someone told me to 'take a hike,' so I did."
---
"If traveling was free… bye."
---
Adventure Captions
We love these fun and playful captions about adventure and travel. Just the thing to get you in the mood to book your next vacation!
Haven't planned one yet? Check out my travel guides to Greece!
"Girls just wanna have sun."
---
"Work, save, travel, repeat."
---
"Sorry if you can't keep track of where I am, I'm too busy wanderlusting."
---
"You don't like the outdoors? Unbe-leaf-able."
---
"No WiFi out here, but I found a better connection."
---
"Sandy hair, kind of care. Actually, nvm, I don't care."
---
"I fernly beleaf my tree puns are qualitree."
---
"Shell yeah."
---
Tropic like it's hot.
---
Are you oakay? Yes, I'm pine. Why woodn't I be?
---
Journey Captions
This is our last section of travel captions. If you're looking for even more travel inspiration, you'll find a list of our other top travel quotes.
Pics or it didn't happen.
---
Set out of your door and go make some unforgettable memories.
---
Get up, breathe, relax, rejuvenate, this is what holidays are all about.
---
Live today like there will be no tomorrow.
---
Dance, Swirl, Twirl, Curl, Sway coz you're on Holiday!
---
Just Relax!
---
While Travelling, Life happened to me.
---
You're free to roam around the world. Just get out of your comfort zone.
---
Escape to release the toxins inside!
---
The world is a blank canvas for me which I plan to paint with my lens.
Travel Slogan Ideas
If you work in the tourism industry for a travel agency or other travel business, you might have arrived here looking for catchy travel slogans.
Here's some slogans and taglines to do with travel that you might want to use for your travel company in advertising or promotions:
Adventure Awaits
Take A Daring Adventure
See the world
Vacation Mode Activated!
I feel like I'm on top of the world!
Don't know where to go? Just wing it.
I'm free to Rome in Italy.
It's a big world out there. Go explore.
Make memories all over the world!
Love the outdoors? The camping Instagram captions are just for you!
Travel Agency Slogans FAQ
If you're brainstorming some slogans for travel, ask yourself some of the following questions, and see if the answers you come up with, combined with our own, help you out.
What's a good travel slogan?
Some of the best travel slogans include: Travel more, create more memories. Adventure Awaits. Travel the world. Travel to live, Live to travel. Travel to make memories all around the world.
What are tourism slogans?
You could use any of these as a good example of a catchy travel slogan: Book A Ticket And Just Leave. Find New Possibilities. Happiness Is Travelling. Escape Completely.
How do I come up with a catchy travel slogan?
Keep it brief and straightforward. Concentrate on what distinguishes you. Be consistent in your message. Make it endure for eternity. A slogan should be marketed as a one-stop shop. Consider your target audience when developing a slogan. Make it relevant and memorable to them.
---
More Travel Captions for Instagram and Pinterest
You might also like to check out these other travel quote collections for even more inspiration!
[one-half-first]
[/one-half-first]
[one-half]
[/one-half]