This Ultimate Guide to Athens reveals the best of the city. From where to stay near the Acropolis, to sightseeing in Athens, this Athens guide helps you plan the perfect city break.
Explore Athens when you Visit Greece
Athens is the capital and largest city of Greece. It is one of the world's oldest cities, and with a population of over 3 million, it is also one of the largest metropolitan areas in Europe. Situated in the Attica region on the Saronic Gulf, Athens has been continuously inhabited for more than 3,000 years.
Named after the Greek Goddess Athena, its long history has influenced Western Civilization in fields such as philosophy, mathematics, and the arts. The ancient sites of Athens such as the Acropolis and world class museums such as the National Archaeological Museum make it a must-see destination for a history buff.
If you're planning on spending time in Athens when you visit Greece, this guide has all the information you need.
Related: What is Athens known for?
Athens Trip Planner
I've been living in and writing about Athens for over 8 years now. During this time, I've created a lot of travel guides for Athens!
To make finding it all easier, I created this Ultimate Guide to Athens. Hopefully this can help you plan the perfect trip to Athens.
The idea is that these cover all the basics you need to know when putting a travel itinerary together. You'll find practical information such as how to get from the airport, as well as guides on the best things to see and do in Athens.
I suggest bookmarking this Athens travel blog post so you can come back to it from time to time.
How long do you need in Athens?
2 or 3 days is about the right amount of time for most visitors to spend in Athens. It allows for plenty of sightseeing in the historic center at the Acropolis and Agora, the chanve to experience the rooftop bars of Athens at night, and even a side trip or two to places like Cape Sounion.
Read in more detail here: How many days do you really need in Athens
Plan Your Trip To Athens
This Athens travel guide has everything you need to plan your trip to the Greek capital. There's also more useful travel blog posts linked throughout the article.
Best Time To Visit Athens
Athens is a city you can visit at any time of year. Certainly, some months are better than others though when it comes to weather and the amount of other tourists visiting!
In my opinion, the very best month to visit Athens is September. The temperatures are just starting to dip down from their summer highs, and Athenians have returned from their vacations full of life and energy.
There's lots happening in September – from art exhibitions to gigs and events.
The second best month to visit Athens (again in my opinion!) is August. Now, I know this goes against the grain a little, as Greece is traditionally crazy busy in August, but hear me out!
In August, Athenians head for the islands for their summer vacations. This means that the city is super-quiet and peaceful. Rumour has it, you can even find parking spaces in Athens in August!
When to visit Athens
You might find these blog posts on when to visit Athens useful:
Where To Stay In Athens
Athens has literally thousands of hotels to choose from, which can make it slightly confusing when choosing where to stay.
For visitors only spending a few days in Athens, I would suggest a central location is the best choice.
By staying at a hotel near the Acropolis, you will be near all the main attractions of the historic centre, and be able to maximise your time in the city.
Athens also has a selection of budget hotels to choose from, which are outside of the historic centre. To be honest, these are located in the less salubrious parts of town.
You are definitely sacrificing comfort to save a few bucks, but if this is your thing, look for Athens hotels near Omonia and Victoria metro stations.
I'm also asked from time to time about hotels near Athens airport. There's really only one choice here, which is the Sofitel.
Places to stay in Athens
You might find these in-depth Athens guide articles about where to stay in Athens useful.
How to get to Athens city center
Most visitors to Athens arrive at two main points of entry. These are Athens airport and Piraeus port. There are numerous transport options available to get from the airport to Athens city centre and from Piraeus Port to the centre. I've written two detailed guides which includes taxi, train and bus options:
Things to see in Athens
So now you've got into Athens and have somewhere to stay, it's time to work out what you want to see! Athens has an endless amount of things to do, so there's no way you can possibly see it all. Even with a month, you couldn't see all the museums – there's over 80 of them!
Coming to a balance of choosing what to do in Athens with the time you have to hand is key. Fortunately, I've got some great Athens guides to help!
My 'What to see in 2 days in Athens' guide has proven to be very useful for visitors, and can easily be expanded upon by adding extra things in.
I've also got guides to the museums in Athens, walking tours, and inside tips. Here's some guides on what to do in Athens to get you started.
Athens Guides
Day Trips From Athens
Finally, if you are planning on spending longer in the city, you'll want to consider some day trip from Athens. There are numerous archaeological sites and UNESCO World Heritage sites you can visit on a day tour from Athens, including Delphi, Mycenae, and even Meteora.
Most of these you can do on a tour if you wish, or you could hire a car in Athens and drive yourself. I think a road trip is a great way to explore this fascinating country! Here's some more information on day trips you can make from Athens.
Please pin this Athens Guide for later!
I hope you've enjoyed this ultimate guide to Athens. If you are planning a trip, and have any questions or would like to leave me a message, please comment below. I would love to hear from you!
Trip to Athens FAQ
Here are some common questions readers have when planning an Athens vacation:
How many days do you need to see Athens?
2 or 3 days is enough time to see all the major highlights of Athens such as the Acropolis, Parthenon, Ancient Agora, Temple of Zeus, and to also experience its contemporary side and wonderful food scene.
What to do in Athens in 3 days?
Some of the main attractions you can see during an Athens 3 day vacation include: The Parthenon, the ancient theatre of Dionysos, Herodus Atticus theatre, the Acropolis museum, the temple of Olympian Zeus, Hadrian's Arch. the Plaka district, and the temple of Hephaestus in the Ancient Agora.
Is Athens expensive to visit?
The biggest expenses for travelers planning to visit Athens are accommodation and entrance ticket fees. Food and drink is very cheap by European standards, and the metro system is also very affordable.
Can I drink the water in Athens?
The water in Athens is safe to drink, although people used to filtered or bottled water may not like the taste. If you prefer bottled water, the prices from stores and kiosks are regulated, meaning that a 500ml bottle of water costs 50 cents or less.
Related Athens blog posts:
---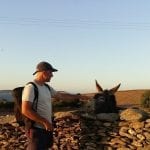 –
Dave Briggs
Dave is a
travel writer
who writes about and lives in Greece. If you found this Athens travel guide useful, you might want to look at his Greece travel blogs and itineraries. Follow Dave on social media for travel inspiration from Greece and beyond: