You can only reach Paxos by ferry, either from the nearby island of Corfu or the Greek mainland port of Igoumenitsa. This guide shows the best ways to travel to Paxos, whether for a day trip or your entire vacation.
Paxos Island Greece
Paxos is one of the Ionian Islands located on the western coast of Greece. Unlike its more famous companions of Corfu and Zakynthos, Paxos has an almost sleepy charm.
It's one of the least touristy islands in the Ionian group, and at just 25.3 km² can easily be explored by foot, bike or car.
Paxos is the type of island that visitors return to time and time again lured in by the slow pace of life and authentic atmosphere. If you're planning to travel to Paxos for the first time, this guide will show you how.
Where is Paxos and how to get there?
Paxos, or Paxoi / Paxi as it is sometimes written, is the island located directly south of Corfu, and to the west of Parga over on the mainland.
The two main points of access for Paxos are via Corfu and Igoumenitsa port. It may also be possible to take day trips to Paxos from Parga in some years.
As Paxos hasn't got an airport, no matter where you start from, you'll need to get a ferry for the last part of the journey. Let's start with how most visitors get to Paxos, which is via Corfu.
Flying into Corfu Airport
Corfu Airport is the nearest airport to Paxos and Antipaxos, and you can fly there from many European airports in the UK and throughout Europe. There are also direct flights from Athens and other Greek airports.
Take a look at Skyscanner to work out which flights might be best for you.
After you've arrived at Corfu International Airport "Ioannis Kapodistrias", you'll need to make your way to the ferry port in Corfu Old Town.
The easiest way to do this is to take a taxi. You can pre-book a taxi using Welcome so that the driver is ready to meet you at the airport. It will take around 15 minutes to get from the airport to the ferry port by taxi.
A cheaper option is to take Bus Line No. 15. The ticket price for this bus to the New Port of Corfu is around 1.20€, and the trip should take 20 minutes or so.
Corfu to Paxos Ferries
It is not currently possible to book ferry tickets for the Corfu Paxos ferry route online using Ferryhopper, which is a bit of a shame I think.
Still, there's plenty of choices, and I've included the details of the local ferry companies which run ferries from Corfu New Port to Gaios Town Port. Ticket prices for foot passengers range between 15 and 23 Euro.
Ferry Boat Sevices
While in the summer these ferry services run 3 or more times a day, it might be worth contacting them if you plan to fly to Corfu and then take the ferry boats straight to Paxos island.
If you arrive too late, you might need to spend a night in Corfu Town – not something you want to arrange at last minute in the high season!
The Flying Dolphin: A hydrofoil service, that takes around an hour costing approximately 23 Euro. To get to Paxos on this ferry, I'd suggest contacting them – ilidaii@ymail.com or tel. +30 2662 032401. Tickets to Paxos island can sell out for this boat in the high season, so reserve directly with them.
The Despina: Kamelia Lines provide this fast boat service between the Greek islands of Corfu and Paxos. To get to Paxos on this boat, expect to pay around 15 Euro as a foot passenger. Visit www.kamelialines.gr for more travel info.
Sea Taxi
It may also be possible to take a private sea taxi – if you want a unique experience and don't mind paying for it that is!
A private sea taxi is good for 8 people but might set you back 300 Euros or more.
Igoumenitsa to Paxos
If you're travelling overland through main land Greece, you might find it as easy to take a ferry from Igoumenitsa to Paxos.
There is a car ferry service running from Igoumenitsa to Gaios harbour on Paxos with the journey taking around 1 hour and 45 minutes.
This local car ferry runs daily in the summer, so if you've driven through Europe and taken a ferry from Italy to Igoumenitsa, this could be a good choice to get to Paxos.
Pricing starts at 10 Euro for foot passengers and 40 Euro for vehicles.
Note that you can book this ferry online. Take a look at Ferryhopper for ferry schedules on this route.
Day Trips to Paxos
It may be one of the least commercial Greek islands, but there are a few organized day trips you can take to Paxos from Corfu and Parga.
These day trips to Paxos are ideal if you want to see the highlights of the island without staying there overnight.
FAQ About Traveling to Paxos Island Greece
Readers planning to travel to Paxos and other Ionian islands often ask questions similar to:
How long is the ferry from Corfu to Paxos?
It takes about an hour to get from Corfu to Paxos by ferry depending on the type of boat and ferry operator.
Can you fly direct to Paxos?
You can't fly directly to Paxos in Greece, as the island does not have its own airport. Instead, it is better to fly to Corfu airport which has connections with most major European airports, and then take a ferry from Corfu to Paxos.
How do you get to Paxos from UK?
The easiest way is to fly from the UK to the closest airport in Corfu, and then take a ferry boat to Paxos. it is also possible to fly from the UK to Athens Airport, from Athens airport to Corfu, and then to take the ferry.
Where does the ferry arrive in Paxos?
The ferries from either Corfu or Igoumenitsa arrive at Gaios Port in Paxos.
Despite the lack of an airport, Paxos has plenty of options for getting to and from this beautiful Greek island. The most popular route is by ferry boat from Corfu Town Port.
I hope these tips on how to get to Paxos help make planning easier for your next trip to Paxos Island. If all else fails feel free to reach out to me with any questions!
Ionian Island Travel Guides
You might also be interested in taking a look at these other travel guides to islands in the Ionian sea:
---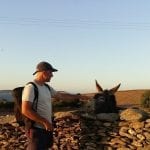 –
Dave Briggs
Dave is a
travel writer
who has been based in Greece since 2015. In addition to writing this guide on how to get to Paxos, he's also written many more travel blogs about destinations all over Greece. Follow Dave on social media for travel inspiration from Greece and beyond: