This guide to the best beaches in Kefalonia will help you choose where to swim and enjoy the sun in the most beautiful places on the island.
The Best Kefalonia Beaches
Kefalonia is the largest of the Greek islands in the Ionian Sea, to the west of mainland Greece.
All around its coastline, which is a whopping 254 kms, there are dozens of beautiful beaches. A few of them became famous as the setting of the Hollywood movie Captain Corelli's Mandolin, which was filmed on the island.
It goes without saying that one of the best things to do in Kefalonia is checking out the beaches!
You will find all sorts of beaches in Kefalonia. There are long sandy beaches, where sea turtles often choose to lay their eggs. There are also pebbled beaches, small rocky coves and seacaves.
Some Kefalonia beaches have plenty of tourist amenities, like sun loungers, umbrellas and water sports. Others are completely natural, and you would need to bring your water and snacks or a packed lunch.
Best Beaches Kefalonia
Each year, several beaches in Kefalonia island are awarded with the prestigious Blue Flag, an indication that they are clean and safe. This is why Kefalonia's beaches are considered to be among the best beaches in Greece.
Here are 16 of the best beaches to visit in Kefalonia.
1. Myrtos beach – The most amazing beach in Kefalonia
Without a doubt, Myrtos is one of the most photographed beaches in Greece. The bright pebbles, towering cliffs and incredible turquoise water have to be seen to be believed. Myrtos is easily the most famous beach in Kefalonia.
From above, Myrtos looks like a white sand beach. Once you go down though, you will realize it's in fact a pebble beach. There are several sun loungers and umbrellas, but you can bring your own if you prefer.
Make sure you bring enough sunblock, as the white pebbles of Myrtos beach in Kefalonia reflect the strong Greek sun. Also, consider bringing water shoes, to avoid hurting your feet.
Myrtos beach is located on the west coast of Kefalonia. It's a 20-minute drive from Agia Efimia, and a 45-minute drive from Argostoli.
On your way there, you will find a couple of viewing points. Take some time and enjoy the fantastic views towards the deep blue sea from above.
Even though there is a large free parking near Kefalonia's Myrtos beach, it can apparently get full in peak season. Try to go early if you can, or go later in the day and stay for sunset.
Tip: If you are feeling adventurous, check out the paragliding school on Myrtos beach. Otherwise, you can just look at the action from your sun lounger.
2. Antisamos beach – Incredible natural beauty
Antisamos beach is one of the most spectacular beaches in Kefalonia. Like Myrtos, it is a pebble beach, and the water is crystal clear.
There are a couple of beach clubs and bars that serve food and drinks, and you can use their sun chairs.
To get to Antisamos beach, you will have to drive on a somewhat steep mountain road full of pine trees, towards the eastern coast of Kefalonia.
Once you are on Antisamos beach, look behind you – the sparkling pebbles make an incredible contrast with the lush vegetation on the mountain.
Alternatively, you can find organized tours which include a visit to the popular Melissani cave and Antisamos beach in Kefalonia.
3. Skala beach – Relaxed vibes and beach bar time
Skala beach, on the east coast, is one of the most beautiful beaches in Kefalonia. It is a long sandy beach that stretches for about 5 kilometres.
Along Skala beach in Kefalonia you will find several beach bars, sunbeds, umbrellas, tavernas and restaurants. There is also plenty of free space between them, so you can also bring your own towel if you prefer.
Skala town is a popular resort area to stay in Kefalonia. You can spend a few days here, to enjoy the calm waters, laid-back cafes and relaxed nightlife. Plus, you can discover a new beach bar every day!
4. Kaminia / Mounda beach – Off the beaten track
Mounda was a wonderful destination to drive out to, and one of our favourite beaches in Kefalonia. It's a lovely long beach with fine golden sand. There is a relaxed beach canteen and a few umbrellas and sunbeds.
While this beautiful beach in Kefalonia is only a short drive from Skala, it was very quiet when we visited. To get here, you will need to watch for the road signs towards Kaminia or Mounda.
5. Lourdas beach – Lovely soft sand and easy access
Lourdas is a popular beach with turquoise waters, on the south coast of Kefalonia. It is also known as Lourdata.
Lourdas beach in Kefalonia is partly organized, but there is a lot of free space, where you can put your own towel and umbrella. In our experience, the water was crystal clear – we even saw a sea turtle while snorkeling!
There are plenty of tavernas and cafes in the area, so you can go for a meal or late drink and enjoy the sunset.
Lourdas beach Kefalonia is easily accessible by car, and there is plenty of free parking on the road.
6. Kanali beach – Peace and quiet
On the south coast of Kefalonia, you will find Kanali beach. It is a secluded beach with lovely powder sand, close to the better known Trapezaki beach.
We spent a half day in Kanali beach while visiting Kefalonia, and we really enjoyed the peace and quiet as we like quiet beaches.
To get there, you will need to follow the signs, park your car, and stroll down the easy hiking path. Take everything you need with you to Kanali beach in Kefalonia, including water, snacks and shade. We found this to be a very laid back and safe beach, but you may want to look at some tips on how to keep valuables safe at the beach.
As this is a beach where sea turtles lay their eggs, please respect the protected areas.
7. Avythos beach – The best of both worlds
Avythos was one of our favourite Kefalonia beaches. It is a long stretch of golden sand, part of which is occupied by a beach bar.
Walk further out from the bar, and you will discover that the rest of Avythos beach in Kefalonia is quiet and secluded. There are even some areas where you will meet a few naturists.
The water is shallow and warm, and you can easily spend your whole day here.
You can easily get to Avythos beach with your car. Park close to Enetiko restaurant, and make your way to Avithos beach.
8. Makris Gialos beach – Busy beach life
Makris Gialos is always included among the best Kefalonia beaches. We were looking forward to visiting this long, sandy beach, which is located near the popular Lassi resort.
However, we were rather disappointed when we got there. Makris Gialos beach in Kefalonia was full of loungers and umbrellas with no free space, it was too crowded, and the beach bar was playing some rather unimpressive music.
There's nothing wrong with that though, and if it sounds interesting you should visit to check it out yourself. Plus, it's a great place to practise water sports.
If you go to the beach at Makris Gialos, make sure you stay for sunset, and enjoy the lovely views towards the Ionian Sea.
9. Lepeda beach – Popular with families
On the west side of Kefalonia, you will find Paliki peninsula. It almost looks like a different island, with its green hills and thousands of olive trees.
Inside the sheltered bay and close to Lixouri town, you will find the sandy Lepeda beach of Kefalonia. It has warm, shallow water, and is ideal for families with small children.
The popular beach has a number of umbrellas and loungers, and a couple of tavernas. There is some free parking space, though in peak season it might get full early in the day.
10. Xi beach – Red sand
Due to its iconic red sand, Xi beach is one of the most popular beaches in Paliki, Kefalonia. The contrast of the blue azure waters and the terracota-coloured sand is really amazing.
This lovely beach is fully organized with many loungers and umbrellas, and there is little free space. While Xi beach in Kefalonia is a truly picturesque place, we found it too crowded and overwhelming.
If, like us, you find Xi beach too busy, you can move on to Megas Lakkos nearby. The natural environment is similar, but the setting is quieter overall.
11. Petani beach – Beautiful pebbly beach
Petani beach was our favourite in Paliki peninsula of Kefalonia. It's another beautiful beach with large white pebbles and dark blue / emerald waters, in a perfect location facing the sunset.
In fact, Petani consists of two beaches. There is the main beach, with the beach bar and the sunbeds, and a smaller one to the right, which is natural and wild.
Even though we visited Petani beach in Kefalonia on an overcast day, the crystal clear waters made up for it, and we thoroughly enjoyed our time.
Petani is on the western side of Kefalonia, and access is easy through a winding road. On your way there, don't forget to stop and look at the amazing views.
12. Fteri beach – Amazing natural environment
Fteri beach is located in a secluded bay surrounded by green hills, on the north coast of Paliki.
The combination of sparkling pebbles, limestone cliffs, sea caves and bright blue water make Fteri one of the most beautiful beaches in Kefalonia.
The easiest way to get to Fteri beach is on boat excursions departing from Zola harbour. You can find more information at Zola cruise.
Alternatively, it is possible to hike to Fteri beach. It will take you around 45 minutes to get there on foot. Remember to bring good shoes, water, snacks, a hat, and lots of sunscreen.
On your way back, you can stop at The Fisherman's Hut in Zola, a no-frills taverna with fresh seafood.
13. Dafnoudi beach – Small and quiet
Dafnoudi is a small beach on the northern coast of Kefalonia, not far from the cosmopolitan Fiskardo town.
The setting is similar to other beaches on the island, with the large pebbles, lush vegetation and crystal-clear emerald waters.
To get to Dafnoudi, you will need to park your car near Antipata village. You will then follow a short hiking path, an easy walking distance to the beach.
Bring with you everything you will need for the day, including water, some shade and your snorkelling gear.
14. Kimilia – A secret beach
On the northern coast of Kefalonia, you will find another quiet, secluded beach called Kimilia. If you want to take a break from the cosmopolitan Fiskardo, you will love this stunning beach.
There are pebbles, and a few flat rocks where you can sit. The water is deep, and snorkelling is just lovely. It might feel a little colder than in other areas of the island.
You can reach Kimilia beach after a short hike from the car park. You can also walk there from Fiskardo or Emplisi beach. Bring water and snacks with you, and maybe some shade.
15. Emplisi beach – A short walk from Fiskardo
A short walk from Fiskardo, you will find a small beach called Emplisi. It's a lovely pebble / rocky beach, with nice snorkelling and crystal clear waters.
There is a small snack bar where you can buy drinks and snacks. It's best to bring your own umbrella, as the beach gets reasonably busy.
Parking around here might be a challenge, so you might prefer to leave your car a little further out on the road.
16. Foki beach
Foki is another beach close to Fiskardo, right on a small, protected bay. There are several olive trees, providing plenty of shade.
Parts of the beach are pebbled, and there is a lot of seaweed in the sea, so some people might prefer to wear water shoes.
On the day we visited, the water was muddy, but we've heard other people say they enjoyed snorkelling there. Good swimmers can swim far out, and explore the sea caves on the right side of the coast.
Across the street from Foki beach there is a taverna, where you can get a coffee, snack or meal.
If you are coming here by car, you can normally park it on the side of the road.
Travel Tip: Pre-book a Kefalonia taxi using Welcome Pickups
Frequently asked questions about the beaches in Kefalonia
Here are some questions visitors often ask:
What is the nicest part of Kefalonia?
Kefalonia is a very diverse island, and all regions have their own special beauty. Some of the nicest beaches of Kefalonia are Myrtos, Antisamos, Petani, Skala, and the whole southern coast between Pessada and Mounda.
Are there any sandy beaches in Kefalonia?
Kefalonia has plenty of sandy beaches. Some of the best include Lourdas, Skala, Mounda, Kaminia and Kanali.
Does Kefalonia have nice beaches?
Kefalonia has dozens of nice beaches, many of which are regularly awarded with the prestigious Blue Flag award. Some of the most famous beaches in Kefalonia are Myrtos, Antisamos, Petani, Lourdas, Xi and Makris Gialos.
Does Lixouri have a beach?
The closest beach to Lixouri is a couple of kilometres out of the town, in a village called Lepeda.
How expensive is Kefalonia?
In summer 2021, we spent two weeks in Kefalonia, travelling as a couple. Our average budget was 43 euro per person per day, all expenses included. We had our own vehicle and didn't take any tours. All in all, we would say that Kefalonia isn't really expensive.
More Travel Guides to the Ionian Islands
If you're interested in finding out more about the Ionian islands of Greece, these travel guide might be a good read for you:
---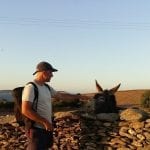 –
Dave Briggs
Dave is a
travel writer
from the UK who's been living in Greece since 2015. As well as creating this useful guide to the best beaches in Kefalonia Greece, he's also written many more travel blogs and itineraries for destinations all over Greece. Follow Dave on social media for travel inspiration from Greece and beyond: