Here's some great suggestions of things to do in Kefalonia. From exploring caves to visiting the best beaches in Kefalonia, this beautiful Greek island has a lot to offer.
Kefalonia, Greece
Kefalonia is the largest of the Greek islands in the Ionian island chain. Its long history has seen it entwined in Greek mythology, used as a center for Mycenaean trade, occupied by the Venetians, and reunited with Greece after a period of British rule.
During World War 2 it was first occupied by the Italians, who were replaced by Germans after 1943. A resulting stand-off between Italian and German forces ended up with thousands of Italian troops executed, which formed the basis of the book and film 'Captain Corelli's Mandolin'.
As if WW2 wasn't enough, it was then hit with a big earthquake in 1953. This quake leveled almost all the buildings on the island, leading to a massive relief effort.
By some curious coincidence, my Grandfather was involved in the relief effort – so at least two generations of Briggs have a connection with Kefalonia.
My own personal experiences in Kefalonia are far less dramatic!
I've visited Kefalonia twice now. The first time I first visited Kefalonia back in 2004 when I stayed there for a couple of months grape picking.
The second time was in September of 2021, when I explored the island at a more leisurely pace. I somehow ended up picking grapes again on that trip for a couple of hours.
If I return for a third time, I'll be in serious danger of opening my own winery!
As you can see, in the 17 years between visits, I've still not learned how to smile for photos. My hair's not grown either.
Anyhow, let's get back on track…
Reasons to Visit Kefalonia
Today, Kefalonia is a welcoming destination for people who like to experience all the best bits of Greece – authentic culture, historic sites, incredible beaches, and friendly people.
Kefalonia is big enough to spend a week on. Two if you have them. Stay any longer, and you're in danger of never wanting to return home!
If you're more of a package tour person, you'll find plenty of trips from the UK to Kefalonia. The Skala area is popular with Brits for example.
Independent travelers can really have a good time here. Rent a car, stay in a few different areas, and really see what this beautiful island has to offer!
In this guide on what to see in Kefalonia, I hope to share with you some of its highlights and attractions which may help you in your Kefalonia vacation planning.
Travel Tip: Pre-book Kefalonia airport taxis in August using: Welcome Pickups
Best things to do in Kefalonia
I've listed my ideas of things to do and places to see in Kefalonia into a few broad categories. These are:
Picturesque villages in Kefalonia such as Assos
The best beaches in Kefalonia
Caves in Kefalonia
Castles in Kefalonia
Monasteries in Kefalonia
Taste the local dishes
Let's start off by looking at the main towns and villages to visit in Kefalonia.
Discover Picturesque Villages in Kefalonia
Kefalonia is home to a number of pretty little villages scattered all over the island. Each one has something different to offer, and the drive (or bicycle ride!) out to each one certainly worth the journey.
Below, you can find a description of the main settlements in Kefalonia.
Argostoli
With a year around population that never dips below 10,000 people, Argostoli is the capital of Kefalonia. Although the town's history stretches back centuries if not millennia, it was rebuilt in 1953 after the devastating earthquake which hit the region.
The island's capital is on the west coast, also where some people choose to base themselves. Its reasonably central location means you can get to any extreme of the island within an hour and a half by car. Main attractions such as the fantastic beach of Myrtos are much closer.
Argostoli itself has a number of places of interest to visit including the Archaeological Museum and the Historical and Folklore Museum.
One place that I highly recommend visiting are the Botanical Gardens (Kefalonia Botanica). This beautiful green space is about 2km outside of the center of Argostoli, and is an interesting place to walk through.
It is a haven for some of the local Greek flora, and has some nice information about how the herbs can be used in cooking and as remedies. If you're feeling 'beached out', the Kefalonia Botanical Gardens are worth visiting!
When in Argostoli, you can enjoy pleasant walks along the pedestrianized main street. When you reach the large main square, you'll find many restaurants to choose from.
My overall favourite place to eat in not just Argostoli but all of Kefalonia was Palia Plaka. It's a short walk along the seafront to the north of the town.
You'll also pass by the I love Kefalonia sign along the seafront – there may be a small queue to take photos. Oh, and keep your eye out for sea turtles. We never saw any, but they are there… somewhere!
Agia Efimia
After staying in a few different towns and villages in Kefalonia, I found the coastal fishing village of Agia Efimia to be the best location.
From here, it's pretty quick to get to Mrytos Beach, as well as to get to the north of the island. It's also just 10 minutes or so away from Sami by car, so handy for your ferry trip back to Patras Port.
The town is pretty, and is easy to get around. Even if you are not staying here, it's worth visiting for a few hours.
If you are staying, try The Seasons of Nickolas – A very friendly and helpful owner who will answer any questions you have on places to see. Which reminds me, I have a guide here you might want to look at on where to stay in Kefalonia.
Sami
Sami offers a mesmerising waterfront and a throbbing collection of shops, restaurants, unique Venetian buildings, and cafes.
The town also offers a historic view of the island evidenced by the remains of ancient structures such as the nearby Acropolis of Sami.
As the main port town, you can get ferries to and from Kefalonia from here. If you're planning a little Greek island hopping in the Ionian Islands, check out Ferryhopper for up to date schedules and ticket prices.
If I'm to be totally honest, Sami didn't appeal to me as a place to stay, but perhaps that's because we were already very happy with Agia Efimia.
Being based in Sami means you are close by to Antisamos beach, as well as to the caves of Kefalonia. More about those later on!
Assos Village
The village of Assos in Kefalonia is a small place of about 100 inhabitants. Situated just north of Myrthos Beach, it is often thought of as one of the most beautiful places to visit in Kefalonia.
Assos is also home to a Venetian castle built in 14th Century as a fort to offer protection against pirates. If you're visiting Assos Castle, be sure to spend at least and hour so in the village.
Travel Tip: Time your visit to Assos Castle to be at the top for sunset. After, enjoy an evening meal in one of the tavernas in Assos.
Fiskardo Village in Kefalonia
The drive from Argostoli to Fiskardo is a very pleasant one with lots of great views. On arrival at Fiskardo village, you will be greeted by what was a traditional fishing community.
Sadly, the number of fishing boats is declining as tourism becomes a major driving force on the island. You're more likely to see the harbour full of private yachts than fishing boats these days.
Still, it's a lovely place to visit in Kefalonia, and a great location to enjoy an unhurried meal by the small harbour.
If you're thinking of staying here, you will find that the prices for rooms are higher than most other areas on the island.
Skala Town
If you're after a seaside holiday town that has great beaches, lots of places to eat, and is easy to get around, Skala is the place to be.
It's very popular with Brits in their 40s and 50s, some of whom return to Skala year after year.
The town is pretty self-contained, so if you don't want to do much exploring of the rest of the island, it's a good choice.
As it's located at the south of the island, it is quite far from other attractions and places of interest in Kefalonia such as Fiskardo which can be a pain.
The Best Beaches in Kefalonia
I'm never too sure how to describe the waters of the Greek Ionian Islands. Are they crystal clear or electric blue? Or are they a combination of the both? You'll see for yourself when you visit the incredible beaches of Kefalonia!
Kefalonia has dozens of beaches to choose from. Whether you prefer sandy beaches, bays for snorkelling, or stretches of coast for windsurfing, you'll find something to meet your needs.
Here's just some of the most beautiful beaches in Kefalonia:
Myrtos Beach
Antisamos Beach
Xi Beach
Petani Beach
Skala Beach
Myrtos Beach
Sometimes, places simply can't live up to the hype. Let me assure you though, that Myrtos beach is abosutely incredible, and possibly one of the most picturesque beaches in all of Greece!
Seen from afar, its blue waters and white beach backed by green trees certainly make it one of the most photogenic.
It might look from a distance that the beach is a sandy one, but when you are there, you realise its fine pebbles. This means it's quite reflective, so make sure you've got a lot of sunblock, and perhaps take your own shade in the form of an umbrella.
It is located on the northwestern coast of Kefalonia, and is semi- organised, meaning that you can easily hire sunbeds and umbrellas when there – At a price of course!
There's also the option to do some paragliding – if you're brave enough!
Antisamos
When the Captain Corelli's film was released, people were instantly drawn to just how beautiful Kefalonia and the stunning beaches are. One of the beaches that stood out was Antisamos with its turquoise waters.
A blue flag beach in Kefalonia, Antisamos is just a few kilometers from the port of Sami. It's organized with sunbeds and umbrellas, as well as access to watersport activities.
For my tastes, Antisamos was a little too organized, and so I decided not to spend any time there. Each to their own!
Xi Beach
This beach in Kefalonia derived its name because of the cove's X-shape and it's among the most popular beaches within the island. The red sands really make it stand out.
It's also one of the most suitable for children due to its more shallow waters.
Petani Beach
If you love tall cliffs that lead to sandy, warm beaches then Petani is the place to visit when in Kefalonia. The beach is located about 20km west of Argostoli and offers some of the most thrilling experiences for surfers because of the large waves.
There's actually another part of Petani that most people seem to skip by. When you park, instead of going left to the main beach, go right down a little track. There, you'll find a perfect secluded bay!
Lourdas / Lourdata Beach
This is a simple sandy beach, but appealed to us enough that we went there two or three times. It's also a nice beach with a sunset view in Kefalonia.
If you want sun loungers for hire, you'll find them on the right side of the beach. If you have your own beach gear, you'll prefer the left side.
Skala Beach
This is a long beach with a clear blue environment on one side and a hilly, green on the other. The beach offers some of the best environments for snorkelling and excursions to hidden caves.
Related: Best Greek Islands For Beaches
Caves in Kefalonia
Cave lovers will be pleased to know there are several caves to visit in Kefalonia. The island has a unique geology, and the cave systems open to the public are interesting places to visit during a vacation in Kefalonia.
Visit Melissani Lake Cave in Kefalonia
Melissani Cave is located about 2km from the town of Sami, and 10 km from Argostoli. The cave was discovered in the early 1950's, and is now open for people to visit.
The opened cave contains what was once an underground lake, and a place of worship for the Ancient Greeks. Several different myths are attached to Melissani Cave in Kefalonia, and it is also known as the Cave of the Nymphs.
If you are planning to visit the Melissani Cave in Kefalonia, do so on a bright sunny day at around 11.00 in the morning. The way the waters in the cave light up are incredible!
Note: Melissani Lake is a beautiful setting, but tours here are very quick (10 minutes or less). During peak season, consider if making a day trip is worth it, as we have heard queue times can be over 2 hours! I liked the lake cave, but not so much I'd queue that long for it!
Drogarati Cave
By comparison, I far preferred Drogarati Cave. Located about 5 km away from Sami, Drogarati Cave in Kefalonia was discovered 300 years ago when a powerful earthquake revealed an entrance to it.
Thought to be one of the largest caves in Europe, Drogarati Cave has two main chambers, one of which is 900m2 and is called "Sala of Apotheosis". This chamber has incredible acoustics, and is occasionally used for concerts and other shows.
If you want to be amazed by a natural phenomenon, Drogarati Cave should be on your list of places to visit in Kefalonia.
Katavothres
Visiting the Kefalonia Katavothres, or sinkholes, is one of the most unique experiences you will have in your life. This natural phenomenon has not been fully explained.
The area has led geologists to believe that there is a complex system of underground caves, sinkholes and passageways underneath the island. Read more here – The Mystery of Katavothres.
Visit the castles in Kefalonia
The two main castles in Kefalonia are the Castle of St. George and Assos Castle.
Agios Georgios / St. George's Castle
For a nostalgic view of the island from a historical point of view, be sure to explore the magnificent Castle of Georgios Agios located 5km from Argostoli.
The ancient castle was originally built by the Byzantines and adapted by the Venetians. It was the capital of Kefalonia until the mid-18th Century.
Assos Castle
Positioned above the village of Assos (mentioned earlier), this castle was built in the 16th century. Geo-political changes led to its eventual demise and then abandonment.
Today, visitors will enjoy walking around Assos Castle and the views from the top.
Monasteries of Kefalonia
There are thousands of monasteries scattered throughout Greece, and Kefalonia has its own fair share. You'll have the opportunity to visit these Kefalonia attractions during your stay on the island.
Monastery of Agios Gerasimos
The monastery is named after the patron of Kefalonia, Saint Gerasimos, and was originally built in the mid-15th Century. It served as the residence of the patron and a mental illness centre where patients were cured of various mental illnesses.
It is an impressively built monastery beneath Mount Ainos, where thousands of people come on pilgrimage. Visitors can also view the Saint's tomb and learn ancient practices during his era.
The Tranquility of Kipoureon
No visit to the island of Kefalonia is complete without a visit to the Monastery of Kipoureon. The monastery is set in the most spectacular natural location and you should take the chance to enjoy the natural settings as well as the monastery.
Once this place was a bustling centre for worship, but today only one or two monks live in the monastery. However, you will be made to feel welcome and there are some wonderful gardens to wander around along with a collection of interesting relics and icons.
Food and Drink in Kefalonia
When you visit Greece, you quickly discover that the food is amazing! Each region and island also has its own specialties or things that it is well known for, and Kefalonia is no exception.
Good restaurants abound, and the price for meals is very reasonable. Part of the reason for this is that a lot of the produce is grown locally – which is probably why it tastes so great!
Along the coast, you can expect lots of fresh seafood in the tavernas. You should also try the famous Kefalonian Meat Pie at least once during your trip. Very filling and tasty!
Outdoor Activities in Kefalonia
As you might expect with an island as big as Kefalonia, there are plenty of outdoor activities you can choose from. There's hiking trails that will take you in sight of semi wild ponies, through lush vegetation, by pine trees and to secluded beaches.
If you prefer watersports, take your pick from sea kayaking, scuba diving, snorkeling, and sailing. Many of the bigger beaches have a watersports centre hiring gear.
One thing I did notice, was that there were a lot of people cycling in Kefalonia on bike tours. The landscape might be challenging, but the rewards would be more than enough!
Boat tours in Kefalonia
There are a few interesting guided day trips you can take around Kefalonia. It is also possible to take a boat tour to other islands in the Ionian Sea such as Zakynthos and Ithaca.
Here are some you might consider:
Take a wine tour in Kefalonia
Kefalonia is famous for its local wine known as Robola. The grape variety of the same name from which it is produced is ideally suited to the limestone soils of Kefalonia, and production is plentiful.
No matter where you eat on the island, Robola will always be available to accompany your meal. Whether from a large winery or from your hosts private label production, you have to try at least one bottle of Robola during your visit to Kefalonia.
I would suggest taking things a step further though, and put some time aside for a winery tour. Not only will you be able to see the processes behind wine production, but you'll also learn some island history and of course taste several different types of wine in the process!
What to do in Kefalonia
Do you have any other suggestions of things to see and do in Kefalonia? Leave them in a comment below to help other travelers planning their own trips to visit Kefalonia.
If you enjoyed this guide, please share it on social media using the sharing buttons in the bottom right hand corner of your screen.
FAQ About Kefalonia in Greece
Readers of Dave's Travel Pages often ask questions similar to these:
What is Kefalonia known for?
The Greek island of Kefalonia is famous for its scenic beaches, amazing landscapes and wine-making traditions. Kefalonia is also known to many people as the setting for Captain Corelli's Mandolin.
How long does it take to drive around Kefalonia?
You could probably drive around the circumference of Kefalonia in just over 2 hours. This road does have sections which are tight with narrow sections. You can drive diagonally across the island from Argostoli to Sami in about 25 minutes.
Is Kefalonia a nice island?
Kefalonia can appear both cosmopolitan and laid back. It has amazing beaches and a fantastic landscape. Most importantly, the people in Kefalonia are very friendly, making a vacation there a happy and memorable one!
What is the busiest resort in Kefalonia?
The busiest tourist resorts are around the beaches of Lassi, Skala, Lixouri, Fiskardo and the capital Argostoli.
Are there any sandy beaches in Kefalonia?
Kefalonia does have sandy beaches, and they are located towards the south of the island. The area near Skala has long stretches of sandy beach, Lourdas Beach has good sand, and of course we should also mention Xi beach with its unique red sands. The north of the island tends to have more pebbly beaches.
You might also be interested in these other travel blog posts about Greece:
---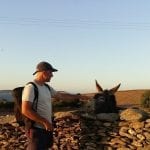 –
Dave Briggs
Dave is a
travel writer
based in Greece As well as creating this Kefalonia travel blog, he's also written hundreds more travel guides to Greek destinations. Follow Dave on social media for travel inspiration from Greece and beyond: