Ithaca in Greece is a place where myth meets rugged beauty. A Greek island that embodies the symbolic. Here's the best things to do in Ithaca Greece.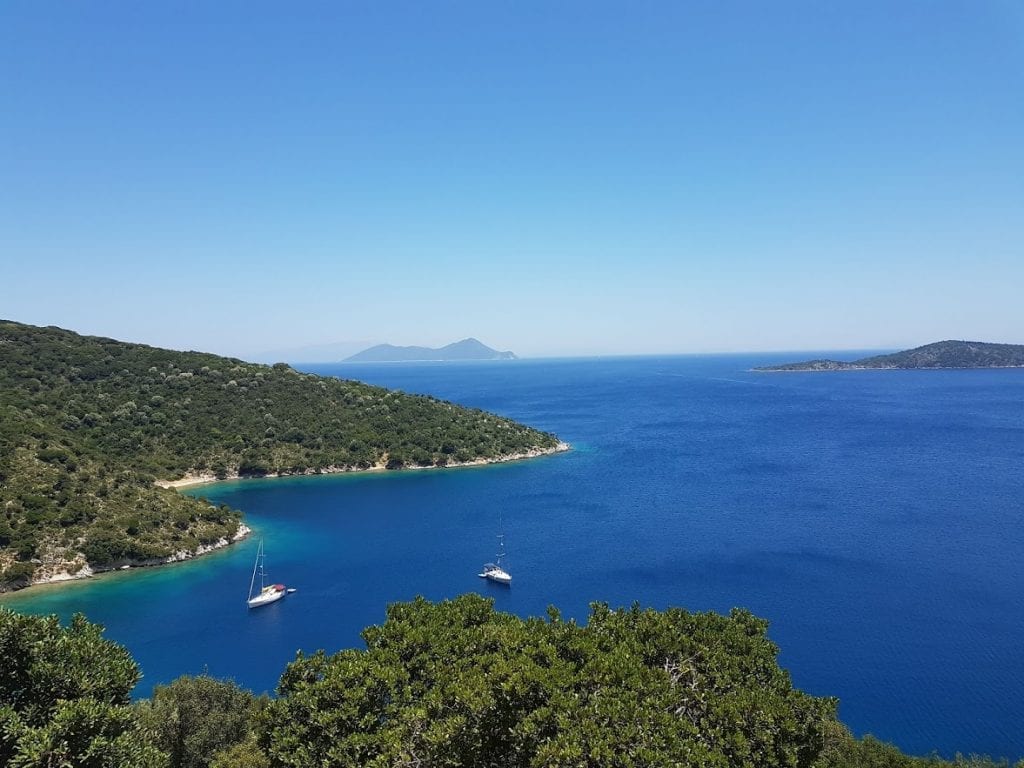 Ithaca, Greece
The island of Ithaca, or Ithaki in Greek, is a relatively unknown destination for most visitors, though the name is probably familiar to people interested in Greek mythology.
This was the homeland of Odysseus, the Greek legendary king who took ten years to return home after the end of the Trojan War.
His journey is described in one of ancient Greece's epic poems, Homer's Odyssey. It is symbolic of human struggles, temptations and goals, with the return to Ithaca marking the end of the adventure.
These days modern Ithaca is a quiet island, ideal for people who want to relax and enjoy nature. I've visited Ithaca a few times, and have became enchanted with its rugged beauty.
This guide about one of Greece's hidden gems is designed to give you all the information you need to plan a trip there.
Where is Ithaca Island, Greece?
Ithaca is one of the Ionian Islands, located on the west side of mainland Greece.
While the Greek islands that are its most popular neighbours – Corfu, Lefkada, Kefalonia and Zakynthos – attract many visitors, Ithaca doesn't seem to be on most tourists' itinerary in Greece. Perhaps that will change over the next few years as the world returns to normal and travel resumes again.
Ithaca has been inhabited since the Neolithic Ages (4,000-3,000 BC). Throughout its long history it has been conquered by many different people, including the Romans, the Venetians, the Ottomans, the French and the British.
Today it is home to around 3,000 permanent residents.
Agriculture is not very developed due to scarcity of rain, however there are green trees pretty everywhere. If you've been to rocky and dry Santorini, you might think that Ithaca is in a different country.
What to do in Ithaca Island
Ithaca is an ideal place for relaxation. Lacking the long, sandy beaches of Lefkada and the party life of Zakynthos, it attracts a different type of visitor. The kind who just wants a laid-back holiday in beautiful surroundings.
In terms of what to do in Ithaca, the simple advice is to relax, take it easy and enjoy the moment. At the same time, it's totally worth exploring the island. There are lovely beautiful beaches around Ithaca, and the landscapes are breathtaking.
Places to visit in Ithaca Greece
There are two distinct parts to Ithaca – the south and the north.
In the south, you can find the main town of Vathi, the main port of Pisaetos, and a few beaches.
In the northern side, there are smaller villages, more beaches, and some proof that King Odysseus really lived here, most likely over 3,000 years ago.
Vathy Town Ithaca
The picturesque town of Vathy (alternative spelling Vathi), sits right in one of the prettiest and safest ports in Greece. It is a completely protected natural bay, where hundreds of sailing boats and private yachts dock every summer.
Passenger ferries arrive on a different port in Ithaca, called Pisaetos, located on the west side of the island.
Vathy is the only sizeable town in Ithaca, and has a population of just under 2,000 people. It's a lovely little place to wander around, have a meal, and enjoy a coffee or beer overlooking the port. This is where you will find the only nightlife on the island – such as it is.
Even if you are not staying here, you'll end up visiting once or twice during your Ithaca holiday.
Things to do in Vathy
The houses in Vathi are built in the traditional Ionian way, and most of them are colourful and have tiled roofs. They slightly reminded us of Nafplio, though they are built all around the bay.
The little island in the middle of the bay is called Lazareto. It has been used as a quarantine area and as a prison over the years, and today it hosts the little church of Sotiras.
In the capital Vathy, you can visit the archaeological and ethnographical museum, as well as the main cathedral. It is said that one of the first works of El Greco, the famous painter, can be found here.
In addition, there are plenty of tavernas, coffee shops, and nice views of this sheltered bay with lots of photogenic boats!
Travel Tip – If you want to stay at the most unique hotel in Ithaca, look no further than Perantzada Art Hotel. Originally designed by Ernst Ziller, the German architect who has designed numerous neoclassical buildings in Athens, it has been renovated to extra high standards, uniquely combining Greek tradition with African and middle Eastern elements.
Even if you are not staying there, it's worth taking a look >> Perantzada Art Hotel.
Stavros village
Stavros village is where we stayed in Ithaca. It is the main village of the north part of the island, and it has a large church and a primary school. In the main square, you can see a model of the Palace of Odysseus.
Not far from Stavros, you can find Pilikata hill, where an ancient acropolis has been discovered, and it seems that this area was the main city close to the Palace.
Researchers claim that some of the artefacts found on the hill also belonged to King Odysseus. Within Stavros itself, important findings from the Mycenean period have also been excavated and are kept in a small museum.
If you are planning to stay in Stavros on 5-6 August, book your accommodation in advance, as there is a local panigiri (a type of feast) and the area gets very popular.
Frikes village
Just a short drive from Platrithias, Frikes is a small port village with a couple of cafes and a few relaxed tavernas that are worth trying. Ferries are supposed to connect Frikes to Lefkada and Kefallonia, though it's best to ask your hotel for more information.
If you have a 4WD, you can explore Marmakas beach to the north – unfortunately we found it difficult to get there in our car, but it's supposed to be lovely.
If you want to get to Kioni, at the end of the road, you must first pass by Frikes. Between the two villages, you will see numerous little beaches – the first three are called Kourvoulia.
Kioni village
Possibly the prettiest village in Ithaca, Kioni is located at the north-east side of the island. It sits atmospherically on a green hillside, overlooking the bay.
Check out the old stone houses built among the olive trees, and sit for a meal or drink with a view to the marina. Alternatively, get here for sunrise, and walk to the picturesque spot where you can see the three traditional windmills.
Where did Odysseus live in Ithaca?
In North Ithaca, you can find two small villages, Exogi and Platrithias that are quite close to each other.
Exogi sits on top of a 340 meter tall mountain, and has great views to the cliffs around Afales Beach and the Ionian Sea. It is one of the oldest still existing settlements in Ithaca, as many of the stone houses were built in the 18th century. Outside a few of the houses you can see some strange masks, believed to keep the bad spirits away.
It is believed that the Palace of Odysseus used to be in the area between Exogi and Platrithias, which is now an archaeological site.
When we were there in summer 2018, the site was open to the public – kind of. It was accessible, but there was no tourist infrastructure at all. Locals were hoping that some funding will be found to continue the excavations, but things seemed to have stalled at the time.
Afales Beach
From Platrithias, you can get to Afales beach, a deep bay surrounded by steep cliffs. Further away, you can find Platia Ammos beach, which is only accessible by sea and is arguable the best beach on Ithaca. King Odysseus definitely had good taste when it came to views!
When you are in the area, make sure you go for a meal at Yefyri restaurant. It might be best to book, but you can take your chances and you will hopefully find a table. It's one of the most unique restaurants in Ithaca.
Travel Tip – Exogi and Platrithias host traditional Greek panigiria (a type of feast) on 17 July and 15 August respectively. Both of them are very well attended, and they could be a reason to plan your trip to Ithaca around these dates, but make sure you book your accommodation in advance.
Best Beaches in Ithaca
That's me, hard at work on one of the beaches in Ithaca. It's a tough life!
Ithaca has many beaches, some of which are easily reached by car, while others are accessible through a hike or a boat ride. Ithaca beaches are very different from the beaches in Milos say, as they are generally smaller and with more pebbles – but the water is equally clear.
If you are staying in Vathy, the closest beaches are Filiatro, Mnimata / Minimata, Loutsa, Sarakiniko, Dexa and Skino. Depending on the season, they may be crowded, but the water is still super clear.
If you are staying in Stavros or nearby, there are many small beaches all around the coast, but you will mostly need your own transportation to get there. Poli beach is close to Stavros, and you can reach it on foot.
Alternatively, look for Afales, Mavrona, Limenia, Kourvoulia, Plakoutses, Marmakas, Alykes and Voukenti. Ask the locals how to get there, as some of them are only accessible on foot.
Finally, on the west side of the island, there are a couple of our favourite beaches in Ithaca – Ai Giannis, Aspros Gialos, Ammoudaki and Fokotrypa. You might find the drive a little challenging, but it is totally worth it.
Katharon Monastery – Moni Katharon
Like everywhere in Greece, Ithaca is full of churches. If you only visit one, apart from the main church in Vathi, you absolutely must visit the large monastery up on the island's highest mountain, Moni Katharon.
This monastery is located at a height of around 600 metres from sea level, at the peak of a mountain that Homer referred to as Nirito. It was built in the late 1600s, and celebrates on 7 and 8 September.
The monastery has a really amazing view of Vathi and the rest of the south part of the island, while you can also see Kefallonia. Even if you are not interested in the monastery itself, you should absolutely come up here, just for the views.
If you are travelling with children, beware of the strong winds – we were up there on a very windy evening, and we could barely walk!
Getting around Ithaca
Although public buses exist on the island, finding accurate information online is not an easy task. There seem to be two buses per day from Vathi to the north and vice versa, one in the morning and one in the afternoon, but it's best to ask your hotel just before you arrive on the island.
If you want to explore the island, it's much better to rent a car. Most roads are fine to drive, just be mindful of the sharp turns, especially when you are driving on the side that is next to the cliff – though there are barriers pretty much everywhere.
The longest distance on Ithaca is about 30 kms and it will take you less than an hour. Most beaches are accessible by road.
Another alternative is to hire a taxi for the day or for a few hours. You can pre-book a taxi, or pick one up from the central square in Vathy. Taxis are the only way to get to Vathi from Pisaetos port if you don't have your own vehicle.
Boat trips in Ithaca
One of the best ways to explore Ithaca is by boat. Numerous boats depart from Vathi, and sail around the island, reaching all the beaches that are not accessible by road. Just ask for departing times for day trips on the previous evening.
You can also hire a private boat for a few hours or a day – just ask your hotel. Your captain will definitely know where to take you, but it's worth asking about Platy Ammos, which is supposed to be one of the nicest beaches on Ithaca.
Outdoor Activities
As with almost every Greek island, there are plenty of outdoor activities you can enjoy when on holiday in Ithaca.
Scuba diving, sea kayaking and hiking are all popular activities, with island safaris, and snorkeling trips also available.
How to Get to Ithaca
Although you are unlikely to need ten years to get to Ithaca like Odysseus did, Ithaca is not the most straightforward Greek island to reach.
Unlike most other islands in the Ionian group, Ithaca does not have an airport. The closest airport is on Kefalonia.
The easiest way to get there is by ferry either from Patras on the Greece mainland, or from Kefalonia if you are island hopping. Connections to other Ionian islands in Greece are also available, depending on time of year.
To get to Patras from Athens, you can take a bus, or rent a car. If you plan on renting a car to also use in Ithaca, make sure the rental car company allows their cars on ferries, as some companies don't. It would actually be best (and more cost-effective) to rent a car in Ithaca instead.
To get to Kefalonia from Athens, the quickest way is to fly, but you can also get a bus from Kifissos bus station. You can catch a short boat ride to Ithaca from Sami ferry port.
You can check ferry times to Ithaca from both Patras and Sami here.
Hotels in Ithaca Greece


You can find hotels and guesthouses all over Ithaca. Unless you have your own transport, you may find Vathy, Stavros and Kioni the best places. Our choice for accommodation in Ithaca was Stavros, as we wanted to be close to the quieter beaches.
FAQ About Ithaca Island Greece
Here are some commonly asked questions about the Greek island of Ithaca.
What is Ithaca Greece famous for?
The Greek island of Ithaca is perhaps most well known as setting for the Odyssey from Greek Mythology. Odysseus, who was the main hero in the legend, lived in Ithaca and was its rightful ruler.
When is the best time to visit Ithaca?
The island's best weather can be enjoyed between May and late September. It should be kept in mind though that August is high season, so it will be a lot busier and more expensive during this month.
How many days in Ithaca Greece?
In order to do the island justice, I would suggest spending a minimum of three days in Ithaca. This would allow enough time to experience the highlights of the Greek island, and of course check out a beach or two!
What are the Greek Islands closest to Ithaca?
The neighbouring islands to Ithaca include Kefalonia on the western side, Lefkada to the north, and Zakynthos to the south.
Pin this Ithaca travel guide
Add the pin below to one of your Pinterest boards. That way, you'll be able to find this travel guide to Ithaca Greece later.
You might also want to read: The best Greek Islands that are not Santorini or Mykonos