Look for the best captions to go with your photos of Boston in this collection of over 200 Boston Instagram Captions.
Best Boston Captions
Boston is one of the most historical and beautiful cities in America. Filled with iconic landmarks and stunning views, it's no wonder that Boston is a top destination for tourists.
There are plenty of restaurants and bars, and there are also lots of cultural attractions, like the Freedom Trail, Fenway Park, and the Museum of Fine Arts. Boston is also a great place to walk around, and there are some charming neighborhoods like the North End and Beacon Hill.
There's plenty to see and do in this vibrant city, so no doubt you'll end up taking hundreds of photos all perfect for IG posts. Whether you're a first-time visitor or a lifelong resident, these Boston Instagram captions will capture the city's spirit and go perfectly with your city snaps!
Best Boston Instagram Captions
Boston cream pie
---
Boston Red Sox!
---
The Boston skyline at night blows my mind
---
I'm in a New England state of mind
---
If you love Boston, you must be a Bruins fan
---
Red Sox nation
---
Proud to be a Bostonian
---
No one does it like Boston
---
There's no place like Boston
---
Summer in the city
---
My heart is in Boston
---
Wicked good time
---
Fall in love with Boston all over again
---
What's not to love about Boston?
Related: Short Traveling Quotes
---
Captions and Quotes About Boston
A bad day in Boston is better than a good day anywhere else
---
Yeah, but this girl is like, you know, beautiful. She's smart. She's funny. She's different from most of the girls I've been with
---
Boston, where have you bean all my life
---
I love Boston and I always will. I'll always have terrific memories and great fans here. – Johnny Damon
---
Boston is just a village, sprawling far and wide, more human than New York City. – Frederich Engels
---
Boston has my heart
---
It's such a great city, visually. You can't get that kind of look in Canada that you can get in Boston: the old-brick historical buildings, the winding streets, the old but funky neighborhoods like Southie and Somerville. You can't get that elsewhere. It's a very unique place in that way. – Brad Anderson
---
Boston's freeway system is mad. It was clearly designed by a person who had spent his childhood breaking toy trains. – Bill Bryson
---
Boston cream pie is life
---
Boston State-house is the hub of the solar system. You couldn't pry that out of a Boston man if you had the tire of all creation straightened out for a crow-bar. – Oliver Wendell Holmes
---
Here's what I see all across this great city – people working together to make Boston a better place to live and to raise children, to grow and pursue dreams. – Thomas Menino
---
Instagram Captions About Boston
Boston is an oasis in the desert, a place where the larger proportion of people are loving, rational and happy. – Julia Ward Howe
---
I know of no large city where there is so much mutual helpfulness, so little neglect and ignorance of the concerns of other classes. – Harriet Martineau
---
I mean to say that Boston is what she is today because the past is physically as well as traditionally a part of her modern life. – David Mccord
---
Boston is a great city – and Music Hall has a fame almost as extensive as that of Boston – Frederick Douglass
---
When I go abroad I always sail from Boston because it is such a pleasant place to get away from. – Oliver Herford
---
Let's be honest: There's no better college town than Boston
---
You cannoli imagine how beautiful Boston is
---
I'd rather entrust the government of the United States to the first 400 people listed in the Boston telephone directory than to the faculty of Harvard University. – William F. Buckley Jr
---
The spring in Boston is like being in love: bad days slip in among the good ones, and the whole world is at a standstill, then the sun shines, the tears dry up, and we forget that yesterday was stormy. – Louise Closser Hale
Related: Spring Instagram Captions
---
Boston Captions For Instagram
Hello Boston, your lights are fireflies in my heart
---
Everything about Boston is unique. It isn't one thing. Boston is its own deal. – Bill Burr
---
What distinguishes a great player is his presence. When he goes on to the court, his presence dominates the atmosphere. by Bill Russell
---
Just a girl with her daily cup of Dunkin
---
Party like a lob-star (roll)
---
And it was from Boston that one in every six American families began their journey into the land of the free. – Thomas Menino
---
I'm just a small-town girl with big city dreams
---
As a matter of fact, I don't know of one artist as long as I've been alive that they put in regular rotation in Boston who wasn't already on a major label with a huge deal behind them. – Slaine
---
Boston is calling and I must go
---
We are Boston. We are America. We respond. We endure. We overcome. And we own the finish line. – President Joe Biden
Related: New York IG Captions
---
More Captions For Boston Photos
---
I've never heard a Boston accent in outer space,' is what they say. I always go like, 'Oh yeah, what about English?' – Bill Burr
---
I've always had a love affair with Boston. – Ayanna Pressley
---
I bean thinkin' about you
---
Some people can never believe in themselves until someone believes in them
---
Massachusetts has been the wheel within New England, and Boston the wheel within Massachusetts. Boston, therefore, is often called the `hub of the world' since it has been the source and fountain of ideas that have been reared and made America. – Reverend F.B. Zinkle
---
The Boston Celtics are not a basketball team, they are a way of life. by Red Auerbach
---
I love Boston, but it's a smaller city for the personalities and video and the other stuff we want to incorporate. – Dave Portnoy
---
You'll have bad times, but it'll always wake you up to the good stuff you weren't paying attention to
---
I call Boston home because it's where I started coming into my own. by Sasha Banks
---
Great Boston Phrases To Use With Your Photos
If you haven't taken pics on Acorn Street, strolled through the Public Garden, or kayaked on the Charles, do you actually live in Boston?
---
Half the world wants to be like Thoreau worrying about the noise of traffic on the way up to Boston; the other half use up their lives being part of that noise. I like the second half. – Franz Kline
---
Boston was a great city to grow up in, and it probably still is. We were surrounded by two very important elements: academia and the arts. I was surrounded by theater, music, dance, museums. And I learned how to sail on the Charles River. So I had a great childhood in Boston. It was wonderful. – Leonard Nimoy
---
When you think about Boston, Harvard and M.I.T. are the brains of the city, and its soul might be Faneuil Hall or the State House or the Old Church. But I think the pulsing, pounding heart of Boston is Fenway Park. – John Williams
---
From the bottom of my heart, I want to thank all the fans of Boston. I love those guys, they have been there for me in the ups and downs. – Manny Ramirez
---
That's all I claim for Boston – that it is the thinking center of the continent, and therefore of the planet. – Oliver Wendell Holmes
---
Proper Bostonians never talk about money. My father told me if I ever talked about money with a woman to take off the last zero. – Cleveland Amory
---
We hope you enjoy both of our seasons: winter and construction
---
I know it's shellfish but I want to stay in Boston forever
---
Pics on Acorn Street or it didn't happen
---
Boston Puns And Sayings
I only have eyes for a Boston cream pie
---
Congratulations to the NBA champion Boston Celtics – they beat the Los Angeles Lakers by 39 points. Or as Hillary Clinton would say, 'Too close to call. by Craig Ferguson
---
Boston is the one place in American where wealth and the knowledge of how to use it are apt to coincide. – Ralph Waldo Emerson
---
In Boston, our strength is really our diversity. – Marty Walsh
---
Boston has two seasons: August and winter. — Billy Herman
---
Boston: Bean there, done that
---
I lived to play basketball. Growing up as a kid, Bill Russell, and the Boston Celtics were my favorite team. by Bill Walton
---
Boston is a city that has the power to convince you to change what teams you root for
---
Oh, Boston, you're my home. — The Standells, Dirty Water
---
Boston is actually the capital of the world. — John Krasinski
---
Instagram Boston Updates You Can Use
I'm currently occu-pied with this Boston cream pie
---
It'd be an insult to us if you're still here in 20 years
---
Here for the clam chowder and lobster rolls
---
Brunching on Newbury Street never gets old
---
The Yankees may have always had the better players, but the Red Sox always had the better writers. by Dan Riley, The Red Sox Reader
---
Push yourself again and again. Don't give an inch until the final buzzer sounds. by Larry Bird
---
Boston is large enough to learn your independence and small enough to make your own. – Henry Winkler
---
Boston settled into a sullen calm, probably at the stern insistence of Sam Adams, who reprimanded the street gangs, printers, and 'wharf rats' who often identified themselves as Sons of Liberty. – Nancy Rubin Stuart
---
Just a girl who loves Boston
---
Boston is a moral and intellectual nursery always busy applying first principles to trifles. – George Santayana
Related: Summer Instagram Captions
---
Captions To Use With Boston Updates
I always tell people you don't know cold until you have been to Boston. – Marcus Luttrell
---
Boston is so laced with jerseys that you can be dressed head to toe in team apparel and no one will look twice. – David Walton
---
I have just returned from Boston. It is the only thing to do if you find yourself up there. – Fred Allen
---
The world moves slowly, and Boston is much like the world. – Frederick Douglass
---
You must have never driven in Boston. – August Cole
---
I don't care if you have a report on the boy. I don't care if you have a few laughs, even at my expense, but don't you dare undermine what I'm trying to do here
---
So this is a Harvard bar, huh? I thought there'd be equations…on the wall
---
In Boston they ask, how much does he know? In New York, how much is he worth? In Philadelphia, who were his parents? – Mark Twain
---
Falling in love with Boston
---
I kind of look at Boston as my second home. – Robert Parish
---
Boston runs on bagels
---
Fantastic Boston Instagram Text
You can leave Boston, but it will never leave you
---
Boston: Their hotels are bad. Their pumpkin pies are delicious. Their poetry is not so good. – Edgar Allan Poe
---
You'll never have that kind of relationship in a world where you're afraid to take the first step because all you see is every negative thing 10 miles down the road
---
Full of crooked little streets; but I tell you Boston has opened and kept open more turnpikes that lead straight to free thought and free speech and free deeds than any other city of men. – Oliver Wendell HolmesBoston is the cream of the crop of the marathon world. It has such history that you feel such honor just being a part of it. All the other races have pacers to get you to a Boston qualifying time. – Summer Sanders
---
Boston, I've only got pies for you!
---
Boston is not an avant garde place. It stays literally 15 to 20 years behind New York at all times. – Paul Laffoley
---
Bill Russell, a famous philosopher from Boston Celtics once said 'When things go bad, things go bad. by Jon Stewart
---
There is about Boston a certain reminiscent and classical tone, suggesting an authenticity and piety which few other American cities possess. – E. B. White
---
The Boston people were willing to learn, but only if one recognized how much they knew already. – Van Wyck Brooks
---
To say that obesity is caused by merely consuming too many calories is like saying that the only cause of the American Revolution was the Boston Tea Party. – Adelle Davis
---
Boston Caption Collection
I guess no true Bostonian would trust a place that was sunny and pleasant all the time. But a gritty, perpetually cold and gloomy neighborhood? Throw in a couple of Dunkin' Donuts locations, and I'm right at home. — Rick Riordan
---
This is Boston, a city with courage, compassion, strength that knows no bounds. – Thomas Menino
---
I guarantee you, if you could give me 10 points in all those seventh games against the Boston Celtics, instead of Bill Russell having 11 rings, I could've at least had nine or eight. by Wilt Chamberlain
---
Boston does not represent the quintessential excellence of all the world's cities synthesized into a paradigm of urban beauty and virtue, but it is a place at once characteristic, mellow and mature, and possessed of many qualities not entirely divorced from charm. – Lucius Beebe
---
There's nothing more beautiful than a walk down the Charles in the fall
---
Going to Boston, be back never
---
We say the cows laid out Boston. Well, there are worse surveyors. – Ralph Waldo Emerson
---
I've never bean to Boston before
---
Chinese food in Texas is the best Chinese food in the United States except Boston. – John Updike
Related: Texas Captions
---
Anyone who lives in Boston knows that it's March that's the cruelest. – Stephen King
---
When life Sox, come to Boston
---
I grew up in Boston, so it's a nice change to be cold after living in California. – Matt LeBlanc
---
I love Boston; it's like Paris. – Tyra Banks
---
Current situation: relaxing on the Esplanade… do not disturb
---
So if I asked you about art, you'd probably give me the skinny on every art book ever written
---
I look at a piano, I see a bunch of keys, three pedals, and a box of wood. Beethoven, Mozart, they saw it, they could just play
---
I fell in love with Boston, so hopefully, I'll be here for a long time. – Johnny Damon
---
If you love this country and study history, then you will love Boston. – Marcus Luttrell
---
From now on sweet dreams are made of lobster rolls and sightseeing in Boston
---
No, mom, I haven't picked up a Boston accent yet
---
Captions
---
Boston is a state of mind. – Thomas Gold Appleton
---
This is a city that has been created by man, by humans. When the English first got here, most of it was underwater… Boston's a city that people have built… and I find it exciting to see that continuing to happen. – Frederick P. Salvucci
---
In Boston, they love their sports celebrities. And it's great. – Tom Brady
---
When I'm in Boston, I always feel like I'm home. I almost cry I feel so good. – Luis Tiant
---
I've got a theory that if you give 100 percent all of the time, somehow things will work out in the end. by Larry Bird
---
I guess God made Boston on a wet Sunday. – Raymond Chandler
---
If playing hard is dirty, then I guess we are a dirty team. by Isaiah Thomas
---
My most memorable moment came in 1985 as we beat the Boston Celtics. by Kareem Abdul-Jabber
---
I wonder if Boston misses me too
---
Sorry for what I said when I wasn't eating a lobster roll in Boston
---
You know, Boston people are full of sauce. – Ellen Pompeo
Funny Boston Captions
A dunkin breakfast sandwich is the only way to start the day
---
Just a Boston girl
---
Can I call Boston home?
---
Boston baked beans for the win!
---
Taking a trip to Beantown
---
I hope you were able to use a few of these Boston captions on your Insta posts! Check out some more fun IG caption collections below:
RECENT TRAVEL POSTS
---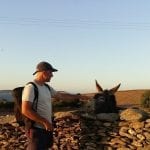 –
Dave Briggs
Dave is a
travel writer
who spends his time traveling around and writing about Greece. As well as putting together this list of Boston Instagram Captions, he has written hundreds of travel blog posts about destinations and adventure activities. Follow Dave on social media for travel inspiration from around the world: