Here's the biggest collection of funny travel quotes all in one place. Over 50 fun travel quotes designed to put a smile on your face and inspire your next travel adventure.
50 Best Fun Travel Quotes
Do you love traveling? Do you want to make your next trip an unforgettable experience? Here's a list of 50 funny quotes about traveling that will inspire you.
As The Joker once said – Why so serious?
Travel should be fun!
Our collection of 50 funny travel quotes will inspire you to hit your next adventure with a smile. After all, who doesn't need a little Vitamin Sea in their lives?
---
Life is short. Call in sick and book that last minute flight.
---
I want someone to look at me the way I look at a travel magazine!
---
Friend: Let's go to Bora Bora.

Me: Man, I wanna go, but I'm pora pora.
---
I love those days when my only decision is window or aisle.
---
Good things come to those, who book flights.
---
I wish travel therapy was covered by my health insurance.
---
I need vitamin SEA.
---
Babies: cry all flight long. Fall asleep during landing.
---
I haven't been everywhere, but it's on my list.
Related: Summer Vacation Quotes
Funny Travel Instagram Captions
Here's a few one liners you can use to liven up your Insta feed for a good laugh!
I wish that road trips could pay my bills
At the end of the day.. I'd rather like to have a lot of stories to tell, than a full bank account
Backpacking is money spent on Education.
I always want to wear flip flops, but my boss doesn't like it…guess, I've to travel then!
Everyone should believe in something. I believe I should be on the beach drinking Margaritas.
Taking an Uber from the bar to my home is the only travel I can afford.
Related: Funny camping captions
---
Funny Road Trip Quotes
Here's a short but sweet sub-section of funny road trip quotes to make you laugh:
"A road trip is a way for the whole family to spend time together and annoy each other in interesting new places." – Tom Lichtenheld
"Kilometers are shorter than miles. Save gas, take your next trip in kilometers." – George Carlin
"I have found out that there ain't no surer way to find out whether you like people or hate them than to travel with them." – Mark Twain
Related: Captions For Weekend Photos
Funny Travel Quotes
Here's 10 more fun travel quotes and sayings. We love this first one! How long has your longest vacation been, and isn't it about time you had another one?
I need a vacation of 6 months. Twice a year!
---
It's bad manners to let a vacation wait!
---
If traveling was free, BYE!
---
Airports: the only place where drinking 8 AM is socially acceptable.
---
All I want for Christmas is you forever vacation.
Related: Christmas Instagram Captions
---
I need a vacation so long, I forget all my passwords!
---
Girls don't wait for the prince anymore, they pack and travel the world.
---
Travelling is like a chocolate box. Don't matter what you get. All is good.
---
I feel like most of my problems could be solved with a trip to … anywhere.
---
You've never felt true fear until your passport isn't where you think you left it.
---
Funny Travel Sayings
If you've ever heard that 'final boarding call' announcement, you'll appreciate this next travel quote!
Running to the gate is my cardio.
---
That moment when boarding is complete. And the seat next to you is empty.
---
A plane ticket is the answer. Who cares what the question is.
---
In desperate need of a full body massage, 4 days of sleep and a ticket to the Bahamas.
---
Going on a trip. Need about 5 outfits. I've packed 35 just to be safe.
---
TIP: You won't get the holiday blues if you just keep booking holidays.
---
I heard an airplane passing overhead. I wished I was on it.
---
Holiday? Now that's a word I haven't heard in a long time.
---
Have you ever stopped to think, maybe travel is addicted to me?
---
I travel a lot, I hate having my life disrupted by routine.
---
Funny Travel Captions
And there's more! Here's the next section of our collection of funny travel quotes and sayings.
Me: I want to travel.

My bank account: Like to the park?
---
There should be sympathy cards for having to go back to work after vacation.
---
Can we just skip to the part in my life where I travel the world?
---
Do you ever stress about money and then accidentally book another flight?
---
Physically I'm here. Mentally I'm in a pool in Bali ordering my third mojito.
---
If you look like your passport picture, you probably need a trip.
---
Be afraid. And do it anyway.
---
I've got a crush on the world.
---
It's bad manners to keep a vacation waiting.
---
Inspiring Travel Quotes
Here's our final selection of fun quotes about travel. If you enjoyed reading them, please share on social media using the buttons at the top of the page!
People having babies. And I'm like…what country am I going to next?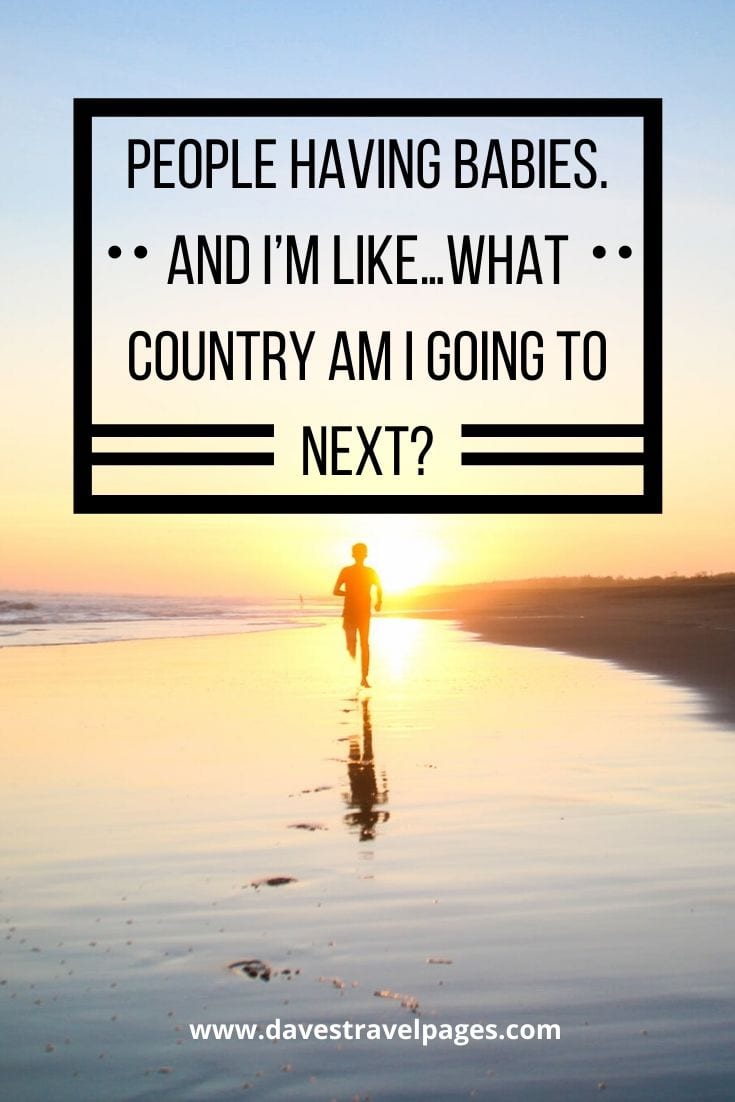 ---
If anyone is Christmas shopping for me, I wear a size 7-day Caribbean cruise.
---
You can't make everyone happy. You are not a plane ticket.
---
I just need a large coffee, a plane ticket and a bag full of cash.
---
Bank account nice and empty. Starting the new year on a clean
---
I've got 99 problems. But I am on vacation and I am ignoring them all!
---
Yeah, working is great…but have you tried travelling.
---
I followed my heart and it led me to the airport.
---
I googled my symptoms. Turns out I just needed to go on a vacay.
---
Live a life you don't need a vacation from
---
You might also be interested in these other inspirational quotes about travel: