Tips and insights into planning a bicycle tour. Includes bike touring gear reviews, insights and experiences. prepare for your cycle tour the best way!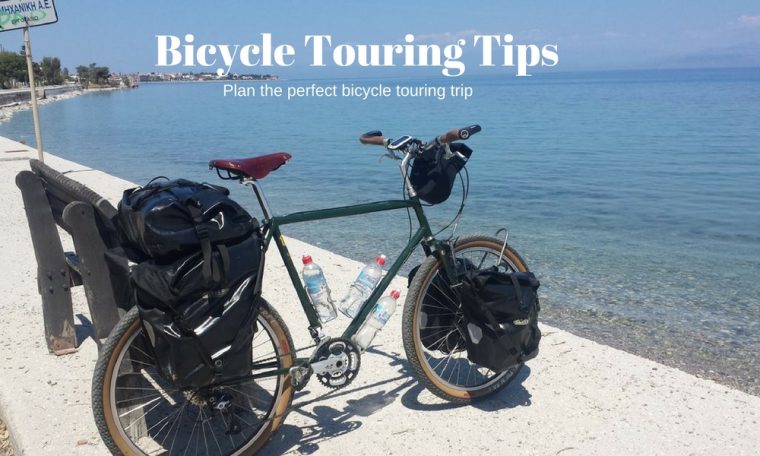 Includes how to cut costs on a long distance cycling tour, dealing with aggressive dogs, the best foods for bicycle touring, and more.
Bicycle Touring Tips
The bicycle touring tips listed below, are the result of quite a few years spent cycling around the world.
During this time, I've had my fair share of joys and disasters, tricky situations and sublime experiences.
It's been an incredible learning journey, and one that continues almost every time I get on the bike.
By sharing some of the things that I have picked up along the way, I hope to make life a little easier for other cyclists planning their own long distance cycling adventures.
Bicycle Touring Advice
I've split this post of bicycle touring tips into four sections:
Before you go – How to prepare for a long distance cycling trip
On the Road – Bicycle touring tips aimed at making life on a long bike tour easier
After the tour – What to do when the bike tour is over
Useful bicycle touring articles – Further reading to take your bike trip to the next level!
There should be cycle touring tips, tricks and hacks of use here for everyone.
Whether you are planning a weekend bike tour, or a more ambitious around the world cycling adventure, I hope you pick up something that makes your life easier.
Keep in mind though, no one knows it all, especially me! So, please look on these bicycle touring tips as friendly advice rather than a rule book to follow.
After all when it comes to bike tours, half the fun is learning from mistakes made along the way.
Bike Touring Tips – Before You Go
Let's kick off by looking at how to prepare for a cycling trip.
Are you doing everything you can to prepare for your bicycle tour? I remember during the run up for my first tours, everything I did was geared towards making it succeed.
Here's some things to keep in mind.
Prepare for your bike trip
Remember your 6 P's (Proper Preparation Prevents Piss Poor Performance). Being prepared for the road ahead, whether you intend cycling a coast to coast over a weekend, or one end of Europe to the other, can take many forms.
Perhaps you need to build your fitness up, buy certain maps, work out where accommodation is, buy specific bits of gear etc etc. Just winging it works for some people, but being prepared before hand makes common sense. There is no point in making life harder than necessary!
Educate – Bike Touring Maintenance
Knowing how to look after your bike is going to save you a lot of hassle in the long run. If you are looking at touring for short periods of time, you should at least know how to fix a flat tyre and look after the chain correctly.
If you are going on a long distance cycling tour, it would be beneficial to know how to replace a chain, fix a broken spoke, remove the rear cassette, change cables etc.
Some people choose to attend a bicycle maintenance class to acquire this knowledge. Many bike tourers, including myself, pick it up as they go along over time.
You can take all the tools in the world, but if you don't know how to use them, they are dead weight. Knowledge, on the other hand, weighs nothing.
Related: Common Bike Problems
Test your long distance cycle touring setup
The time to test all your shiny, new gear is not on day one of your epic cycling trip around the world! Give your kit a run out before leaving, whether it is setting the tent up in the back garden, using a water filter, or cooking off a camp stove.
Perhaps more importantly, do a couple of rides with your fully loaded bike before you leave. A bicycle weighed down with stuffed panniers feels and handles a lot differently than a lightweight road bike.
Go out on at least one overnight trip to double check the practicalities of your setup.
It might change your mind as to how much stuff to take as well! Read more here: The importance of a shakedown bike trip
Warmshowers
Sign up for the Warmshowers hosting site. better still, be a host for the months while you're saving for your bikepacking trip around the globe!
Warmshowers is a hospitality site that connects bicycle travelers with hosts. There's no fees involved, and a traveling cyclist can stay at available hosts for free!
Using Warmshowers can be a great way to connect with locals while pedaling through a country. It's also a great way to cut down on accommodation costs!
Find out more here: Warmshowers
Eat what you like when cycling
This does not get included in many people's cycle touring tips, but I really believe it's very important. The chances are, that you have decided what sorts of food you are going to eat whilst cycling. Maybe its lots of rice, pasta, fish, peanut butter, oats, bread etc.
Now ask yourself this. Have you ever eaten these same foods day in day out for a week or more? How many breakfasts does it take before you can't face the sight of oats in the morning again?
If you are going on a long distance cycling tour, and have worked out what sort of foods you are going to eat, try the diet first. Trust me.
Cycle Touring Tips – On the Road
Here's some more great tips as you head out on two wheels into the great outdoors for your tour:
Swap your front and rear tyres over every couple of thousand kms. They will last longer.
---
Getting up early, and doing most of the cycling in the morning is a good idea. It is generally cooler and less windy.
---
Avoid rush hour traffic wherever possible. This might seem common sense to most people reading this list of bicycle touring tips, but it's important nonetheless.
---
Take time to smell the roses. Sometimes literally. You are bicycle touring to enjoy yourself and the countryside, not break new land-speed and distance records. (Unless that's your aim of course).
---
Make the most out of every opportunity. A source of water? – Fill up all your bottles. A small store in the middle of nowhere? – Buy food, as it may be the last store for a while. Electric wall socket? – Recharge all your tech gear.
---
Don't be afraid to stop riding and take breaks. Nobody is watching you to see how "lazy" you are being, and an hour or more taken out for lunch will restore your energy levels beyond the calorific replacement.
---
When braking on long, downhill sections, alternate squeezing between the front and back brakes. On super long stretches of downhill, don't let the rims overheat by constant braking. Pull over and take five minutes out.
---
Balance your load out. If the panniers are heavier on one side than another, it will put unneeded strain on the hubs and wheels. Pack heavier items towards the bottom of the panniers. Try also to get 60% of the load at the back of the bike, and 40% at the front.
---
---
Bicycle Touring Tips – When It's All Over
When you get back home, unpack your stuff as soon as possible. You don't want to be leaving a wet tent rolled up in a bag for months on end, or it will rot and smell. Air your sleeping bag etc. It's surprising how "I will leave it a day" turns into leaving it for a week!
Label up all your photos. They might be fresh in the memory for a few days, but as time goes by, you may start forgetting where they were taken.
Start planning your next trip!
You might want to check out
Related Articles on Bicycle Touring Tips
Here are some more articles that you could class as bicycle touring tips. Some of these are aimed at people looking to buy a touring bike, whilst others are practical tips.
Things to look for in a touring bike
Butterfly Handlebars – Are Trekking Bars The Best type of Bicycle Touring Handlebars? – A look at whether or not trekking bars are the best type of bicycle touring handlebars in terms of comfort and practicality.
700c vs 26 Inch Wheels for Bike Touring – The Best Wheel Size for Bicycle Touring – Before buying a touring bicycle, you might want to take a look at which size wheel is best for bike touring.
Best Rear Bike Racks – A strong rear bike rack for panniers is essential when preparing for a long distance bicycle tour.
Preparing to cycle the Pan-Amercian Highway – Your questions answered.
Bicycle Valve Types – The differences between Presta and Schrader valves.
Rohloff Hub – Should you choose a Rohloff hub for bicycle touring.
How to change the oil in a Rohloff speedhub – How to maintain your Rohloff hub.
Best saddles for bike touring – Choosing a good bike seat is key for a comfortable ride!
Is the Brooks Cambium C17 good for bike touring? – A look at the C17 saddle from Brooks.
Brooks B17 saddle – The famous Brooks B17 leather saddle is the de facto standard for bike touring.
Duct Tape Bike Repairs – Duct tape can be useful in emergencies when touring!
Bike Touring Gear
Bike Touring Gear – A look at the bicycle touring gear I take with me on extended tours.
Touring Panniers vs Bicycle Touring Trailer – Which is best for bicycle touring? Having used both extensively, I give my opinion.
The Best Panniers for Bike Touring – Getting this right is essential in planning your next bike tour!
Ortlieb Back Roller Classic Review – A review of the most popular touring panniers for long distance cycling trips.
Choosing the best handlebar bag for touring
Best Bike Tool Kit – The bicycle tools you have at home are different from your touring tools.
Bike Touring Tool – Are multi-tools any good for bike touring?
Best bike touring pump – How to choose the best pump for a cycle tour
More bike touring tips
Top 10 Bike Touring Essentials – Whether touring for a weekend or a year, I never leave home without these 10 items!
Wild Camping – You can save a lot of money by wild camping during your bicycle tour. Here's some tips on how to wild camp successfully.
How to choose a camp stove for bicycle touring – Let's compare camp stoves, and work out which one is most suited for bicycle touring.
How to cope with being sick when bicycle touring around the world – It's never fun getting ill, especially when you are halfway around the world, and by yourself in the middle of nowhere.
How to pack food in your panniers – How to keep food in your panniers so it doesn't get destroyed when long distance bicycle touring!
Travel tips on cycling in Peru – Some FAQs about cycling in Peru answered.
How much does it cost to travel around the world on a bicycle – A realistic look on how much cycling around the world costs.
Top Pillows for Camping– Getting a good night's sleep helps make each day on a bike tour go that much better!
As I mentioned before, I hope you find these bicycle touring tips useful, and if you have any of your own to add, I would love to hear from you. Just leave a comment in the section below. Cheers for now!
Long Distance Bicycle Touring FAQ
Readers planning their first bike tour – or even their 30th long distance tour – for that matter, like to have their bases covered when it comes to touring bikes, making sure they have enough money, and gear.
Some of the most frequently asked questions they have include:
Which bike is best for long distance touring?
Specifically designed long distance touring bikes are the best choices when it comes to a long tour. The Surly Long Haul Trucker is perhaps the most well known, but other bikes from companies such as Stanforth, Thorn, Dawes, Koga, and Santos are also excellent choices.
How do I prepare for a long distance bike tour?
Once you have all the gear you think you'll need for your bicycle tours, the biggest preparation left is to make sure you're in shape. There's a huge difference between riding your bike on road as a leisure activity, and riding a full loaded bicycle on all types of terrain.
What is the difference between Bikepacking and touring?
The edges between bike touring and bikepacking become more and more blurred Generally speaking though, bikepacking takes place on predominantly unpaved roads and tracks, and frame bags are used to pack all the gear needed. Bike touring usually involves carrying gear in panniers or on a trailer, and while not strictly limited to paved roads, it's not normally practical to tackle singletrack like this.
<h3″>What is credit card touring?
his minimal form of cycle touring is ideal for short trips. You can leave the camping gear and cooking kit behind, and instead travel by bicycle with as few things as possible apart from your credit card or cash. You'll simply buy what you need on the way, and stay in hotels at night.