Start planning your trip to Europe with ideas from this epic European bucket list. Includes 100s of suggestions of places to visit and experiences you shouldn't miss!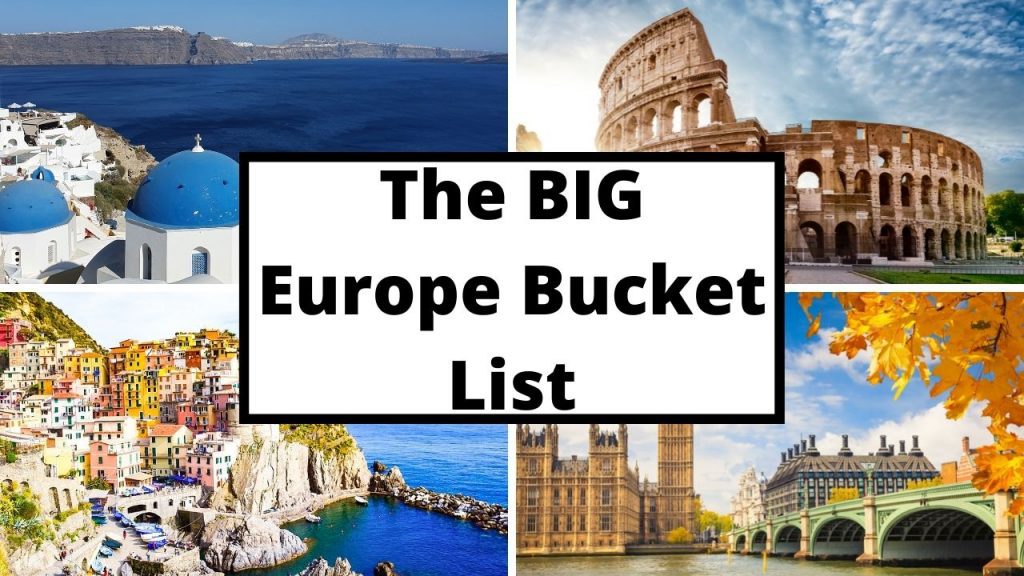 Europe Bucket List
The European continent is a dream destination for many people. With 44 countries in Europe to choose from, there's never been a better time to experience the world's most loved continent. Each country is packed with incredible sights and amazing things to do – ,you've got an epic adventure ahead of you!
This Europe bucket list is a collection of ideas and suggestions for awesome experiences around Europe. I've also added in some personal recommendations from my own travels in Europe over the past few years.
You can use this list of landmarks in Europe to get yourself started with planning your trip, or simply get inspired by the incredible possibilities if you want to travel somewhere new. Let's dive in!
Albania
Albania is a small, mountainous country in the Balkans region of Europe. It is home to a mixture of cultures from Muslim Albanians in the North and Orthodox Christian Albanians in the South. The terrain ranges from coastal beaches with pine forests to arid mountains farther inland with many snow-capped peaks in between.
Albania shares adjacency on the Mediterranean Sea with Croatia and Greece – which leaves for plenty of new discoveries on its coastline!
Explore this country's incredible mix of Eastern and Western influences, from Ottoman-style mosques to ancient Roman ruins, from the long sandy beaches of Durres to the imposing mountains of Kruja.
Bucket List Suggestions in Albania:
Take a day trip to Berat – The Town with a Thousand Windows
Learn about Communist history in Tirana
Find some abandoned bunkers
Wild camp on the beach
---
Andorra
Andorra is a country of four valleys in the Pyrenees mountains. It's a small principality nestled close to the French and Spanish border, and it's been independent since 1278. The country is known for its ski resorts, where you'll find some of the best skiing on the eastern side of the Pyrenees
It features a four-season mountain climate, and the population are mainly Catalan-speaking people. The capital city is Andorra la Vella.
Bucket List Suggestions in Andorra:
Go hiking in the Madriu-Perafita-Claror Valley
Have winter fun skiing
Relax at the Caldea Spa Complex
Eat rustic mountain food
Spend the night in an ice hotel
---
Austria
Austria is a small, mountainous country in the Alps region of Europe. It's known for its natural beauty and skiing on the Alps mountain range. The capital city is Vienna, and German is by far the most commonly spoken language.
Austria is also known for its classical music scene, and its openness to tourism and stunning scenery make it a great place to include on your next big European adventure.
Bucket List Suggestions in Austria:
Cycle along the River Danube trail
Austria has some of the best Christmas Markets – Go to Salzburg if you're there at the right time of year!
Spend a night at the Opera
See Hallstatt – Perhaps one of the most beautiful towns in Europe
Explore Hohensalzburg Fortress
Taste the culinary delights of Graz at the Glockenspiel
Spend half a day at the Prater Amusement Park
Tour the Benedictine Abbey at Melk
Walk around Schönbrunn Palace in Vienna
Related: Best travel songs
---
Belarus
Belarus is a landlocked country in Eastern Europe, bordered to the east by Russia and to the west by Poland, Lithuania, Latvia, and Ukraine.The terrain is mostly flat with some hills, although the southeastern territory is more hilly.
The country has a strong history of industry dating back to the Soviet Union days – it's still heavily industrialized today, with manufacturing accounting for about half of its GDP. The capital city is Minsk.
The Białowieża Forest located on the border between Belarus and Poland remains one of only few remaining parts of what used to be a much greater "primeval forest". The area was catalogued as UNESCO World Heritage Site.
Bucket List Suggestions in Belarus:
Nowadays, just getting into Belarus is a bucket list item in itself!
---
Belgium
Belgium is a small, densely populated country in Western Europe, bordered by France to the south, Luxembourg to the east, Germany to the northeast, and the Netherlands to the northwest. The capital city is Brussels. Belgium has three official languages: Dutch, French and German.
Belgium is home to some of the world's most famous tourist attractions including Wallonia's unspoiled landscape of rugged valleys and rolling hills, Flanders' group of medieval cities rich in art history like Bruges and Ghent, and Brussels.
The first thing a foodie might think of when you hear Belgium is waffles, but you might want to get to know moules-frites, or mussels and fries. Indeed, the country is known for its tasty cuisine. There are more than three dozen varieties of moules-frites, with sauces flavored with parsley butter, cream pairpdes or wine – whatever you fancy! Belgium's food culture mostly sticks to the basics of French cooking but also has regional differences too that are important to taste.
On top of some incredible food cultures ,Belgium produces a LOT of beer! This country boasts over 100 breweries which produce over 1200 types (and counting) beers!
Bucket List Suggestions in Belgium:
Waffles for breakfast, lunch, and dinner!
Take a canal cruise in Bruges
Make time for Ghent – an underrated gem
Try a craft beer or two
Visit Flanders Fields Museum
---
Bosnia and Herzegovina
Bosnia and Herzegovina is a country that was formed after the breakup of Yugoslavia. It's one of the youngest countries in Europe, and still has no official language. The capital city is Sarajevo, and you'll find an incredible mix of cultures, religions, languages and traditional celebrations here.
Bucket List Suggestions in Bosnia and Herzegovina:
Take a Sarajevo Walking Tour
Watch local diver jump from the Old Bridge in Mostar
See Modern Art in a Nuclear Bunker
Go to the spot where Archduke Franz Ferdinand was assassinated
---
Bulgaria
The country is known for its beaches, mountains and ski resorts, as well as its rich culture. Bulgarian cuisine ranges from Turkish to Mediterranean to Russian, reflecting the country's long history of being influence by various civilizations.
Whether exploring the capital city of Sofia or relaxing at a Black Sea coast resort, there's so many amazing things to do in Bulgaria!
Bucket List Suggestions in Bulgaria:
See the highlights of Sofia
Explore Ancient Nessebar
Visit The Rila Monastery
Go Scuba Diving in the Black Sea
Spend the winter in Bankso
---
Croatia
Croatia is a country in the Balkans region of Europe, and its capital city is Zagreb. Tourism is an important part of the Croatian economy, and there are 1,000 islands on the Adriatic coast that are absolutely stunning and worth visiting.
You'll find coastal towns like Dubrovnik and Plitvice Lakes National Park that are absolutely stunning and worth the visit!
Bucket List Suggestions in Croatia:
See where Game of Thrones was filmed in Dubrovnik
Go island hopping
Explore Split – Some prefer it to Dubrovnik
---
Czech Republic (Czechia)
The Czech Republic is one of Central Europe's most interesting and underrated destinations. A landlocked, mountainous country with a rich history, this country has so many things to offer- from its capital city of Prague to the incredible castles dotting its landscape. You'll find that the Czech Republic has something for everyone- whether you're looking for some relaxation time or an adrenaline rush!
Bucket List Suggestions in Czech Republic:
Take photos of the Charles Bridge – a medieval stone arch bridge aross the Vltava river in Prague.
Walk around Český Krumlov – one of the largest castles in central Europe
Go on a Czech brewery tour
---
Denmark
Denmark is a Scandinavian country in Northern Europe. The country is well known for Legoland amusement park in Billund, Viking heritage and the Jelling stones, among other attractions.
Denmark is also home to some incredible countryside views with beautiful forests and hills. While exploring this country, be sure to spend some time at Tivoli Gardens- one of the most famous amusement parks in Europe.
Bucket List Suggestions in Denmark:
Eat as many Danish Pastries as you can!
Visit Freetown Christiania
Take a fun day in Trivoli gardens
Row a boat in Frederiksberg Gardens
Walk around Nyhavn and admire the colorful townhouses
Discover your inner Viking at the Viking Ship Museum in Roskilde
---
Estonia
Estonia is a country in Northern Europe, on the Baltic Sea. It borders Latvia to the south, Russia to the east, and Finland to the northeast. Estonia's capital city is Tallinn.
The country has some beautiful natural landscapes including hills and forests- perfect for getting away from it all! If you're looking for an adrenaline rush though, there are plenty of sandy beaches and water sports available too!
Bucket List Suggestions in Estonia:
---
Finland
Finland is a Nordic country, and the climate of Finland has four distinct seasons: spring, summer, autumn and winter. As you might expect due to its northerly location, winters can be very cold, but great if you love skiing and the like!
Finland is one of the most beautiful countries due to its outstanding natural beauty. There are plenty of outdoor activities, cafes and restaurants to enjoy as well as excellent shopping. If you're looking for a quiet getaway from it all, then this country is perfect!
Bucket List Suggestions in Finland:
Use a dog sled for a true Arctic adventure
Stay in a glass igloo
Visit Santa in Lapland
Related: Best camping Instagram captions
---
France
France is home to some of the world's most beautiful cities and landscapes! Paris is among the many stunning destinations, with all its famous landmarks and incredible museums. Just outside of Paris is Versailles- a palace that was once the residence of French kings before becoming a museum. There are also plenty of beaches and vineyards to explore too!
France can boast an excellent range of wine, art, gastronomy, culture and fashion. It's also one of the most diverse countries in Europe- from rolling green mountains to urban streets full of life. France's natural treasures include the Alps beaches on the Cote d'Azur coast as well as charming villages just about anywhere you travel to.
Bucket List Suggestions in France:
Take a second honeymoon in Paris, one of Europe's most romantic cities
Make time for the Louvre, which is the most visited museum in Europe
Savor croissants by the Eiffel Tower
Take a day trip from Paris to Versailles
Stay in a quaint cottage in the French countryside
Relax on a beach in southern France
Admire the picturesque colorful houses of Colmar
Drink a Bordeaux in Bordeaux
In June to August the Lavender fields of Province are in bloom
Related:
---
Germany
Germany is a country in Central Europe, and it's home to some of the world's most stunning destinations. Whether you're looking for a city break or outdoor adventure, you'll find plenty to do in this beautiful country!
Some popular destination choices include Berlin, Alpine skiing in Garmisch-Partenkirchen or Munich's beer gardens. For nature lovers there are riverside walks in Frankfurt am Main, discoveries on Ostsee islands and hiking opportunities through the Black Forest.
Bucket List Suggestions in Germany:
Join locals and visitors at the world's largest beer festival in Munich – Oktoberfest!
In the Late Middle Ages, Germany saw the advent of Christkindlmarkt or Christmas Markets, one of Europe's oldest Christmas traditions. They're definitely something to experience when in Germany during the wintertime.
Party on in the Berlin club scene
Walk the Berlin Wall
Check out a fairytale castle or two
Drive Germany's Romantic Road
---
Greece
Greece is one of the premier Europe bucket list destinations thanks to its gorgeous beaches, abundance of ancient ruins, and fascinating history. You'll find that this small country has a lot to offer in terms of beauty and culture!
From the ancient Acropolis in Athens to the whitewashed houses in Santorini, you're guaranteed to have an unforgettable experience when visiting this country.
Bucket List Suggestions in Greece:
Walk to the top of the Acropolis in the historic city of Athens
Take a day trip from Athens to the Oracle at Delphi
Refuel and eat street food like Gyros
Visit the ancient city of Mycenae
Go wine tasting in Santorini and experience the magnificent sunset
Plan a Greek island hopping adventure
Take it easy with a frappe as you get into the Greek coffee culture
---
Holy See (Vatican)
The Vatican is a country, a sovereign state and a holy see. It is the self-governing territory of the Catholic Church in Rome, with its own laws and diplomatic representation abroad entirely surrounded by Rome.
During your time in this country you can enjoy some amazing historic artifacts of the Vatican's rich history, amble around its many gardens and visit famous landmarks including St. Peter's Basilica, the Vatican Museums and the Sistine Chapel!
Bucket List Suggestions in Holy See:
Admire the stunning Sistine Chapel
Attend a Papal audience
---
Hungary
This country is rich in culture and traditions, with the Hungarian language population being around 10 million people.
The capital of Budapest is widely regarded as one of Europe's most beautiful cities and it's a great place to visit for a short break from your usual routine. There are plenty of tourist attractions, including churches, castles and museums so you'll have plenty to do when you visit this fascinating country!
Bucket List Suggestions in Hungary:
Relax in the thermal Szechenyi Bath and pool complex in Budapest, the biggest natural hot springs spa in Europe.
Spend the night going between the Ruin Bars in Budapest, Hungary
Eat proper Goulash
Catch the Funicular up to Buda Castle
Attend Sziget Festival
---
Iceland
Iceland is a country that may be small, but it has a lot to offer. The natural beauty of this country is truly incredible- from volcanoes and glaciers to its unique wildlife and stunning waterfalls.
There are many points of interest in the country, including world-famous Geysers, Trolls at Þingvellir National Park and the Northern Lights!
Bucket List Suggestions in Iceland:
Get your bearings in Reykjavik
Be amazed by the power of waterfalls
Feel magical as the Northern Lights swirl around
Drive, or cycle (if you are brave enough!) around the Golden Circle
Explore an ice cave
Related: Iceland Quotes and Proverbs
---
Ireland
Ireland is home to both incredible natural beauty and rich culture, making it a perfect destination for your Europe bucket list. There are many great destinations in this country- including Dublin, Cork and the Aran Islands.
For nature lovers there are many wonderful national parks to explore including the Killarney National Park, Connemara National Park and Glenveagh National Park!
Bucket List Suggestions in Ireland:
Take a tour of the Guinness factory
Walk along the Cliffs of Moher
Camp out on the Aran islands
Take a step back in time at Newgrange prehistoric monument
---
Italy
Italy is one of the most diverse countries in Europe. From rolling green mountains to urban streets full of life, you'll find everything you need for a great time here. Some of the most popular destinations include Rome, Milan and Tuscany. You can also find incredible natural beauty at Lake Como or Lake Garda!
Italy is best known for pizza, pasta and espresso; it's an absolutely incredible place to visit when travelling around the world!
Bucket List Suggestions in Italy:
Tour where Gladiators used to fight!
Soak up European history in one of the many museums
Take a photo of the Leaning Tower of Pisa
Throw a coin in the Trevi Fountain in Rome ( right hand over the left shoulder)
Explore the Amalfi coast
Go on a romantic Gondola ride in the Floating City of Venice
Admire the buildings in Florence
Find the best Gelato in the world
Visit the ruins of Pompei
---
Latvia
Latvia is a small country in Northern Europe, bordered by the Baltic Sea to its west. It has a population of two million people and shares an international border with Estonia in the east, Belarus to the south-west, Russia to the north and Lithuania to the south-east. It's a great location for your Europe bucket list, with plenty of places to visit including Riga (Latvia's capital) and the Gauja National Park.
Bucket List Suggestions in Latvia:
Go for a walk at Town Hall Square in Riga
Spend time at the Seaside Open Air Museum in Ventspils
Visit the Ligatne nuclear bunker
---
Liechtenstein
Liechtenstein is a small country in Europe that you may have never heard of before. In fact, if it has a claim to fame, its of being precisely that – a small country few people have heard of, and fewer can point out on a map!
It is one of the smallest countries in the world and it has a population of just 38,000 people. Liechtenstein is surrounded by Switzerland and Austria- so if you're looking for something different to do on your European bucket list journey, try visiting this tiny country!
Bucket List Suggestions in Liechtenstein:
Get one of the rarest passport stamps anywhere!
Hike the Liechtenstein Trail
---
Lithuania
Lithuania is one of the newest members of the European Union. The country shares a border with Latvia to its east, Belarus to its south-west, Russia to the north and Poland to the south. There are many places to visit in the country, including the capital Vilnius which is home to the Gothic St. Anne's Church- one of Lithuania's most flamboyant churches.
Bucket List Suggestions in Lithuania:
Find the magic tile in Vilnius and make a wish
Visit the Palace of the Grand Dukes
---
Luxembourg
Luxembourg is a small country in Western Europe, bordered by Belgium and Germany. It has a population of only 630,000, but it has plenty to do for those who visit!
There are many places to visit in this country, including the capital Luxembourg City which is a UNESCO World Heritage Site. One of the most popular things to do on your ultimate Europe bucket list is visiting the Vianden Castle- a stunning medieval castle surrounded by lush green forest!
Bucket List Suggestions in Luxembourg:
Take an adventure in the great outdoors in Luxembourg
Visit all the Unesco sites in Luxembourg (there's 3!)
Ride for free on the public transport
---
Malta
Malta is an island country located in the Mediterranean Sea. It's known for its stunning beaches, natural wonders, and amazing historical sites. There's plenty to see and do here, including visiting the beautiful city of Valetta, the ancient capital of Mdina (which is a UNESCO World Heritage Site) and exploring 1 million year old caves in this country.
If Megalithic Temples are your thing, you'll want to add Malta to your Europe travel bucket list as it has the oldest manmade temples in Europe!
Bucket List Suggestions in Malta:
Discover the past at the Megalithic Temples in Malta
Take a day trip in Malta to the Blue Lagoon
Explore Valletta; Malta's capital city
Enjoy the views from the Upper Barrakka Gardens
Check out some Game of Thrones filming locations
Related: Is Malta worth visiting?
---
Moldova
This country is situated in Eastern Europe and bordered by Ukraine and Romania. It has a population of 2.6million and the capital city is Chișinău.
Moldova is perhaps best known for its wine – the country has been named by Lonely Planet as one of the top wine destinations to visit! It's a great place for an active break, with plenty of outdoor activities from hiking and cycling to kayaking.
Bucket List Suggestions in Moldova:
Taste the local wine
Check out the colorful Manastirea Curchi
---
Monaco
Monaco is known as the "playground of Europe", and it's no wonder with its beautiful sunny beaches, luxury hotels, high-end shopping centres and one of the most famous race tracks in the world.
Its capital Monte Carlo has a reputation as acting as a tax haven for the rich and famous, so when you visit Europe, this might be one of the more expensive countries to go to!
Bucket List Suggestions in Monaco:
Watch the Monaco Grand Prix
Mingle at Monte-Carlo Fashion Week
---
Montenegro
Montenegro is a small country in Southeastern Europe with a coast on the Adriatic Sea. It shares borders with Albania to the south, Croatia to the west, Serbia to the north and Bosnia & Herzegovina to the east.
Montenegro is home to many incredible natural wonders including Lovćen National Park, Skadar Lake and Durmitor National Park. It's also known for its stunning beaches (the country boasts more than 1,000km of coastline!) and the country's capital Podgorica is the perfect place to start your tour.
Bucket List Suggestions in Montenegro:
Explore medieval old towns
Update your Instagram at Kotor
---
Netherlands
The Netherlands is a great place to visit when working through your European bucket list. With Amsterdam as its capital, this country has plenty to offer for those looking for an amazing European destination.
You can explore the city by bike or boat, enjoy incredible architecture and experience world-class museums! You can also 'relax' in a cafe – if you know what I mean.
Bucket List Suggestions in Netherlands:
Cycle through Amsterdam
Pick a colorful tulip from the fields (April/May)
Visit the Anne Frank Museum in Amsterdam
---
North Macedonia
North Macedonia is a small country in Southeast Europe which borders Greece, Bulgaria, Serbia and Albania. It was also part of the former Yugoslavia, and in recent years has probably been most well known for the naming dispute with Greece!
Bucket List Suggestions in North Macedonia:
---
Norway
This country has one of the world's most distinctive landscapes. It is known for its dramatic scenery and natural wonders, which range from the northern lights to glaciers, mountains and fjords. From lush forests in southern Norway to snow-covered peaks in the north, this Nordic nation has it all.
Bucket List Suggestions in Norway:
Take a road trip to NordKapp
Stand in awe at the Northern Lights
Explore the Fjords of Norway
---
Poland
Poland has long been known for its traditional cuisine, with dishes like Bigos (a stew of cabbage and meat) and Pierogi (dumplings). It's also home to the largest forest in Europe, Białowieża Forest- which is home to wildlife like bears and lynxes!
Bucket List Suggestions in Poland:
Learn WW2 history at Auschwitz
Explore Krakow's historic old town area
Drink a Vodka (Poles claim they invented the drink)
---
Portugal
Portugal is a beautiful country with incredible landscapes, historical sites and rich culture. Known for its natural beauty (including the Algarve coast) and traditional cuisine, Portugal is one of Europe's gems!
It's also the home of many world heritage sites from Roman ruins to Celtic settlements from eras long-past. You'll find beautiful architecture in Portugal. For food lovers, there are tasty culinary treats ranging from traditional favorites like sardines in casserole sauce to a wide range of desserts made with eggy surprises!
As this is a southern European country, it can also be a good Autumn destination, as the weather stays warmer for longer when compare to Northern European countries.
Bucket List Suggestions in Portugal:
Tuck in to a Pastel De Nata in Lisbon
Visit the Colorful Castle of Sintra
Drink Port in Porto
Live it up in the Algarve
---
Romania
Romania is a country in Southeast Europe, which borders Hungary to the north, Serbia and Bulgaria to the east, Ukraine to the northeast and Moldova to the southeast.
One of Romania's most famous landmarks is its capital Bucharest- a city that is home to some incredible architecture that you won't find anywhere else. If you're looking for historic sites, this is the place to be!
Bucket List Suggestions in Romania:
Walk around Bran Castle in search of Dracula
Visit the pretty city of Brasov in Transylvania
---
Russia
It is the world's largest country by area, covering 17,098,242 square kilometres. One of the most fascinating things about Russia is its culture and complicated history.
Moscow and Saint Petersburg are Russia's two most famous cities and home to some of the country's most interesting museums and buildings.
Bucket List Suggestions in Russia:
Walk around Red Square in Moscow
Visit Lenin's Mausoleum
---
San Marino
The beautiful nation of San Marino is a tiny state, surrounded on al sides by Italy. With landscapes and sights that range from medieval castles to beautiful gardens, this country is one you don't want to miss.
It is one of the world's oldest republics, with much of its historic architecture remaining. The country's capital, also known as San Marino, is located on the slopes of Monte Titano and known for its medieval walled old town and narrow cobblestone streets.
You might not need to spend too much time in San Marino as you work your way through your Europe travel bucket list, but you certainly will remember the visit!
Bucket List Suggestions in San Marino:
Walk across the country in a day (not many times you can say you've done that!)
---
Serbia
The Balkan country of Serbia is one of Europe's most overlooked countries, but it is worth exploring to find out what makes it such a rich and fascinating place. It's home to incredible natural wonders like Tara National Park, which features dramatic mountain landscapes and stretches for over 100 miles in length.
Bucket List Suggestions in Serbia:
Check out Medieval Monasteries and Fortresses
Indulge in Festivals and World Famous Nightlife
---
Slovakia
Home to stunning natural wonders, including the Tatra Mountains, Slovakia is a country that should be on every Europe travel bucket list.
Dotted by castles steeped in tradition where friendliness abounds, you will also find a liberal dose of beautiful natural spots with forests, rivers and hills.
Bucket List Suggestions in Slovakia:
---
Slovenia
This small country is known for its charming lakes, gorgeous countryside and stunning mountains. The countryside has a neat and orderly appearance – and indeed every small village seems to have perfectly manicured lawns and neatly kept fields!
Lake Bled might just be one of the most beautiful lakes in the world and a visit here is recommended, along with a wander through picturesque Lake Bled village.
Bucket List Suggestions in Slovenia:
---
Spain
Spain is the perfect destination for culture-lovers. It's home to some of Europe's most impressive cities, like Barcelona or Madrid, and it also has a large number of UNESCO World Heritage Sites.
If you're looking for breathtaking natural beauty, Spain is the place to go. Visitors will want to explore Spain's diverse terrain with forests, mountains and beaches all just waiting to be explored!
Oh, and talking of the beaches, it is no surprise that Spain is a popular summer sun destination to visit in Europe!
Related: Spain Captions For Instagram
Bucket List Suggestions in Spain:
Visit Sagrada Familia in Barcelona
Admire the unique style of Gaudi in Barcelona
Experience the Fiesta de San Fermín in Pamplona
Have the best Paella of your life
Hike the Camino del Santiago
Party in Ibiza
Visit the Alhambra in Granada
Related: Barcelona Instagram Captions
---
Sweden
Sweden has a range of different landscapes, from forests to mountains and even miles of beaches on its coasts. Visitors can explore Sweden's gorgeous countryside or venture into their capital Stockholm and experience what it has to offer.
Bucket List Suggestions in Sweden:
Stay at an Ice Hotel
Visit the Stockholm Palace
---
Switzerland
Switzerland is a beautiful country that's home to incredibly beautiful scenery, including the Alps! It is also known for its rich culture, cuisine and extremely clean cities.
It's perhaps most well known for its 'neutral' status, which has meant that Switzerland has largely stayed out of conflicts that affected the rest of modern Europe. It's also famous for it's banking sector, where privacy is highly regarded.
Bucket List Suggestions in Switzerland:
Go skiing down the Alps
Take a train ride through the most beautiful scenery in the world
---
Ukraine
Ukraine is one of Europe's less-visited countries. Whether you're interested in the capital city Kiev or would rather explore the natural wonders, this country will not disappoint!
A land of mountains, hills and deep river valleys, it is also home to the incredible Carpathian mountain range. This world heritage site deserves equal attention with its breathtaking views.
Bucket List Suggestions in Ukraine:
---
United Kingdom
Finally, we have the UK. The United Kingdom is made up of four smaller countries- England, Wales, Scotland and Northern Ireland. It's one of Europe's most well visited destinations, with London being one of the most popular European cities to take a city break.
Bucket List Suggestions in United Kingdom:
Visit Stonehenge at the Summer Solstice
Try and get Big Ben and a Red Bus in the same photo
Give a wave to the Queen in Buckingham Palace
Make your way to some of the stunning castles in Wales
Go hiking in the Scottish Highlands
Discover the next big name at the Edinburgh fringe festival
Go in search of the Loch Ness Monster in Scotland
Tick items off your Harry Potter filming locations list
Have afternoon tea in London
Also read: International Travel Packing Checklist
---
Final thoughts on the Ultimate Europe Bucket List
FAQ About Visiting Europe
Readers planning to travel to the European continent often ask questions similar to:
Is Cyprus in Europe?
Although Cyprus is in the European Union, and its culture is clearly European, it is not counted as a European country due to its geographical position.
What are some cool things in Europe?
Some of the top rated attractions in Europe include The Eiffel Tower, the Colosseum, the Acropolis of Athens, Stonehenge and the Louvre.
What should I see before I die in Europe?
There's an endless amount of landmarks to choose from, but perhaps a trip to the Acropolis in Athens should be something to consider. After all, this ancient site was the birthplace of Western Civilization, and the Golden Age of Greece still influences us today through philosophy, poetry and mathematics.
Is there one UNESCO World heritage Site in Europe I should not miss?
With climate change ever present, consider a Unesco world heritage site which may not be with us in the future, such as Ilulissat Icefjord in western Greenland, Denmark which is just 155 miles north of the Arctic Circle.
Also read: