Over 100 best travel addiction quotes and sayings. These awesome travel quotes will fire up your wanderlust to start planning the next big adventure!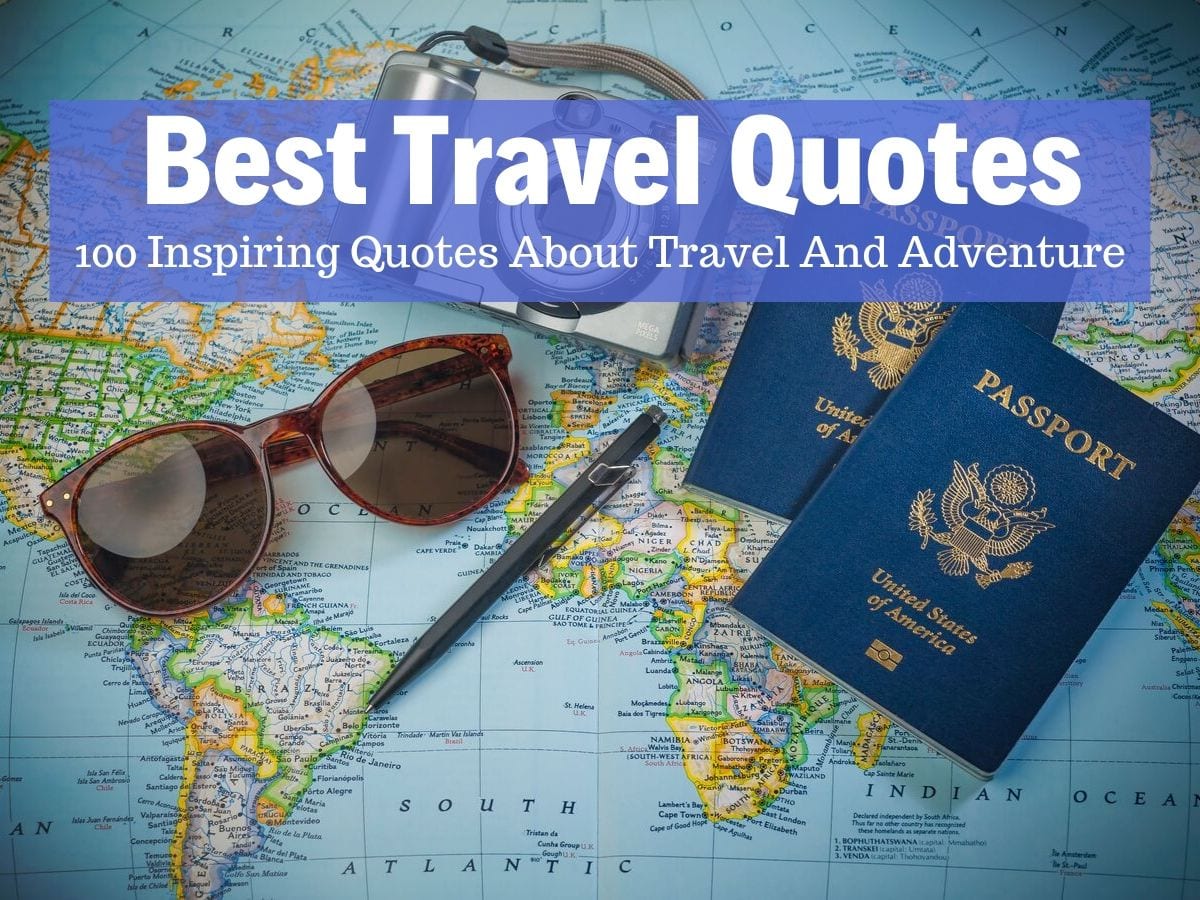 100 Top Travel and Adventure Quotes
Here's a collection of some of the best quotes on travel to inspire your travel adventures. If you're addicted to travel, these sayings, words, and quotes about travel adventure are perfect!
Famous travel quotes can act as motivation, keep your enthusiasm levels high, and help you dream of travel adventures in exotic places.
I love reading travel quotes. I have even set my computer background to display different travel inspiration quotes every day!
The best travel quotes motivate me on days when I have no choice but to be chained to the PC. So, even when I'm working I can think of new places around the world I want to visit.
Traveling quotes help inspire me, and see the bigger picture. This way, at least I know I am working for a reason!
After all…
Travel is the healthiest addiction!
---
Best Addicted To Travel Quotes
Here are some of the best travel quotes, which I hope will help motivate and inspire you as well. They come from some of the world's most famous writers, thinkers, explorers, and travellers.
"A person susceptible to "wanderlust" is not so much addicted to movement as committed to transformation."
― Pico Iyer
---
"Great things are done when men and mountains meet."
– William Blake
---
"There are no foreign lands. It is the traveler only who is foreign."
– Robert Louis Stevenson
---
"It is good to have an end to journey toward, but it is the journey that matters in the end."
– Ursula K. Le Guin
---
"Do not follow where the path may lead. Go instead where there is no path and leave a trail"
– Ralph Waldo Emerson
---
"Focus on the journey, not the destination. Joy is found not in finishing an activity but in doing it."
– Greg Anderson
---
"We travel, some of us forever, to seek other places, other lives, other souls."
–Anais Nin
---
"All journeys have secret destinations of which the traveler is unaware."
– Martin Buber
---
"A journey is like marriage. The certain way to be wrong is to think you control it."
– John Steinbeck
---
"So shut up, live, travel, adventure, bless and don't be sorry"
– Jack Kerouac
---
"In books, I have traveled, not only to other worlds but into my own."
– Anna Quindlen
Related: Travelling Quotes in English
---
Top Travel Sayings and Quotes
Here's the next section of 10 quotes about travel. Have you found a travel saying that appeals most to you yet?
"Wherever you go becomes a part of you somehow."
– Anita Desai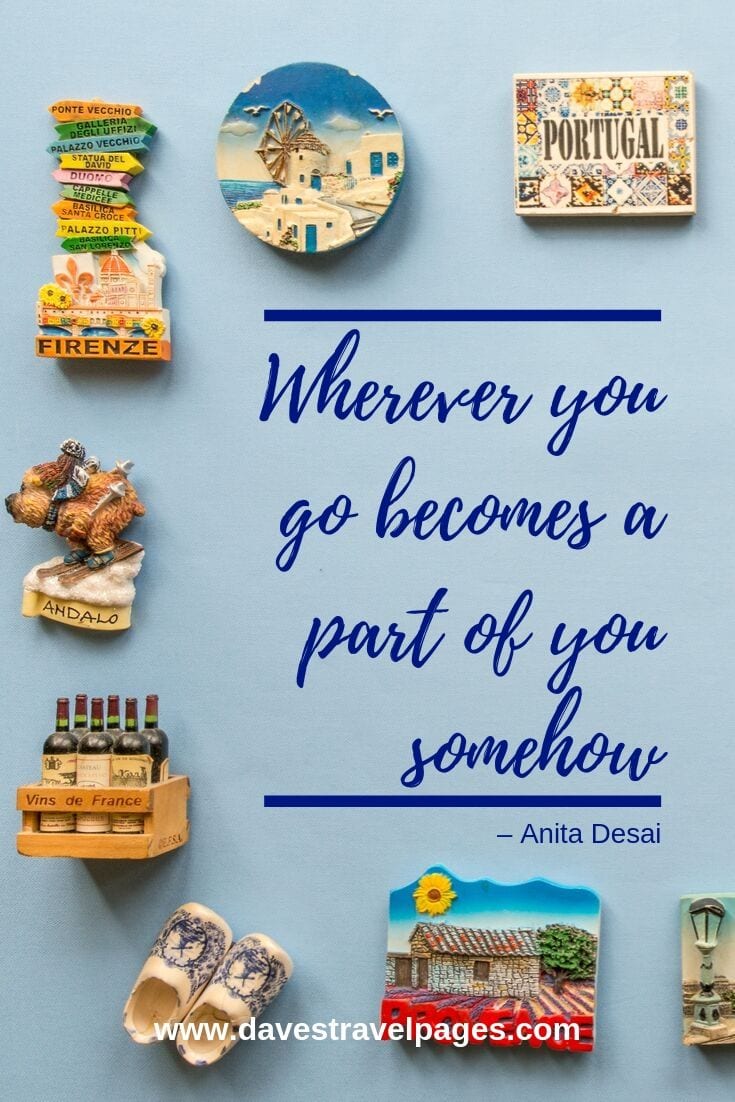 ---
"Make voyages. Attempt them. There's nothing else."
– Tennessee Williams
---
"I can speak to my soul only when the two of us are off exploring deserts or cities or mountains or roads."
– Paulo Coelho
---
"Travel empties out everything you've into the box called your life, all the things you accumulate to tell you who you are"
– Claire Fontaine
---
"You can't control the past, but you can control where you go next."
– Kirsten Hubbard
---
"Travel brings wisdom only to the wise. It renders the ignorant more ignorant than ever."
– Joe Abercrombie
---
"Everything I was I carry with me, everything I will be lies waiting on the road ahead."
– Ma Jian
---
"We wandered in a frenzy and a dream."
– Jack Kerouac
---
"The real voyage of discovery consists not in seeking new landscapes, but in having new eyes."
– Marcel Proust
---
"I think one travels more usefully when they travel alone because they reflect more."
– Thomas Jefferson
Related: Summer vacation quotes
---
Quotes About Travelling
"The farther you go, however, the harder it is to return. The world has many edges, and it's easy to fall off."
– Anderson Cooper
---
"I wonder if the ocean smells different on the other side of the world."
– J.A. Redmerski
---
"I am not the same having seen the moon shine on the other side of the world."
– Mary Anne Radmacher
---
"How many cities have revealed themselves to me in the marches I undertook in the pursuit of books!"
– Walter Benjamin
---
"Wherever you go, you take yourself with you."
– Neil Gaiman
---
"Travel brings power and love back into your life."
– Jalaluddin Rumi
---
"To travel is worth any cost or sacrifice."
– Elizabeth Gilbert
---
"This wasn't a strange place; it was a new one."
– Paulo Coelho
---
"I read; I travel; I become."
– Derek Walcott
---
"If life is a journey then let my soul travel and share your pain."
– Santosh Kalwar
---
Best Journey Quotes
"Never did the world make a queen of a girl who hides in houses and dreams without traveling."
– Roman Payne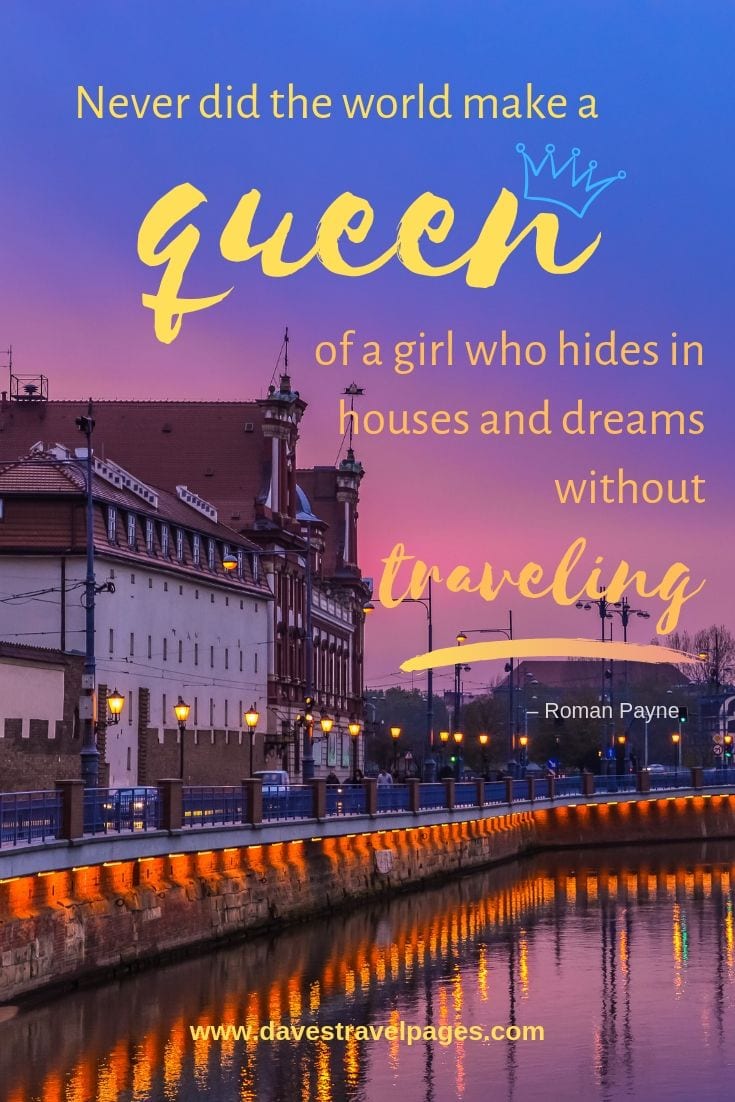 ---
"A good traveler is one who knows how to travel with the mind."
– Michael Bassey Johnson
---
"Though we travel the world over to find the beautiful, we must carry it with us, or we find it not."
– Ralph Waldo Emerson
---
"Some beautiful paths can't be discovered without getting lost."
– Erol Ozan
---
"Once the travel bug bites there is no known antidote, and I know that I shall be happily infected until the end of my life."
– Michael Palin
---
I think you travel to search and you come back home to find yourself there."
– Chimamanda Ngozi Adichie
---
"I wandered everywhere, through cities and countries wide. And everywhere I went, the world was on my side."
– Roman Payne
---
"I have found out that there ain't no surer way to find out whether you like people or hate them than to travel with them."
– Mark Twain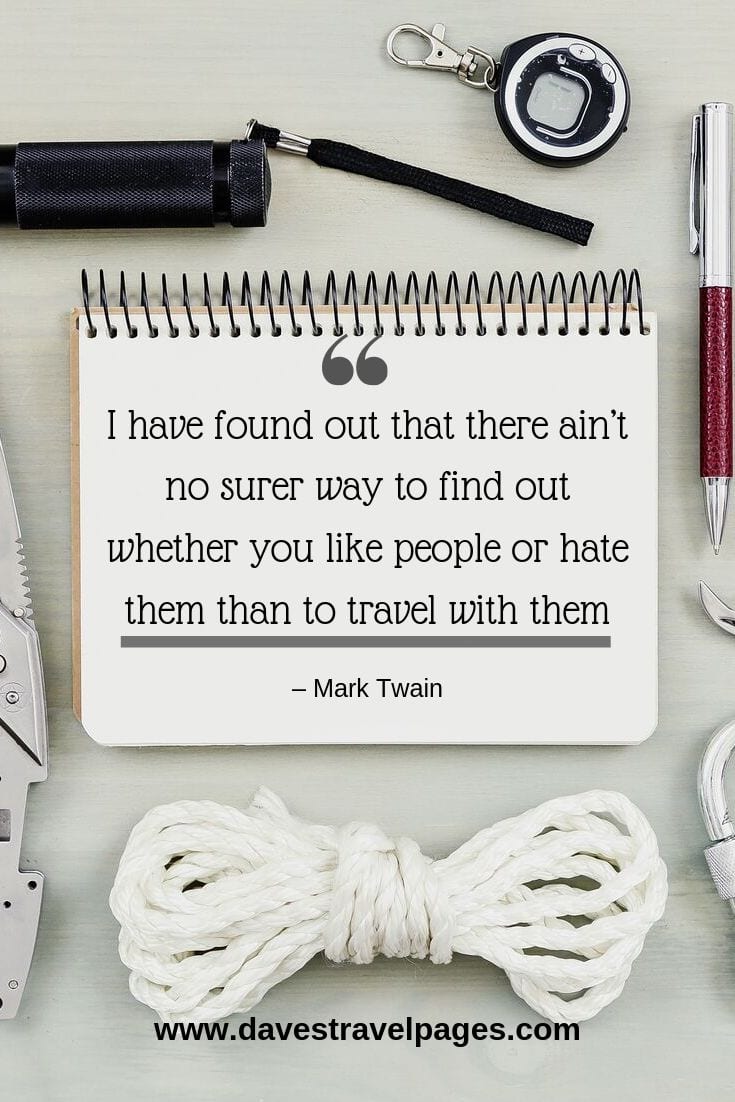 ---
"The journey is the destination."
– Dan Eldon
---
"Never hesitate to go far away, beyond all seas, all frontiers, all countries, all beliefs."
– Amin Maalouf
---
Inspiring Travel Captions
"The world is a book and those who do not travel read only one page."
– Augustine of Hippo
---
"Travel is fatal to prejudice, bigotry, and narrow-mindedness."
– Mark Twain
---
"Travel makes one modest. You see what a tiny place you occupy in the world"
– Gustave Flaubert
---
"A man travels the world over in search of what he needs and returns home to find it."
– George Moore
---
"Once a year, go someplace you've never been before."
– Dalai Lama
---
"Live life with no excuses, travel with no regret"
– Oscar Wilde
---
"Traveling – it leaves you speechless, then turns you into a storyteller."
– Ibn Battuta
---
"If you want to go somewhere you like but no one else wants to, go by yourself. You'll meet people with similar interests as you."
---
"Live your life by a compass not a clock."
– Stephen Covey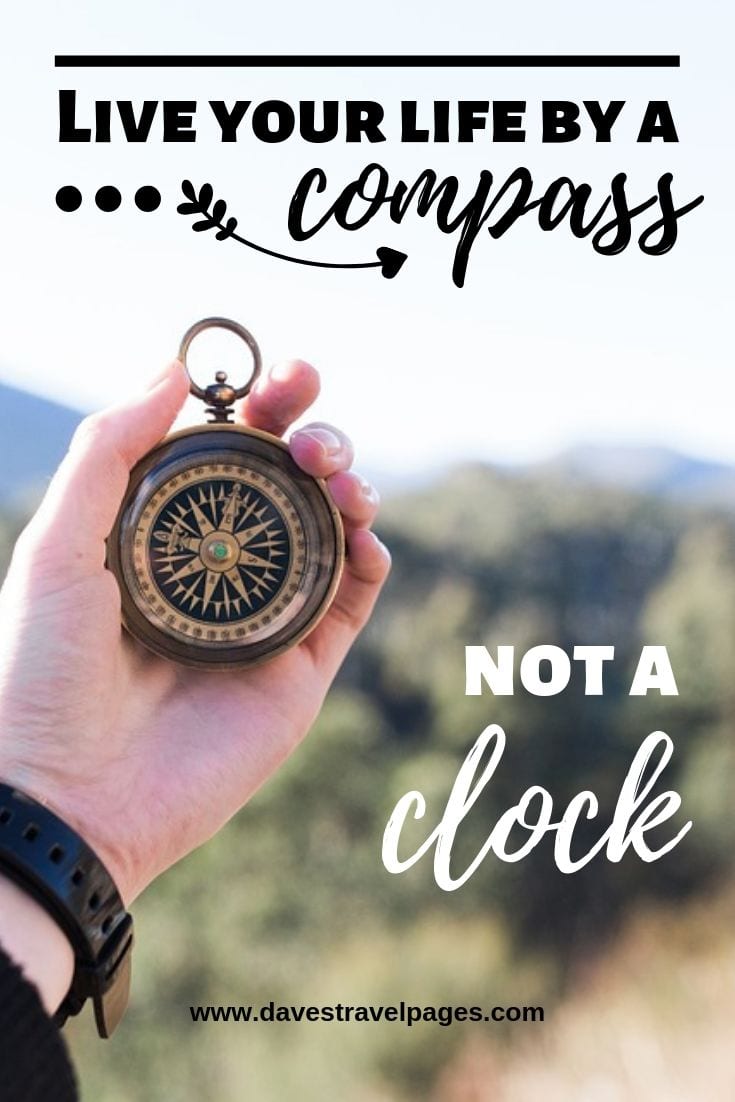 ---
"No one realizes how beautiful it is to travel until he comes home and rests his head on his own, familiar pillow."
– Lin Yutang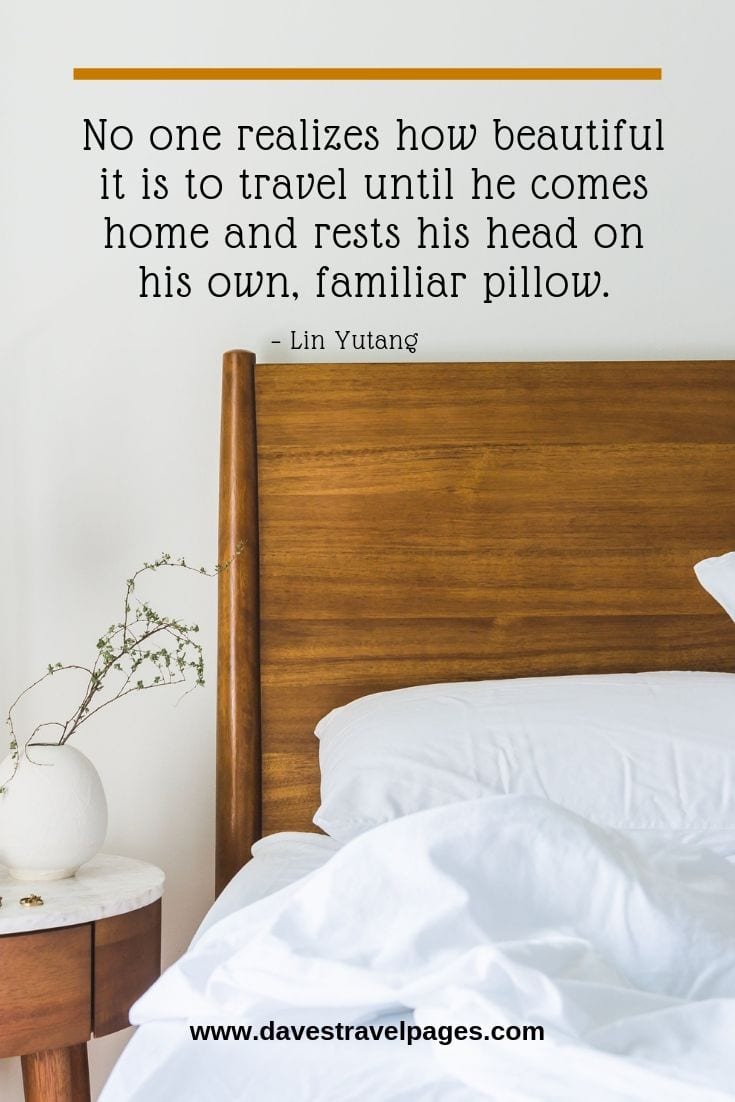 ---
Inspirational Adventure Quotes
"The best view comes after the hardest climb"
– Unknown
---
"It feels good to be lost in the right direction"
– Unknown
---
"With age, comes wisdom. With travel, comes understanding."
– Sandra Lake
---
"Wherever you go, go with all your heart"
– Confucius
---
"Travel is never a matter of money but of courage"
– Paulo Coelho
---
"It is better to travel well than to arrive."
– Buddha
---
"To my mind, the greatest reward and luxury of travel is to be able to experience everyday things as if for the first time, to be in a position in which almost nothing is so familiar it is taken for granted."
– Bill Bryson
---
"The world is a book and he who doesn't travel only reads one page."
– St. Augustine
---
"Don't tell me how educated you are, tell me how much you travelled."
– Mohammed
---
"Oh Darling, Let's Be Adventurers."
– Unknown
---
Unique Travel Quotes
"A ship in harbor is safe, but that is not what ships are built for."
– John A. Shedd
---
"Travel is the only thing you buy that makes you richer."
– Unknown
---
"People travel to faraway places to watch, in fascination, the kind of people they ignore at home."
– Dagobert D. Runes
---
"Not all those who wander are lost."
– J. R. R. Tolkien
---
"Never go too long without watching a sunset"
– Atticus
---
"The most beautiful in the world is, of course, the world itself."
– Wallace Stevens
---
"Dare to live the life you've always wanted."
– Unknown
---
"I met a lot of people in Europe. I even encountered myself."
– James Baldwin
---
"Our battered suitcases were piled on the sidewalk again; we had longer ways to go. But no matter, the road is life."
– Jack Kerouac
---
"Blessed are the curious for they shall have adventures."
– Lovelle Drachman
---
Short Travel Quotes
"A journey is best measured in friends rather than miles."
– Tim Cahill
---
"Take only memories, leave only footprints."
– Chief Seattle
---
"Don't listen to what they say. Go see."
– Unknown
---
"Jobs fill your pocket, but adventures fill your soul."
– Jamie Lyn Beatty
---
"To Travel is to Live"
– Hans Christian Andersen
---
"Because in the end, you won't remember the time you spent working in the office or mowing your lawn. Climb that goddamn mountain."
– Jack Kerouac
---
"The journey not the arrival matters."
– T.S. Eliot
---
"The traveller sees what he sees, the tourist sees what he has come to see."
– G.K. Chesterton
---
"Wanderlust: n. a strong desire for or impulse to wander or travel and explore the world"
---
"Better to see something once than hear about it a thousand times"
– Unknown
---
Adventure Captions
"It is not down in any map; true places never are."
– Herman Melville
---
"Remember that happiness is a way of travel – not a destination."
– Roy M. Goodman
---
"Man cannot discover new oceans unless he has the courage to lose sight of the shore."
– Andre Gide
---
"To awaken quite alone in a strange town is one of the pleasantest sensations in the world."
– Freya Stark
---
"Like all great travellers, I have seen more than I remember, and remember more than I have seen."
– Benjamin Disraeli
---
"Adventure is worthwhile."
– Aristotle and/or Aesop
---
"Travelling is a brutality. It forces you to trust strangers and to lose sight of all that familiar comfort of home and friends. You are constantly off balance. Nothing is yours except the essential things – air, sleep, dreams, the sea, the sky – all things tending towards the eternal or what we imagine of it."
– Cesare Pavese
---
"Twenty years from now you will be more disappointed by the things you didn't do than by the ones you did do. So throw off the bowlines, sail away from the safe harbor. Catch the trade winds in your sails. Explore. Dream. Discover."
– Mark Twain
---
"When you travel, remember that a foreign country is not designed to make you comfortable. It is designed to make its own people comfortable."
– Clifton Fadiman
---
"Travel and change of place impart new vigour to the mind."
– Seneca
---
See The World Quotes
"I haven't been everywhere, but it's on my list."
– Susan Sontag
---
"Life is either a daring adventure or nothing at all."
– Helen Keller
---
"A journey of a thousand miles must begin with a single step."
– Lao Tzu
---
"For my part, I travel not to go anywhere, but to go. I travel for travel's sake. The great affair is to move."
– Robert Louis Stevenson
---
Do you think these are the best travel quotes? Do you have any you might like to add? I would love to hear from you, so please leave a comment below.
Quotes About Travel
Here's our final selection of travel vibes quotes:
When preparing to travel, lay out all of your clothes and all of your money. Then take half the clothes and twice the money.
---
To travel is to discover that everyone is wrong about other countries.
---
Like all great travelers, I have seen more than I remember, and remember more than I have seen." – Benjamin Disraeli
---
"Your true traveler finds boredom rather agreeable than painful. It is the symbol of his liberty-his excessive freedom. He accepts his boredom, when it comes, not merely philosophically, but almost with pleasure." – Aldous Huxley
---
"A journey of a thousand miles begins with a single step" – Lao Tzu
---
The travel enthusiast never stops
---
Inspiration meet destination
---
More Inspirational Travel Quotes
If you would like to check out some more travel quotes to inspire wanderlust, you'll love these other collections of quotes:
---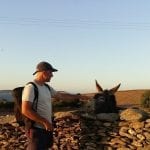 –
Dave Briggs
Dave is a
travel writer
who has been living in Greece since 2015. In addition to travel blog post about travel addict quotes, you will find hundreds of other insights, guides, and travel itineraries here on Dave's Travel Pages. Follow Dave on social media for travel inspiration from Greece and beyond: