In this Mykonos travel blog, I'll share my travel tips on where to go, what to see, and things to do in Mykonos Greece.
Mykonos Travel Blog
The Greek island of Mykonos is one of the most renowned summer destinations in Europe, with its amazing beaches, luxurious resorts and lively nightlife.
It's a dream destination for many people, especially first time visitors to Greece who might be planning the classic Athens – Mykonos – Santorini itinerary.
This does come at a price though – don't plan a trip to Mykonos thinking you're going to a cheap, off the beaten path destination in Greece.
Hotel prices are among the most expensive in Greece, and I've seen some beach resorts renting out sunbeds and umbrella sets for over 100 Euros a day!
Tips for Mykonos
My ultimate Mykonos travel guide will provide you with some insider tips, as well as information on what to do, where to go, transportation, and where to stay. I've also got some deeper-dive guides to Mykonos which you can see here:
By the way, if you see any text in orange in this Mykonos blog, it's a link you can click.
Ok, let's take a closer look at Mykonos island in Greece…
Where is Mykonos?
Mykonos is a Greek island located in the Aegean Sea. It is one of the Cyclades islands, and its closest neighbours are Tinos, Naxos, Paros and Syros.
How to get to Mykonos
The island of Mykonos has a small international airport with flight connections to some European cities, so flying there directly is an option.
Mykonos airport also has flight connections with Athens airport, so international visitors have the choice of flying into Athens, and then taking a connecting flight to Mykonos.
One of the most popular ways to travel to Mykonos, is to take a ferry. Ferries leave from Athens to Mykonos as well as the surrounding Cyclades islands.
Check flights here: Skyscanner
Check ferries here: Ferryhopper
How to get from the airport to Mykonos Town
If your hotel does not offer a pickup service, you can either use public bus transfers or take a taxi.
Pre-book and airport transfer to make life easier using Welcome.
The same information applies for getting from the ferry port into Mykonos Town or resort areas.
Cruise Ships
If you are arriving by cruise ship, you may only have limited time on the island. Most cruise ships offer tours so you don't need to think about logistics.
If you decide to do it yourself, take a bus into Mykonos Town, and spend your time there and Delos.
If you prefer a little beach time instead, it might be best to use a taxi and arrange for them to pick you back up again to get you back to the cruise ships on time.
When is the best time to go to Mykonos?
Mykonos is a summer destination, with the tourist season lasting from around May through to October. If you're traveling for the party scene, you'll probably want to go in August, which is also the most expensive month you can travel.
Expect peak season prices in July and August to be considerably higher than the shoulder season prices found in June and late September.
I find that September is the most pleasant month to visit the Cyclades islands such as Mykonos.
How many days in Mykonos?
Unless you are visiting Mykonos specifically for the summer party atmosphere and nightlife, 2 or 3 days is normally enough for most people.
During this time you can explore Mykonos Town, enjoy Little Venice, spend time on the beautiful beaches such as Paradise Beach, and even take a day trip to the UNESCO site of Delos.
Is Mykonos Expensive?
Let's not beat around the bush – yes it is. You will see higher prices reflected in hotels and accommodation, restaurants, drinks, beach umbrellas and nightclubs when compared to the rest of Greece.
Is Mykonos windy?
Mykonos is sometimes referred to as the Windy island, due to the strong Meltemi winds that can blow in July and August.
The Meltemi winds can be something of a mixed blessing. It's great that they bring the temperature down, but on very windy days, it may make spending time on the beach difficult.
For this reason, when looking for a hotel room, you might want to pick somewhere with a pool.
Where to stay in Mykonos?
For short stays, many people find it convenient to stay in and around the main town center of Mykonos. This means that you can get to a lot of major attractions by walking.
For stays of more than a couple of nights, rather than stay Mykonos town, look at some of the surrounding beach towns. I found that Ornos was a nice area to stay in.
Visitors looking for luxury would want to have a look at the best boutique hotels in Mykonos Town. Some of them are Cavo Tagoo, Semeli, Theoxenia boutique hotel and Belvedere Suites.
These upmarket hotels have a number of different facilities, such as private pools and sea-facing balconies. The infinity pool and views at Cavo Tagoo are particularly impressive.
Budget-minded travellers will also find several options in Mykonos Town. Mykonos View hotel, Poseidon and the family-run Aeolos are all popular choices. Their facilities include swimming pools and private parking space.
How to get around Mykonos?
Rent an ATV or Scooter: Renting a scooter, ATV, or car is the best way to explore everything Mykonos has to offer. If you stay close to Mykonos Town you can walk everywhere but if you rent something with range then it doesn't really matter where your hotel is because the island is small and most places are within reach of a short drive.
Bus: One of the best ways to explore Mykonos at night is by bus. You can take a bus from town directly to all of the big nightclubs for a reasonable price.
Taxi: Mykonos can be pretty crowded in the summer, and taxis harder to come by. Use Welcome taxis to pre-book rides in Mykonos.
Sightseeing itineraries for Mykonos
You've probably seen the photos of whitewashed houses and cobbled streets. The images of pink bougainvillea flowers and sunset drinks at a seemingly perfect location.
Putting together an itinerary is relatively simple. Allow one day for exploring Mykonos Town, one day to go beach hopping, and one day to visit Delos.
As for your nights, if you need someone like me to tell you where to find a party, you're probably in trouble before you start!
Mykonos Town
The main town of Mykonos, sometimes called Chora by the locals, is a typical Cycladic village. The whitewashed cubist houses have wooden-colored doors, windows and balconies, narrow streets form a labyrinth with beautiful churches and chapels that contrast against the bright white walls.
Take your time exploring the pedestrianized streets of the Old Town – even if you think you've been down an alleyway once before, you find it leads somewhere new!
Early morning is the best time to walk around this beautiful town, when there's fewer people and the temperature is more agreeable.
Little Venice
This area of Mykonos Town is a great place to see in the sunset – but it is also popular, so if you plan to do so, get there early! There's a couple of bars and tavernas facing out onto the water.
Mykonos Windmills
The windmills are perhaps one of the more famous landmarks of Mykonos. Just a short walk from Little Venice, it's another sunset spot. You might want to visit twice – once for photos of the windmills in the day time, and once at night.
Beaches in Mykonos
Mykonos is a blessed destination with absolutely beautiful beaches. Most beaches are long strips of sand, while just a few are pebbly.
Best Mykonos beaches for beach clubs and partying – Paradise Beach, Super Paradise Beach, Paraga, Psarou
Top beaches in Mykonos for water sports – Ftelia, Korfos, Kalafatis
Best Mykonos beaches for families – Panormos, Agios Stefanos, Lia
Best beaches in Mykonos to avoid the crowds – Kapari, Fokos, Mersini, Merchias, Tigani, Loulos
Places to watch the sunset in Mykonos Greece
Being able to see a breathtaking sunset is the perfect transition from the day into the evening.
There are a number of places in Mykonos Greece where you can see an absolutely stunning sunset:
Little Venice: A choice of bars and restaurants from where you can see the sunset.
Mykonos Windmills: Close by to Little Venice, the Kato Windmills are another stunning location to watch the setting sun in Mykonos.
54 Cocktail Bar & Sunset Lounge: A great location due to the spectacular views out over Mykonos Town.
Armenistis Lighthouse: This was my favourite sunset spot in Mykonos, but you'll need your own wheels to get here, so rent a scooter or a quad.
Where to eat, drink and party in Mykonos
Mykonos has some amazing restaurants to choose from. For traditional Greek food, try Nikos Taverna, for grilled food try Sakis Grill House, and for fish try Hippie Fish.
For the most part, cuisine on the island is of a more contemporary or blended nature.
Outdoor Activities in Mykonos
Mykonos might have a reputation as a party island, but it also has a wilder side waiting to be explored.
I thoroughly enjoyed a half day kayaking in Mykonos, and would recommend it for anyone wanting to get away from the crowds.
Other outdoor activities include scuba diving and other watersports, hiking, and even horse riding.
Scenic Day Trips in Mykonos
One way you can get to see more of the island, is to take and organised day tour.
These sightseeing day trips will take you to the most famous attractions in Mykonos.
From walking tours to cooking classes, Mykonos boat trips to visiting archaeological sites, there's something for everyone!
Delos Island and Archaeological Site
Many people visit Mykonos without realising there is a UNESCO World Heritage site right next door!
A half day trip to Delos from Mykonos is highly recommended, as Delos was a very important location in the Ancient Greek world.
Take a look at my experiences in Delos here: Visiting Delos Island Greece
Greek Islands near Mykonos
Some other Greek islands you can visit after or before spending time in Mykonos include Santorini, Paros, Naxos, Syros and Tinos.
Mykonos Travel Guide FAQ
Some of the most popular questions readers have about planning a trip to Mykonos include:
How much money do I need for a week in Mykonos?
It really depends on what type of traveler you are, but by the time you have taken accommodation, meals, drinks, and tours into account, a budget of $200 per day is a good starting point.
How many days do I need in Mykonos?
To explore the island's legendary beaches, iconic architecture, and hidden gems, three days is just about the right length of time to spend in Mykonos.
What is the best month to visit Mykonos?
The best time to visit Mykonos is June and September and October. In these months, the island is not too crowded, the weather is still great, and the hotel prices are more reasonable.
What do I need to know before going to Mykonos?
Travel to Mykonos in June or September, be aware of the Meltemi winds, and don't assume that AirBnB will offer the cheapest or best range of accommodation. Instead, use Booking.
Mykonos Blog
Mykonos is a beautiful destination, and one of the more popular destinations in Greece. The Mykonos travel guide we've created includes some great tips for visiting this bucket list destination.
Whether you go with friends or family, there are activities to suit every interest level. From outdoor adventures like kayaking and hiking to water sports and sightseeing day trips, exploring Mykonos will be a memorable experience that you won't soon forget.
I hope you found this Mykonos travel guide useful. If you haven't already, please subscribe to my newsletter for exclusive travel tips for Greece: Signup here.
---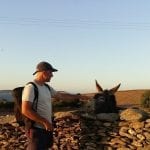 – Dave Briggs
Dave is a travel writer who's been living in Greece since 2015. This Greece travel guide to the island of Mykonos and the other guides mentioned within have all been written through his own travel experiences in Mykonos and Greece.
Follow Dave on social media for travel inspiration from Greece and beyond: