The Peloponnese is one of my favourite areas in Greece. This guide will show you what to see and things to do in Peloponnese Greece.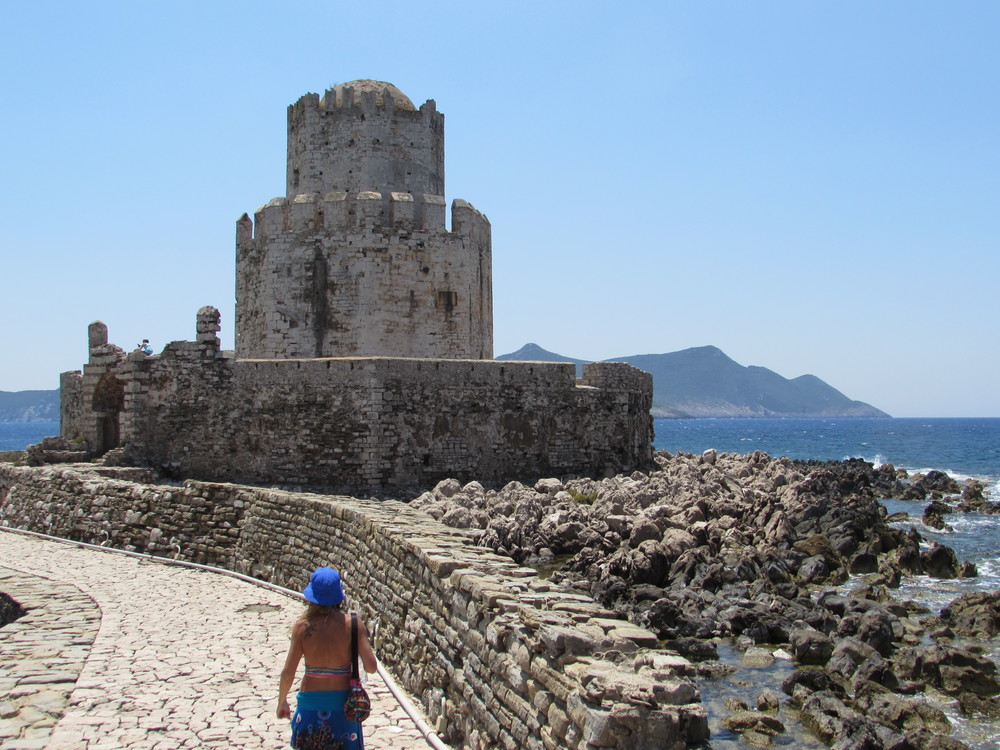 The Peloponnese region in Greece
Few areas in Greece are quite as geographically diverse and archaeologically rich as the Peloponnese. The southernmost part of mainland Greece, the Peloponnese is a self-contained peninsula separated from mainland Greece by the man-made Corinth Canal.
I've cycled around the Peloponnese, lazed for weeks on beaches, and taken several road trips. By now, I've spent an accumulated 6 months traveling in the Peloponnese of Greece, but sometimes, it feels like I've still barely scratched!
This travel guide acts as an introduction to the region, and lists all my relevant blog posts toward the end. It's a great starting point if you're planning your own holidays to Peloponnese.
Peloponnese Map
This map of the Peloponnese shows one of the routes I took to travel around the Peloponnese.
Due to its location near Athens, and circular shape, the Peloponnese is the perfect destination for a road trip.
Any itinerary you put together to explore the Peloponnese is likely to be restricted by the amount of time you have as opposed to any lack of things to do.
For example, there are five UNESCO sites in the Greek Peloponnese alone! These are The Archaeological Sites of Mycenae and Tiryns, the Sanctuary of Asklepios at Epidaurus, the Archaeological Site of Olympia, the Archaeological Site of Mystras, and the Temple of Apollo Epicurius at Bassae.
Take a look at my complete guide to UNESCO sites in Greece if you want to find out what the others are!
Before we go any further though, it might be better to take a quick look through the history of the Peloponnese in order to get a better understanding of the region and its importance.
A Brief History of the Peloponnese
The Peloponnese was said to have been named after Pelops, an ancient king. In Greek, he word "Peloponnese" means "the island of Pelops" and, technically, you could actually argue that it is an island.
The Peloponnese has constantly been inhabited since prehistoric times. It was dominated by the Mycenaean civilization during the Bronze Age, and was home to the first Olympic Games in 776 BC.
It was always one of the most important regions in Ancient Greece, and was involved in many wars, like the Peloponnesian War, the Persian Wars etc.
You may have heard of a fierce warrior nation called the Spartans. Ancient Sparta was also in the Peloponnese, located in the present-day region of Laconia.
Peloponnese Occupation and Liberation
Over the last two millennia, the Peloponnese became a Roman and later Byzantine province, but was also raided by Slavs, Arabs, the Franks, the Venetians and the Ottoman Turks in the 14th century.
After the Greek War of Independence which started in 1821, the Peloponnese was one of the first areas that was included in independent Greece. The picturesque city of Nafplio then became the first capital of the newly founded country, until the status was transferred to Athens.
Best Places to visit in Peloponnese
Due to its rich history, the Peloponnese is full of ancient and historic monuments. Five of these have achieved UNESCO World Heritage status. I've not worked it out mathematically, but it wouldn't surprise me if the Peloponnese had the highest density of UNESCO World Heritage sites in the world!
Some of the most important places to see in the Peloponnese include Mycenae, Olympia, Epidaurus, Corinth, Nemea, Messene, Mystras, Monemvasia, Kalamata, Patras, Methoni and Koroni castles, and Nestor's palace. More about these important places in the Peloponnese toward the bottom of this travel guide!
Best Beaches in Peloponnese
At the same time, the Peloponnese is home to some of the best beaches in Greece. Apart from the most famous ones, such as Voidokilia, Finikounda and Simos, there are literally hundreds of beaches dotted around the peninsula.
Beaches such as Kalogria, Pori, Kyllini, Mavrovouni, Kyparissia, Elea and Foneas should be on your itinerary.
Skiing in the Peloponnese
It's not all about beaches, however. The inland Peloponnese is really mountainous, with quite a few mountains standing taller than 2,000 metres. As such, it is an ideal destination for off-season travelling, winter breaks and even skiing.
Wine-making is very popular in the area, and there are several wineries you can visit, many of which are located in the Nemea region.
What to see in Peloponnese
In terms of cities, you could consider stopping by Patras and Kalamata for a day or two, even if it's just for the museums.
Sparta, the once important city-state, is actually a small provincial town. You can easily see it in a couple of hours, but it's not exactly a deal-breaker if you don't.
Nafplio is definitely worth it, but it's a popular destination and as such it can get quite busy. You can choose to stay overnight or take a day trip from Athens to Nafplio.
When to visit the Peloponnese in Greece
For all these reasons, and as it's only a couple of hours' drive from Athens, the Peloponnese is an ideal all-year-round destination.
Unlike some of Greece's most famous destinations, like Santorini or Mykonos, the majority of the areas in the Peloponnese have not been affected by mass tourism, so you are likely to have a more authentic experience.
Getting around the Peloponnese
The best way to get around the Peloponnese is by car, as you will have flexibility. You should also note that many of the beaches and archaeological sites cannot be easily reached by public transportation.
Driving around the Peloponnese is fairly straightforward, as there are some fantastic new highways . Sadly these also come with fairly frequent and expensive tolls!
The local road network is quite easy to navigate with the help of Google maps or a GPS. Furthermore, if you choose to go to the Peloponnese instead of the islands, you won't need to rely on boats or planes, which can be a source of frustration for some visitors.
Of course, my preferred mode of transport is the bicycle. You can read about my experiences cycling around the Peloponnese. It's not for everyone though!
My Peloponnese Travel Guides
I've written a few travel guides to different areas of the Peloponnese in Greece. These include some Peloponnese road trip ideas, my cycle tour of the Peloponnese, and individual guides. You can go through to each one of the Peloponnese blog posts for more travel tips and details.
The Peloponnese in Greece is a huge region, packed full of things to see and do. Here's how to get to there, and some of the things to do in the Peloponnese when you arrive.
---
1. How to get from Athens to Kalamata
In this blog post, I'll show you the easiest ways to get from Athens to Kalamata. This includes all the options such as driving, using public transport in Greece, and flights.
An ideal travel guide for anyone looking to use Kalamata as a base to explore the rest of the Peloponnese region.
Find out more here: Athens to Kalamata
---
2. How to get from Athens to Patras
Patras is the largest city in the Peloponnese, and a destination for people seeking to catch ferries to the Ionian Greek islands.
This guide shows how to get to Patras from Athens, but can also be used to get to the Peloponnese peninsula to visit other destinations.
Find out more here: Athens to Patras
---
3. Peloponnese Road Trip Itinerary
This Peloponnese road trip itinerary gives some ideas on how to best see the southern Peloponnese of Greece.
Including stops off at UNESCO World Heritage Sites, beaches in the Peloponnese, and other significant places of interest, this road trip itinerary is a good starting point to planning your own.
Find out more here: Peloponnese Road Trip Itinerary
---
4. Cycling around the Peloponnese
It's not for everyone, but those that do cycle around the Peloponnese experience the raw beauty of this part of Greece in the best way possible!
The Peloponnese in Greece is a popular destination for cyclists. I've cycled there a few times myself now, the last occasion being a month long bike tour of the Peloponnese. If you're planning to cycle around the Peloponnese, make sure to read this guide first!
Find out more here: Cycling around the Peloponnese
---
5. Ancient City of Mycenae
This UNESCO World Heritage site is a must see in the Peloponnese.
Mycenae was the largest city of the Late Bronze Age in Greece, and is surrounded by Cyclopean walls, so called because Greeks from the classical age could not believe that men alone laid them there! When you walk through the famous Lion Gate, you'll see for yourself how huge the blocks of stone are.
This ancient city was the heart of a civilization that held sway throughout the Mediterranean during the Bronze Age, and much of Mycenae's history is tied with famous legends from Greek Mythology. Some of the finds from the site are on display in a small museum which is very much worth visiting. Others are on display in the National Archaeological Museum in Athens.
Mycenae is indeed a place where Greek Myths come to life!
Find out more here: Ancient city of Mycenae
---
6. Mycenae and Epidaurus Day Trip from Athens
Although written as a day trip from Athens, this post is a useful read for anyone set on visiting Epidaurus. It's certainly worth the journey, and the acoustics within the Epidaurus theatre are truly remarkable.
Find out more here: Mycenae and Epidaurus
7. Mystras – Unesco World Heritage Site
Mystras is the UNESCO World Heritage site in Greece no one has heard of! It's a shame, because it's a fascinating place to explore, and gives a greater insight into the Byzantine history of Greece.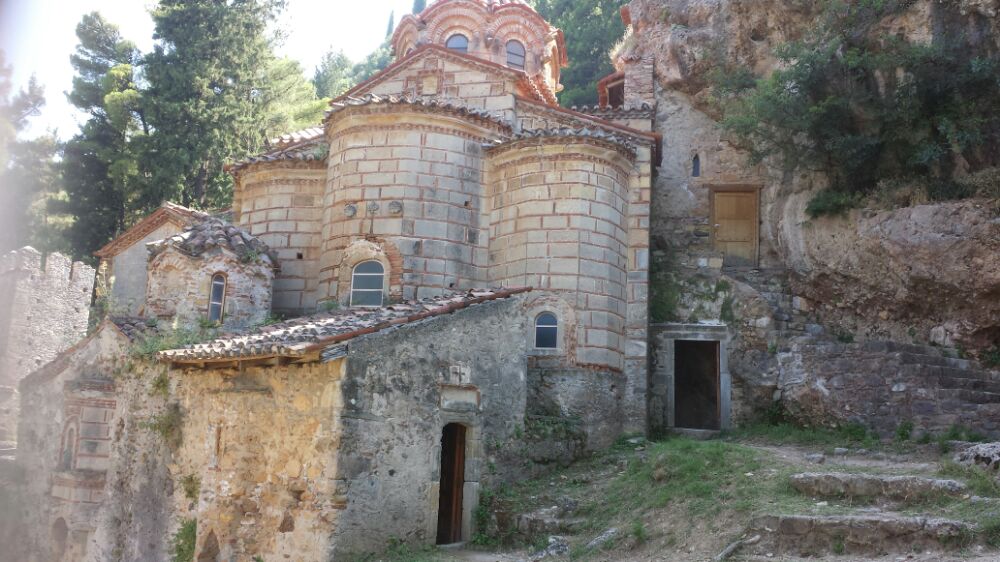 Enjoy the walk up and glorious views from one of the least visited Unesco sites in Greece!
Find out more here: Mystras Unesco Site
---
8. Koroni and Methoni Castle, Greece
Whilst everyone focuses on the Ancient Greek past of the Peloponnese, few realise that it also has a rich Venetian legacy.
This is present in what I consider to be some of the best medieval castles in Europe.
Read the article for more information on Methoni and Koroni castles.
---
9. Messene Ancient Site
If not many people have heard of Mystras, then even fewer have heard of Messene.
In any other country in the world, Messene would have pride of place as a major archaeological attraction, but in Greece where there's an abundance of sites, it barely gets a mention.
Personally, I think it's one of the best archaeological sites in the Peloponnese.
Read more here: Ancient Messene
---
10. Things to do in Patras, Greece
Well known for its Carnival celebrations, Patras is a worthy stop on any Peloponnese road trip.
Its museum is particularly impressive, along with other notable attractions such as vibrant street art, churches, and incredible food.
More here: Patras City Guide
---
11. Best Things To Do In Kalamata
Kalamata is a lovely coastal town in the Peloponnese, with some great nearby beaches.
It's a perfect location from which to explore other parts of the coast, with great road connections to Athens, and also an airport which has some international connections.
The town of Kalamata itself shouldn't be overlooked either, as there are plenty of things to see and do.
Check out this Kalamata city guide for more!
Also read: Best day trips from Kalamata
---
12. Mani Peninsula Travel Guide
The Mani Peninsula is one of the wildest and remote regions in Greece. Legend has it that the inhabitants are descended from the Ancient Spartans!
Mani is worthy of a week or two by itself. This guide to planning a road trip there showcases all the highlights.
More here: Mani Peninusla in Greece
---
13. Gythion Town
Gythion is an excellent choice for those seeking to stay in a picturesque seaside town in the Peloponnese. Mani's biggest city will wow you, and you'll want to come back!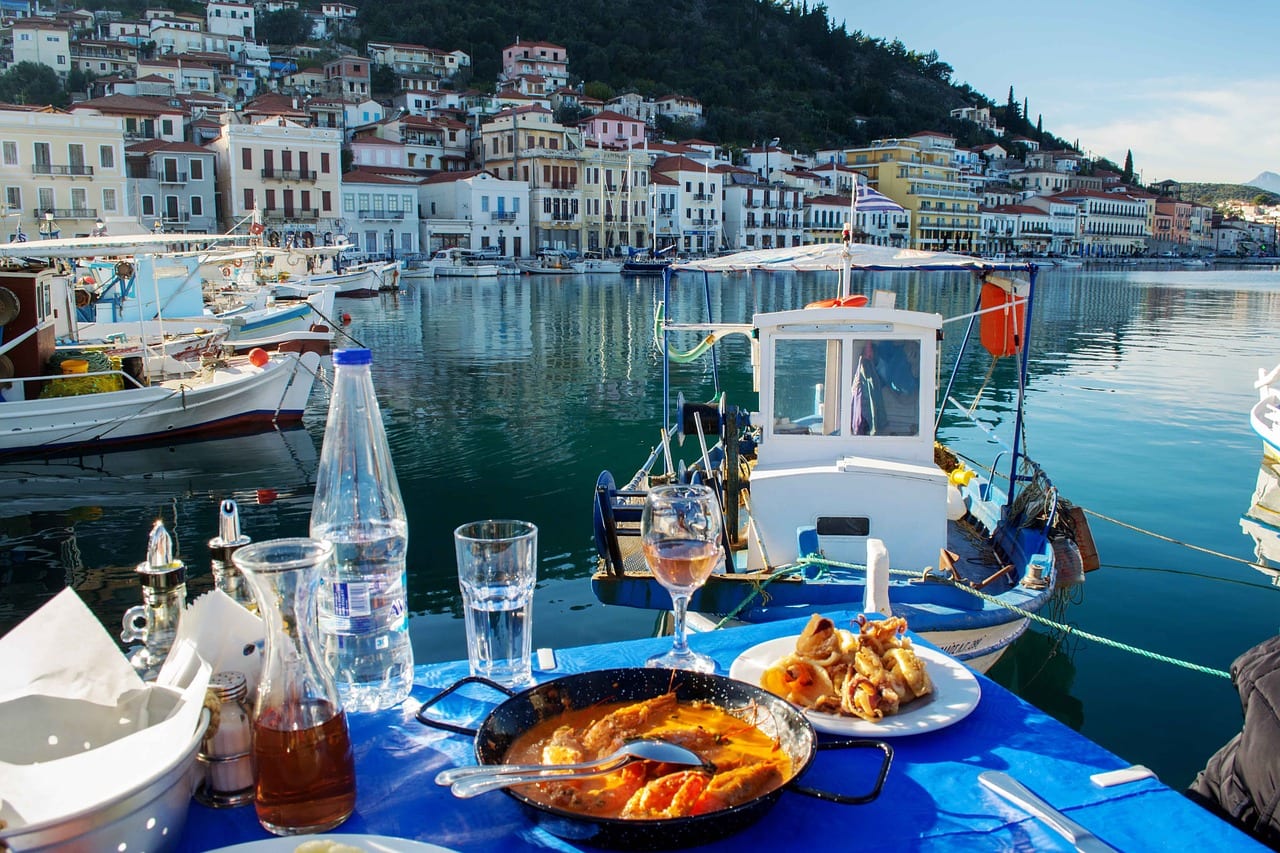 More here: Gythion Guide
---
14. Areopoli in the Mani peninsula
The charming town of Areopoli on the Mani Peninsula in Greece should unquestionably be included on a Peloponnese road trip.
The evocative stone houses and tavernas of Areopoli, which is famous for its part in the Greek uprising, entice visitors to stay longer than they had planned!
More here: Areopoli in Mani
---
15. Cape Tainaron: The End of Greece, Gateway to Hades
The southern-most point of the Peloponnese is one of the most evocative places to visit in Greece.
Known as one of the Gateways to Hades, hiking to the lighthouse at the end of Cape Tainaron really makes you feel like you are reaching the edge of the world!
More here: Cape Tainaron
---
16. Peloponnese Tour : A 2 Day Road Trip for Peloponnese Sightseeing
There's no way that I'm saying 2 days is enough time to take a road trip in the Peloponnese!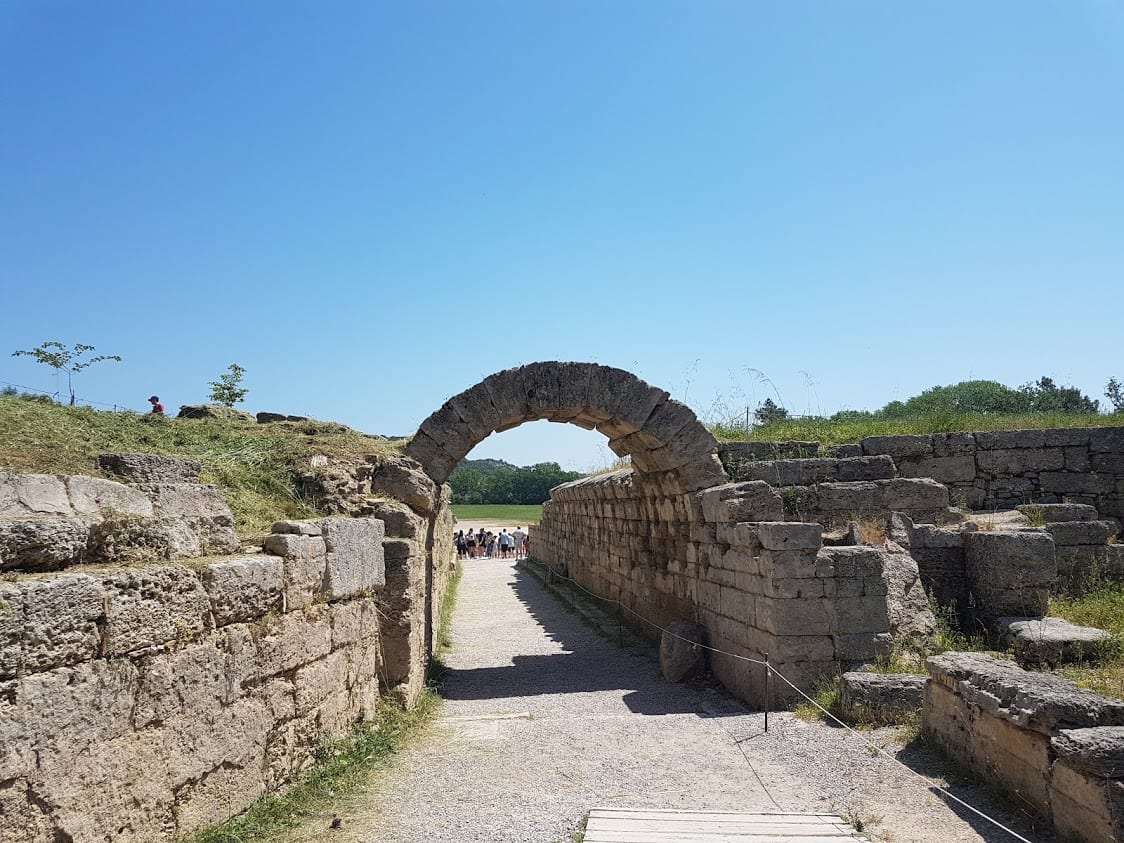 However, I was once asked to drive some people for a quick trip to Olympia and back from Athens. Here's how that short road trip went!
More here: 2 days in the Peloponnese
---
17. Patrick Leigh Fermor House in Kardamyli, Mani in Greece
The Patrick Leigh Fermor House is now open to the general public for visits.
Located in Kardamyli in the Mani Peninsular, it's set in a stunning location. To find out more about the house, and the legend that was Patrick Leigh Fermor, read the full blog post!
More here: Patrick Leigh Fermor House
---
18. The Olive Museum, Sparti
Visit the Olive Museum in Sparti if you want to learn more about olives and olive oil.
Because of its long history, this private museum explains a lot about olives and olive oil, offering a real eye-opener!
More here: The Olive Museum in Sparti
---
19. Weirdest Buildings in the Peloponnese, Greece
The great thing about taking a road trip around the Peloponnese, is that your get to discover some quite weird things along the way.
Here's a few odd buildings I've found over the years: Weird Peloponnese buildings.
---
20. Tiryns and Lerna in Greece
If you plan to spend a day or two in Nafplion, visiting Tiryns should certainly be on your list of things to do in the Peloponnese.
Combined with Mycenae, it is a UNESCO World Heritage site, and in some ways, perhaps more impressive that its more well known partner.
More here: Tiryns and Lerna
---
Peloponnese Points of Interest FAQ
The Peloponnese abounds with natural beauty, medieval castles, amazing beaches, and ancient sites. Readers planning to visit the Peloponnese often ask questions similar to:
What is the Peloponnese known for?
In addition to beautiful beaches and an amazing landscape, the Peloponnese is most well known for it importance in ancient times as a center for cities and religious sites such as Mycenae, Sparta, Ancient Corinth, Epidaurus and Nemea.
Is the Peloponnese safe?
Greece is a very safe country compare to other European and North American countries, and the Peloponnese is one of its safest regions.
How do you get from Peloponnese to Athens?
You can fly from Kalamata in the southern Peloponnese to Athens airport, drive, or take a bus from major population areas to Athens.
What Greek islands are in the Peloponnese?
The Peloponnesian coast is bordered by two groups of islands: to the east are the Argo-Saronic Islands, and to the west are the Ionian Islands. Kythira, a island off Epidaurus Limeira's southern peninsula, is regarded as belonging to the Ionian Islands even though it is nowhere near the others!
Pin this guide to the Peloponnese for later
If you're looking for a vacation destination that is suitable for a range of interests, the Peloponnese region of Greece should be at the top of your list. With archaeological sites and natural attractions galore, there is something to suit everyone's tastes.
It has been my pleasure to show some highlights from this beautiful part of the world through these blog posts! If you want more information about what it would take to plan an unforgettable trip in Peloponnese, please contact me anytime with any questions or comments. I am happy to help answer them as best as possible!
---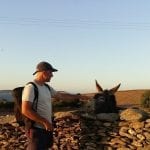 –
Dave Briggs
Dave is a
travel writer
from the UK who lives in and writes about Greece. As well as creating this blog post to the Peloponnese in southern Greece, he's also written many more travel blogs and itineraries for destinations all over the country. Follow Dave on social media for travel inspiration from Greece and beyond: