A Meteora day trip from Athens will take you to one of the most remarkable places in Greece. Here's how to visit the mountains and monasteries of Meteora from Athens.
Visiting Meteora from Athens
One of the most visited places in mainland Greece is Meteora. This area is a breathtaking combination of majestic monasteries and an otherworldly landscape.
Mix in its UNESCO World Heritage status due to its religious and historical importance, and Meteora deserves to be on your top five places to see in Greece.
Whilst some people choose to visit Meteora on a road trip around Greece, others opt for a Meteora day trip from Athens.
This guide helps to explain a little more about Meteora, why you should go there, and the different types of Athens to Meteora day trips available.
What exactly is Meteora and why is it so popular?
The area of Meteora is really quite special. It comprises of several huge rock formations and caves, which might have been inhabited since about 50,000 years ago.
Monks moved into the area in the 9th century, and lived in caves at first. In the 14th century, the first monasteries were built on top of the rocks.
Many of them were abandoned over the years, but six of them are still inhabited and fully functioning.
The Meteora Monasteries
These monasteries were important cultural centers at various eras, especially during the Ottoman occupation. Many of them are home to important religious texts, manuscripts and several objects related to the Orthodox religion.
Today, the monasteries and the surroundings area are classed as one of the 18 UNESCO World Heritage Sites in Greece.
You can visit the following monasteries in Meteora:
More information on each of the monasteries as well as opening days and times, can be found here – Meteora Travel Guide.
Where is Meteora in Greece?
Meteora is located quite far from most other major sights in Greece, close to a small town called Kalambaka. This is understandable, as when the monasteries were first built, the monks wanted to be as far as possible from other people.
As a result, the logistics of visiting Meteora can be challenging for many visitors, especially if renting a car is not an option. This is why day trips from Athens to Meteora are a good option.
Meteora Day Trips from Athens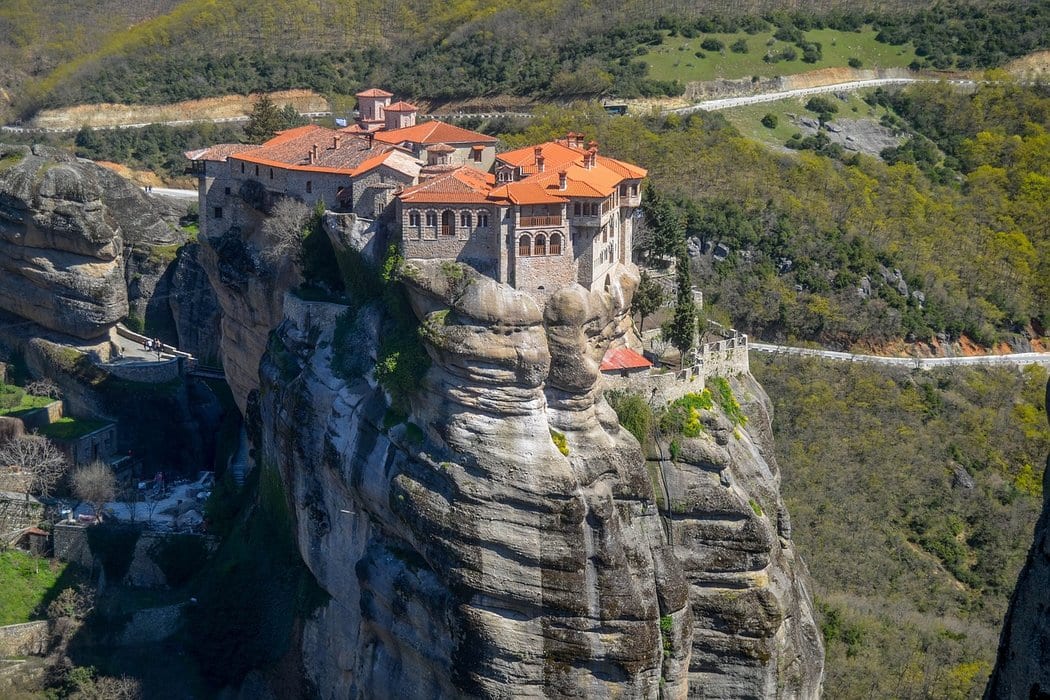 For people with limited time, the best way to visit the Meteora monasteries from Athens is an organized tour.
Even though a Meteora day trip from Athens will be a very long day, it is still doable, and you can rest and get a nap on your way to or back from Meteora.
If you have an extra day, it's best to allow an overnight stay in the area, or perhaps combine your trip with a visit to the archaeological site of Delphi.
In this article, I am listing possible Meteora day trips from Athens, as well as two day trips, for people who can allow for a second day.
Day trip from Athens to Meteora
This option is popular with people who have very limited time, but still want to experience majestic Meteora in Greece.
There are two types of day trips – those where you get to Kalambaka by train on your own, and then take a tour to the monasteries on a minibus, and those where you have a private van from Athens to Meteora and back.
Athens to Meteora by train
If you choose this option, you will need to travel on your own from Athens to Kalambaka and back, and you will be provided with train tickets.
You will need to board the 7.20 am train which goes directly to Kalambaka, arriving at 11.31, and you will be returning on the 17.25 train from Kalambaka, getting into Athens at 21.25.
This gives you just under six hours in Meteora, which is not enough to visit all the monasteries, but is enough time to get an idea of the area and appreciate its beauty, and see all of the monasteries from the outside.
The tour of Meteora
After you have arrived in Kalambaka, you will be picked up by a minivan and driven around the amazing rock formations and monasteries.
As every monastery is closed on one or two days a week, on a rotating basis, you will visit two or maybe three monasteries.
If there is a specific monastery you want to visit, check the opening times and days in advance of your visit to avoid disappointment. There are also some hermit caves in the area that can be visited.
The minibus tour offers plenty of opportunities to take snapshots of one of the most photographed UNESCO World Heritage monuments in Greece, and the tour guides will explain the history of the monasteries and what life is like as a monk.
Day trip to Meteora from Athens by train
These are the best tours available through Get Your Guide for the Athens to Meteora day tours:
Athens to Meteora day trip by private coach
If you are a small group or just prefer the luxury of a private tour, several companies offer the option of a day trip from Athens to Meteora on a private minibus.
These tours pick you up from your hotel or other meeting point in Athens, and drop you back late in the evening. You will have a few hours to explore the monasteries, whereas there is also time for a laid-back, traditional lunch, in one of the smaller villages around the area.
Some companies provide just the driving, while others include an expert local guide, who will explain the history and background of the area, so read the descriptions carefully.
Two day trip from Athens to Meteora
For people who can allow an extra day, a two day trip is a better option, as you will get to see the monasteries at different times of the day. You will also have the chance to go inside many of the monasteries, and you can choose between a hike in the area or a minibus tour.
There are two types of 2-day trips from Athens to Meteora: a trip by train where you will get to visit the area of Meteora twice, and a trip by coach / van, where you will also get to visit Delphi.
Two day trip from Athens to Meteora by train
On the first day, you will board the 7.20 am train to Kalambaka on your own, and you will be transferred to your hotel in Kalambaka.
There will be some free time for lunch, and to explore the small town. In the evening, you will visit the monasteries during a sunset tour, and have the chance to enjoy the amazing views at one of the most romantic times of the day.
On the second day, you can choose between a minibus tour and a hiking tour. I have tried both and find them both very rewarding, as the landscapes are fantastic.
Whichever you choose, you can't really go wrong! The hike is an easy hike, suitable for everyone who can walk for a couple of hours. I personally took this hiking tour with Meteora Thrones, but there are more companies offering similar activities.
Two day trip from Athens to Delphi and Meteora by minivan or coach
One of the most popular two day trips from Athens is the one that includes two UNESCO Heritage Sites, Delphi and Meteora. Several companies offer this trip, and there are group as well as private options on a minivan or other suitable coach.
In my opinion, this is one of the best tours to take in Greece, as all the logistics have been dealt with, and it can work out cheaper than renting your own car, especially if you are travelling solo.
On the first day, these trips typically visit the traditional village of Arachova, and then stop at the Archaeological Site of Delphi, where you can explore the ancient ruins. You will reach Meteora in the evening, and have free time to stroll around Kalambaka town.
On the second day, you will have time to visit the monasteries and take in the stunning landscapes. On the way back, there will be a brief stop at Thermopylae, where the famous "300" of King Leonidas died in battle.
What should I know before I visit Meteora?
Although Meteora is a popular destination, the monasteries are still fully functioning religious places, where monks and nuns have chosen to live. As a result, you should be respectful, and wear appropriate clothing.
Your shoulders and knees should be covered at all times, so sleeveless tops and short skirts or shorts are not allowed. It is best to come prepared, but it is also possible to borrow some clothes at the entrance of the monasteries.
Entrance fee to each of the monasteries is 3 euro, which is not included in most of the above tours – check before you book. If possible, try to have small change readily available. Cards are not accepted.
Each of the above tours has different inclusions – as an example, some tours include a guided tour of the monasteries, but some others don't. Read tour descriptions carefully to avoid disappointment.
[mailmunch-form id="681765″]
Have you done a day trip from Athens to Meteora? What did you think – would you have liked to have more time? Let us know in the comments!