Are you planning a trip to Europe? I've got just the thing for you! These Europe travel blogs include city guides and sightseeing itineraries for making the most of your time traveling in Europe.
Plan a trip to Europe
You've seen photos of the European destinations that you want to visit, and now it is time for you to plan your trip. A European travel blog like this one is a good place to start – even if I do say so myself!
On this page, you'll find my travel blogs about European countries and cities, all pulled together in one place. Each link is in orange, so just go through to whichever travel guide takes your fancy.
Before you start, you might want to read the best time to visit Europe.
If you're looking for a European winter sun destination, take a look here at the Warmest Places In Europe In December.
Note – These guides for the most part don't cover my cycling guides to Europe. You can find those here:
Choose the country below that interests you the most, and start planning your Europe vacation here!
Albania
Albania is a small but beautiful country located in the Balkan Peninsula. It has many things to offer for those who love nature, culture and history.
The Albanian people are very warm and welcoming towards tourists with an attitude that will make you feel right at home as soon as you arrive in Albania.
Bulgaria
Travelling around the Balkans is a unique experience. The scenery is varied, from snowy mountains to beautiful beaches and Bulgaria seems to have it all!
Croatia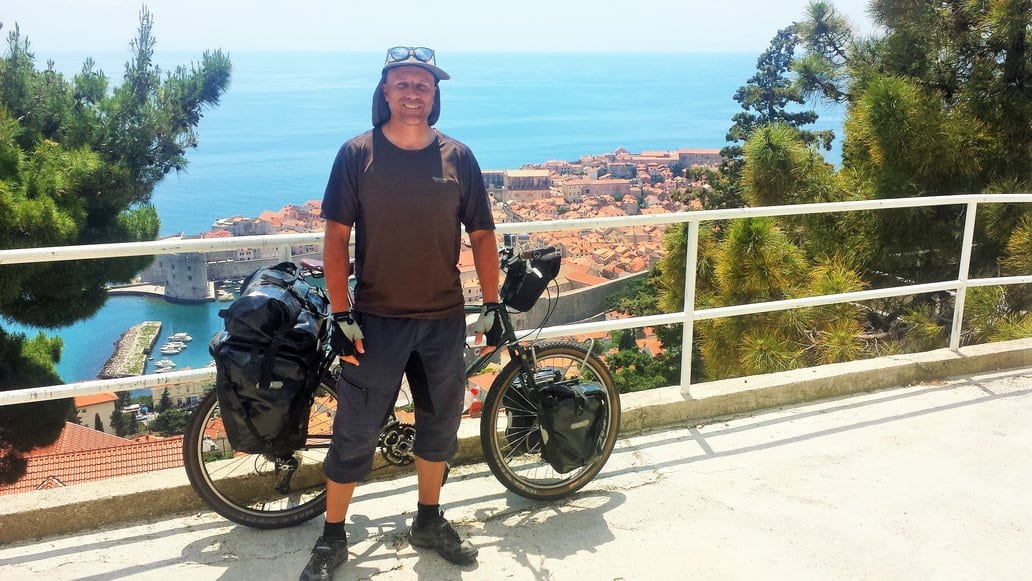 Croatia is the southern European country that stretches along the Adriatic Sea. It borders Slovenia, Hungary and Bosnia-Herzegovina to the north, Montenegro to the south, Serbia in east and Italy on its west.
Cyprus
Cyprus is an island country in the Eastern part of Mediterranean Sea. Its capital city is Nicosia, which is divided into Greek and Turkish quarters.
Germany
Germany is the largest country in Central Europe and has an amazing diversity of landscapes. This includes mountains, forests, lakes, rivers and much more. It's not only for nature-lovers though – it also offers some excellent cities to visit as well.
Greece
I moved to Greece in 2015, and have since written literally hundred's of travel guides on Greece. Start here >> Greece Travel Guides
Iceland
Iceland is an island country in Northern Europe and the most sparsely populated area on Earth. It's known for its glaciers, geothermal pools, waterfalls, volcanoes, black sand beaches and vibrant culture.
Italy
Italy is an ideal destination for a vacation. The country has everything that you would want to see in your holidays; beaches, mountains, ancient structures and monuments, amusement parks and much more.
You can spend the day at the beach while enjoying a refreshing drink before going to visit some of Italy's historical sites or museums during the evening.
Kosovo
Kosovo is a beautiful country with amazing landscapes and historical sites to visit. There are many natural wonders – you can take a boat ride to the stunning Lake Koman or explore the Vjosa River Canyon on foot.
The capital city of Pristina has plenty of galleries, museums, restaurants, cafés and more.
Luxembourg
The Grand Duchy of Luxembourg is one of the smallest countries in Europe, and yet it's also one of the most underrated. As a matter of fact, many people have never even heard about this tiny country before.
Luxembourg is a perfect place for tourists who are looking to enjoy both luxuries and adventure, with its unique blend of castles, forests, and museums as well as casinos, restaurants, bars, pubs, nightclubs and shopping centers.
Macedonia (Country)
Macedonia is a country that has never really been visited by backpackers, but this could be the perfect time to make your first visit.
There are several things about Macedonia that you will not find anywhere else and it might become one of your favorite countries in Europe.
Montenegro
Malta
Malta is an island country in the Mediterranean Sea, south of Italy. It's a small but beautiful destination that many people don't know about.
The Maltese city of Valletta has been inscribed on the UNESCO World Heritage List for more than 30 years. The country's rich history can be seen through various sites found all over the archipelago; including churches, catacombs, and other structures. There are also many natural wonders worth visiting such as beaches and caves.
Norway
Portugal
There are many reasons to visit Portugal, from its great weather and rich history to friendly people. Here's my Portugal travel blogs:
Slovakia
Slovakia is a great destination for tourists from all over the world. You can visit medieval castles and fortresses or enjoy nature by hiking on one of its mountains.
However, if you want to have a true Slovak experience then look no further than their cities like Bratislava with historic buildings and an amazing castle overlooking the city center.
Spain
Spain is an amazing destination to visit; especially if you are looking for a fun, exciting and affordable holiday! Spain boasts some of the world's most impressive historical sites and has often been dubbed "Europe in miniature", due to its diverse geography.
I prefer the Catalonia region myself, as it has a great variety of outdoor activities, things to see, and of course Barcelona!
Looking for even more inspiration? Tale a look at my Europe Bucket List.
Europe Travel Guides
I've included travel guides to all the countries in Europe I have visited so far. Don't see a country on this list? I probably haven't gone there yet!
European Trip Blog FAQ
Here are some commonly asked questions about traveling in Europe.
What is the best itinerary for Europe?
Europe is a big continent consisting of over 50 countries. As such, there is no single best itinerary for Europe. Even in one country like Greece, the Athens – Santorini – Mykonos itinerary is only just about possible within one week.
Is $100 a day enough for Europe?
It depends how you want to spend your money, but in my experience, $100 is more than enough. When traveling in Southern Europe, we rarely spend that much even as two people.
What is the best travel blog?
For European content, and especially Greece, Dave's Travel Pages has been providing insightful travel guide, tips and advice since 2005. It's one of the longest running travel blogs in the world!
What is the cheapest country in Europe to travel to?
The Balkan countries are generally the cheapest to travel through, and accommodation is often the biggest cost. The cheapest countries for tourist accommodation in Europe are Albania, Montenegro, Bulgaria, and parts of Greece.