Dave's Travel Pages is now one of the most popular Greek travel blogs in the world. If you are planning a trip to Greece and need more info, you've come to the right place!
Greece Travel Blog
Hi, my name's Dave, and I'm the blogger behind Dave's Travel Pages. I've been living in Athens, Greece since 2015, and during this time, I've traveled all over Greece visiting popular destinations and discovering little known gems.
At the last count, I have created over 300 guides and travel blogs about Greece on Dave's Travel Pages, with more being added weekly. These Greece travel blogs have been designed to help other people experience the country just like I have.
This page acts as an overview for all of the Greek travel blog posts. If you are in the early stages of planning a trip to Greece, you might also like to sign up for my newsletters.
Why I created these Greek Travel Guides
After seeing that online travel information about Greece in English was often scarce, I decided to bridge the gap by creating blog posts that helps travelers plan their Greek holiday independently.
First-time visitors are likely to want to visit Greece's most famous places such as Athens and Santorini. Second and third time visitors might be more interested in off the beaten track destinations in Greece – if only they knew about them!
As such, this Greek travel guide gives you access to popular and less known tourist destinations in Greece, offering inside knowledge and local advice. Each one of these guides has links to other Greek blogs that go into more detail.
First things first though…
Why go to Greece?
Incredible beaches, authentic villages, clear blue waters, great food, amazing landscapes, history, culture…. the list goes on!
Here's a few blog posts about Greece that will persuade you it's where you need to go next on vacation!
When is the best time to travel to Greece?
Greece might be associated with summer holidays, but it is actually a year around travel destination. Sure, you won't be sunbathing in January, but you can go skiing!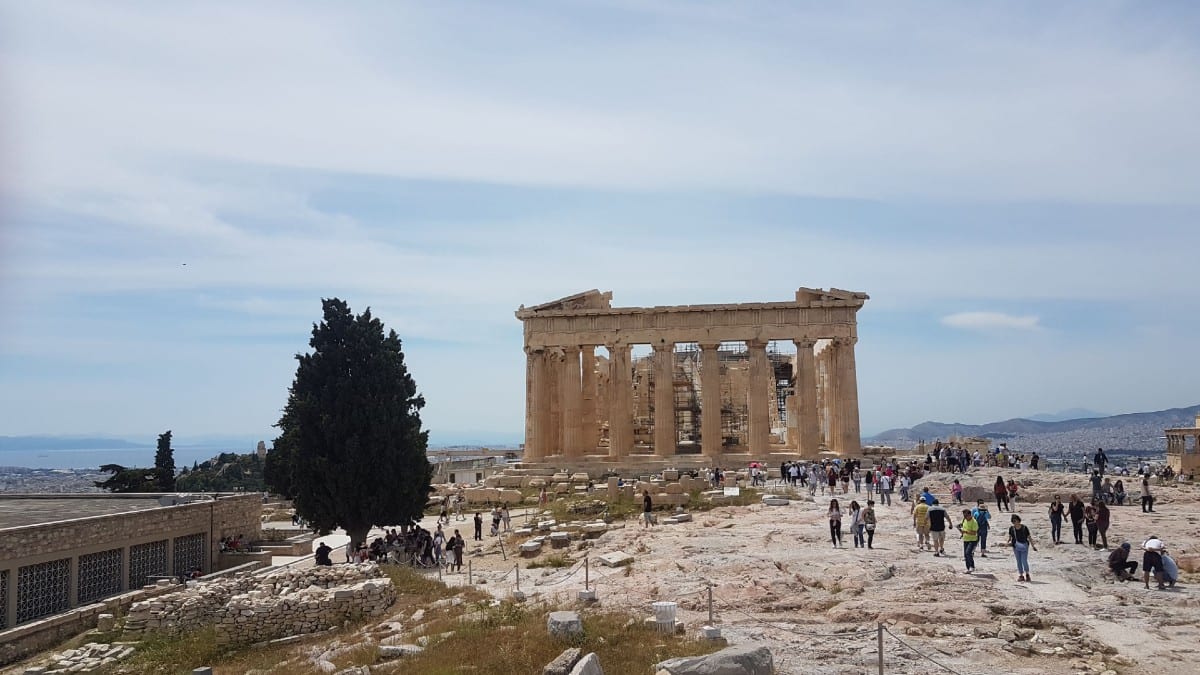 Generally speaking, the best time of year to go to Greece for good weather is the summer. My favourite times of year though, are late spring and early autumn.
Where are the best places in Greece?
Greece is a country with varied terrain and geography. For starters, there are over 200 inhabited islands to choose from!
First time visitors on a 'once in a lifetime' trip to Greece tend to choose Athens – Santorini – Mykonos. Look beyond this though, and you'll find much more as these travel blogs show.
How long should you spend in Athens?
Athens can be a bit of a Marmite city – some love it, some hate it. Imagine a combination of Rome and Berlin… No, actually scrap that. It's a unique city, and one you should spend a few days in if you've never been there before.
Here are a few of the top travel blog posts about Athens to help you decide.
Greek Islands Travel Blog Posts
I haven't visited all the Greek islands – I'd probably need another lifetime to do so! Those that I have visited though, I've written about.
Here is a list of the top Greek island blogs.
Greece Travel Itineraries
And finally, here's some suggestions of itineraries for Greece, as well as how to get around Greece and the islands. There's probably enough travel ideas here to plan not only your next holiday, but the dozen after that as well!
Visit Greece
Greece is an amazing country with a fascinating history. Its natural beauty, fantastic beaches, archaeological sites and enchanting island rightly make it one of the most popular tourist destinations in the world.
If you want to experience Greece to the full, you'll find all the information you need in these Greece travel blogs. Sign up for my newsletter at the top of the page, and I'll share all my best travel tips and insights to Greece directly!