Iraklia island in Greece just may be the untouched Greek island destination you're looking for. Boasting charm, beauty, and peace and quiet, here's everything you need to know.
Looking for a quiet destination in Greece?
For many people, Greece brings up images of the Santorini volcano and blue-domed churches, the Acropolis in Athens, the stunning landscapes in Meteora, and the archaeological site of Delphi.
This is understandable, as these are some of the most visited locations in Greece.
Greece, however, is much more than its popular destinations. The Cyclades group of islands, where Santorini and Mykonos belong, includes many more islands, some of which haven't been spoilt by mass tourism.
Iraklia Island
One of those islands is Iraklia Island, which belongs to the "Small Cyclades" or "Lesser Cyclades" group of islands, along with Ano Koufonissi, Kato Koufonissi, Schinoussa, Donoussa and the uninhabited Keros.
Those small islands are located between Naxos, Ios and Amorgos, and they are a great choice if you want a relaxing holiday in Greece.
A little information about Iraklia Greece
Iraklia is a small island with fewer than 100 permanent residents. Most of them live either in the Agios Georgios village right on the port, or in the Chora settlement, also known as Panagia, 4 kms away.
Iraklia doesn't have much to do apart from relaxing and being close to nature. It feels like time has stopped on this tiny island.
Even though it's so close to well-known Greek islands such as Naxos, Paros and Ios, Iraklia is very different. It offers a sense of freedom, as you don't need to plan anything at all.
A perfect island getaway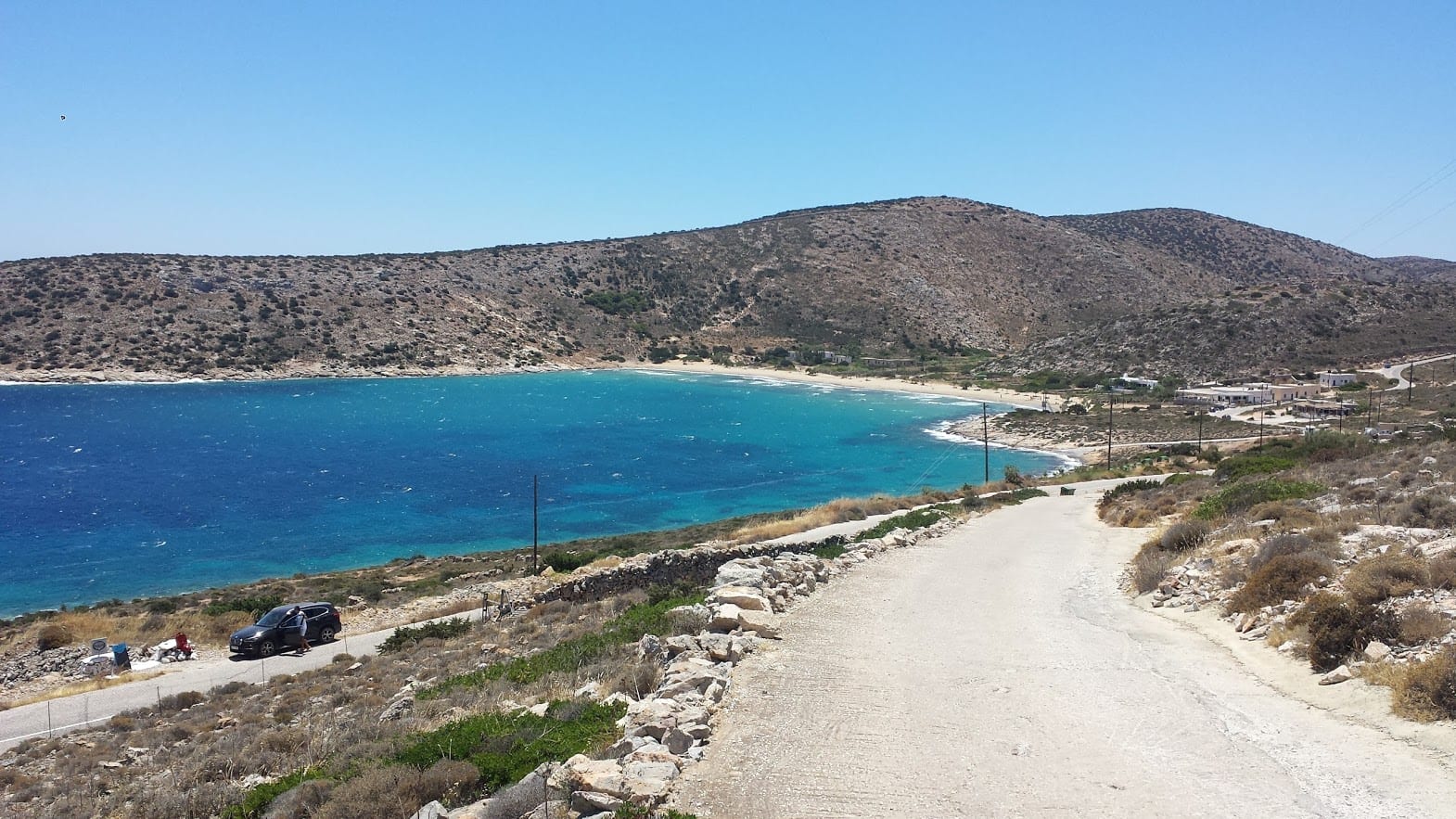 Approaching the island from the sea, you will see the small village of Agios Georgios with its small lovely beach. Here you will find a few tavernas, a couple of mini markets, some scattered rooms to let, white-washed houses, churches, and curious, hospitable locals.
If you can read Greek, you will soon discover a large sign with the words "Welcome to Iraklia Greece – here, no one can find you".
** Now on Amazon Kindle – Travel Guide to Schinoussa and Iraklia Greece **
Where to stay in Iraklia
Agios Georgios is the best place to stay in Iraklia. Villa Meltemi and Sunset are among the best places to stay, but the village is so small that the exact location hardly matters.
I've a full guide here: Where to stay in Iraklia


Services on Iraklia
There is now an ATM on Iraklia, but no bank, and no car rental services or gas station – though it's possible to rent a motorcycle.
A small bus takes visitors from Agios Georgios to Panagia, though you will need to ask around for more information. There is no proper pharmacy, so if you need to get any medication you will have to go to Naxos.
Hiking around Iraklia Greece
Iraklia has eight distinct hiking trails that are popular with nature lovers. Like in most of the other Cyclades islands in Greece, the landscape in Iraklia is wild and dry.
The island has cliffs all around and there are several viewing points from where you can see 19 of the nearby islands. The highest point of the island is called Papas hill, and it's a whopping 420 metres.
Even if you have been to Santorini, the view from Papas is likely to stay in your mind forever.
Some of the best hikes in Iraklia are the trails leading to Profitis Ilias and to Merichas, where you can reach one of the most picturesque points of the island.
If you look up, you will definitely see some prey birds, as the island is home to 26 distinct types of hawks, eagles and the like. Sit at the edge of the cliff and look down to the sea, and you will feel like you are at the world's end.
Beaches in Iraklia Island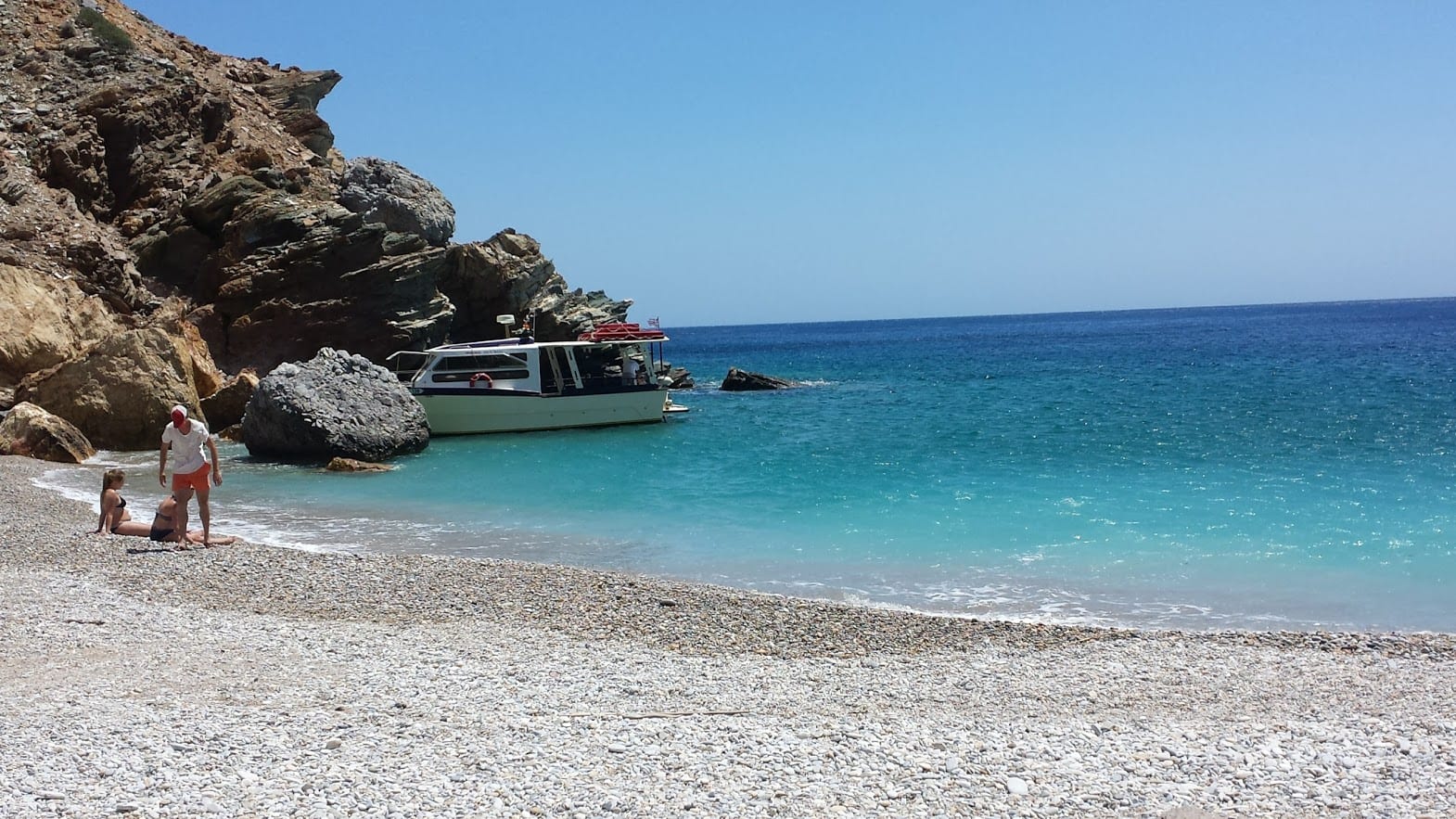 Iraklia has ten beaches, of which only three are accessible by car. Some of the others are easily reached by hiking, while a couple of them are only accessible by boat.
The biggest and best beach in Iraklia Greece is Livadi, one of the prettiest beaches all around the Cyclades, a short walk from Agios Georgios village.
It is popular with freecampers from about mid-July to end of August, but outside that time of year it is fairly quiet. As it faces north, it can often be affected by the strong Meltemia winds that are quite common in summer.
Naturism is common on the far right side of the beach, while families prefer the left side, which is closer to the main road. Until last summer there was no infrastructure and very little shade, so you have to bring everything you need.
One of the most popular beaches in Iraklia is the beach by Agios Georgios port, which is very easily accessible and more protected from the winds than Livadi beach. As a result, Agios Georgios beach can get crowded, by Iraklia standards, on windy days.
More beaches in Iraklia
Another sandy beach on the north of the island, Vorini Spilia, is also worth exploring, as it's quiet and relaxed. Again, it's best to visit on a non-windy day, as it will be very difficult to swim otherwise. You can hike there through the path passing by Agios Athanasios.
If you are happy to go for a short hike from the village of Panagia, you can easily reach pebbly Tourkopigado beach, to the east of the island. As it is right inside a small bay, it is protected from the winds.
Warning – you are very likely to come across some friendly goats!
Two of the nicest beaches in Iraklia are Karvounolakkos and Alimia beach, only accessible through a short boat trip on the "Anemos" boat.
Both of these beaches are stunning, with crystal clear water. Alimia, on the west side of the island, hides a secret – a German airplane from World War II lies under the surface of the sea, and the water is so clear that you can actually see it from the boat.
Snorkels and fins are provided, but be prepared for a very refreshing swim in the deep blue sea.
The Cave of Agios Ioannis in Iraklia Greece
Iraklia has another secret, the Cave of Agios Ioannis (Saint John). This massive cave is the seventh largest cave in Greece, and can be reached after a hike of about an hour and a half from the village of Panagia.
It is actually open for people to visit, but there is no infrastructure for visitors, and even getting there might not be entirely straightforward. It might be best to visit with a local guide, who can show you the hidden cave.
As the entrance to the cave of Saint John is quite small, you will have to go in on your hands and knees – but it's absolutely worth it and once you are inside the cave you won't believe its size.
Bring a spare torch and extra batteries – you definitely don't want to run out of light inside the cave!
Agios Ioannis cave was discovered accidentally at the end of the 19th century by a shepherd. According to tradition, Saint John's icon was found in the cave, and this is how it got its name.
Every year, on the 28th August, the eve of the Saint's nameday, a major religious ceremony happens in the cave, and hundreds of people arrive to celebrate the Saint with chants and candles. This is followed by songs and dances until late at night. If you happen to be visiting Iraklia around that time, don't miss it.
Iraklia and Greek Mythology
If you have ever read Homer's Odyssey, you will remember the story of Polifimos, the Cyclops who captured Odysseus and his colleagues on their way back to Ithaca and kept them in his cave, which was likely the smaller cave opposite St John's cave.
Odysseus managed to cheat the Cyclops by blinding his only eye, and free his colleagues. As they were sailing away from Iraklia, Polifimos started throwing big boulders towards them.
These can still be seen today – they are the small islets called Avelonisia, to the west of Iraklia.
Where to eat in Iraklia Island
As the island is so small, if you stay for a few days you will have enough time to try all the tavernas in Iraklia.
Our favourite a couple of years ago was Akathi. They not only had a large selection of traditional Greek dishes, but also made some lovely waffles.
Make sure you also try Maistrali, Eolos and all the other tavernas, as all our meals were way above average. Definitely check out Surfin Bird, with some of the best views of the Aegean.
If you like meat, you should taste some sheep and goat dishes. Otherwise, try the local cheeses, the fava split peas and the delicious honey.
How to get to Iraklia Greece
You can only get to Iraklia by boat from Piraeus, Naxos, Amorgos and the other Small Cyclades islands.
For summer 2021, there is a direct boat, the Blue Star Naxos, running from Piraeus to Iraklia three times a week (Sundays, Tuesdays and Thursdays). It departs at 6.45 am and arrives at Iraklia at 13.10, stopping at Paros and Naxos on the way. More here – How to get from Athens to Iraklia.
If you are not flexible with your dates, your only other option to get from Athens to Iraklia is to first get any ferry to Naxos, and then get the Skopelitis Express boat to Iraklia.
This small ferry leaves Naxos at 14.00 and arrives at Iraklia at 15.30 daily, apart from Sundays. Unlike its name suggests, it's not a highspeed ferry – it's a small, conventional ferry that has been serving this route for over six decades.
You can read more about the Skopelitis Express here.
If you are already on Naxos, you can take either the Blue Star Naxos or the Skopelitis Express. On Tuesdays and Thursdays, both boats run from Naxos to Iraklia, while on other days it's one or the other.
If you are in Amorgos, Koufonissi or Schinoussa, you can either take the Skopelitis Express any day apart from Sunday, or the Blue Star Naxos on Sundays, Tuesdays and Thursdays.
Most routes depart from Katapola port in Amorgos, though on some days you can also leave from Egiali.
Finally, the Express Skopelitis runs from Donoussa to Iraklia three times a week, on Tuesdays, Thursdays and Saturdays.
Confused? Don't worry – you can check out information for island hopping on your specific dates and book your tickets to Iraklia at Ferryhopper.
Is Iraklia suitable for a day trip?
It is possible to go to Iraklia Greece on a day trip from Naxos, Schinoussa or Koufonissi, but due to the ferry schedules you will only have a few hours there. If you want to get a better idea of the island, it's best to allow for at least one night there.
There is also the option of taking a day trip from Naxos to the Small Cyclades. Keep in mind that those trips can largely be determined by weather, so if you are specific about spending some time in Iraklia, it's best to go on the larger ferries.
Iraklia does make a nice addition to a Greek island hopping itinerary. Consider adding it with other islands such as Schinoussa.
Related: Getaway Instagram Captions
FAQ About the tiny island of Iraklia
Here are some of the most commonly asked questions by people planning to travel to Iraklia and other Greek islands in the Small Cyclades Group:
Where is Iraklia located?
The largest island of the Lesser Cyclades is Iraklia, which is located in the eastern section of the archipelago and to the south of Naxos in the Aegean Sea. Panagia, the island's main town, sits in the middle, while Agios Georgios, where the port is found, is on the northern coast.
How do you get to Iraklia?
The only way to get to the Greek island of Iraklia is by ferry boat. The island is accessible via Naxos, Donoussa, Koufonisia and other places in the Cyclades. You can also reach Iraklia directly from some of the Athens ports.
What are the small Cyclades?
The Lesser or Small Cyclades consist of the main islands of Ano Koufonisi, Kato Koufonisi, Irakleia, Schoinoussa, Donousa and Keros, as well as a cluster of inhabited rocks and islets. This group is located to the nearby island of Naxos.
Where in Greece is Naxos?
Naxos is a Greek island located almost in the center of the Cyclades group. It's the largest and greener of the Cyclades islands, with a spectacular natural environment! The history of richness and history is evident in the numerous archaeological sites that dot it.
How long should I stay in Iraklia Greece?
There is no right or wrong answer to this question. If you like nature and want to get away from it all, any amount of time will be fine. Iraklia is charming and grows on you, and you will probably miss it when you're back home. I'd suggest to stay in Iraklia for at least 3 days, but you'll love more!