This list of practical tips on air travel will help your next flight be more enjoyable, whether you are taking a short flight or a longer trip by plane.
Simple Tips For Air Travel
These key airplane travel tips will make your next long-haul flight pass smoothly and comfortably, leaving you flying high when you land:
Wear comfy clothes.
Avoid the middle seat.
Use your airline perks.
Bring along some snacks.
Always have entertainment.
Carry a refillable water bottle.
Pack your carry-on wisely.
Helpful Tips For Flying
In over 40+ years of flying (I'm really showing my age now!), I've lost count of the number of flights I've taken.
From family holidays when I was a kid flying with my grandparents from the UK to Corfu, through to long distance flights later in life to all parts of the world, I imagine I've been on literally hundreds of different flights.
During this time, I've experienced budget airlines, business class luxury, and nerve wracking propeller planed flights. I've also picked up some flying tips that I'd like to share with you, in the hope that it will help your next flight be more enjoyable and stress free.
Preparing for a flight
These tips for air travel include researching where to find the best flights, why it's important to check your baggage allowance, what to pack, how to relax in an airport, flight tips, and how to get from the airport to your hotel at the other end.
Related: Advantages and disadvantages to air travel
Finding a flight
People travel by plane for many different reasons, but the first step for more people is to find a flight from the airport closest to them to the airport closest to their desired destination.
If you're lucky, you can find a direct flight. For example, if you live in New York and you want to take a flight to Athens, you will find some direct flights to choose from. If you live in Alaska and want to fly to Athens you might not be so lucky. In this case, you'll need to take a few connecting flights.
You'll also want to balance out price and convenience. A cheap flight that leaves at 03.00 in the morning and arrives at an airport far away from your destination city might not be the best option. Paying a hundred dollars more for a more convenient time and airport might be worth the extra cost.
A good starting point is to look at Google Flights and Skyscanner. This will give you an idea of who flies where. You can then visit the airlines' websites and compare prices.
Related:
Checking Your Baggage Allowance
Another tip for traveling by air, is to check the airline's baggage allowance. Not all airlines are the same when it comes to how much luggage you can take with you on the plane, and they don't always include this information in their ticket prices.
Ryanair and similar budget airlines in Europe are notorious for charging hefty extra fees for passengers who thought that checked luggage was included when it was carry on only. They also charge if passenger have carry on bags that are too big or overweight!
I've seen people tripped up when they fly long distance from the US to Athens where checked baggage was included and then want to get a flight from Athens to Mykonos only to find out that the flight included a carry on bag only. Make sure to check and double check before you book your flight!
Related: International Travel Checklist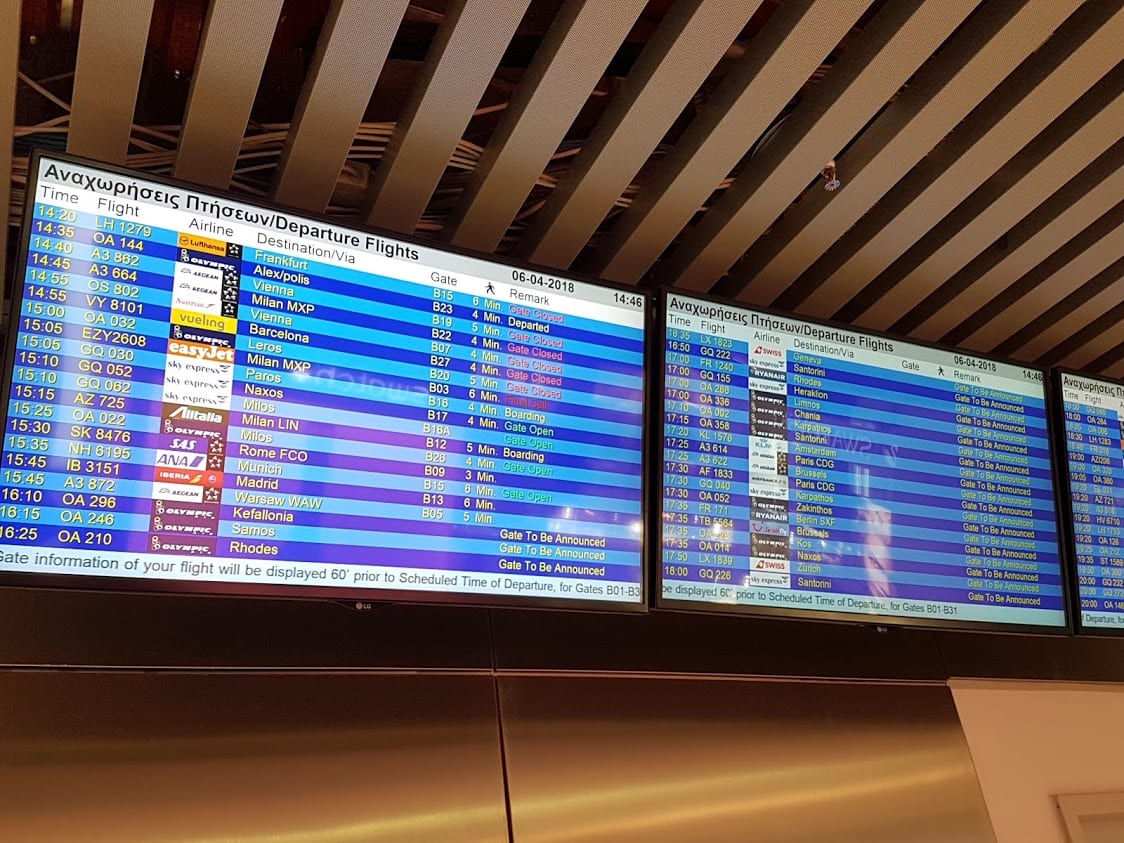 Passport and Visas
When flying to another country, whether it is a short distance or long haul, make sure to check the passport and visas requirements of your destination.
For example, some countries in Europe require that you have at least six months left on your passport before traveling. You may also need a visa depending on where you are going and for how long. Make sure to check this early and make sure you have the correct documentation before you fly.
Getting to the Airport
You think your job is done because you've chosen your flight and checked the baggage allowance – think again! Now, you need to plan how to get to the airport.
Often times airport parking can cost as much as the flight itself (am I exaggerating?), so you might be better off getting a ride from a friend or family member, taking public transport or using a ridesharing service such as Uber.
However you decide to do it, you'll want to make sure you arrive at the airport with plenty of time. I'd suggest two hours before domestic flights and three hours for international flights. You don't want to be left winging it when your flight takes off!
Tickets please!
Finding out what the check in procedure is for your airline can be a real time saver. Most airlines now require passengers to check in online. Some airlines have automated check-in counters, some have you check in online to get an electronic boarding pass, and some require you to wait in line at the airport.
Knowing what to do ahead of time will save you precious minutes before take off! The same goes for boarding – make sure you know when and where to go, so you don't miss your flight.
Oh, and you did pack your passport, right?!
Getting through security
Some times of year are busier than other when traveling by plane, and so a useful optional extra could be to buy a Fast Track ticket. This means you can speed through the queues at the security line while everyone else is patiently waiting their turn.
Also, be prepared – Wear shoes that are easy to take off and put back on again, pack your liquids in a clear plastic bag that meets regulations, and make sure laptops (if necessary) are easily accessible for separate screening.
Related:
Relaxing in the Airport
Some people seem to thrive on leaving getting to the airport and checking in until the last minute. Personally, I can't do this – I much prefer to check in and get through security early so I can relax and unwind in the airport. That's why one of my tips for airplane travel is to always leave yourself plenty of time.
Grab a coffee, browse a book store or watch some free movies on your laptop while you wait for your boarding call. Taking this time can help ease any nerves you might have about flying and help make the experience a little less stressful.
Want to get away from the crowds? Pay a little extra for lounge access, and get away from the hustle and bustle of the terminal. Most airports have a lounge you can pay to access without needing to book in advance, although it might be advisable to reserve it when traveling on a plane in the holiday season.
While you're at the airport, why not update your Instagram feed and use some of these funny Airport Captions for Instagram
What to take on the plane
If you are on a long haul flight for your next trip, what you take on your carry on bag and is easily accessible can make all the difference.
Take a neck pillow to help you get comfortable, and make sure to pack snacks in case the airline doesn't provide meals. Pack some entertainment such as books or magazines, headphones for watching movies on your laptop or phone. Also, take a powerbank so that you can recharge all your devices through the flight and arrive with a 100% charged phone at the other end.
Recently, I've taken to packing an eye mask on longer flights when I want to get some sleep. Paired with noise cancelling headphones, I can still get some shut eye.
Related:
Aisle or Window Seat?
The general consensus is that the middle seat is best avoided whenever possible, so that leaves you with choosing the window seat or aisle.
If you just plan to sleep on the plane, the window seat is best as you will be disturbed during the flight less. If you need to use the bathroom quite often, an aisle seat is probably the better pick.
Minimizing Jet Lag
Flying through multiple time zones can have an impact on your body. One of my highly recommended plane travel tips is to minimize jet lag as much as possible in order to help make your arrival a little easier.
On long-haul flights, set your watch to the time of your destination and try to sleep when it's nighttime there – this will help you adjust better when landing. On shorter trips, you can try to stay awake until it's nighttime at your destination.
Hydrate as much as possible during the flight, (and I mean drink plenty of water not beer!).
Related: How to minimize jetlag
Landing at the other end
If you are traveling to another country, once your plane has landed, it's time to start another adventure – Passport control!
It's a good idea to get off the plane as quickly as you can, as the entire flight will be disembarking at the same time, and this can lead to long lines.
Once you pass through passport control you usually then collect your luggage.
Lost Luggage?
Hopefully, all goes well and you collect your luggage and can get on with your trip, but if things don't go according to plan, don't panic. Contact the airline straight away – they will help you track down your missing bags.
In each airport luggage collection area, there is usually a separate desk for dealing with lost luggage, so make sure to head there if you can't find your bags.
Some people recommend putting luggage trackers such as Tile in your bags so that if they do go missing, you can attempt to find them yourself.
I've recently been trialing a GPS tracker for luggage called GEGO. This is useful as it has a SIM card which broadcasts the location of your bag anywhere in the world. Check out my review here: GEGO GPS Luggage Tracking Device
Getting from the airport to your hotel
The final step of your travel adventure is getting from the airport to your hotel. In most countries, you have several options such as public transport, taxis or even ridesharing services like Uber.
This is why the last of my traveling tips for flying, is to pre-book a transfer from the airport to your hotel, particularly if you have just come off a long flight. That way you can get to your hotel quicker, with less stress. Alternatively, rent a car from any airport in the world with Discover Cars.
Related:
By following these essential air travel tips, you can make your next flight more enjoyable and ensure a stress-free journey. So don't forget: plan ahead, pack appropriately, choose the right seat and take measures to minimize jet lag – happy flying!
P.S – If you have any tips that have worked for you when it comes to air travel, please do share in the comments section below. I'm always looking for new ways to have a nice easy flight, and I'm sure other readers are too!
Related: Why do flights get cancelled
FAQ Flying Tips
Some commonly asked questions people have about flying include:
How can I make my air travel better?
A better air travel experience can be achieved by taking several steps. One is to plan ahead and arrive at the airport with enough time to spare. This can help reduce stress and avoid missing your flight. Another is choosing seats in advance or trying to get an upgrade for more comfort. Wearing comfortable clothing and bringing items like noise-canceling headphones or an eye mask can help you relax. Staying hydrated by drinking plenty of water and avoiding beverages like coffee, tea, and alcohol can also make a difference. Finally, bringing snacks and entertainment like a book or tablet can help keep you occupied during the flight.
What is not allowed in a carry-on?
Certain types of items are prohibited in carry-on luggage. These include firearms and other weapons, explosives and flammable substances, liquids in containers over 3.4 ounces or 100 milliliters, sharp objects like knives and scissors, and certain types of sports equipment like golf clubs or baseball bats. It's important to review the TSA guidelines for carry-on and checked baggage before packing to ensure you're not bringing any prohibited items.
What are some rules when travelling by air?
When traveling by air, there are several rules passengers must adhere to. These include following TSA guidelines for carry-on and checked baggage, arriving at the airport with enough time to go through security and board the flight, turning off electronic devices during takeoff and landing, respecting the cabin crew and other passengers, and checking in advance for any visa requirements or travel restrictions for your destination. Following these rules can help ensure a smooth and hassle-free travel experience.
What do you do at an airport for the first time?
If it is your first time at an airport, there are several steps you'll need to follow. First, visit the check-in counter to get your luggage tags and boarding pass. When you go through to security, expect to be asked to remove your shoes, jacket, and any metal objects before walking through the metal detector or scanner. After passing through security, use the information on your boarding pass to locate your gate and follow the signs towards your terminal. Wait at your gate until your flight is called for boarding and present your boarding pass and any necessary identification to the gate agent.
---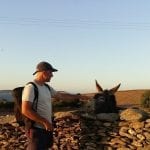 –
Dave Briggs
Dave is a
travel writer
originally from the UK, and now lives in Athens Greece. As well as sharing these tips about making flying a little easier, he's written many more blog posts offering tips and advice for travelers. Follow Dave on social media for more Greece travel insights: