A popular 7 day Greece itinerary combines time in Athens, Santorini and Mykonos. Here's a local's guide to planning the perfect Greece itinerary 7 days.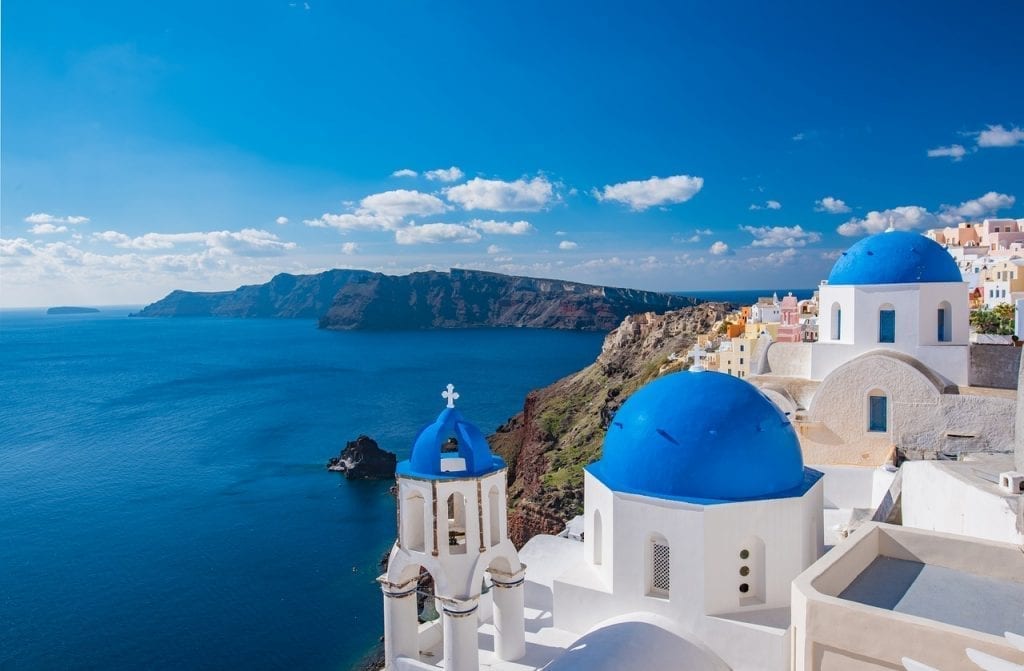 7 Day Greece Itinerary
People often ask how long they should stay in Greece for. My answer is as long as you can, as Greece has a lot more to offer than you think.
I've lived here for nearly seven years, and feel I've still barely scratched the surface!
After setting up a design your own trip feature on the blog, I came to realize that a significant amount of people were requesting information for spending 7 days in Greece.
I also noticed that the most popular combination, was the Athens – Santorini – Mykonos one. We could think of this as the classic Greece itinerary for first timers.
As a result, I created this Greece in 7 days itinerary to help people plan their Greek vacations.
1 Week in Greece
If this is your first time in Greece, it makes sense to go to the most famous destinations, i.e. Athens, Santorini and Mykonos.
Keep in mind that these Greek destinations are quite popular. So, whilst you will be visiting well known and incredibly beautiful places, Santorini and Mykonos in particular offer less of the 'authentic' Greece.
I've tried to create this Greece 1 week itinerary to minimise your travel time, and maximise your overall experience. This Greece tour includes visits to ancient sites in Greece, beaches, and how to see the incredible Santorini sunset.
Before we get too far in though, sign up for my travel itineraries, insights and guides. Trust me, you'll appreciate the information you'll receive.
All good? Awesome.
Let's carry on and look at how should you get around Greece. The logistics of travel between Greek islands in 7 days is something worthy of deeper consideration.
Logistics and transportation for your Greece 7 days itinerary
Before you start planning your week in Greece, you should understand the logistics of travelling around Greece and the Greek islands.
Greece has several groups of islands, most of them being in the Aegean Sea.
Mykonos and Santorini both belong to a group called the Cyclades, and they are reasonably close to each other. As they are popular destinations, they each have an airport as well as a port.
As such, whilst Greek island hopping by ferry is the 'old way' to get around, flights are certainly an option.
How to get from Santorini to Mykonos
You can only travel between Mykonos and Santorini by ferry.
Santorini and Mykonos are connected by a number of boats, running on a daily basis. There are many types of boats, the fastest one taking just under 2 hours and the slowest one around 4 hours.
If you only have seven days in Greece, time is important, so you might prefer to choose the fast boat. At the same time, the journey on the slower boat is generally more pleasant. Something to consider.
You can check out ferry schedules between Mykonos and Santorini and book tickets online using Ferryhopper.
How to get from Athens to Santorini and Mykonos
Athens, the capital, is connected to both Santorini and Mykonos by flights as well as several types of boats departing from Pireaus or Rafina, the two ports close to Athens.
It takes anything between 5 and 10 hours to get to Santorini on a boat, while getting to Mykonos takes anything from just over 2 hours to about 5 and a half hours.
A flight from Athens to the islands and vice-versa will take you just under an hour.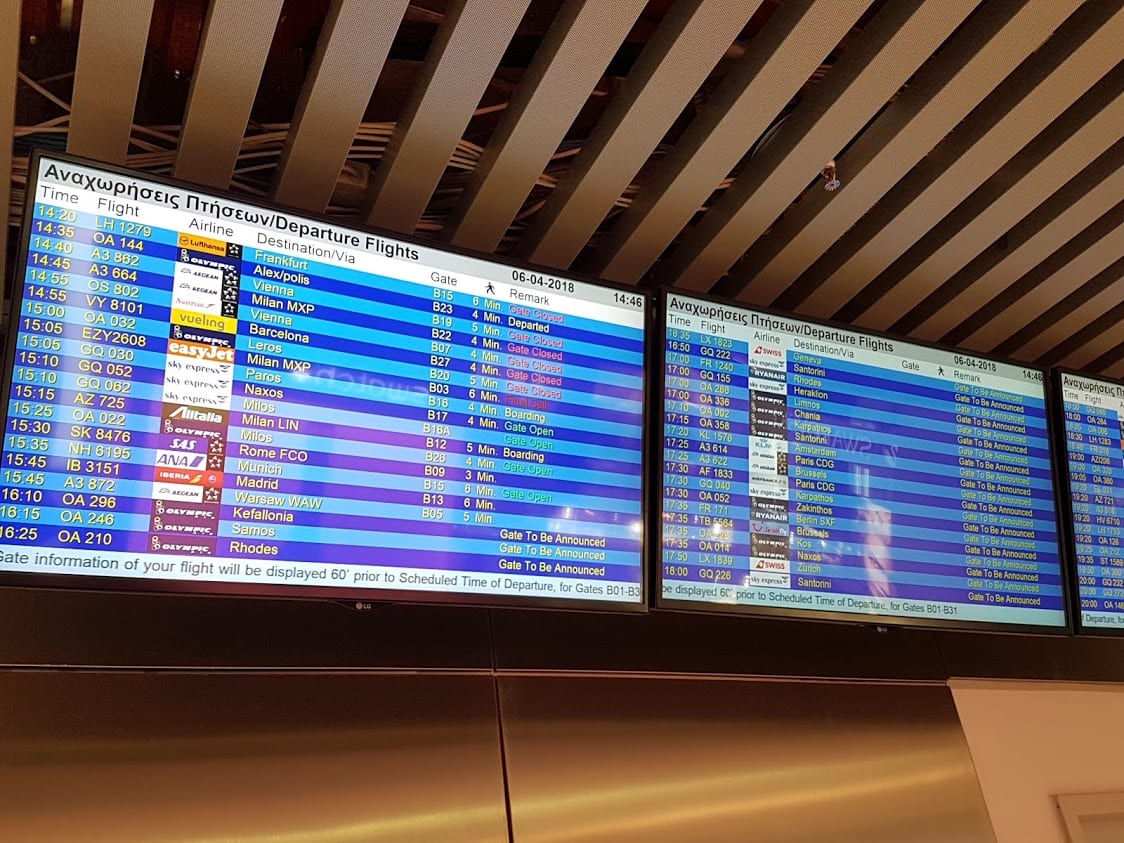 Is it best to fly or use the ferry?
With all of the above in mind, if you are trying to plan your Greece itinerary for 7 days, your best bet is to spend less time getting from A to B, and more time enjoying the different places.
If you book well in advance, you can get good deals for flights to Mykonos and Santorini – in fact, some boat tickets are a lot more expensive than flights booked in advance.
You can book ferry tickets online easily here: Ferryhopper
Want specific information on Getting from Athens to Santorini? Take a look at my travel guide to get from Athens to Santorini.
And here's how to get from Athens to Mykonos.
Arriving in Greece
Unless you are arriving on a direct flight to Santorini or Mykonos (which you can if flying from some European countries), chances are that you will be landing at Athens International Airport.
My suggestion is to find the next available flight to Mykonos or Santorini, whichever one suits best your budget and your timetable, and go to the first island straight away, leaving Athens as your last destination.
This is so that you can have some time to unwind on the islands before hitting the capital. Also, there is the rare (but still possible) scenario of getting stuck on one of the islands because of bad weather or a last-minute boat strike.
Greece Itinerary 7 Days
In short, your Greece itinerary for 7 days could look like this:
Athens > flight to Mykonos > 2 days in Mykonos > boat to Santorini > 2 days in Santorini > flight back to Athens > 3 days in Athens.
Or, it could look like this:
Athens > flight to Santorini > 2 days in Santorini > ferry to Mykonos > 2 days in Mykonos > flight back to Athens > 3 days in Athens.
If you want a more relaxed week-long vacation, you could just choose two destinations, and skip either one of the islands or Athens.
However most people seem to prefer to visit as much as they can in their Greece itinerary for 7 days. I don't blame you!
7 Days in Greece – 2 Days in Mykonos
If I had to choose, I would marginally prefer to go to Mykonos before heading to Santorini. The reason being, that Mykonos is more geared towards beaches and nightlife, whereas Santorini has more to do in terms of day activities.
When in Mykonos, you can rent a car and go around the island, visiting the most famous beaches like Elia, Platis Gialos or Ornos for some beach time.
You don't need a rental car at all though if you want to walk around the picture-perfect old town.
When visiting Greece, you're never too far away from an ancient site, and this also applies to Mykonos! Don't forget the UNESCO World Heritage Site of Delos which is a perfect half-day tour. I highly recommend visiting on a guided tour!
At night, there are several bars and clubs to choose from in Mykonos Town and other resort areas.
Mykonos has been a party island for many decades, so they definitely know what they are doing!
Check out this article to plan your 2 days in Mykonos – Fun things to do in Mykonos.
Looking for interesting day trips and tours? Take a look at this guide to the 10 best Mykonos tours.
How to get from Mykonos to Santorini
From Mykonos, the best way to get to Santorini is by ferry.
I've got a full guide here on how to get from Mykonos to Santorni.
A good website for checking out boat routes in Greece is www.ferryhopper.com.
Note that if you are planning your trip many months in advance, the information isn't always updated.
Also, there are more boats during high season (June-August) than in low season, and it's best to book your tickets early if your dates are fixed.
Note that it is actually possible to fly from Mykonos to Santorini through Athens, but the boat trip makes more sense – and is more scenic.
7 days in Greece – 2 days in Santorini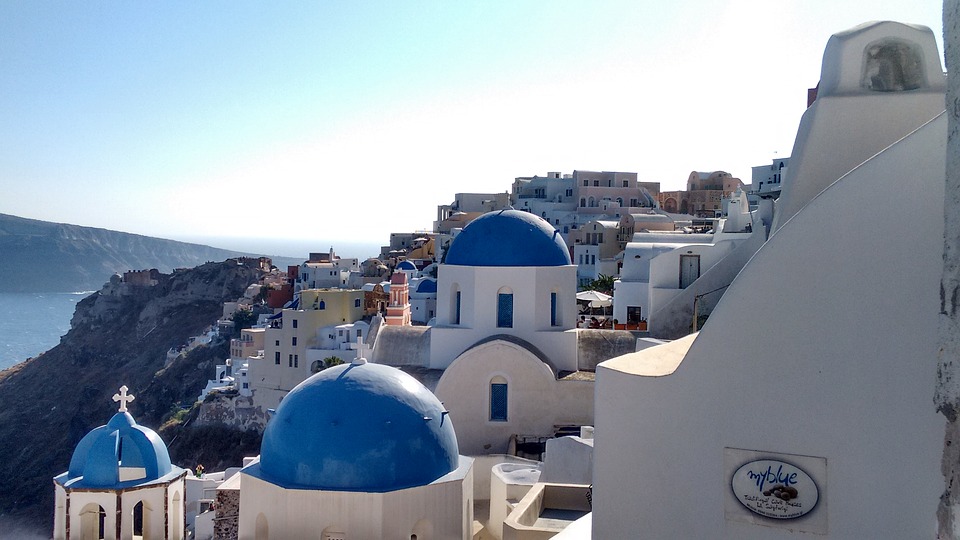 Santorini is world-famous, and for good reason.
The white-washed houses, blue-domed and stunning sunsets would be enough on their own, but there are also winery tours, boat cruises around the island, Akrotiri and a visit to the volcano and hotsprings.
The scenic backdrop makes it a popular addition to a Greece honeymoon itinerary, and the sunset at Oia is legendary.
The beaches in Santorini are not as nice as the ones in Mykonos, but you should still take time to put your feet up and get some sunshine. The black sand beach of Perissa is a good place to take a swim, and there's plenty of places to eat along it promenade. Red Beach is another Santorini attraction to make time and see.
You can start planning your 2 days in Santorini here – Santorini 2 day Itinerary.
If you wanted to stay a bit longer, I've also got a 3 Day Santorini itinerary.
How to get from Santorini to Athens
From Santorini, you can fly to Athens airport. If you are there in high season, book your tickets as early as possible, as they tend to go up in price closer to the time. Some people however prefer to take a ferry to Piraeus port in Athens.
Santorini's airport is tiny, but it gets super crowded, so arrive with plenty of time.
For information on how to get to and from Santorini airport, take a look here – Santorini Airport Transfers.
7 days in Greece – 3 days in Athens
With 7 days in Greece, staying in Athens for 3 days might sound a lot, however the capital has plenty to offer in terms of history, archaeology, museums, walks, as well as shopping, if that's what you are into.
However, some people might prefer to spend less time in Athens, and spend an extra night on one of the islands – it's all up to what you are after so there is no "right" or "wrong" way of planning your 7 day itinerary in Greece.
What to see in Athens
When you are in Athens, the obvious sights to see are the Parthenon and Acropolis, the Ancient Agora and the Acropolis Museum. While these can easily be done in just one day, I definitely do not recommend it if you want to do them justice.
If you want to find out more about Greek history, I also suggest talking a guided walking tour of the Greek capital.
Other must-see highlights in the capital include the Parliament and the change of the Guards at Syntagma Square, Plaka, Roman Agora, the National Archeological Museum, the Benaki Museum, the food market, and a walk on Areopagitou Street.
If you are a sports fan, make time to see the Panathenaic Stadium. This was where the first modern Olympic games were held.
If you are lucky, you can also catch a performance in the Herodion Ancient theatre – check for tickets well in advance. There is a yearly Athens and Epidaurus festival, with live events held at this historic ancient site.
Staying an extra day in Athens also gives you the option of taking a full day tour. The most popular day trips from Athens include Delphi, Mycenae, and the Temple of Poseidon.
To learn about detailed Athens itineraries, take a look at these popular posts:
Also read: Best time to visit Greece
Athens And Greek Isles Vacation Planning – Useful to know
Here's some quick links to essential travel sites that will make your Greece vacation planning easier:
Skyscanner – To start getting an idea about flights and prices
Booking – For apartments and Greece hotel choices. AirBnB typically offers poor value for a 7 day trip.
Viator – Book all your day trips such as a caldera boat tour or guided tour of the Acropolis UNESCO heritage site in advance.
Ferryscanner – When you need tickets for a ferry ride in Greece, book them online!
Rental Cars – You won't need to rent a car in Athens, but you might consider one in Mykonos and Santorini.
Free Guides to Greece
Hopefully, the above itinerary ideas should give you a good start on planning your 7 day Greece itinerary. These 10 day Greece itinerary ideas might also be of interest.
If you'd like more information and travel tips on things to see and do in Greece, sign up for my free guides.
I'll send you inside tips and useful insights into things to do in Greece, so you'll have the perfect vacation!
Trip Planning for One Week In Greece FAQ
Readers planning a vacation in Greece often ask questions similar to:
Is 7 days enough time to visit Greece?
Spending the week exploring Greece will allow travelers to spend time in both Athens and one or two Greek islands, such as Santorini or Mykonos. Alternatively, you could always spend the week exploring one place such as Crete.
What can you do in Greece for 7 days?
By spending 7 days in Greece, you can experience everything from the grandeur of Ancient Athens to the beautiful beaches of the Cyclades islands. You can put together a Greece itinerary that includes whatever interests you have for the ultimate dream trip!
How many days is enough for Greece?
Greece is such a varied country, that it really needs as much time as you can give it. The bare minimum of time to get the most out of your trip to Greece should be a week.
What famous Ancient Sites can I see in Athens?
If you are a lover of ancient Greek history, you'll want to visit historical sites in Athens such as the Acropolis and Parthenon, the Ancient Agora, and the Temple of Olympian Zeus.
What Greek islands can I see in a week?
The Cyclades are some of the most stunning islands in Greece. They are also quite close together, with ferry journeys between them being just a few hours. This means it is possible to visit 3 or 4 Greek islands in a week if you want to pack out your schedule!
Pin this 1 week Greece itinerary for later
If you are a Pinterest pinner, please add this one week in Greece pin to your boards. This way you'll be able to return to it again when you are finalizing your travel plans for your Greece vacations.
---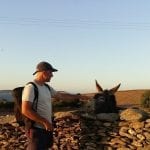 –
Dave Briggs
Dave is a
travel writer
based in Greece. As well as creating this suggested seven day Greece itinerary, he's also written hundreds more travel guides to Greek destinations. Follow Dave on social media for Greece travel ideas and inspiration so you can plan the perfect Greece vacation: