See the best of Mykonos in 3 days with this easy to follow travel itinerary. We'll show you how to spend 3 days in Mykonos, what to do, where to go, and what to see!
Mykonos 3 Day Itinerary
I visited Mykonos in Greece for the first time in 2020, and I have to say I was pleasantly surprised.
You see, like many people, I'd associated Mykonos with "expensive", "nightlife", and little else. As it turned out, it has some fantastic beaches, a wild side few people see, and yes, it's incredibly photogenic!
There is much more to Mykonos than the crazy parties and high-end clubs that it's best known for. In fact, I suggest exploring the island when the party crowds are catching up on their sleep. You will then experience a totally different side.
This 3 day Mykonos itinerary is based on my own experiences of visiting Mykonos (although we did spend longer there).
Why an itinerary for 3 days in Mykonos?
I've noticed that many of my readers are first-time visitors to Greece. Quite often, they want to combine Athens – Mykonos – Santorini in a 7 day itinerary for Greece or visit Mykonos along with other Greek islands in the Cyclades.
As such, this Mykonos travel guide for 3 days is written with them in mind. Whilst spending longer is always recommended, three days in Mykonos is still enough time to see all the major highlights, and spend time relaxing on a beach or two.
Take a look here at how many days to spend in Mykonos.
Mykonos island must-sees
To begin with, the Old Town, also called Chora, is quite something. Just walking around the white-washed streets will amaze you. The most famous landmarks include the iconic windmills, Little Venice and Panagia Paraportiani church.
The island has some of the best beaches I have seen in Greece. I had the chance to go before the loungers were installed for summer 2020, and I was very impressed!
Ancient Delos, a massive archaeological site on a nearby island, can be easily visited from Mykonos. It's one of the most important UNESCO World Heritage Sites in Greece.
But we're getting ahead of ourselves.
What to do in Mykonos Greece in 3 days
Here is a relaxed itinerary for people planning to spend 3 days in Mykonos.
Day 1 in Mykonos – Explore Mykonos Town and Ancient Delos
On your first day, set out to explore the picturesque Mykonos Town. Sit for a coffee and watch the party people return to their hotel for some sleep. Then visit Delos, the deserted sacred island. Discover more about its ancient civilization and Greco-Roman architecture.
What to do in Mykonos Town
Mykonos Town is really all about getting lost! Walk around the whitewashed streets and explore the quaint Cycladic architecture. The small town is full of hotels, tavernas and café-bars. In addition, you will see many souvenir shops, clothes boutiques and renowned jewellery stores.
The Chora is home to over a dozen churches. The famous Panagia Paraportiani features in many Greece guides. However, I found that some of the small churches and chapels in the maze-like town were more interesting.
One of the landmarks of Mykonos is a picture-perfect area called Little Venice. The two-storey houses are all built right above the sea, similarly to Venice in Italy. The tiny quarter dates from the 18th century. Today it's a popular attraction and photo-stop.
Close to Little Venice, you will see the famous Mykonian windmills. Though you will see many of them all around Greece, they have somehow become a trademark of Mykonos. Walk around the fully restored windmills and take in the beautiful views of the Old Town.
Finally, you can visit the Archaeological Museum. It contains many ancient Greek artefacts from the nearby Rhenia island, from the prehistoric to the Late Hellenistic period.
Stop for lunch in one of the numerous tavernas near the Old Port. We had a reasonably priced meal at Nikos taverna. It was decent (though not exactly the most memorable Greek food I've had) and the staff were very friendly. We also had recommendations for Captain's and Kounelas which we didn't try.
Visit Ancient Delos
Later in the day, take a guided tour to Delos island, which is only 30-40 minute ferry ride from the Old Port.
Delos was very important for Ancient Greeks, as it was the birthplace for God Apollo and his sister Artemis. The sanctuary gradually developed into a massive commercial hub.
Thousands of people moved here to live and work. The island became a focal point in the Aegean, reaching its peak during the Hellenistic and Roman times. Believe it or not, this small islet was once home to 30,000 people!
Its decline began in the 1st century BC, due to attacks by intruders from the Pontus area. In the next centuries, pirates, Slavs and Saracens invaded, and Delos was eventually deserted. Excavations started in the 1870s and are still ongoing.
It is possible to visit on your own, but it would take a lot of imagination to know what you are seeing. My suggestion is to take a guided tour where everything is arranged, including transportation and the entrance ticket.
We took a tour with Antonis Pothitos, who gave us an excellent introduction to Delos, Mykonos and also his native island Naxos. He is a passionate guy who loves his job, and it's no wonder that he is one of the most popular licensed guides around.
Why not visit Delos in the morning?
This is what most people do. However, if you have the choice, it's best to visit in the evening. Not only is it cooler, but it's also less crowded. This is because many visitors arrive on cruise ships and their only option is to take a morning tour.
For Summer 2020, there is only one daily trip to Delos. The boat departs at 10.00, and leaves at 13.00, and this was the one we took. We were actually the only visitors when we went!
The sun was already scorching hot even well before midday. If we had a choice, we would definitely visit in the evening.
Another alternative is to take a sailing tour that stops at both Delos and the nearby Rhenia island. This is ideal if you want to combine a visit to the archaeological site with a swim off Rhenia. There are plans for it to become an archaeological park in the future, so cruise around while you can.
Sunset and nightlife in Mykonos Town
As you are getting back to Mykonos town, it will almost be time for sunset. Walk back to Little Venice, and sit by the coast to enjoy one of the best sunsets in Mykonos. Views from up the windmills are also very cool.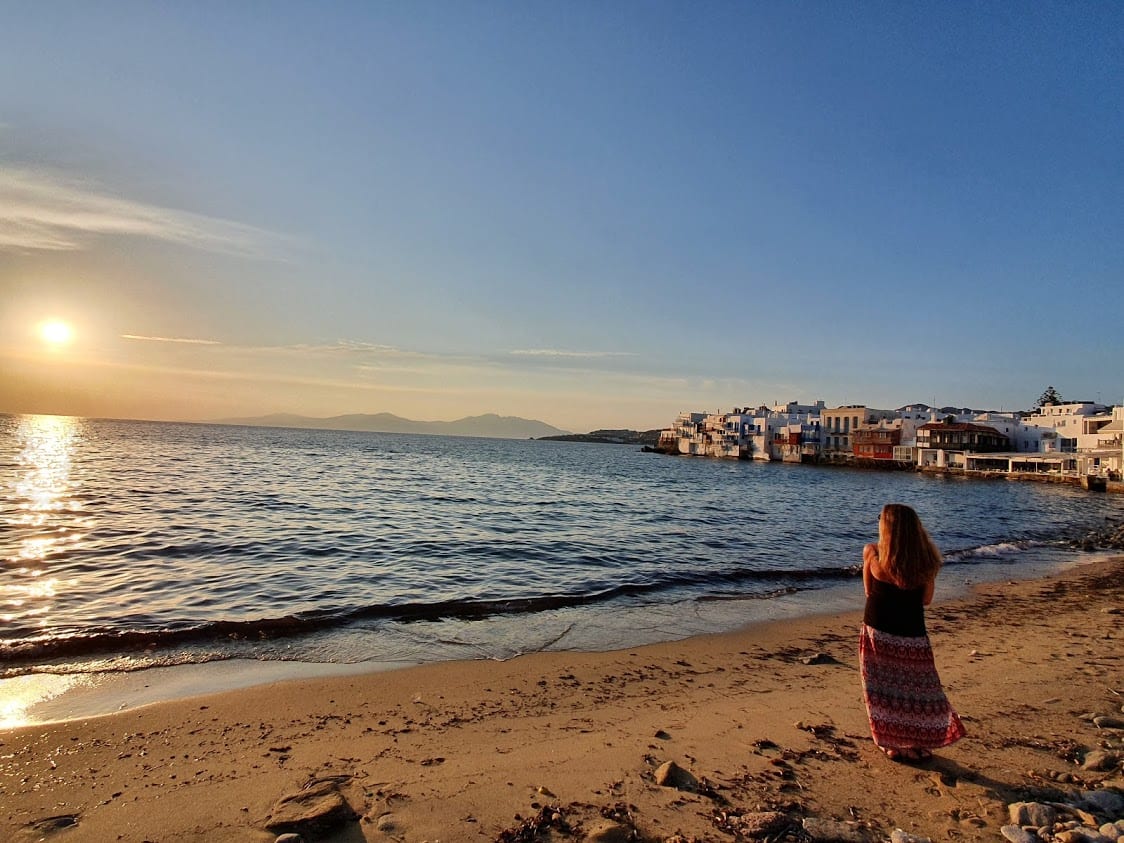 I know that Santorini sunsets are very famous, but I thought that the ones here were almost better! But to be fair, the sun setting inside the Aegean Sea is always special.
If you are up for some nightlife afterwards, stroll around Chora in the evening. See how the ambiance changes as all the bars and evening restaurants are now open. Mykonos Town never sleeps, so any time is good to go out for the evening.

Day 2 in Mykonos – Explore the south beaches
If you are a beach person, Mykonos will absolutely amaze you. There are well over 30 beautiful beaches to choose from. You will find at least one where you will want to spend some time – or even the whole day – on.
Not all beaches are the same though. There are party beaches, and quiet beaches. There are fully organized beaches, and completely natural beaches. It really depends on what you are after.
As I visited Mykonos in June 2020, everywhere was exceptionally quiet. In June in a normal year, this won't be the case. Still, I was told that you can always find beaches that won't be packed, even in high season.
Mykonos itinerary – Best beaches in Mykonos island
The best-known beaches in Mykonos are on the south of the island. This is because they are more sheltered from the summer winds, known in Greek as Meltemi.
Look at a map of Mykonos island from west to east. You will see Ornos, Psarou, Platis Gialos, Agia Anna / Paraga, Paradise, Super Paradise, Agrari and Elia. All these beaches can be accessed by land, though parking won't always be easy.
In addition, small boats and water taxis connect Ornos with all the other beaches, apart from the exclusive Psarou. Generally speaking, these boats depart from Ornos hourly, from 10.00 to 16.00, and the last boat returns from Elia at 17.45.
You may be able to find more information and the up-to-date itinerary the company's FB page.
Further away from Elia, you will see Kalo Livadi, Loulos, Agia Anna / Kalafatis, Lia, Tsaggaris and Frangias. These are only accessible by road, unless you have your own yacht or want to hire a private water taxi.
If you don't feel like organising any of this on your own, you can take a half-day beach hopping boat tour. This is a more relaxed way to enjoy swimming without the normal crowds. It also includes lunch and drinks.
My favourite Mykonos beaches
As you can imagine, you can't explore all these stunning beaches properly even if you have a week in Mykonos. It's best to select which ones to visit, based on your interests.
My own favourite beaches in Mykonos were Kalafatis and Agrari. They are both long, sandy beaches, and Kalafatis has plenty of natural shade. At the time we visited, there were no loungers and the temperature was ideal, as it was still mid-June.
Most of the south beaches normally offer some sort of facilities. If you travel around, you will see a wide range of establishments, from moderately priced beach bars to upscale cafe-restaurants. Choose the one you like the most, check that it suits your budget, and enjoy people-watching by the sea.
Do you like campsite vibes, beach clubs and watersports? Head to Paradise beach, or Paraga beach. Are you after gay-friendly parties and buzz? Go to Super Paradise beach. Do you want to see and be seen? Go to Psarou beach, or Elia beach. Are you more into family-friendly beaches and laid-back beach bars? You will probably like Platys Gialos or Kalo Livadi.
For more information, check out this detailed article about the beaches in Mykonos.
See the sunset from 180 bar
In the evening, you may want to see the sunset in style. In this case, head to 180 bar, close to Chora. Its vantage point up on the hill offers great views of the whole island. Book ahead, as it is very popular, and enjoy the beautiful views over a cocktail or light meal.

Day 3 in Mykonos – Take a road trip around Mykonos and go for a kayak tour
I've already mentioned the meltemi winds that affect the Aegean in summer. While the south-facing beaches are quite sheltered, the ones facing north are exposed to the winds. As a result, they have less tourist facilities, and are generally less busy.
If the wind forecast is good, take a road trip to explore the northern beaches, and include some sightseeing and a kayak tour.
Kayaking in Mykonos
This was one of our highlights in Mykonos. I have been kayaking since I was a kid (yes, it's popular in England believe it or not), and I totally recommend it.
We were invited by Mykonos Kayak, a small family company, to participate in one of their kayaking tours. The two brothers who run the tours, Nikos and Alexis, are very passionate for what they do.
We had a long discussion with Nikos about how safety precautions are important to them, and how a simple kayaking activity can change your perception about the island. Their father has lived in Mykonos for many decades, and they all love showing something different to their guests.
We set off from Panormos beach, on the north. It's easy to get there in your own transportation, but a pickup can be arranged.
As the tour we participated in was a fun tour for locals, there was no time pressure – we were on the kayak for almost four hours! We explored a long part of the coast, with hidden sea caves and impressive rock formations. We really had a fantastic time, and absolutely recommend this activity.
That said, we were very lucky to go on a day with absolutely zero wind. If you book the tour in advance and the day turns out to be windy, you will be offered alternative options or a refund.
Drive to the northern beaches in Mykonos
If you haven't had enough beach time and have your own transportation, you can check out some of the other beaches to the north.
Agios Sostis, Ftelia, Mersini and Fokos are all great when there is no wind. These beaches have limited facilities, so it's best to have some water, snacks and maybe some shade with you.
Visit Ano Mera and Tourliani monastery
Ano Mera is the only inland village in Mykonos, and its most important attraction is the Panagia Tourliani monastery. In all fairness, and wouldn't include it in my list of must-sees in Mykonos. I didn't think it was so special compared to other monasteries in Greece, like the famous Meteora.
That said, the museum is supposed to be very interesting. As it was closed for visitors when I was there, I don't have my own opinion.
If you are in this area already, by all means pass by and have a look. Unless you really like the ambiance in the square, skip the touristy restaurants. Instead, stop by a souvlaki place called Kalammmakia on the way back to Chora. They were unexpectedly good, and at a fraction of the price elsewhere on the island.
See the sunset from the Armenistis Lighthouse
To the northwest of Mykonos, you will find Armenistis Lighthouse. This is a popular sunset spot, and for good reason. It is right at the end of the island and feels very remote and away from everything.
Walk down from the lighthouse, and sit on one of the rocks. These were my favourite sunset views in Mykonos.
When I visited, there were about 10 people total, so it was very easy to drive to the lighthouse and back. We were told that it normally gets quite busy during peak season, so make sure you get there early. This way you can avoid the traffic and secure a parking spot.
Finish the day with another drink in Chora – or spend your last night in Mykonos partying until the early morning!

Where to stay in Mykonos for three days
There is plenty of accommodation on the island. It ranges from luxurious villas and boutique hotels to simple rooms and two campsites.
If you are not planning to rent a vehicle, you might prefer to stay in Chora. There are frequent bus departures to several areas on the island.
You could also stay close to one of the south beaches. The options closer to Mykonos Town are Ornos and Platis Gialos. They are both connected with the main town by bus, and you can easily get to most of the south beaches by water taxi. The Agios Ioannis peninsula, a short distance from the town, is also a popular choice.
Ornos Bay is where we stayed ourselves. It is a popular resort, just a ten-minute drive from the main town. We had our own car, so it was easy to get around. If you decide to rent a car or quad, note that parking can sometimes be a challenge.
Check it out here: Ornos Suites
The island gets very busy with holiday makers in the summer months, especially in July and August. If you want to be sure you'll have some quiet time, go for a secluded hotel with its own private pool. Alternatively, visit in the shoulder season.
I've a full guide here: Where to stay in Mykonos
Mykonos FAQ
Readers planning a trip to the beautiful island of Mykonos often wonder how long they need to see sights such as the Mykonos Windmills, pristine beaches, and important archaeological sites like Delos island.
Is 3 days enough in Mykonos?
3 days is a good amount of time to see the highlights of Mykonos. You can easily visit the most popular beaches, check out Delos island, and see the stunning sunset from the Armenistis Lighthouse. If you have more time, I would recommend renting a car or quad and driving around this lovely Greek island. This will give you the opportunity to explore some of the more remote areas and find some hidden gems.
How many days are enough in Mykonos?
If you're going to this cosmopolitan island to experience the Mykonos nightlife as well as to see the tourist attractions 5 or 6 days is more than enough time. On average, most visitors spend 3 days on this relatively small island before getting ferry tickets to one of the nearby islands to continue their adventure in Greece!
Is 2 days in Mykonos enough?
2 days is enough time to see the highlights of Mykonos. You can easily visit the most popular beaches, check out Delos island, and see the stunning sunset from either the famous windmills or the Armenistis Lighthouse.
Is Santorini better than Mykonos?
There is no simple answer to this question as it depends on what you are looking for in a holiday. If you want stunning sunsets, incredible view, and an idyllic atmosphere, then Santorini is the better choice. However, if you are looking for a more lively atmosphere with plenty of nightlife options, then Mykonos is the place to go.
Can I visit Mykonos in winter?
In my opinion, anyone looking for the 'Mykonos Experience' would find the island not worth visiting between November and the beginning of April. All those wonderful beaches are too cold to enjoy during this time, and most of the tourist infrastructure is closed.
Mykonos itinerary
I hope this 3 Day Mykonos Itinerary and travel tips will help you plan your time on the famous island. Feel free to add your own suggestions for restaurants and clubs you have tried down below.
More travel information:
---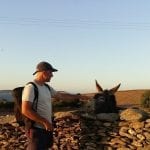 – Dave Briggs
Dave is a travel writer who's been living in Greece since 2015. In addition to writing this guide on what to do in Mykonos in 3 days, he's created hundreds of travel itineraries and blog posts about the other Cycladic islands and destinations in Greece which you can find here on Dave's Travel Pages.
Follow Dave on social media for travel inspiration from Greece and beyond: