Turn your Greek island hopping dreams into reality with this guide to visiting the best Greek islands. I'll show you how to book a ferry easily, which Greek islands to visit, and more!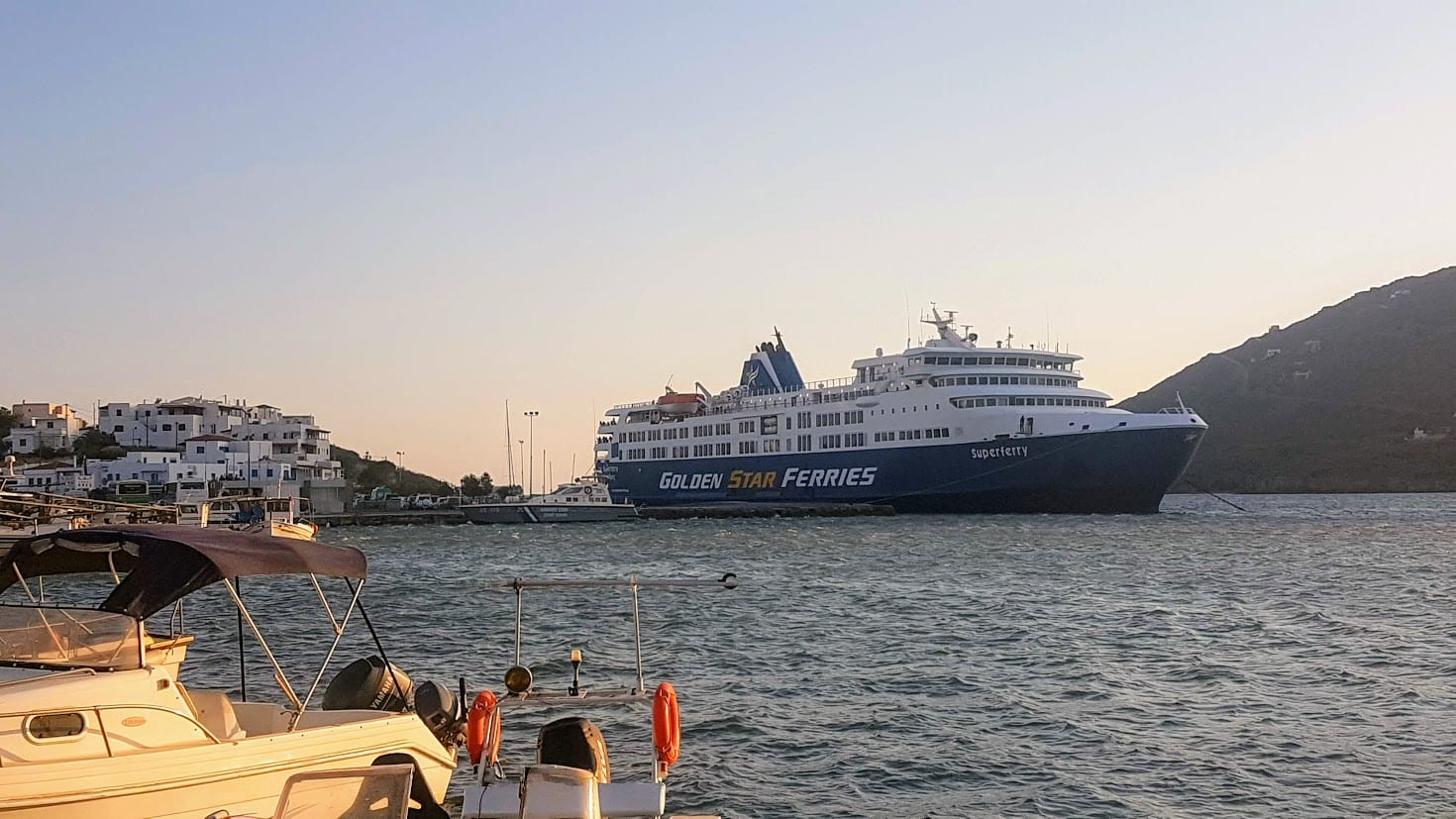 This guide contains information on how to get around the Greek islands, the different island chains in Greece, travel tips and inside knowledge based on my experiences of having lived and traveled around Greece for over 6 years.
So you want to go Island Hopping in Greece…
One vacation. 227 inhabited Greek islands. Where do you begin? I've written this guide to Greek Island Hopping with the aim of keeping it simple.
As such, if you're really only interested in the classic Athens – Mykonos – Santorini itinerary, take a short cut and check out my guide here: 7 Day Athens, Santorini, Mykonos itinerary.
Also, if you really only want to know how to book a Greek ferry ticket online quickly and easily, go directly to this site: Ferryhopper.
But if you want to know more, make yourself a nice cup of tea frappe, and let's get started!
Greece island-hopping
If you're new to traveling in Greece, you should know that the country consists of the mainland, and then thousands of different islands. Of these islands, approximately 220 are inhabited.
These Greek islands are grouped together in island 'chains'. Perhaps the most famous Greek island chain is the Cyclades, where you'll find the well-known destinations of Mykonos and Santorini.
Greek Island Groups
The full list of island chains in Greece are:
The Cyclades
The Ionian Islands
The Argosaronic Islands
The Sporades
The Dodecanese
The North Aegean Islands
Crete and Cretan islands
Evia and surrounding islands
The size of the islands can vary a lot. Crete is the biggest Greek island, with an area of 8,336 km2 and a population of 635,000 people.
Compare this with tiny Agathonisi in the Dodecanese with its population of less than 175 people and area of 13.5 km2, and you can see that you will have very different experiences in each of these places!
I've a guide here to the 10 largest Greek islands you might want to read.
How to get to the Greek islands
Before you begin traveling around the Greek islands, you'll need to get to one of them first! Some of the larger and more popular islands, like Crete, Zakynthos, and Rhodes, have their own international airports. Check out my guide here to Greek islands with airports.
Other islands have airports, but they are not international. This means they may only have domestic connections with Athens, Thessaloniki, Heraklion or other notable cities in Greece.
The vast majority of Greek islands do not have airports at all. The only way to reach these islands is by ferry.
Ferries in Greece
The Greek ferry network is a complex behemoth, consisting of dozens of individual companies, some of which are affiliated with each other, some of which are not.
As with any industry, you'll find that there are a handful of larger companies which dominate the market such as Blue Star Ferries and SeaJets. You'll also find small family run ferry operators though. It really depends which Greek island you plan to travel to.
I've a (VERY) geeky article here you might want to check out if you're ever bored: Ferries in Greece
These ferries leave from ferry ports all around the mainland of Greece, and each of the inhabited islands have their own ferry port as well. It makes up quite an intricate spiders web of ferry routes crisscrossing around the country.
I find that for most of my Greek island hopping route planning, Ferryhopper is the best site to use to see what ferries go where.
Getting around the Greek islands
Once you've arrived at your first Greek island, you'll at some point want to move on to the next one. At this point you've truly began your Greek island hopping experience!
The only way to travel between the Greek islands is by ferry, as although some Greek islands have airports, flights between the islands themselves are almost non-existent.
Popular islands may have ferries leaving every hour for many different destinations. Other islands may only have two or three ferries per week arriving and departing.
Also read: Best time to visit Greece
Travel Tips for Greek Island Hopping
I think you'll find the following travel tips useful as you start looking where you want to go Greek island-hopping.
These tips have come from my own experiences, as well as those of readers who have left me comments and sent emails. In my opinion, these Greek island hopping tips are essential before you book anything!
1. Look at a map of Greece
More than once, someone has asked how they can go island hopping between Santorini and Zakynthos. The answer being, with great difficulty!
It really pays to look at a map, and then narrow down the places you'd like to visit. For most people, this means choosing an island chain (for example the Cyclades), and then looking at which islands best suit them.
Greek island hopping routes are best done either within one island chain, or neighboring chains.
2. Which ferry service to use in Greece?
I've used most of the Greek ferry companies now, and there's not much difference between them. You'll probably narrow down your choice by the most convenient crossing and price in any case. Generally speaking, the faster the ferry the more expensive it is.
3. How to book a Greek ferry ticket
Time was you used to have to go to an office to buy tickets. Now, most tickets can be bought online. I personally use Ferryhopper. It's an easy to use platform, and reliable. Probably one of the best places to plan island-hopping in Greece.
4. Don't book a hotel first
Don't make the mistake of booking a hotel first which might be non-refundable, and then looking for connections between the islands after. If no connection exists, you've lost out.
When you do book a hotel, use Booking. After you've used it a few times, you'll be given 'genius level' which gives you discounts.
5. Best Time To Go Greek Island Hopping
May through to October is the best time to go Greek island hopping. From November until May, ferry services may be reduced to some of the islands. Additionally, tourism all but closes down on the islands.
There are exceptions, as the off season months such as November can be a good time to visit Santorini as there are far fewer tourists.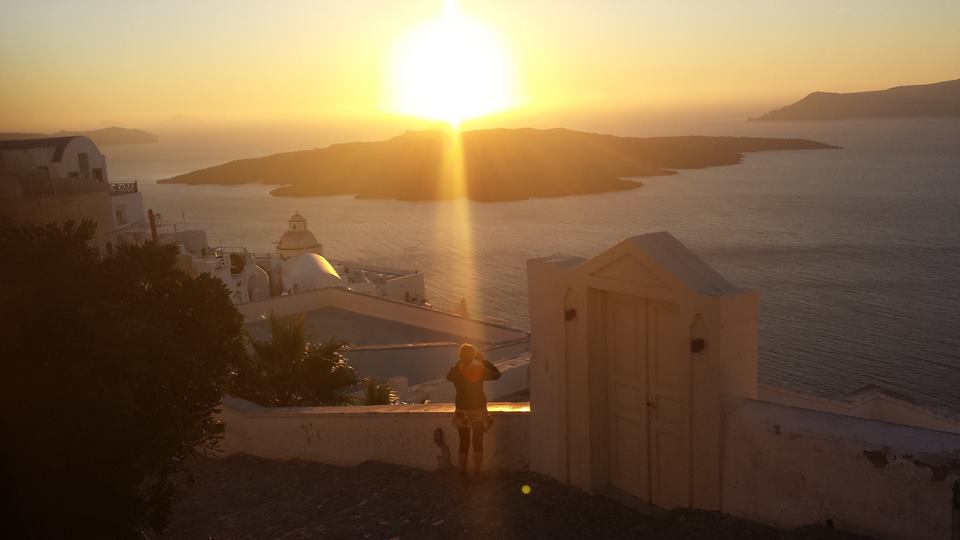 6. Cheapest Time To Go Greek Island Hopping
Forget July and August, when hotel prices are higher. You might also want to skip high end destinations such as Mykonos and Santorini altogether if you want to plan a budget island hopping itinerary.
Instead, travel slower, and for longer, and to the quieter small Greek islands. You can still get nice 30 Euro a night rooms (and cheaper!) on the islands if you look hard enough. A lot of Greek islands also have camping, so if you're on a budget, bring your tent when Greece island hopping.
7. Strong winds can be STRONG
I'd never heard of the Beaufort Scale of measuring wind before I moved to Greece. Now I know it intimately! Strong winds known as the Meltemi can plague some of the Cycladic islands during August. In fact, they can sometimes be strong enough that the ferries cannot sail.
This is nature at her finest, and nothing that can be predicted. I would suggest that you arrange to fly into Athens from your last island rather than rely on a ferry. That way, you won't miss the flight home. Although I guess there are worse places to be stuck than in Greece!
Do you have any travel tips for island hopping Greece you'd like to add? Please leave a comment below, and I'll include them in the blog post!
Guides To The Best Greek Islands To Travel
And now on to the Greek island guides themselves. I haven't had the time to visit every single island in Greece, but it now numbers in the dozens.
Those Greek island names that I have visited, I've written travel guides about. Here's what I have for you…
Cycladic Islands Travel Guides
When most people think about Greek islands, they've probably got images of Santorini and Mykonos in mind. These are two of the Cycladic islands, but there are dozens more.
I've not been to all of the Cycladic islands yet… but I'm getting there! I've got a post here about all 24 inhabited Cycladic islands in Greece.
You can get to some islands in the Cyclades by international flight. Others, you'll need to travel to by ferry. Read how to get from Athens to Greek islands in the Cyclades islands for more information.
When it comes to putting together a Greek island hopping itinerary, the Cyclades are a great starting point. They are well connected with Athens, and there are many ferry services between the islands.
These are the Cycladic island travel guides I have so far that may help you put together a Greek island itinerary:
Santorini
Mykonos
Milos
Kimolos
Naxos
Paros
Donoussa
Koufonisia
Schinoussa
Iraklia
Ios
Sikinos
Folegandros
Serifos
Syros
Tinos
Andros
Sifnos
Amorgos
** Travel Guide to Andros and Tinos now available on Amazon! **
Ionian Islands of Greece
Perhaps the other island chain that people associate with Greek island hopping, are the Ionian islands of Greece. Located over on the west coast of mainland Greece, they include popular holiday destinations such as Zakynthos and Corfu.
Whilst many people from outside of Greece might associate these islands with a 'resort' holiday, they are actually ideal for island hopping. They are not too far apart, and regular ferry services run between the islands.
Zakynthos (Zante)
Kefalonia
Ithaca
Lefkada
Paxos
Crete and the Cretan Islands
Crete is the largest of the Greek islands, and has a number of smaller islands surrounding it. Whilst some people seem content with visiting Crete for just a day or two, it really deserves weeks not days.
From Crete, you can island hop either to the Cretan islands (often on a day trip), or further afield to places such as Santorini.
Dodecanese Islands
Although the name seems to indicate that this would be an island chain of 12 islands, there are in fact 15 larger ones and a few smaller ones. Welcome to Greece! Read here about the Dodecanese islands in Greece.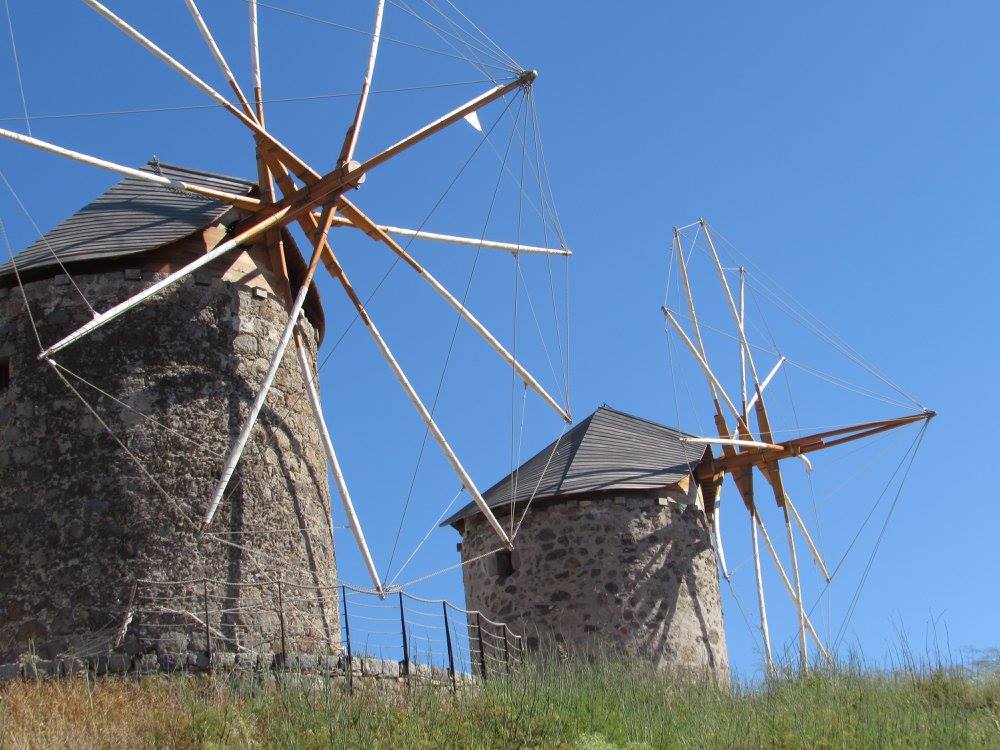 The most famous of the Dodecanese islands is Rhodes.
Rhodes
Patmos
Kos
Saronic Islands
The Saronic islands are the islands closest to Athens. Although there are 30 islands and islets, only 6 of these are inhabited. The popular islands such as Hydra and Aegina make popular day trips or weekend breaks from Athens.
Hydra
Spetses
Sporades Islands
The Sporades islands are to the north-east of Evia in the Aegean Sea.
Alonnisos
Skiathos
Skopelos
Skyros
I've still got over 200 Greek islands left to visit and write about. As the Greek saying goes, Siga Siga…
You might also be interested in: Gulet Cruise Around Greece
---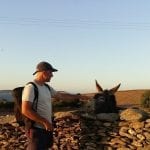 –
Dave Briggs
Dave is a
travel writer
based in Greece As well as creating this guide to the top Greek islands and how to travel between them, he's also written hundreds more travel guides to Greek destinations. Follow Dave on social media for travel inspiration from Greece and beyond: