In this Crete travel blog, you'll find all the information you need to plan your trip to Crete. From the best time to visit Crete to what to see, here's everything you need to know.
Crete Island in Greece
The island of Crete was the first Greek island I ever visited on family-holidays. I was about 9 years old (which makes it some considerable time ago!) and my two most vivid memories are walking the Samaria Gorge, and visiting Knossos.
Little did I know that years later, I would actually find myself living in Greece and would return to travel around Crete on numerous occasions. I certainly never thought I'd end up writing about it and helping other people plan Crete holidays!
As a result, this travel guide is a central point for all my blog posts about Crete. Whether you've never been to Crete before or are a frequent visitor looking for travel information, you'll find something of interest within.
Travel Guide to Crete
This guide is divided into several different sections. You can either read from top to bottom, or jump through to the most relevant sections of the blog post using the links below.
Why visit Crete
Greece's largest island, Crete, lies to the south of the mainland. It might look small on the map, but due to its mountainous terrain, it would take you weeks or even months to see it all.
And there's certainly a lot to see and do! Incredible beaches, archaeological sites, mountain villages, amazing cuisine, outstanding natural landscapes, and proud but friendly locals are just some of the highlights.
Lovers of Ancient Greece are in for a real treat. Due to its long history, Crete has no shortage of archaeological and historical sites. The most famous of these are Knossos and Phaistos, but there are literally hundreds of others if you look hard enough.
History aside, the island offers some of the most stunning landscapes in Greece just begging to be explored. In terms of outdoor activities, hiking, canyoning, climbing, kayaking, horse riding, caving, and trekking are just some of the things that will get the adrenaline flowing.
If that sounds a bit too hectic, don't worry, you can slow the pace down by chilling out on some of the most beautiful beaches in the world. Crete has hundreds of beaches to suit every taste, and the most famous ones of Balos and Elafonissi beaches are really stunning.
For me though, it's the culture of Crete that makes me want to return time and time again. A combination of great food and good people, small villages and a laid-back attitude. I'm sure you'll form your own opinions after spending time in Crete!
Best time to visit Crete
As Crete is one of the southernmost places in Europe, it enjoys warm summers and good weather most year round, with the exception of winter months, when it can be surprisingly cold and damp.
In fact, snow is not rare between December and February, and in the past years there have been a number of floods.
The best months to visit Crete are in general the shoulder months, April – June and September – October, but as it's a big island it is possible to stay away from the crowds even in August.
Check out my full post: Best time to visit Crete

How to get to Crete
You can travel to Crete by plane or ferry. Both Heraklion and Chania have international airports, and connect both domestic and international flights to and from Crete. For most independent travelers, arriving at Heraklion International Airport makes the most sense.
Crete is also connected to the rest of Greece via ferry. The main connection is with the port of Piraeus outside of Athens, but there are also several other Greek island connections.
Ferry schedules vary depending on weather and time of year. I recommend using Ferryhopper for looking into routes and booking ferry e-tickets.
Also take a look at: How to get from Athens to Crete
Regions of Crete
Crete is divided in four prefectures, each of which has a main port town to the north. From West to East, these are Chania, Rethymno, Iraklio (or Heraklion) and Agios Nikolaos.
The two biggest towns, Chania and Iraklio, are the two most likely destinations when you are researching where to go in Crete, as they both have large ports as well as airports.
Popular resort areas in Crete are Hersonissos, Stalis, Sissi, Malia and Elounda.

How to get around Crete
While public transportation on the north side of the island is generally quite good, travelling from the north to the south is considerably more time-consuming. Getting from one place to another by bus will often mean using two or even three different buses.
It is possible to hire cars, scooters and quad bikes in Crete. If you are only traveling short distances in the area you are staying, a quad bike is a fun way to get around. For any serious distances though, the best way to get around Crete is by car.
One popular route is to travel from Chania to Heraklion. More info here: How to get from Chania to Heraklion
Note – I've cycled in many parts of Greece, but not in Crete. Yet. When I do, I'll let you know what it's like!

Crete – A brief history
Crete has a very long and tumultuous history. The first settlements on the island date since the Paleolithic period, over 130,000 years ago.
Crete developed extensively during the period of the Minoan civilization (roughly 2700–1420 BC) and this has left us with the Minoan Archaeological sites such as Knossos Palace.
A period of Mycenean civilization followed the apparent collapse of the Minoans, and from here, things get complicated!
In subsequent years, there were a number of conflicts and wars among the Cretan city states, but also against outsiders, like the ancient Macedonians and the Rhodians.
Similarly to other regions in Greece, Crete was occupied by the Romans, the Byzantine Empire, the Venetians and the Ottomans, to regain its independence as a standalone state in 1897. Crete joined the Kingdom of Greece in 1913.
Take a look here for more details on the history of Crete.

What to see in Crete
Most first time visitors will want to visit the Palace of Knossos and the Archaeological Museum of Heraklion. The restoration of Knossos is something of a divisive issue, as it was 'rebuilt' in the early 1900s under the guidance of the English archaeologist Sir Arthur Evans.
However, there are many other ancient ruins, especially to the south of Crete, such as Faistos, Gortyna, Malia and Zakros, some of which have been extremely well preserved and not 'restored'
In addition, Crete island also boasts some of Greece's most impressive Venetian castles, remains of which you can see in the biggest towns but also in other areas, such as Spinalonga, Gramvousa, Fortezza and Kazarma.
Some of the top destinations and things to see in Crete include:
Knossos
Heraklion Archaeological Museum
Elafonisi Beach (Pink sand!)
Samaria Gorge
Phaistos Minoan Palace
Spinalonga Island
Rethymno Old Town.
Balos Lagoon
Chania's Venetian Harbour
Arkadi Monastery
Chrissi Island
Lassithi Plateau
Stunning Beaches of Crete
As you might expect from such a large island, Crete has a huge coastline and some of the most heavenly beaches in Greece. Some, such as the unique pink sand beach of Elafonissi are popular with organized tour groups. Others, particularly on the south coast, are quieter especially outside of peak season.
Some of the best Crete beaches include:
Elafonissi Beach
Balos Beach
Voulisma Beach
Vai Beach (Palm Beach)
Falasarna
Preveli
Plakias Beach
Matala
The Beaches at Agios Nikolaos
Souda Beach
Georgioupolis
Ammoudara Beach
Frangokastello
Glyka Nera
Mountains and Gorges in Crete
Along with the beaches, Crete boasts some of the highest mountains and the most amazing gorges in Greece. Apart from the famous Samaria gorge, there are many others, such as Kourtaliotiko, Ha and Imbros , to name a few.
Access to these is generally restricted in winter. Because of the mountainous terrain, there are also many plateaus and caves, which are worth visiting, and also many rivers.
You might be interested in: Hiking in Crete and Greece.

Food in Crete
A special mention must be made to Cretan food! The Cretan cuisine is one of the most instantly recognizable cuisines in Greece. If you have time, try to take a food tour so you get a crash course of what it's all about!
Barley rusks, a huge selection of Cretan cheeses, fresh fruit and vegetables, fantastic olives and olive oil, goat meat, snails and plenty of fish are all part of the Cretan diet, along with Cretan honey and the famous alcoholic drink called raki or tsikoudia.
Locals will have it at any time of the day or night, and they will treat you to a few shots after every meal. It is a strong drink, and goes well with your Cretan vacation. Just remember not to overdo it on the day before hiking the Samaria gorge!
10 Local Dishes and Drinks from Crete to try are:
Dakos
Gamopilafo
Chochlioi Boubouristi (Fried snails)
Apaki
Sfakia pies
Kalitsounia
Chaniotiko Boureki
Sarikopitakia
Lamb with stamnagathi
Raki
Travel Resources For Your Crete Holidays
In addition to the travel advice you'll find on this page, you may find the following resources useful when planning a vacation in Crete.
Booking.com – The easiest way to search for and book hotels in Crete online.
How to get from Chania Airport to Chania Town
Get Your Guide – If you're thinking to take a day trip or two anywhere on the island of Crete, this is the site to use!
Revolut – Finding the best travel money card so you don't get ripped off by banks when on holidays is always a chore. Check out Revolut and see what you think!
Skyscanner – A good place to start looking for flights to Crete, as well as Athens – Crete flights.
Ferryhopper – The easiest to use Greek ferry booking site I've found.

FAQ about Crete
Some commonly asked questions about Crete along with answers are:
What is Crete famous for?
Crete is the largest island in Greece. Internationally it is most well known for the Minoan Palace of Knossos and its connections in Greek mythology. The well known film Zorba the Greek was filmed on the island of Crete.
What is the best area to stay in Crete?
The Chania area is often thought to be the best place to stay in Crete for first time visitors, as it provides easy access to popular destinations on the island. Heraklion would be another good option, unless you prefer resort areas such as Elounda.
What is the best day-tour in Crete?
Knossos and the Heraklion Archaeological Museum is one of the most popular tours in Crete. The Samaria Gorge hike is the best outdoor activity excursion.
Which is better, Santorini or Crete?
They are two totally different islands. Santorini is a bucket list destination which people tend to visit only once. Crete is a destination people visit again and again.

Crete Sightseeing Guides
I've written a few Crete travel blog posts you might find useful. The most important ones are listed below.
Crete Travel Blog Posts
These travel blog posts about Crete will help you plan places to see and things to do in Crete.
Plan your trip to Crete
Please pin this Crete travel guide for later!
Greek Island of Crete
Readers who are planning on visiting Crete also ask questions such as:
What is the most beautiful part of Crete?
Some of the most picturesque places in Crete include Chania Old Town, the gorgeous beaches such as Triopetra and Matala, the southern coast, and natural wonders like the White Mountains and Samaria Gorge.
What is the best month to visit Crete?
While August is the most popular month to go to Crete, September or even October are the best months to visit. At this time of year, you'll discover Crete is less crowded with tourists, and stull be able to enjoy fantastic weather especially on the southern beaches.
How many days do I need in Crete?
Unlike other Greek islands which can be experienced in just a few days, Crete is so big you could spend two weeks there and still feel there was much more left to be seen.
How long does it take to drive around Crete?
While you can drive from east to west of the island in about 6 hours, a road trip which includes sightseeing and beach time as part of the Crete itinerary can take two weeks or more.
---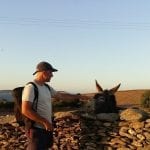 –
Dave Briggs
Dave is a
travel writer
who has been living in and writing about Greece since 2015. As well as writing this blog about Crete Greece which includes where to find the best beaches and what to see and do, he's written many more travel blog posts about destinations all over Greece. Follow Dave on social media for travel inspiration from Greece and beyond: