A perfect Santorini 2 day itinerary for first time visitors! Things to do in 2 days in Santorini include sunset views in Oia, volcano trip, winery tour and more!

The Greek Island of Santorini
Santorini is one of the Cycladic Islands of Greece, and arguably its most attractive. A combination of rugged natural beauty, whitewashed houses, and stunning sunsets produce an almost romantic atmosphere.
People from all around the world choose to either get married or take their honeymoon here. Others take advantage of budget airline connections to take 2 days in
Santorini as a short break
.
Quite often, it is part of the classic Greek vacation itinerary of Athens – Mykonos – Santorini.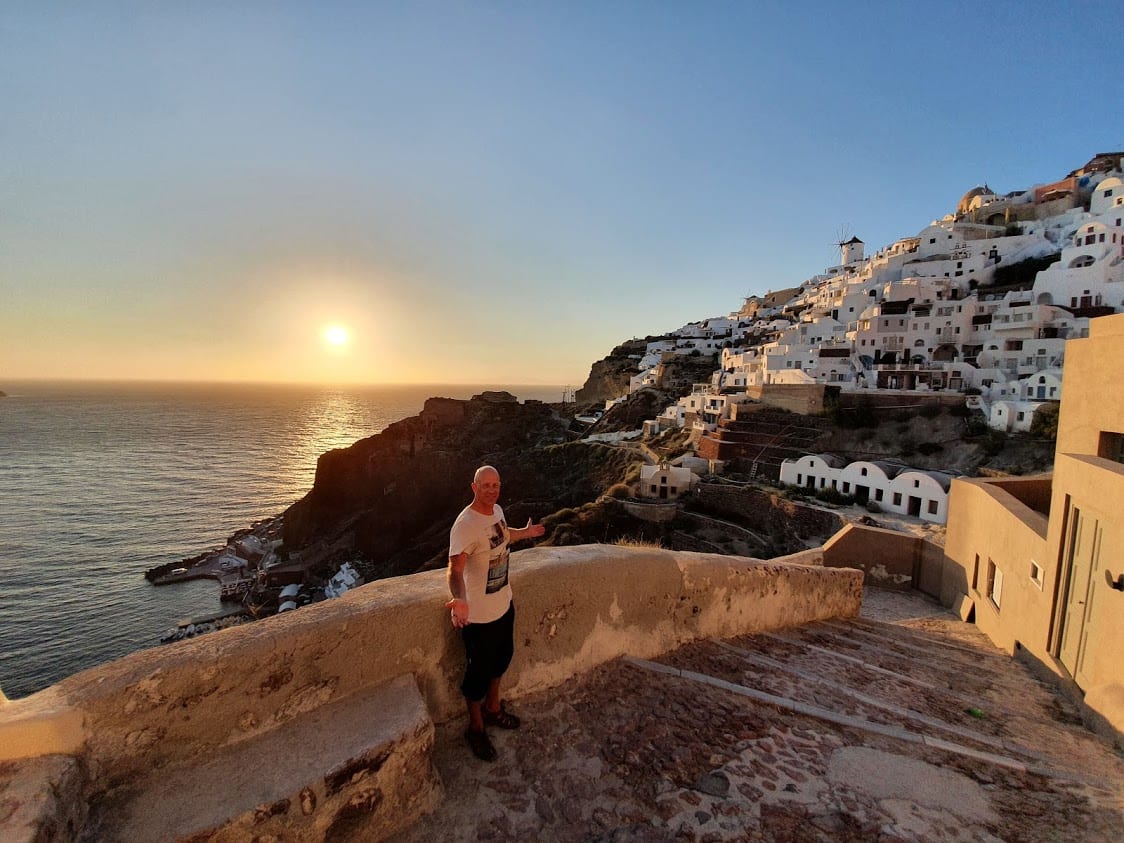 I've been fortunate to have visited Santorini a couple of times now. That's one of the benefits of living in Greece! As a result, I've created this Santorini itinerary for 2 days based on my own experiences.
Before I jump in with my suggestions of the best things to do in Santorini, I'll mention a couple of tips that will help you plan your trip.
Best time to visit Santorini
Peak season in August can be very busy, and also expensive. You have been warned!
Budget travellers to Santorini might like to consider early season in April and late season in October/November. This way, you will experience all of the beauty of Santorini, with none of the crowds.
I've written a complete guide on the best time to visit Santorini with a lot more information.
Stay in Fira or Oia on Santorini?
The two most popular areas to stay for two days in Santorini, are Fira and Oia. These are the two largest settlements on the island, and have plenty of accommodation to choose from.
Most people choose to stay in Fira or Oia, but there are other options. If you would like to stay closer to a beach for example, Kamari might also be a good option. Looking for a Santorini sunset hotel then check out this article!


What to see in Santorini
You can visit most of the main Santorini attractions in 48 hours. My advice, would be to divide each day of your Santorini 2 day itinerary into three parts, which are morning, afternoon, and evening. You can then slot in these 6 recommendations of things to see and do in Santorini as you see fit.
I've included some additional information at the bottom for people planning longer trips to Santorini. Here, you'll find ideas for 3 day Santorini itineraries, and some extra suggestions for 4 and 5 day stays.

1. Visit Ancient Akrotiri
Ancient Akrotiri is the most significant archaeological site in Santorini. Destroyed by a volcanic eruption and buried underneath the ash in 1627 BC, Akrotiri is a bronze age Minoan settlement.
Due to the fact it was buried, many frescoes and objects have survived through to this day. Today, you can visit this large complex which is now covered by a purpose built building. It has a walkway all the way around so that you can see the remains of the buildings.
You can visit Akrotiri archaeological site during your 2 days in Santorini, by booking a tour, hiring a car for a day, or using local transport.
2. Red Beach Santorini
This is close by to Akrotiri, and so you could tie a visit to the two together. Red Beach has a stunning setting, with its red volcanic sands backed by imposing cliffs. It is quite a small beach, and so gets crowded during the peak season.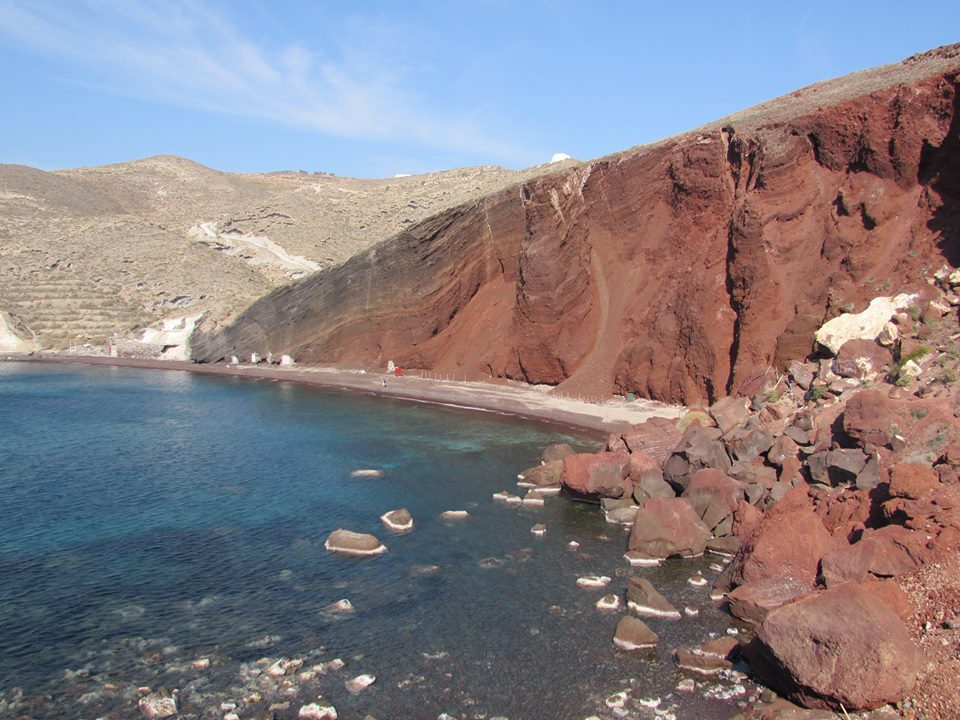 If you are visiting Red Beach Santorini in the off-season of early spring and late autumn, you may get the beach almost to yourself, although the Aegean Sea might be a little too cold to swim in for some at that time.
Warning – Visitors to Santorini are being discouraged from spending time on Red Beach due to safety concerns. It doesn't seem to stop people though! Read my blog post mentioned above for more details.
If you like snorkelling, you will love it here. To find out more about other places to swim, take a look at my lovingly researched guide to Santorini beaches.

3. Visit the Santorini Volcano and Hot-springs
Some people say that it is worth it, and other that it is not. Personally, I enjoyed the half day trip to see the volcano and hot-springs, although the volcano was my favourite part. You can also take some good photos of Santorini from the boat as you leave.
I'd say that the volcano is a must-visit if you have the time, and there are plenty of tours to choose from at different times of day. I've been on two different tours now, and they both followed the same basic itinerary.
Additionally, when compared to other activities, accommodation, and restaurants in Santorini, the volcano tour offers great value for money.
4. Hiking From Fira to Oia in Santorini
In my opinion, this is one of most worthwhile things to do in Santorini. The caldera walk will help you enjoy the island away from the majority of tourist crowds, and you'll enjoy some incredible scenery.
If you are visiting in either the spring or the autumn, the Santorini hike will be manageable no matter what time of day you start. If visiting in the summer, you might want to start early morning or late afternoon.
My advice would be to time the Santorini walk so as to finish in Oia for the spectacular sunset.
The hike is not a technical one, and takes you through many different villages along the Caldera. It takes between 3-4 hours, and you should remember to bring along water, hat, and sunblock!
Find out more here – Hiking from Fira to Oia in Santorini.

5. Brewery or Winery Tour
Greece has a great micro-brewery scene, and Santorini has a couple of their own. I have tried a number of these beers at different food exhibitions in Athens, and Donkey Brewery from Santorini has some excellent brews.
You don't need to book in advance, and they will happily show you around the brewery. Beer not your thing? There are plenty of Santorini wine tours to choose from instead, and wine tasting is one of the top things to do on the island for many people.

6. Explore Oia and watch the Santorini Sunset
Oia is quite literally a picture-postcard perfect town. Its iconic blue-domed churches and white-washed buildings are simply stunning. Wandering around Oia to find the next incredible photo opportunity is one of the must-do things in Santorini!
It is also the place to end a day watching a sunset, and enjoying an evening meal. With 2 days in Santorini, you should try to enjoy a sunset in Oia at least once.
It can get quite crowded at the traditional sunset spot, so arrive with an hour or so to spare in order to get a good position!
If you want to book a Santorini restaurant with a sunset view, you'll need to reserve WELL in advance, especially in August.
Of course, picture-perfect Oia isn't the only place to watch a sunset in Santorini. Wherever you are, the atmosphere and sunset seems amazing!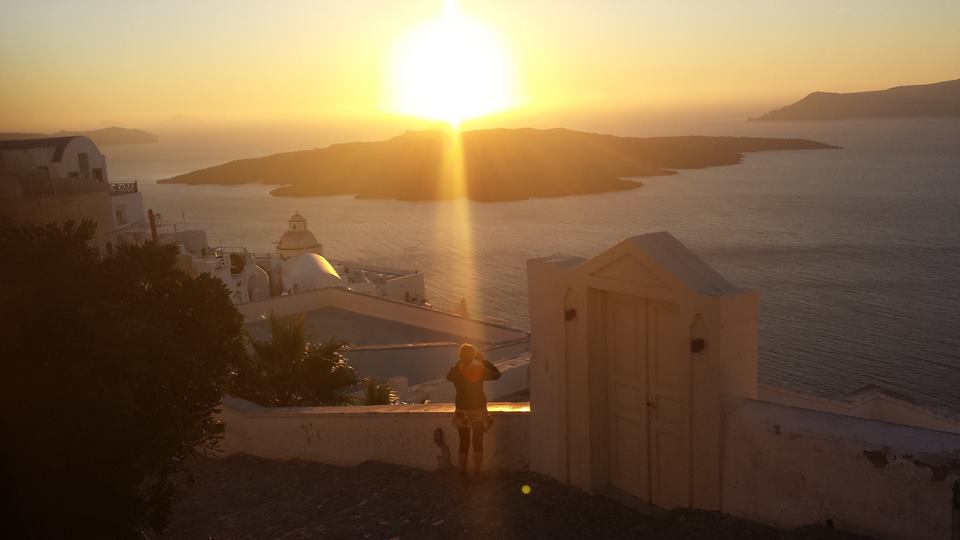 Santorini Itinerary for more days
It does without saying that there is a lot more to see in Santorini, and so staying longer than 2 days is always recommended! I would say that a stay of 5 days is really the maximum you would really want to consider.
2 full days, or even 3 days in Santorini is probably the ideal amount of time. Here's some suggestions if staying for longer on the island.
3 Days in Santorini
An extra day on the island gives you the opportunity to see underneath the tourist veil a little. Hiring a car would be a good idea, as it would enable you to visit the less touristy villages on Santorini.
Pyrgos is one such town you might consider adding into your Santorini 3 day itinerary. It is little frequented by tourists, and is situated inland. There's a Venetian fort you can climb up above the town which has lovely views all around.
Emporio is another village you could visit during 3 days in Santorini. It's famous for the old churches and windmills, and is a good stopping place when visiting nearby Perissa Beach, which is notable for its black sands.
This is a nice area for families to visit as well, and the tavernas here are a lot more relaxing than their busier counterparts up on the caldera of Santorini!
Day Trips from Santorini
With 4 days in Santorini, you might consider throwing in a day trip or two. I've already mentioned the volcano cruise, but there are also many other options available.
Take to the water for a sailing trip around the island, and combine it with a sunset for the ultimate cruise in Santorini. Visit a winery, or see how fava is harvested and made.
Take a look at these great day trips from Santorini for more inspiration. You might also be interested in these boat tours in Santorini.
Santorini to Mykonos
Many people plan to visit Mykonos either before or after Santorini. A popular route for a vacation in Greece seems to be Athens – Santorini – Mykonos for example. You have a couple of options on getting to Mykonos from Santorini, with the best one being the ferry.
The Santorni to Mykonos ferry doesn't take long, and you can easily book the tickets using Ferryhopper. The chances are you might want to book the ferry to Mykonos from Santorini well in advance though, particularly if you are travelling in peak season.
Take a look here for more information: Greek Island-hopping
Santorini Travel FAQ
Frequently Asked Questions about Santorini Island:
Is 2 days enough in Santorini?
2 days in Santorini is enough time to see the highlights, enjoy a couple of sunsets, and get a feel for the island. A longer stay in Santorini will give you a fuller experience and enable you to see more.
What should I not miss in Santorini?
The things to do in Santorini that should be on everyone's itinerary include:
Watching the Sunset
Walking around Oia
Enjoying the caldera views
A winery tour
Day trip to the volcano
Hike from Fira to Oia
Red Beach
Akrotiri Archaeological Space
Is Santorini expensive?
Accommodation is the main expense when staying in Santorini, but surprisingly, there is accommodation for all budgets, especially of you avoid high season in August. I have personally rented very nice places for less than 50 Euro a night in Santorini with kitchen facilities in both November and July.
Do I need a car in Santorini?
If you just intend to spend time in the two main towns of Oia and Fira, you will not need a car to get around. If you wish to see more of the stunning Santorini Island though, renting a car, scooter, or ATV will give you a lot more flexibility and freedom than relying on the public transport bus service.
What is the best area to stay in Santorini?
The best areas to stay in Santorini are the towns along the caldera such as Fira, Oia, Imerovigli, and Firostefani. These towns provide great views of the volcano and sunset. Families and budget travelers may prefer to stay on the opposite coast near the Perissa resort town.
When should you avoid Santorini?
When visiting Greece and Santorini, it's best to avoid the month of August if possible. This is the very busiest month in Santorini, and not only does the island feel crowded, but accommodation prices can sky rocket.
More info on what to do in Santorini in 2 days
There are of course plenty of other things to see and do on Santorini, but this gives you the basics.
You can also sign up for my free, in-depth travel guides to Santorini Island and the rest of Greece.
Pin this travel guide to 2 days in Santorini for later
If you use pinterest to gather your travel ideas and itineraries in one place, please use the image below and add it to one of your boards. That way, you'll be able to find this blog post about things to do in Santorini in 2 days later.
Related: Best time to go to Greece
---