Santorini is one of the most popular Greek islands, and an ideal place to visit for 2 days or a long weekend break. Here are just some of the things you can see and do with 2 days in Santorini.
2 Days in Santorini
Planning a trip to Santorini? This guide will help you choose what to see and do with 2 days in Santorini, including:
Where to watch a sunset in Santorini
Visiting Akrotiri in Santorini
Red Beach in Santorini
Visiting the volcano
Hiking from Fira to Oia
A brewery tour
And more!
Santorini in Brief
Santorini is one of the Cycladic Islands of Greece, and arguably its most attractive. A combination of rugged natural beauty, whitewashed houses, and stunning sunsets produce an almost romantic atmosphere. People from all around the world choose to either get married or take their honeymoon here. Others take advantage of budget airline connections to take 2 days in Santorini as a short break. It certainly has something for everyone!
When To Visit Santorini
Peak season in August can be very busy, and also expensive. You have been warned! Budget travellers to Santorini might like to consider early season in April and late season in October/November. This way, you will experience all of the beauty of Santorini, with none of the crowds.
Where to Stay in Santorini
The two most popular areas to stay for 2 days in Santorini, are Fira and Oia. These are the two largest settlements on the island, and have plenty of accommodation to choose from. If you would like to stay closer to a beach, Kamari might also be a good option. Looking for a Santorini sunset hotel then check out this article!
2 Days in Santorini – What to See and Do
You can visit most of the main attractions with 2 days in Santorini. My advice, would be to divide your day into three parts, which are morning, afternoon, and evening. You can then slot in these 6 recommendations of things to see and do in Santorini as you see fit. They are listed in no particular order. For more things to do in Santorini, check out this post about day tours.
Visit Ancient Akrotiri
Ancient Akrotiri is the most significant archaeological site in Santorini. Destroyed by a volcanic eruption and buried underneath the ash in 1627 BC, Akrotiri is a bronze age Minoan settlement. Due to the fact it was buried, many frescoes and objects have survived through to this day. Today, you can visit this large complex which is now covered by a purpose built building. It has a walkway all the way around so that you can see the remains of the buildings.
You can visit Akrotiri during your 2 days in Santorini, by booking a tour, hiring a car for a day, or using local transport.
Red Beach
This is close by to Akrotiri, and so you could tie this in together. It is quite a small beach, and so gets crowded during the peak season.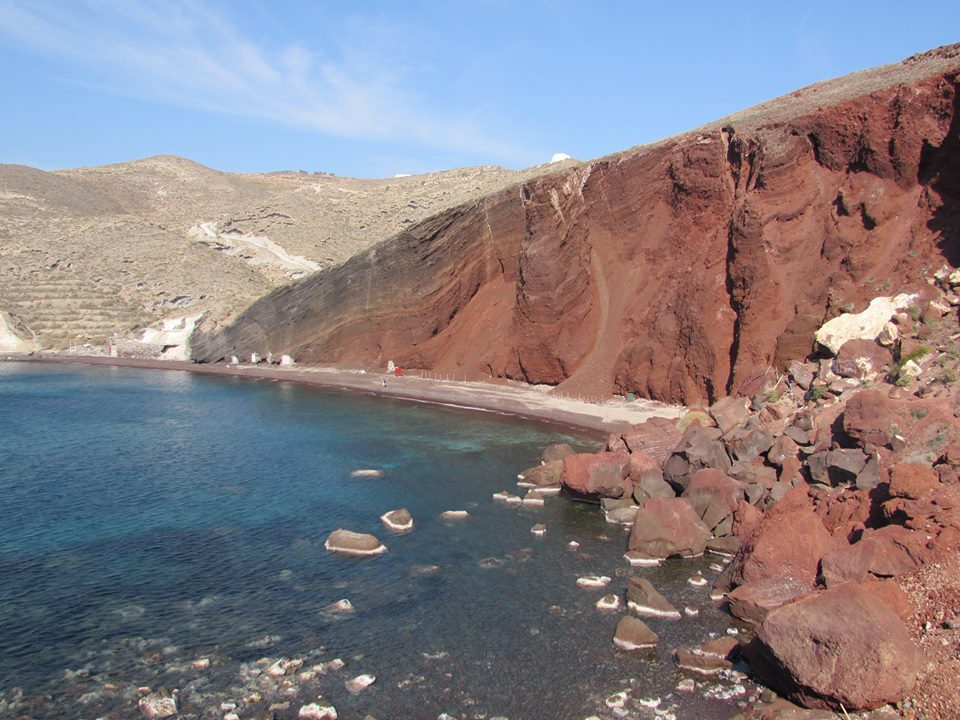 If you are visiting Red Beach Santorini in the off-season though, you may be able to get the place almost to yourself. It has a stunning setting, with its red volcanic sands backed by imposing cliffs. If you like snorkelling, you will love it here. To find out more about other beaches on Santorini, check out this blog post by Barbara Of Jet-Settera – The colourful beaches of Santorini.
Visit the Volcano and Hot-springs
Some people say that it is worth it, and other that it is not. Personally, I enjoyed the half day trip to see the volcano and hot-springs, although the volcano was my favourite. You can also take some good photos of Santorini from the boat as you leave.
Hiking From Fira to Oia
If you are visiting in either the spring or the autumn, this hike will be manageable no matter what time of day you start. If visiting in the summer, you might want to start early morning or late afternoon. My advice would be to time the walk so as to finish in Oia for the spectacular sunset.
The hike is not a technical one, and takes you through many different villages along the Caldera. It takes between 3-4 hours, and you should remember to bring along water, hat, and sunblock! Find out more here – Hiking from Fira to Oia in Santorini.
Visit the Donkey Brewery
Greece has a great micro-brewery scene, and Santorini has a couple of their own. I have tried a number of these beers at different food exhibitions in Athens, and Donkey Brewery from Santorini has some excellent brews. You don't need to book in advance, and they will happily show you around the brewery.
Explore and Watch the Sunset from Oia
Oia is quite literally a picture-postcard perfect town. It is also the place to end a day watching a sunset, and enjoying an evening meal. With 2 days in Santorini, you should try to enjoy a sunset in Oia at least once. It can get quite crowded, so arrive with an hour or so to spare in order to get a good spot! You will also get some stunning photos of the town.
Of course, Oia isn't the only place to watch a sunset in Santorini. Wherever you are, the atmosphere and sunset seems amazing!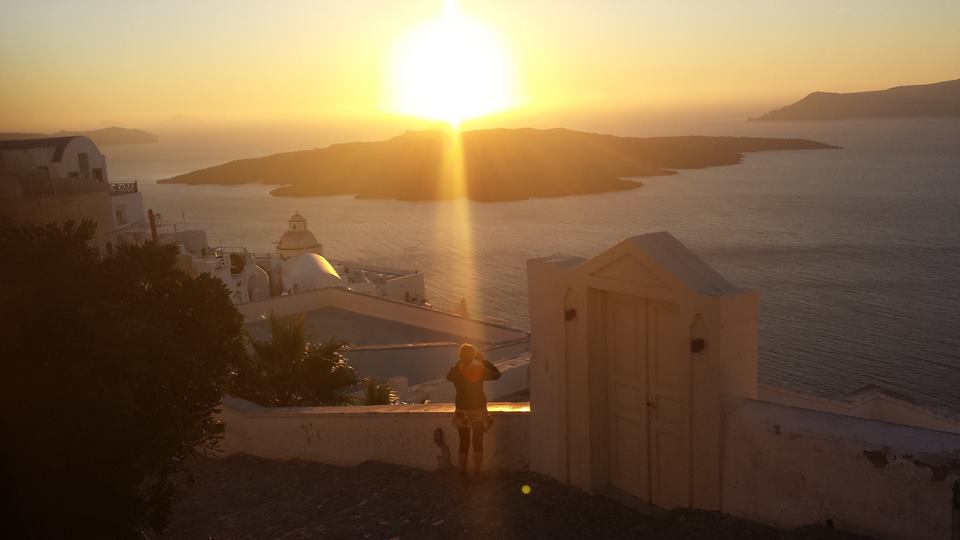 There are of course plenty of other things to see and do on Santorini, but this gives you the basics. For more information on what to do in Oia, you might like to check out this post on exploring Oia. I hope you enjoyed the read, and please leave a comment below!