Pristina, the capital city of Kosovo, might not seem an obvious tourist destination at first. For anyone wanting to learn more about recent Balkans history though, visiting Pristina is an interesting, and essential experience. If you are planning a trip to Kosovo, this short Pristina tourism guide should help.
Pristina Tourism Guide Part 1
I visited Pristina in Kosovo as part of a mini-Balkans adventure during January 2016. I found it a very easy city to get around, and it is quite possible to see all the major attractions there within a couple of days (which I will write about in part 2).
Part 1 of this 2016 Pristina Tourism guide focuses more on general Pristina travel information.
Where is Pristina?
Pristina, or Prishtina as it is sometimes known, is the capital of Kosovo. (Kosovo is a self-declared independent country in the Balkans region of Europe, which is partially recognised internationally).
Located in the north-east of Kosovo, Pristina is the largest city with a population of around 200,000 people.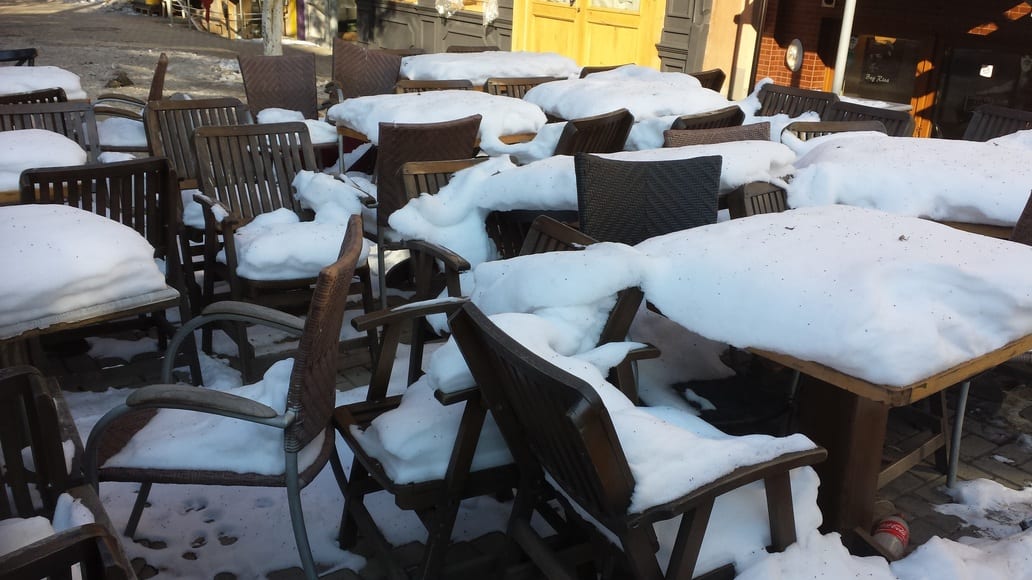 When to visit Pristina
I visited Pristina in Kosovo as part of a mini-Balkans tour during the quite chilly months of January and February. If Pristina tourism is quiet during the summer, take my word for it, even fewer people visit during the winter months!
Freezing cold temperatures, ice, and snow are a common feature. During my stay in Pristina, it was -20 on the coldest day. Brrrrr! The summer months are the best time to visit Pristina, where it averages 20 degrees. Peak temperatures can reach as high as 37 degrees on some days.
How to get to Pristina
Plane, train, and auto-mobile! Pristina is well connected to neighbouring countries, and also has an international airport with flights to many European cities.
Pristina by Bus
I travelled through the Balkans on a bus, arriving from Albania, and departing to Macedonia (FYROM).
New roads have been recently constructed, and in fact, it is now quicker to travel from Tirana in Albania to Skopje in Macedonia (FYROM) via Pristina, than go on a more direct route!
The bus ticket from Tirana in Albania to Pristina in Kosovo was just 10 Euros. It cost even less catching the bus from Pristina to Skopje! There are dozens of other bus routes connecting Pristina with other Balkan countries and beyond.
Pristina by Train
I didn't experience the train system for myself. By all accounts, the train journey times from Serbia and Macedonia are much longer than travelling by bus.
Pristina by Air
Pristina International Airport connects with dozens of European cities, including London, Gothenburg, Vienna, Istanbul, Oslo, and many, many more.
The connections are all there for Pristina tourism to develop in leaps and bounds over the next few years!
Where to Stay in Pristina
We found accommodation to be quite expensive in Pristina when compared to other Balkan countries.
This may have been due to the time of year, with less accommodation being available in the winter months. It might also have something to do with the huge number of NGO's operating in Pristina and the rest of Kosovo, bumping up the prices.
The Pristina tourism industry is really just in its infancy. Still, we managed to find a 35 euro a night apartment in Pristina which was great value for money.
We also stayed in a 5 star hotel when the electricity failed in that same apartment, and we were swapped to it free of charge! In short, there is accommodation to suit every budget in Pristina, including a couple of Backpacker style places.
What can I expect in Pristina?
You can expect a city in transition. Its recently renovated pedestrian boulevard is lined with shops selling all the latest consumer goods. New roads are being built. Infrastructure developed.
The past is present though (if you forgive the pun!). Ottoman style architecture sits next to dilapidated communist buildings, whilst opposite, a brand new steel and glass building is being built. The people are friendly and welcoming, and it feels safe.
The main language in Pristina is Albanian, although in the centre, you can always find someone that speaks English. My overall impression, is of a country which is trying to put the problems and memories of the war behind it as it looks to the future.
In part 2 of my Pristina tourism guide I list the the top things to see in Pristina. For previous articles in this series, you may be interested in reading –
Albania Travel Guide – Don't skip Shqiperia in the Balkans!
Tirana Tourist Attractions – 10 Things to See in Tirana
Visit Berat in Albania – Castle and UNESCO Historic Centre
Have you visited Pristina, or would like to travel to Kosovo? I would love to hear from you, so please leave a comment below.