There are 8 ferries a day sailing from Naxos to Santorini, and the quickest ferry trip takes just 1 hour and 15 minutes.
Naxos to Santorini Ferry Guide
The popular destinations of Naxos and Santorini have many ferry connections between them, and are less than a couple of hours apart by ferry.
This means they are often included on a Greek island hopping itinerary in the Cyclades of Greece. Some people also choose to make a day trip from Naxos to Santorini in the summer, dependent on ferry timetables of course.
This guide aims to give you all the information you need on planning how to get from Naxos to Santorini. It's actually one of the simplest ferry trips in Greece!
Naxos Santorini Ferry Routes
Ferries between Naxos and Santorini sail all year round, which makes the two Greek islands a good choice for off season travel.
Even in February, there are 1 or 2 ferries a day.
The summer months are when the most ferries sail the Naxos Santorini route though, and in August there can be 8 crossings a day.
Ferry companies that sail from Naxos to Santorini include Blue Star ferries, Minoan Lines, and SeaJets.
For the latest ferry schedules and to book ferry tickets online, visit: Ferryscanner
Naxos – Santorini Ferry Tickets & Prices
The price of a ferry ticket from Naxos to Santorini depends on which vessel you take and the time of year.
Typically, high speed ferries operated by the SeaJets ferry company have the most expensive ticket prices. You could expect a Naxos to Santorini ticket with SeaJets to cost nearly 60 Euros.
SeaJets do have the quickest crossings from Naxos to Santorini though, and the journey takes around 1 hour and 25 minutes.
At the other end of the scale, there is Blue Star Ferries who operate bigger, slower, conventional ferries. The ferry trip from Naxos to Santorini takes longer with a travel time over 2 hours, but tickets for passengers are cheaper at just 31 Euro.
Check the latest ferry schedule and work out which itinerary is best for you at: Ferryscanner
Naxos to Santorini Blue Star Ferries or Seajets
So, which ferry company should you choose?
This is entirely up to you, as all these ferries are fine, though you might want to stick to bigger ferries that are more stable in strong winds.
I would personally go for one of the larger Blue Star Ferries, as the trip isn't really very long, and these ferries are more comfortable to travel on. In addition, the price is significantly lower than most of the other ferries.
You should be able to get tickets even last minute for many of these boats, though for certain times of the year (e.g. the weeks around 1-20th of August, when most Greeks go on holiday), it is best to book them in advance.
In fact, like with any boat trip in Greece, if you have booked your hotels already, it's a good idea to book the ferries as well.
Buy a ferry ticket online: Ferryscanner
Leaving Naxos Port
All ferries departing from Naxos, leave from the main ferry port in Chora.
Passengers are advised to arrive at the departure port at least a half hour before boats leave. Personally, I recommend being at Naxos port an hour before departure.
Why visit Naxos?
Naxos is one of the most upcoming Greek destinations. With stunning beaches, lovely villages, great food, and a fantastic Chora, it is ideal for a relaxing holiday in Greece.
Whether you are travelling with friends, your other half or your family, it's hard to not like Naxos.
I often recommend Naxos as an alternative to Mykonos for people planning a trip to Greece. It's far more authentic than Mykonos, and Naxos is a really good destination for family vacations in Greece.
There is also a fair amount of nightlife, minus the Mykonos prices.
Naxos Santorini Ferry Ride
Readers interested in the ferry schedule between the Cyclades islands of Naxos and Santorini often have similar questions about the journey:
How long is the ferry ride from Naxos to Santorini?
The quickest ferry from the Greek island of Naxos to Santorini is SeaJets and takes just 1 hour and 20 minutes. Other ferry companies may take around 2 hours to reach the ferry port at Santorini on the same route.
Can you do a day trip from Naxos to Santorini?
Theoretically, it is just about possible to make a day trip, but it would be better to spend a few days in Santorini rather than just a few hours.
Can you visit Santorini from Naxos?
During the high season, there are at 8 vessels sailing the Naxos to Santorini ferry route every day.
Is Naxos better than Santorini?
The two Greek islands are very different to one another. Naxos is larger, has much better beaches, and offers a lot more of an authentic experience. Santorini on the other hand has unique caldera views and picturesque Cycladic architecture.
Are there direct flights between Naxos and Santorini?
There are no direct flights between Naxos airport and Santorini airport. Naxos only has direct flight connections with Athens.
Traveling to other Greek Islands?
If you are planning to travel to some of the other islands in Greece, these other guides may be useful.
Pin this guide on how to get from Naxos to Santorini for later
Feel free to add this pin on getting from Naxos to Santorini to one of your boards. This way, you can come back to it later!
Have you been to both Santorini and Naxos? Which one did you prefer? Let us know in the comments!
---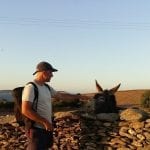 –
Dave Briggs
Dave is a
travel writer
from the UK who lives in and writes about Greece As well as creating this travel guide on taking the boat from Naxos to Santorini, he's written hundreds of other insightful travel guides to Greek islands and destinations. Follow Dave on social media for travel inspiration from Greece and beyond: