There are 4 or 5 ferries per day sailing from Skiathos to Skopelos in the summer, and the trip takes about an hour. Here you can find out more about the Skiathos Skopelos ferry ride, where to buy tickets, and other useful travel information.
Situated between Skiathos and Alonissos in the Greek Sporades islands group, Skopelos is a lush green island with fantastic beaches.
Large scale package tourism still hasn't taken root on Skopelos thankfully, but as with almost every Greek island, August is the busiest time of year. Visit Skopelos in July or September if you want the best combination of warm weather and fewer tourists.
As Skopelos doesn't have an airport, you'll need to take a ferry to get there.
How to get from Skiathos to Skopelos
During the high season, it's very easy to take a ferry from Skiathos to Skopelos thanks to the regular services offered by ferry operators Hellenic Seaways, Anes Ferries, Aegean Flying Dolphins, and SeaJets.
The travel time between Skiathos and Skopelos in Greece ranges from half an hour to an hour and a half depending on which ferry you use, and which port you arrive at in Skopelos.
Which reminds me – Skopelos has two ferry ports you can arrive – Chora (Skopelos Town) and Glossa. Most people who want to stay in Skopelos will want to arrive at Skopelos Town as this is the best place to be based overall.
However, if you want to take a day trip from Skiathos to Skopelos to see the Mamma Mia church, you'll be better off taking a ferry from Skiathos to Glossa port.
Make sure you choose the right ferry port in Skopelos when booking accommodation etc! Take a look at the map here to see what I mean.
The quickest ferry crossing is between Skiathos and Glossa port, while the longest crossing is the one from Skiathos to Skopelos town port. The Skiathos to Skopelos town crossing is the most popular one.
The simplest place to look at schedules for Greek ferries, and to book a ferry ticket online is at the Ferryscanner website.
Getting To Skiathos Ferry Port
All ferries from Skiathos depart from the main port in Skiathos town. The Skiathos ferry port is located on the waterfront in the main town.
If you've arrived by plane to Skiathos airport, the best way to get to the ferry port is to take a taxi.
During the peak season there may be a queue for Skiathos airport taxis, so factor that into your travel itinerary and plans. If you have plenty of time between when your flight lands and your ferry departs Skiathos, then you can take a bus to the ferry port instead.
If you're staying in Skiathos town, you'll probably find it just as easy to walk to the port. Luggage with wheels is a good idea!
Passengers who already have a ticket are advised to be at Skiathos ferry port at least a half hour before departure.
Greek ferries rarely completely sell out, but these things do happen! I recommend that you book your ferry tickets in advance with Ferryscanner.
If you want to be more flexible, you could leave it until you get to Skiathos port and buy them there – I find this all a bit stressful though!
Ferry Companies Sailing Skiathos Skopelos Route
During the peak months of summer, you may expect between 5 and 7 ferries a day to sail between the Sporades islands of Skiathos and Skopelos.
Ferries start leaving at 10.00 in the morning, and the last ferry departs Skiathos at 16.10 for Skopelos Chora (Skopelos Town). Glossa ferries sometimes run until as late as 22.00
Ferry ticket prices are quite reasonable on this ferry route – somewhere between 8.00 and 18.50 Euros. A car will cost more of course.
Ferry crossings from Skiathos to Skopelos are operated by the following companies:
Hellenic Seaways
You might also find that people refer to this as the Blue Star Ferries ship (they are all part of the same Attica Ferries company). The ship is normally the Express Skiathos ans stops at both Glossa and Skopelos Town ferry ports.
SeaJets
The Sporades Star sails the route Skiathos to Skopelos, but only goes to Skeoplos Town and not Glossa.
Anes Ferries
The Proteus ship operated by Anes ferries is pretty old, and connects the Sporades islands along with Evia (Mantoudi). It's a conventional ferry which takes over 100 vehicles along with over 300 passengers. It's likely to be the slowest ferry on the Skiathos Skopelos route, but might be the cheapest.
Aegean Flying Dolphins
This is a high speed ferry that only takes passengers and not vehicles. With a trip duration of 55 minutes it's the fastest ferry from Skiathos to Skopelos and looks a lot of fun. You wouldn't catch me on this ferry on a windy day though!
Get ferry tickets and check timetables at: Ferryscanner
Water Taxis
If you plan to fly into Skiathos and then head straight out to Skopelos but can't find a suitable ferry, there is another option, and this is to take a water taxi.
SeaCab is the water-taxi option and is a bit more expensive but also faster and more direct. They have set prices for Glossa, but if you want to go from Skiathos to Skopelos town on a SeaCab you can expect to pay over 125 Euros.
The extra cost is probably reasonable all things considered if it's taking you to Skopelos Town (which is the other side of the island and further away) but obviously more expensive than a regular ferry would be.
Skopelos Island Travel Tips
A few travel tips for visiting Skopelos island:
All ferries from Skiathos depart Skiathos Port. Ferries arrive in Skopelos at either Glossa or Chora.
---
Skopelos Town is a good area to stay, but there is accommodation all over the island. I've a guide here on where to stay in Skopelos.
---
For some quality beach time, head to these beaches in Skopelos: Kastani Beach, Agnontas Beach, Milia Beach, Stafylos Beach, Velanio Beach, Adrina Beaches, and Panormos Beach. You'll also want to visit the famous Mamma Mia church in Skopelos as well!
---
If you are planning a day trip from Skiathos to Skopelos to see the Mamma Mia church, you'll want to arrive at Glossa port. There are taxis there which will take you out to the church. Expect a round trip to cost in the region of 50 Euros. Arrange with the driver to drop you off and then come back to collect you a couple of hours later. There's a nice beach near the church you can relax at and have a swim after seeing the chapel.
---
One of the best places to look at ferry schedules and to book tickets online is at Ferryscanner. I recommend you book your Skiathos to Skopelos ferry tickets in advance, especially during the busy summer months.
---
---
Oh, and if you can get through your holiday there without singing at least one Abba song from Mamma Mia, you've done well!
---
---
FAQ about ferry connections from Skiathos to Skopelos
The most frequently asked questions readers sometimes have about traveling to Skopelos from Skiathos include:
How do we get to Skopelos from Skiathos?
You can only travel between Skiathos and Skopelos by taking a ferry. There are up to 7 ferries a day in the summer sailing to the island of Skopelos from Skiathos, and the ferry trip takes between a half hour, and one and a half hours.
Is there an airport on Skopelos?
There is no airport on Skopelos island. The closest airports are at neighbouring Skiathos island, and over at Volos on the Greek mainland.
How long is the ferry ride from Skiathos to Skopelos?
The journey time on the Skopelos route from Skiathos varies depending on the vessel. The quickest direct ferries can take between 15 and 30 minutes to reach Glossa port. Slower ferries ti the Chora Skopelos port might take a hour and a half.
Where do you get ferry tickets to Skopelos?
The easiest way to get hold of ferry tickets in Greece is by using Ferryhopper. Although I recommend you book your Skiathos to Skopelos ferry tickets in advance, you might also prefer to use a travel agency in Greece when you have arrived.
Is Skopelos expensive to visit?
Given that it isn't exactly under the radar any more thanks to Mamma Mia, Skopelos remains relatively inexpensive. Compare prices in Skopelos with destinations in the Cyclades at the same time of year, and you will see quite a difference!
You might also like to read:
---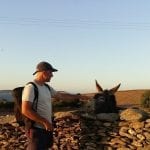 –
Dave Briggs
Dave is a
travel writer
from the UK who lives in and writes about Greece. As well as writing this travel blog post about ferries from Skiathos to Skopelos, he's also written many more travel blogs about destinations in Greece. Follow Dave on social media for travel inspiration from Greece and beyond: