The Naxos to Milos ferry route is serviced by one SeaJets ferry every day, with an additional Blue Star Ferries vessel once a week sailing Naxos Milos.
Milos island in Greece
Milos is an island of colors and sunsets with crystal clear water. There are beautiful beaches, lovely views, and the most incredible sunsets that you will ever see in your life.
I've been fortunate to have visited Milos in the Cyclades of Greece a few times now, and each time I come away feeling refreshed and planning a return visit!
Milos has a perfect balance of incredible landscapes, great beaches and wonderful places to eat that is starting to make it the next hip place to spend a vacation in Greece.
If you're planning to visit Milos after Naxos, this Naxos Milos ferry guide will help you sort out the logistical side of your Greece travel itinerary.
How to get from Naxos to Milos
Although both Naxos and Milos have airports, it is not possible to fly between these two islands.
(Side note – it's actually quite difficult to fly between most of the islands in Greece. Check out my guide to Greek islands with airports for more details).
This means that the only way to get to Milos from Naxos is by ferry.
Ferries from Naxos to Milos
During the the busiest months of summer, you may expect up to one SeaJets ferry every day, with an additional Blue Star Ferries vessel once a week from Naxos to Milos.
The fastest ferry from Naxos going to Milos takes around 2 hours and 15 minutes. The slow ferry sailing to Milos from Naxos island takes around 6 hours and 10 minutes.
As a rule, the faster boats are generally more expensive when it comes to ferry ticket prices, and this is certainly case on the ferry route between Naxos and Milos.
Check timetables and book online at: Ferryscanner
Naxos Milos Ferry Tickets
Brace yourselves – 2022 is a more expensive year for ferry travel in the Cyclades group than other years. Previously, the SeaJets ferry had tickets starting from 59.80 Euro. Now, you're looking at 85 Euros for the Naxos ferry route to Milos!
The Blue Star Ferries vessel is much cheaper, with tickets starting from 16.00 Euro. This is the same as the previous year, but remember it has slower travel times.
If you are traveling in Greece and hopping around the Cycladic islands on a budget, try and time your ferry crossing with the Blue Star Ferries schedule!
I find that Ferryscanner is a good website to use to book ferry tickets online. They have updated schedules and you can book ferry tickets online easily.
Milos Island Travel Tips
A few travel tips for visiting the Cyclades island of Milos:
---
---
---
---
---
---
Naxos vs Milos
Naxos is a larger island with a more developed infrastructure, offering numerous options for dining, shopping, and nightlife. It's known for its stunning beaches, picturesque villages, and ancient ruins and is suitable for families. Milos, on the other hand, is a smaller and less crowded island, boasting unique landscapes with volcanic rock formations, crystal-clear waters, and secluded coves, and is known as a couples island.
How to make the journey from Naxos to Milos FAQ
A few common questions about traveling to Milos from Naxos include:
How can you get to Milos from Naxos?
The only way to travel from Naxos to Milos is by ferry. There are is one SeaJets ferry every day that takes around 2 hours and 15 minutes, with an additional, much slower Blue Star Ferries vessel once a week sailing to Milos island from Naxos.
Can I fly from Naxos to Milos?
Even though both the Greek islands of Naxos and Milos have an airport, flying between the islands of Naxos and Milos is not something you can do.
How many hours is the ferry from Naxos to Milos?
The ferries to Milos from Naxos take between 2 hours and 15 minutes and 6 hours and 10 minutes. Ferry operators on the Naxos Milos route may include SeaJets and Blue Star Ferries.
How can I buy tickets for the ferry to Milos?
The easiest way to get hold of ferry tickets in Greece is by using Ferryhopper. Although I suggest you book your Naxos to Milos ferry tickets in advance, you could also use a local travel agency in Greece.
Which ferry operators sail the Naxos to Milos route?
During the high season (April through until October), SeaJets operate a high speed ferry once a day, and Blue Star Ferries operate a conventional ferry once a week.
More guides to Milos:
---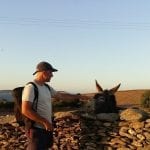 –
Dave Briggs
Dave is a
travel writer
based in Athens, Greece since 2015. In addition to writing this guide about island hopping from Naxos to Milos, he's written many more travel blog posts about destinations in Greece. Follow Dave on social media for travel inspiration from Greece and beyond: