Over 150 of the best captions about Seattle for you to use on Instagram. Create the perfect post with these Seattle captions.
Visiting Seattle?
Seattle is one of the most beautiful and unique cities in the United States. With its stunning mountains and evergreen forests, it's no wonder that it's a popular destination for tourists and photographers alike.
Seattle also has a rich history and culture, which is evident in the many museums and historical sites located there.
If you're lucky enough to live in or visit Seattle, be sure to take advantage of its natural beauty and prepare some amazing Instagram photos. And don't forget to caption them with one of these 150 Seattle Instagram captions!
Best Seattle Instagram Captions
Find me in Seattle
---
I left my heart in Seattle
---
When it's raining cats and dogs, and you step in a poodle
---
Dear Seattle, I'll never get over you.
---
This is my happy place
---
It's always Rainier over Seattle
---
Needle-less to say, I love Seattle's skyline
---
Seattle is one Amazon city
---
Spacing out in Seattle
---
Seattle has one season: rain– by Tracy Gordon
---
Meet me in Seattle
Related: Dream Destinations Around The World
---
Instagram Captions About Seattle
Exploring the Emerald City
---
Seattle state of mind
---
Seattle is more than it ap-piers
---
You'll find me in Seattle
---
Seattle is for people who love culture, but refuse to sacrifice their wild nature to attain it.– by Kimberly Kinrade
---
Seattle's coffee scene is a thing of brew-ty
---
Seattle is this curious liberal island. by Jonathan Raban
---
Summer in Seattle allows me to indulge in some of the region's top culinary delights. -Tom Douglas
---
I refuse to Settle for anything less than perfect
---
I can't stop talking about a-boat Seattle!
Related: Boat Captions For Instagram
---
Seattle Captions For Instagram
Seattle is a way of life
---
Coffee and Seattle my two favorite things
---
But if you're looking to be spooked by really tall trees then you've got to go to Washington.– by Dar Williams
---
Gigantic puffy clouds, welcoming, forgiving, repeating infinitely across the horizon as if between mirrors; and slices of rain, pounding wet misery in the distance now, but soon on us, and in another part of the sky, a black stain, rainless.– by Maria Semple
---
Any day spent in Seattle is a great day
---
I am in love with this city
---
It's all just fun and gums
---
A little rain never hurt anybody
---
It's always sweater weather in Seattle
---
It's time to Se-attle
Related: Weekend Vibes Captions
---
More Captions For Seattle Photos
In Seattle, we live among the trees and the waterways, and we feel we are rocked gently in the cradle of life. Our winters are not cold and our summers are not hot and we congratulate ourselves for choosing such a spectacular place to rest our heads.– by Garth Stein
---
I really, Chihuly love Seattle
---
Don't Settle for anything less than perfect
---
Stuck on You
---
In Seattle, we live among the trees and the waterways.-Garth Stein
---
I really like Seattle
---
Seattle was built out on pilings over the sea, and at high tide, the whole city seemed to come afloat like a ship lifting free from a mud berth and swaying in its chains. by Jonathan Raban
---
You blow me away
---
I have a fond place in my heart for Seattle. -Magic Johnson
---
To some extent, Seattle remains a frontier metropolis, a place where people can experiment with their lives, and change and grow and make things happen.– by Tom Robbins
Related: Best Travel Captions
---
Great Seattle Phrases To Use With Your Photos
Seattle, won't chew be mine?
---
Seattle, Alki you later
---
You are unbelievable
---
I don't need this attitude right now
---
Seattle is a liberal city. -Jonathan Raban
---
Seattle is always a good idea
---
Let's get lost in Seattle
---
Rain. Coffee. Repeat
---
Chew make me happy
---
See you in Seattle
Related: Best Song For Road Trips
---
Seattle Puns And Sayings
Seattle, I chews you
---
I love you like the rain loves Seattle
---
Something's fishy here at Pike Place
---
When you fly to Seattle on a clear day, it appears that there's more water than land. It is a city on and of the water. by Allen Cox
---
In Seattle, it's a good thing when it rains on our parades
---
Seattle has been chosen America's best in many categories-including the best bicycling city, the most livable, best city to locate a business, best hotels, and the best place to visit.– by Ray Chatelin
---
Extra, Extra, read all about it
---
It's hard not to fall in love with Seattle on a beautiful summer's day.– by Robert Spector
---
It rains nine months a year in Seattle
---
In Seattle, you haven't had enough coffee until you can thread a sewing machine while it's running
Related: Summer Captions
---
Instagram Seattle Updates You Can Use
Seattle always Sounds like a great idea
---
Catch me in Seattle
---
Earth does not belong to us; we belong to the earth. Take only memories, leave nothing but footprints.– by Chief Seattle
---
Simply as a writer of books, I'm thrilled and proud that Seattle should have raised, on a public vote, sufficient money to build a central library, and moreover to rebuild every other library in the city: 28 of them.– by Jonathan Raban
---
You know you're from Seattle when even amid perhaps the worst crisis you've ever faced, you can still appreciate a sunny day.― Melanie A. Smith
---
Seattle, you are on my mind
---
The tourism people have given Seattle the name of Emerald City which, of course, virtually everyone ignores
---
You always said Seattle was beautiful, now I'm Bellevue
---
The sky in Seattle is so low, it felt like God had lowered a silk parachute over us. Every feeling I ever knew was up in that sky. Twinkling joyous sunlight; airy, giggle cloud wisps; blinding columns of sun. Orbs of gold, pink. flesh, utterly cheesy in their luminosity
---
Puget it now?
Related: Sun Captions
---
Captions To Use With Seattle Updates
You had me at Seattle
Related: Summer vacation quotes
---
Seattle Quotes For Instagram
Going the Extra mile
---
Sleeveless in Seattle
---
Good morning Seattle
Related: Good morning captions
---
Seattle isn't just a place, it's a way of life
---
I love Seattle. I couldn't be anywhere else. by Lauren Jackson
---
Wheel-y love Seattle
Famous Seattle Quotes
"Seattle isn't really crazy anymore. It's a big dot-com city." – Kristi Novoselic
---
"My wife and I just prefer Seattle. It's a beautiful city. Great setting. You open your front door in the morning and the air smells like pine and the sea, as opposed to bus exhaust." – Ron Reagan
---
"Seattle is not an overly friendly city. It is a civil city, but not altogether friendly. People from outside mistake the civility for friendliness. Seattle is full of people who have their own lives to live. They won't waste their time being friendly. But they are civil." – Jonathan Raban
---
"I miss Seattle a lot. It was my first city that I lived in on my own. It was a great city to play for… in the back of my mind, I still have a thing for Seattle and always am going to remember what they've done for me." – Kevin Durant
---
"Seattle is like a global gumbo, a melting pot with all kinds of people the rich, the poor, white people, some Chinese, Filipino, Jewish and black people they're all here." – Quincy Jones
---
Facts about Seattle
– Seattle is the largest city in Washington State and the Pacific Northwest region of the United States.
– The city is home to a large number of companies, including Amazon, Microsoft, Starbucks, and Nordstrom.
– Seattle was incorporated on January 14, 1869.
– The Seattle Seahawks of the National Football League (NFL) are based in the city.
– The Seattle Mariners of Major League Baseball (MLB) play their home games at T-Mobile Park.
– Boeing, the largest private employer in the city, has its corporate headquarters and main assembly plant in Seattle.
– The city is also home to a large number of non-profit organizations, including the Bill & Melinda Gates Foundation and the Fred Hutchinson Cancer Research Center.
– The city is served by Seattle–Tacoma International Airport, which is the 16th busiest airport in the United States.
– The Port of Seattle, which is the 8th largest port in the United States by cargo volume, handles millions of tons of cargo each year.
– The Seattle Center, which is the site of the 1962 World's Fair, is also home to the Space Needle, the Museum of Pop Culture, and the Chihuly Garden and Glass.
– The city is also home to a large number of parks, including Volunteer Park, Green Lake Park, Discovery Park, and Woodland Park.
– Seattle is a major cultural center for the region and is home to a number of museums, including the Seattle Art Museum, the Museum of History & Industry, and the Burke Museum of Natural History and Culture.
– The city also has a thriving theater scene, with a number of theaters, including the Intiman Theatre, the Seattle Repertory Theatre, and the Seattle Children's Theatre.
– Fun fact: I've never been to Seattle, but my luggage has!
Related:
---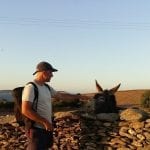 –
Dave Briggs
Dave is a
travel writer
who spends his time traveling around and writing about Greece. As well as putting together this list of Seattle Instagram Captions, he has written hundreds of travel blog posts about destinations and adventure activities. Follow Dave on social media for travel inspiration from around the world:
Seattle FAQ
Here's some frequently asked questions about Seattle.
Is Seattle worth visiting?
Seattle is definitely worth visiting! From the world-famous Pike Place Market to the picturesque waterfront, there's something for everyone in Seattle.
Is it OK to travel to Seattle right now?
Yes, Seattle is a great place to visit and the weather is usually mild. However, be sure to check the forecast before you travel as it can rain a lot in Seattle!
What month is the best time to visit Seattle?
The best time to visit Seattle is in the summer months when the weather is mild and sunny. However, be prepared for rain!
How many days should you spend in Seattle?
If you're looking to spend a few days in Seattle, I would recommend at least three. There's a lot to see and do in this vibrant city!
Is Seattle rainy?
Yes, Seattle is known for its high rainfall. In fact, it rains on average nine months out of the year!