This travel blog to the best things to do in Mandalay will help you enjoy the city as much as we did! Includes what to do and places to see in Mandalay.
Mandalay Travel Guide
In December 2018, we spent four days in Mandalay Myanmar. This was our entry point to the country, before going to the popular sites of Temples in Bagan and Inle Lake.
Our aim whilst in Mandalay, was to take in some of the main sights of the city, and soak up the vibes of what would be a new country for the both of us.
This travel guide on things to do in Mandalay combines our experiences, where we share places we considered to be highlights.
Note: Since our visit, the political situation has changed once more in the country. Visiting Mandalay is not as easy as it used to be for foreigners.
Where Is Mandalay Myanmar
Mandalay is Myanmar's second largest city, with a population of 1.2 million people. It is located pretty much in the centre of the country, though it's one of the most northern destinations you are likely to visit as a tourist. It is northeast of Bagan, and to the northwest of Inle Lake and the surrounding villages.
Why Should I Go To Mandalay Myanmar
Mandalay was actually a fascinating city to visit. Even though it's a big city, time seems to have stopped. It was very different to modern Bangkok, which was our previous destination.
Walking around Mandalay was an interesting experience. There are asphalt roads and dirt roads, and the whole city feels very dusty, unless it has just rained in which case there is mud and puddles of water everywhere.
At the same time, most pavements and streets are very uneven and there are many holes on the ground, so walking around takes considerably longer than normal. In our five months in Asia, this was the only place where we didn't walk around too much.
If you only have a few days in the country, you might prefer to omit Mandalay from your itinerary in Myanmar. However, it was one of the most "authentic" places we visited in Asia, with little tourist infrastructure and a huge, sprawling local street market. It's definitely worth stopping by for a few days if you are on a longer trip in the area.
Mandalay Myanmar Things To Do
In terms of sightseeing, Mandalay has a fair amount to offer. As this was our entry point to Myanmar, we were quite excited about this new country that neither of us had visited before.
One of the things we were more interested in, were the pagodas and temples in Mandalay. Even though we had just seen many Buddhas in Bangkok, and our next destination was Bagan, we were looking forward to visiting some of the most famous pagodas in Mandalay.
On our first day in Mandalay we took it easy, and just walked around a bit in search of local SIM cards and a restaurant. We soon realized that getting anywhere on foot wasn't as easy as it looked on the map, due to the condition of the streets.
Mandalay Attractions
As such, we decided to take a tour next day, in order to see the most popular sites in Mandalay, which are spread around the city. We arranged that through our hotel, and our driver came in an air-conditioned car. We also got offers by a few tuk-tuk drivers on the street.
Mandalay Palace
You can't miss the Royal Palace in Mandalay – it's a huge square right in the centre of Mandalay, accessible through a gate on the East side. The palace area is surrounded by a wide moat and an imposing 7-metre tall, 3-metre wide wall.
The palace was built in the 1850s-60s, but was destroyed during World War II, and what you can visit today is a 1990s reconstruction. Judging by the numbers of locals we saw on that day, it is a fairly popular destination among the Burmese. One of the most popular spots was the watchtower, where you can climb through a spiral staircase.
Entrance to the Mandalay Palace is covered by a combination ticket that costs 10,000 MMK (around 6 euro), which allows entrance to many other sites in Mandalay. Individual tickets are not available. Pay attention not to lose your ticket between sites, as you will need to get a new one, like we did!
Mandalay Hill Temples
According to legend, Buddha and his student Ananda climbed up Mandalay hill. Buddha then predicted that an important city would be founded in the area just below. This city is today's Mandalay.
These days, they say that if you want to live long, you should visit Mandalay hill – I guess they mean that hiking up the hill keeps you in shape! It's possible to get to the top of the hill either on foot or by car, but if you want to visit all the pagodas it probably makes more sense to have some means of transportation.
All around the hill and mostly outside the temples, there are several stalls selling the usual clothes and souvenirs and also water and snacks, if you need any.
Remember that Buddhist temples are sacred, and as such you need to dress modestly – no bare shoulders or knees. Before you enter the temples, you will need to remove your shoes and socks, and leave them on a rack outside the entrance.
The world's biggest book – Kuthodaw Pagoda and Sandamuni Pagoda
It took us a fairly long time to understand what the description "the world's largest book" meant when we visited the Kuthadaw and Sandamuni pagodas.
Both of these temples, located close to each other, contain a series of immediately noticeable stupas. There are 729 small individual stupas in Kuthadaw pagoda, while there are 1774 larger white-washed stupas in Sandamuni pagoda, arranged in several lines.
What is not immediately evident, is that each one of these 2,503 stupas contains a marble slab with carvings of Tripitaka, the scriptures of the Buddhist religion, or commentaries on them written in 1913. So each single stupa contains a single page of a book, carved on a piece of marble!
This is where the phrase "the world's biggest book" makes sense, as the area the temples occupy is really huge – especially the Sandamuni pagoda, which also hosts a huge, gold-plated statue of the Buddha.
For those interested in visiting UNESCO monuments around the world, the Kuthadaw pagoda is a must-see in Mandalay, as it was listed in the UNESCO Memory of the World Register in 2013.
Swhenandaw Kyaung
This beautiful monastery is made of teak, and the carvings are really stunning. It was originally within the palace complex in Amarapura, the old royal city. It was later split into pieces and reassembled within its present location during a 5-year period, thus surviving the destruction during WWII.
At the time we visited, we seemed to be the only people here, and could appreciate the serenity inside the building. The smell of wood and dust is very distinctive and will stay with you after you've left.
Su Taung Pyae Pagoda
This massive temple is at the top of Mandalay Hill. It's a popular place to see the sunset, and as such can be crowded around that time. From up there you can see the city and the Palace, as well as the Ayeyarwady / Irrawaddy River.
Entrance to the pagoda is through an escalator, so you won't really struggle much. There are still a few stairs you will need to climb.
While we were admiring the sunset, a couple of young monks came up to me, probably intrigued by my lack of hair, and started chatting. I had to crouch down a bit in this photo, otherwise it would have looked kind of ridiculous!
We were quite impressed with their English, and had the chance to ask them a few things about their lives. One of them wanted to become a tour guide in the future!
Downtown Mandalay City
Even though it's difficult to walk around, downtown Mandalay is definitely worth exploring. Apart from the Buddhist temples and pagodas, you can see a few Hindu temples, some bustling markets, many friendly locals, and the odd dog and rat.
Eindawya / Ein Daw Yar Pagoda – Royal House Pagoda
This impressive temple dating from 1847 was next door to our hotel, and it was the first pagoda we visited in Myanmar. It is built on the grounds of the former residence of King Bagan, hence its name. The temple includes a massive 35-metre tall stupa covered in gold, which really dazzles when it's sunny.
Mahamuni Buddha Temple – The Great Sage
Mandalay's most important Buddhist site, the Mahamuni Paya is a few kilometres south of the centre. The temple is home to the sacred Mahamuni Buddha statue, kept in a separate room where women have no access.
This particular statue is of great significance to the Burmese. Male followers may offer a golden leaf to the statue, while women can pass it on to a male assistant. While the statue itself weighs six tons, the gold collected over the years is estimated to weigh around two tons.
The Mahamuni Buddha temple hosts one of the most important festivals in Mandalay in early February.
Gold-leaf workshop in Mandalay
Having seen the gold-leaf Buddha, the next natural step was to observe the gold-leaf making process. Probably a staple in every Mandalay day tour, the visit to the workshop was actually quite interesting. Small pieces of gold are hammered until they become paper-thin, and can then be used for decoration.
Sunset Over U Bein Bridge
Sunset over U Bein Bridge, the longest teak bridge in the world, is supposed to be stunning. Given that sunsets on our other days in Mandalay were less than impressive, we decided to skip it. If you've been to Mandalay, let us know if we've missed out!
Zegyo / Zay Cho Market in Mandalay
Zegyo / Zay Cho market in Mandalay was right next to our hotel. It's a large, covered market selling everything and anything – textiles, handbags, jewelry, clothes, shoes, underwear, spices, food etc. There are also a couple of pharmacies inside and outside the market.
Related: Can you bring spices on a plane?
A special mention must go to the betelnut leaves sold here. This popular leaf is sold everywhere in Myanmar, and locals chew on it all day long. It makes people's teeth red, and eventually purple or black, but its stimulating effects no doubt make up for it. Although it's recently been linked to health risks such as cancer, it's still very popular all around Myanmar.
Right outside Zegyo market, along the length of 85th and 86th streets and their side streets, there is a huge, bustling food market where you can get fruit, veg, spices, dried fish, and lots of other produce. This was one of the few markets in SE Asia where we didn't see any other tourists, and one of the few places where people seemed to be surprised to see Westerners.
Buying fruits was very easy, and the merchants were very honest, as they (literally) ran after us with change or another bag of fruit, on a couple of occasions.
Finding a Western type minimarket / supermarket wasn't as straightforward, at least in the area close to where we were staying. There were a couple of places that seemed to cater for foreigners, as English was also spoken, but we really had to look.
Day Trips From Mandalay
Most tourists will want to use the city as a base and to explore beyond the Mandalay area.
The most popular day trip from Mandalay is a visit to three of Myanmar's ancient capitals, Inwa, Sagaing, and Amarapura, the old Royal City that was destroyed during WW II.
This is a full-day tour where you will get to see several temples and monasteries as well as some of the countryside. In Amarapura, you can also see silk and cotton workshops – we saw something similar in Inle Lake and found it very interesting.
A tour we would have liked to do if the weather wasn't so unpredictable, was a half day cycling tour around Mandalay. We hired bikes in our next destination, Inle Lake, and really enjoyed it.
Where to stay in Mandalay
Below you can see an interactive map to find Mandalay hotels.


In Mandalay, we stayed in hotel Aurora. Although the rooms were quite small, the hotel was decent, the personnel friendly, and breakfast was good. We even had a couple of dinners there, mostly because we didn't find any restaurants at walking distance.
In retrospect, this was probably the best area to stay in Mandalay, as it was close to Zegyo market, and we would have had to visit the most famous attractions of Mandalay by car anyway.
How To Get To Mandalay
Mandalay airport is around 40 kilometres out of the centre of the city. It is connected with several other countries, in SE Asia and beyond. We flew into Mandalay from Bangkok, Thailand.
Mandalay is well connected with other places of interest in Myanmar. There are a number of bus companies serving many routes, but it is also possible to use private transfers.
For most travelers, Mandalay is the previous or next stop from Bagan. For us, Mandalay was our first stop in Myanmar, and we then left for Bagan. We chose to get a slow boat going down Irrawaddy River. The route was pleasant, and the boat was basic, but quite comfortable, though departing at 5am wasn't much fun!
On the way from Mandalay to Bagan, we stopped at a village and had the chance to see some traditional pottery making.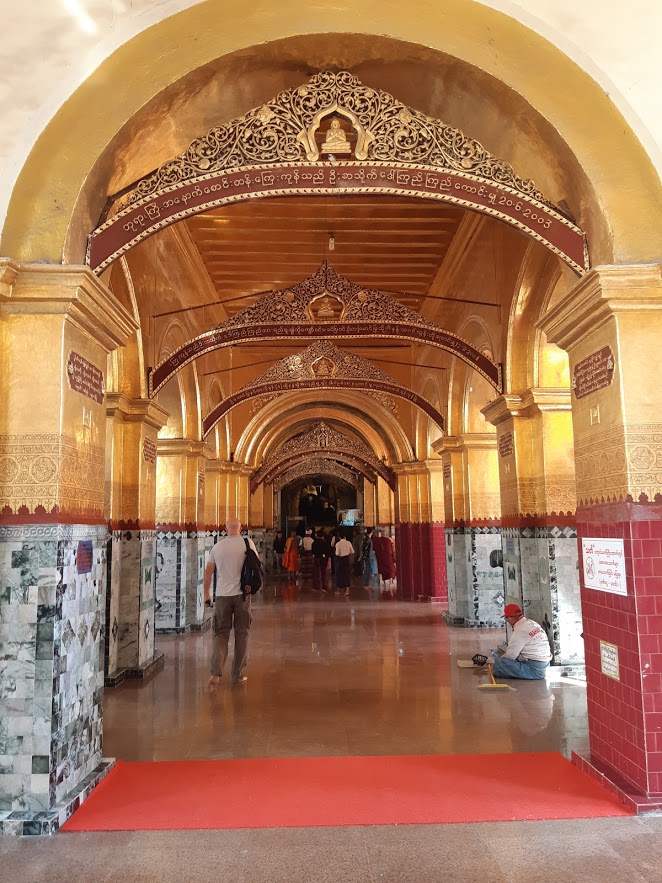 Best Time Of Year To Visit Mandalay
Just like Bagan and Inle Lake, Mandalay has three fairly distinct seasons, though the rainy season seems to be a bit longer here.
Dry and cool season – November to February
Dry and warm season – March to April
Rainy season – May to October
We were in Mandalay for four days in December, and we had one day with some rain, but not terrible. During the day it was pretty hot, and sunscreen and lots of water was necessary.
If you decide to visit Mandalay during the rainy season, make sure that you use mosquito repellent, as dengue fever is not uncommon. Judging from the half day of rain we had, the experience will probably not be so enjoyable, as walking around becomes even more difficult.
Festivals In Mandalay
You can plan your visit in Mandalay to catch one of the many festivals happening in the city. In this case, make sure you book your accommodation in advance.
February – Mahamuni Paya festival. This is a vibrant festival with lots of dance and music shows, lasting for two weeks.
April – Thingyan festival. This is when the Burmese celebrate the Buddhist New Year, splashing water to each other.
July – Shwe Kyun Pin Nat festival. Colourfully dressed farmers celebrate in the nearby Mingun village, asking for a good harvest for the season to come.
July / August – Nat festival. Happening in the nearby town of Taungbyone, this is a massive celebration and a very important one for the whole of Myanmar. This festival is dedicated to the spirits (nats), though in reality it's an excuse to celebrate, eat and drink.
October – Thadingyut Festival or Lightning Festival. This festival marks the end of the Buddhist Lent. People pay their respects to the monks and the elders, and make offerings, usually in the form of foods or other gifts.
Things to Do in Mandalay – Our thoughts
While Mandalay probably doesn't feature on all travelers Myanmar itineraries, it was an interesting introduction to this unique country. If you visit, spend some time in the local market, and make sure you go up Mandalay Hill.
You might also be interested in: