The Temples of Bagan are the 'must see' attraction in Myanmar. Here's a travel guide packed with everything you need to know about Bagan.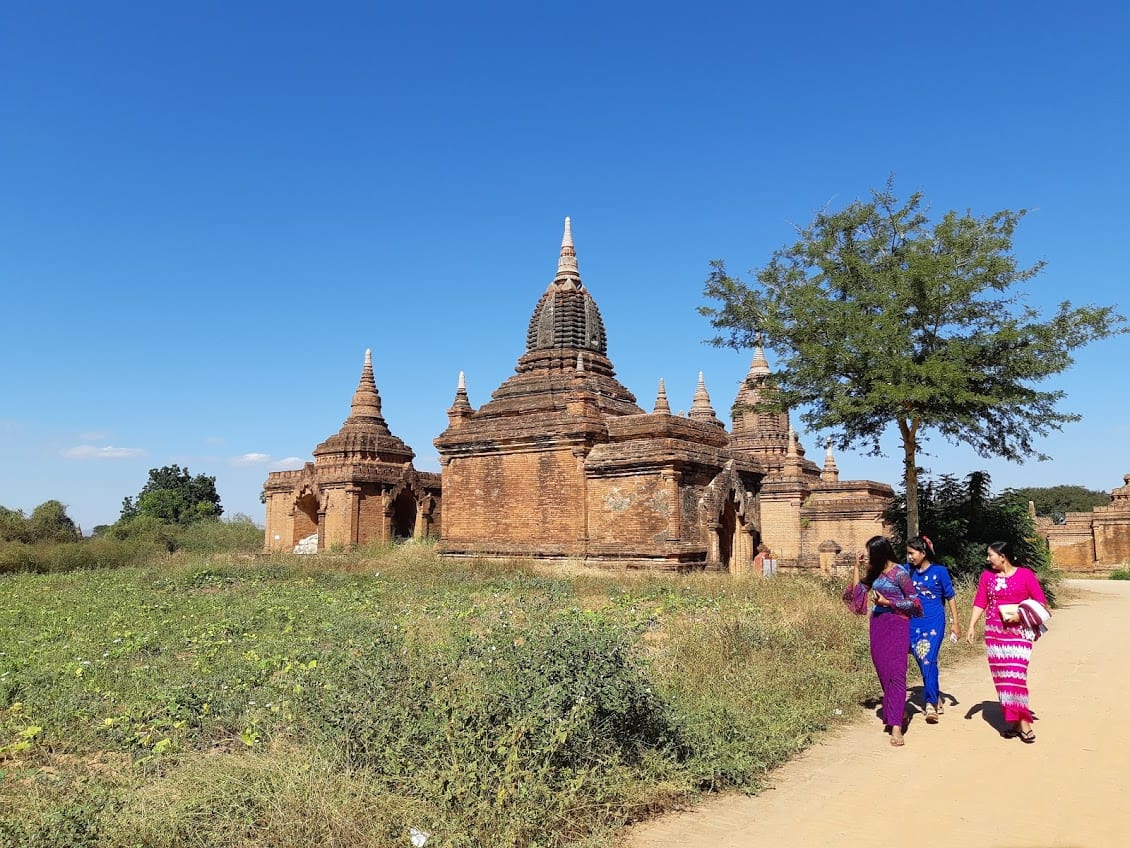 Bagan is an ancient city in Myanmar with over 3000 temples. The city is a popular tourist destination for its unique architecture and stunning views.
Things to do in Bagan in Myanmar
In December 2018, we visited the famous Myanmar Bagan Temples. We spent four nights in Bagan, which was enough time to visit the best Bagan temples and appreciate the vastness and wilderness of the area.
What with Covid and problems within Myanmar, we might have been some of the last few thousand western visitors to the major temples on the Bagan plains. As such, the details in this travel blog may still prove useful for when it's possible to more easily visit the temples of Bagan again.
Here is an overview of what to do in Bagan.
Where is Bagan and why should I go there?
Bagan is a large area in mainland Myanmar in SE Asia. It is famous for the Bagan temples, a huge number of Buddhist temples and pagodas that are scattered around the area. It is the highlight in most people's Myanmar itinerary, and it is becoming an increasingly popular destination in SE Asia.
Bagan was Myanmar's capital in the 9th – 13th century, and as such played an important role in the country's history at the time. It later lost its power and eventually became a pilgrimage destination, regaining popularity in recent years due to the increase of tourism.
Today, the remains of thousands of temples, pagodas and stupas are littered across the landscape. It's quite a stunning sight!
How many pagodas in Bagan?
Before going to Bagan, we did a lot of research on the top 10 things to do in Bagan, and the best temples in Bagan to visit. Our findings were quite overwhelming.
According to different sources, the current number of surviving Bagan temples might be about 2,000 to 3,000 temples, or even more. At its peak, Bagan was home to more than 10,000 temples, pagodas and monasteries.
Bagan was abandoned
When the capital of Myanmar moved from Bagan in the 13th century, people gradually left the area. Many of the temples were abandoned, and eventually were destroyed and crumbled into the jungle.
Bagan has also suffered the consequences of a large number of earthquakes in the 20th and 21st centuries. The most severe earthquakes, in 1975 and 2016, damaged several hundreds of temples, many of which were subsequently put off-limits to the public.
Controversial Bagan temples restorations
Several temples in Bagan have been restored over the years. These restorations have often been very controversial, as new architectural elements were added and the old frescoes were replaced with modern ones. Back home in Greece, Knossos in Crete suffers from the same problem.
It was one of the main reasons why it took so long for Bagan to become a UNESCO World Heritage Site. However, only a few short months after we visited, Bagan became a UNESCO World Heritage Site.
Regardless, the area is absolutely worth visiting at least once in your lifetime. It was one of our highlights in SE Asia, during our 5 months there.
Visiting the Temples in Bagan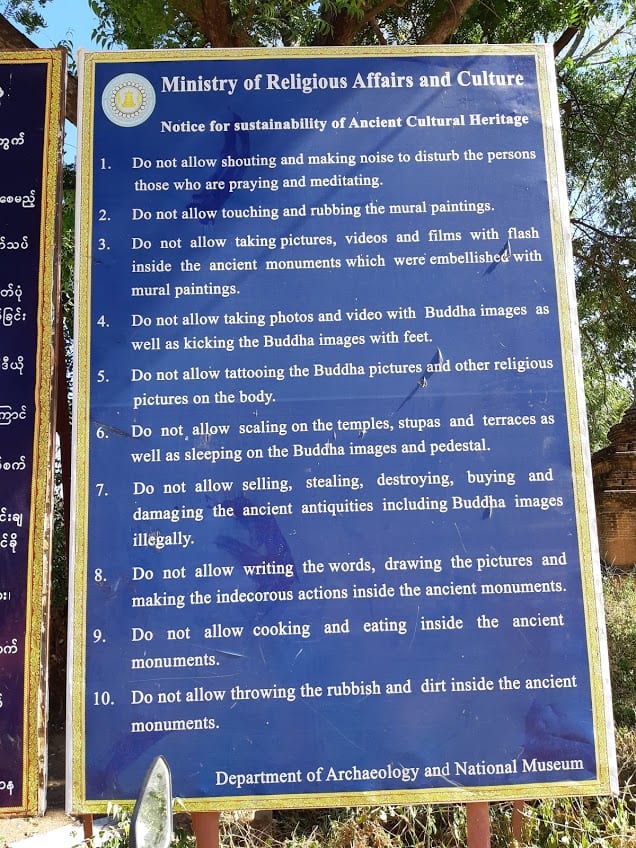 You will probably know about this already, but it doesn't hurt to mention. Buddhist temples are sacred monuments, and as such you should wear conservative clothes.
You will need to cover your shoulders and knees, and remove your shoes before entering the temples. It's best to wear sandals or flip-flops so you can remove them easily.
For women, a long dress might be the best option, but that is somehow tricky if you are riding an e-bike, so you can always wear leggings or long flowy trousers if you prefer. The local longyi skirts were very nice to look at, but they look better on local women somehow.
A few more rules apply when visiting the Bagan temples. Remember that you will meet plenty of monks and practicing Buddhists while you visit, so be respectful.
That said, the locals visiting also know how to get dressed up for their Instagram photos, whilst staying within the conservative rules. It seemed like a good opportunity to photo-bomb them!
The locals wanted photos with me
Not for the first time in Asia (make it about the 10,000th!), a few locals came up to me and wanted their photo taking with me. I'm not sure why that is, but I must be in quite a few random family photo albums by now over the last 14 years, starting with my trip to India in 2004!
Climbing the Bagan Temples in Myanmar
It's worth noting that until the earthquake in 2016, climbing on the temples was allowed. This is no longer the case, though there are still a few temples where it's possible to climb. We were told that this change now and then, so ask around at the time of your visit.
When you visit the temples, make sure you take enough water with you. While there are plenty of street hawkers to buy it from, you don't want to run out of water when the closest place to buy it is a few minutes away on the e-bike.
There are also many places to buy snacks, and many nice little restaurants with menus in both Burmese and English. Finally, don't worry about toilets, as there are plenty in the area. Just bring your own toilet paper.
Bagan pagoda list – Best Temple Bagan
We'll be honest – as we are writing this guide to Bagan six months after our trip there, we have really struggled to remember any temple names, let alone connect the names to the photos. It feels that all the temples we visited in our three days in Bagan have somehow merged together.
What has definitely remained is the general feeling of the area – the heat, the dust, the vendors, the cows, the locals offering gifts to the Buddha statues, the seemingly endless lines of pagodas and stupas, and the complete awe we felt going around the area.
What is a Pagoda?
This is perhaps an appropriate point to explain the terms pagoda and stupa (Sanskrit for "heap"). What we know today as a pagoda is the evolution of an older type of sacred domed monument called a stupa, originally intended to store relics or religious objects. Both terms seem to be intermittently used to describe temples in SE Asia, especially by Westerners.
You can read more about the origins of those fascinating temples here.
Getting around Bagan
As mentioned above, Bagan is a large area, over 100 square kilometres. Once you get there, you will immediately realize that the only way to get around is by some form of transportation.
There are several options to choose from, ranging a lot in comfort, quality and price. Locals go around in buses, but we weren't sure if we would be allowed on them!
Weird Rickshaw Motorbike
For our first day in Bagan, we chose to get around on what can be best described as a curious rickshaw taxi. This guy had picked us up on the previous evening, when we arrived on the river boat from Mandalay.
For a full day's ride, including the sunset, we paid 20,000 MMK including a tip – just under 12 euro.
E-Bikes in Bagan
For our next days in Bagan, we decided to rent an e-bike for 6,000 MMK (3.5 euro). While motorbikes and mopeds are not allowed in Bagan, you can rent e-bikes everywhere.
They have enough autonomy for a whole day around the Bagan temples, and you can visit the best of Bagan at your own pace. The e-bike store also gave us a Bagan paper map, which we thought was very helpful in addition to Google maps.
Horse and Cart
We saw people getting around in horse-drawn carriages, but we wouldn't really recommend it as there is really no need to use a horse when you can go around in wheels.
Air-con car and driver in Bagan
As Bagan is a really hot and dusty area, you can also choose a more comfortable way of getting around, and that is by air-conditioned car. There are guided tours where you will also listen to some of Bagan's history. Look here for an example of a full day tour in a car of Bagan.
Another alternative that we considered but eventually decided against, was a Bagan bicycle tour. Maybe next time!
About Bagan Pagodas
Once you've sorted out your means of transportation, it's time to set out and explore the best Bagan temples. However, our advice is to not just stick to the map, but just wander around and absorb the colours, the ambience and the overall feeling of the place.
Top temples in Bagan
There are a few temples that you should aim to visit when you go to Bagan. The Ananda Temple, the Shwezigon Pagoda, the Htilominlo temple, the Mahabodhi temple, the Thatbinnyu Temple, the Dhammayazika temple and the Sulamani temple Bagan are just some of them.
These are among the best Bagan temples and pagodas, and some of them have been highly restored. Try to include at least a few of them in your Bagan itinerary.
Ananda Pagoda Bagan
Ananda pagoda was one of the largest and most majestic pagodas we visited in Bagan, and one of the few that can be instantly recognized. This beautiful pagoda is a symmetrical construction with only one storey, unlike other pagodas in Bagan. Regardless, it stands at an impressive 51 metres tall, including its shiny golden dome and the spire on top.
Within the Ananda complex, you will see several elements used in Buddhist culture, such as the mythological Burmese lions, Buddha images, and scenes from Buddha's life. There is also the Oak Kyaung monastery.
The Ananda pagoda is one of the best temples in Bagan. You absolutely must visit during the day, but it's also worth swinging by after sunset, as it's lit up at night.
Close to the Ananda pagoda you can see the Tharabar gate, the only one remaining of the original 12 gates in the old Bagan city walls.
Shwezigon Pagoda
The golden plated Shwezigon pagoda was built between 1059 and 1090, and it's one of the oldest temples in Bagan. It contains several sacred relics, and is therefore a popular place of pilgrimage among the Burmese and other Buddhists.
The gilded stupa is one of the most impressive in Bagan, and is worth visiting during the day, but also at night, when it is lit up. It is about 49 metres high, and the sides of the square platform it sits on are also around 49 metres. There are four stairways leading to the top of the pagoda, decorated with several mythical creatures and plaques.
Around the stupa there are many other structures, pavilions, temples and walls, making it one of the largest complexes in Bagan.
The Shwezigon pagoda has served as a model for several other pagodas built all around Myanmar at later dates.
Htilominlo Pagoda
Htilominlo Pagoda is a majestic temple built out of red brick. It is 46 metres tall and has three storeys. Inside the temple, you can see many frescoes and Buddha statues. Just like with other Bagan temples, it used to be possible to climb to the top, but this is no longer the case.
Mahabodhi Temple
The Mahabodhi temple is 43 metres tall and has two storeys standing on a square base. All around the temple you can see images of the Buddha, Nat spirits and several animals. Inside the temple, there are many images and frescoes. The Mahabodhi temple was one of the temples that were seriously damaged during the earthquake in 1975, but has since been restored.
Thatbyinnyu Pagoda
The Thatbyinnyu Pagoda is one of the tallest monuments in Bagan, standing at 60 metres tall. It has two storeys, and sits on a large square base. The usual Buddhist elements exist, such as stupas and spires, though the glazed plaques that can be seen in other temples seem to have been removed.
There are dozens of other temples worth visiting, but after a while you will probably realize that everything blends together, and the names are no longer super important. Or at least this is what we thought!
Here are a few more Burma temples pictures that we took during our three days in Bagan.
A cross symbol next to a Buddha statue in Bagan
More pagodas – what were their names? Who knows!
People graze cattle between the temples still to this day.
Bagan What To Do
Apart from visiting the Bagan temples, there were few more things that stood out in Bagan. One of them was visiting a lacquer workshop. Here, we saw how lacquer bowls, plates and other objects are traditionally made by hand.
It is a super tedious process, involving lots of attention to detail. A single small bowl will take two to three weeks to complete, depending on the number of colours used. Bigger objects, such as doors, can take a few months.
Today, many of the bowls and plates are machine-made, but there is no comparison to the original artwork.
Another interesting art is that of puppetry making. While the puppets used during a show that we saw in Inle Lake were all handmade, we doubt that the ones sold around the streets in Bagan were also made by hand. Nevertheless, they were pretty impressive.
Some of the paintings sold all around Bagan were also pretty cool. There were street vendors close to most of the biggest temples.
Visiting the temples in Bagan – Getting a ticket to Bagan temples
There is only one type of ticket that you can get in order to visit the Bagan temples, and it costs 25,000 MMK (just under 15 euro). According to the ticket, it is "valid for 3 days from date of issue", but our tickets indicated 23rd December as the date of entry, and 27th December as the date of expiry. Go figure!
In practice, we were only asked for our tickets in the most important Bagan temples, and we doubt it would have been an issue if we had stayed longer in Bagan as no one seemed to care to check anything after our first day there.
Food in Bagan
While no restaurants in Bagan particularly stood out, we were overall quite happy with the meals in Bagan. As the area is quite touristy, you can find a mix of Burmese, Indian and other cuisines – including Greek, but we didn't dare try the "Greek salad".
All in all though, it's worth sharing and tasting the various Burmese dishes on offer. There are many more than the tea leaf salad and the mohinga, so be a little adventurous and try them all!
Where to stay in Bagan
There are really three main areas to stay when you are visiting the Bagan temples:
Old Bagan, close to the Ananda temple and Tharabar gate
New Bagan, which has the majority of Bagan hostels and seemed to be the biggest settlement
Nyaung U, close to the Shwezigon Pagoda.


Based on several reviews and opinions, we chose to stay at the Bagan Star hotel in Nyaung U. As it was Christmas, room prices in Bagan were higher than normal, and Old Bagan was quite expensive. The hotel was good and had a good breakfast buffet.
There were several decent restaurants on Thi Ri Pyitsaya 4 Street, which is the main street of the area. There were also several inexpensive places to do laundry and rent our e-bike.
Nyaung U in Bagan
In retrospect, we thought that Nyaung U was the best area to stay in Bagan. We went around New Bagan and also had lunch there, but overall we were happier with staying in Nyaung U. If we had realized how warm it gets though, we might have gone for a hotel with a pool!
Guided tours in Bagan
We've written this guide so far from the angle that people want to explore Bagan by themselves. There's plenty of tour options as well – You might even remember some of the temple names if you take them!
Hot Air Balloon Bagan
If you are prepared to splash out on a tour, the best thing to do in Bagan is to take a hot air-balloon ride. These last around an hour and you will be able to see the whole area from above.
We didn't take one so we don't have an opinion, but a friend of ours said it was totally worth it. As these tours will cost you a few hundred dollars, make sure you read reviews first and choose wisely.
In our opinion, having some form of guided tour on the first day gives a good introduction to the area, and then you can get out and explore on your own. Three days is enough to see the highlights of Bagan, but don't expect to be able to see every single one of the temples!
Related: Hot Air Balloon Captions
How To Get To Bagan
There are four ways to get to Bagan by public transportation – flight, train, bus and the river boat.
Flights to Bagan arrive at Nyaung U airport, a short taxi ride from the town. Slow trains arrive from Yangon and Mandalay, and there is only one train a day from either of these cities.
There are also a few buses arriving in Bagan from numerous places in Myanmar, such as Yangon, Mandalay, Inle Lake and Nay Pyi Taw. The train and bus station in Bagan are located close to each other, a short distance from the town.
River Boat from Mandalay to Bagan

We chose to get to Bagan on the river boat from Mandalay. It was a slow ride of around 11 hours, infinitely more pleasant that sitting in the fully air-conditioned bus from Inle Lake to Yangon that we took later on during our trip.
It was very easy to hail a rickshaw from the river bank to our hotel, and ask the same driver to take us around Bagan on our next day there.
Best Time Of Year To Go To Bagan
Bagan has pretty much three seasons, just like the rest of Myanmar:
October to February / March – The dry and cooler season
March / April to May – The warm season
June to September – The wet season
Based on the above, you can guess that the best time of year to visit Bagan is between October and February. During that time, the temperatures are not overwhelmingly high, and rain is minimal.
Visiting Bagan in December
We were there in December, and we can guarantee that there was no hint whatsoever that it ever rains in Bagan. It was quite warm, with temperatures being almost uncomfortable around midday and for a couple of hours afterwards.
That was the time when we took a break from exploring the temples on the e-bike and stopped for a long lunch and cold coffee or other refreshing drink.
This is the most popular time of year to visit Bagan, so it's probably best to book your accommodation well in advance. In our experience booking just a couple of weeks in advance, there were plenty of options, but not too many budget ones.
We would rather not think what the warm or wet season are like, and based on what we've read we would probably avoid visiting Bagan then. Neither 40 degree temperatures nor muddy fields would make for the best experience. At the same time, the period from March to September is Bagan's off-season, so you would find fewer tourists and cheaper rooms.
Final Impressions of Bagan
We absolutely loved Bagan. It was easily one of our favourite destinations in SE Asia and one of the most unique, and despite the increasing number of tourists it didn't look as crowded as Siem Reap in Cambodia.
Bagan Archaeological Zone FAQ
What are the temples in Bagan called?
The ancient ruins of temples and pagodas in Bagan are collectively known as the Bagan Temples.
Where are the Bagan temples?
The ruins of Bagan, which include more than 2,000 standing Buddhist temples and pagodas, are in the plain regions of the ancient city. Bagan is in Mandalay Region (near the junction with Magway Region), situated on the central plain of Myanmar. The city is located southwest of Mandalay on the bank of the Irrawaddy River.
Why is Bagan famous?
Bagan's temples and religious monuments are what make Bagan in Myanmar one of the most recognizable attractions in Southeast Asia today.
How many temples are there in Bagan?
There are over 2229 temple ruins and the remains of pagodas in the Bagan area.
How can I see the ancient temples of Bagan?
There are several ways to see the ancient temples of Bagan. Some popular options include biking, hiking, or taking a horse and buggy. You can also join a tour group or hire a driver to take you around.
Is Bagan a UNESCO World Heritage Site?
The Bagan Archeological zone was officially made a UNESCO World Heritage Site on July 6th 2019.
Have you been to Bagan? What did you think to it? Let us know in the comments.
More travel blogs from Asia