Spend 2 days in Bangkok, and visit the major attractions of the Thai capital at an easy pace. This Bangkok itinerary is the perfect way to discover Bangkok in two days.
Is 2 days in Bangkok enough?
As you can imagine, two days in Bangkok are barely enough to see everything the city has to offer. As such, I've selected some of what I consider to be the Bangkok must see attractions.
With suggested itineraries such as this two day Bangkok one, something inevitably has to be left out. For that reason, I've also included other activities that you might be interested in if you are staying longer at the end of the guide.
In fact, we spent 10 days in Bangkok as part of our trip to Thailand and Asia, mixing work and sightseeing. My answer to how many days in Bangkok would be enough would honestly be five. But if you're on a time limited schedule, two days in Bangkok is definitely better than none!
Bangkok Tour Guide
If time is tight, and you want to see as much of Bangkok as you can, you might want to consider and organised tour. With that in mind, I've included links to relevant Bangkok tours underneath each suggested itinerary item.
Taking a tour in Bangkok will give you the benefit of all transport being arranged for you, and the expertise of a guide. The downside is I always find these tours a little rushed. The choice is yours!
** Flexi Walking Temple Tour: Grand Palace, Wat Pho, Wat Arun **
Travel tips for spending two days in Bangkok
Conveniently, most of the main sights in Bangkok are located in one area, the Old City or Rattanakosin. Therefore, if you only have 2 days in Bangkok, it makes sense to stay in that area.
If you can't stay in or near the area, make sure to choose a hotel in Bangkok near a metro line. You'll also want to download the Grab taxi app for your phone. Getting a taxi has never been easier in Asia, and you can even get a Grab moped if you're travelling by yourself!
Other things to consider: You will need to take into account the crazy traffic, Bangkok's notorious traffic jams, and be prepared for tropical rain and high levels of pollution. You might also need to think about jetlag if you've had a long flight in.
Bangkok Two Day Itinerary – Day 1
Be cautious with your time, get an early start, and you'll find this Bangkok travel guide pretty easy to follow. I've also included rough timings so you can estimate how long to spend in each place.
Ready? Let's get started and discover Bangkok – Thailand's capital!
1. The Grand Palace in Bangkok
Opens at 8.30. Allow at least a couple of hours.
Begin the first of your 2 days in Bangkok by getting early to the city's most popular site, the Grand Palace. Upon arrival, be prepared to face strict checks in terms of clothing.
To avoid embarrassment and wasted time, make sure you are appropriately dressed and that your knees and shoulders are covered.
If you are seriously stuck, it is possible to rent some clothes from a booth near the entrance, but you will need to leave a deposit.
To respect customs, it's required that you remove footwear when you are visiting the Grand Palace. Socks seem to be an option for some people.
My opinion is that you'll be removing your footwear so often to enter places when visiting temples in Bangkok, that you might as well just wear flip flops to make life easier.
About the Grand Palace in Bangkok
The Grand Palace complex is one of the most important landmarks in Asia, and a must to include on a Bangkok trip itinerary.
The Grand Palace was built in 1782, and served as the home of the King of Thailand, the Royal court, and also as the administrative seat of government. It is a vast complex, part of which is today closed to visitors.
The parts that are open are stunning, and you can see a lot of beautiful architecture and art – after all, that was the home of the King. Make sure you allow enough time to check the intricate wall decorations, especially close to the Palace entrance.
Inside the complex, you will see several temples and pagodas, including a model of the Siem Reap temple in Cambodia. The most notable temple in the Grand Palace is the temple of the Emerald Buddha, where photos are not allowed.
The Emerald Buddha statue is actually quite small, but it's one of the most important statues of the Buddha in Thailand.
Allow at least a couple of hours in the Grand Palace in Bangkok – it is likely to be quite crowded, so if you are interested in taking good photos, you will need to be patient.
After visiting the Grand Palace, don't miss Queen Sirikit Museum of Textiles – even if fashion and textiles are not really your thing, spending some time here is absolutely worth it.
Pro Tip – By all means bring some water (and even snacks) with you when you visit the Grand Palace, but you will be pleasantly surprised to see that they offer free refills of water, so make sure you are carrying a bottle with you.
For more information, you can visit the Palace website.
2. The Reclining Buddha In Bangkok – Wat Pho Temple
Arrive at 11.00, allow an hour or so.
After wandering around the Grand Palace, you can visit the temple of the reclining Buddha which is only a short walk away.
People call this temple Wat Pho, but its full name is a lot longer – no need to try and remember it! But if you insist, the full name is Wat Phra Chetuphon Vimolmangklararm Rajwaramahaviharn… I warned you.
Wat Pho is one of the largest and oldest religious complexes in Bangkok. Alongside the various temples, chedis and pagodas, there are also quarters for monks, a school and a school for traditional medicine and massage.
Even if you have been to Southeast Asia before, and you've seen many Buddha statues, reclining or not, you must definitely include this one in your 2 day Bangkok Thailand itinerary. At 46 meters long, it's not the largest reclining Buddha in the world, but it's definitely one of the most intricate and ornate ones.
It's worth paying special attention to the 3-metre soles of the feet of the Buddha. They are decorated with mother-of-pearl, and you can see several symbols such as white elephants, tigers and flowers, by which the Buddha can be identified, as well as circles representing chakras.
Tips for visiting Wat Pho
In our opinion, visiting Wat Pho temple was one of best things to do in Bangkok in 2 days, and this was probably our favourite temple in the city.
We spent a little more than an hour in the complex. Walking around, we found that several areas were relatively tourist-free. We even came across the monks praying, which was really cool.
Like in all Buddhist temples, your shoulders and knees should be covered when you visit, and you must take off your shoes and socks and leave them outside the temple.
You can check out more information about Wat Pho here.

3. Crossing Chao Phraya River
At this point, you will probably be hungry. I have to admit, we weren't impressed by the food options in this area, so there is no place in particular I could recommend from personal experience.
There are, however, a few cafes and restaurants close by, such as Elefin coffee and Err, where you can rest your feet for an hour. If you are not tired, you can pop in Tha Tien market for a couple of snacks or a juice, and continue exploring Bangkok.
And now comes the fun part of the day – taking the boat to Wat Arun, which is the next stop in your Bangkok itinerary.
There are several types of boats going up and down the Chao Phraya river, to suit all budgets and levels of comfort.
We decided to take the budget option – the local boat. At 4 THB (about 10 cents of a euro) per person, it was actually fun to use, and it took less than five minutes to cross the Chao Phraya River and get us to Wat Arun.

4. Wat Arun temple in Bangkok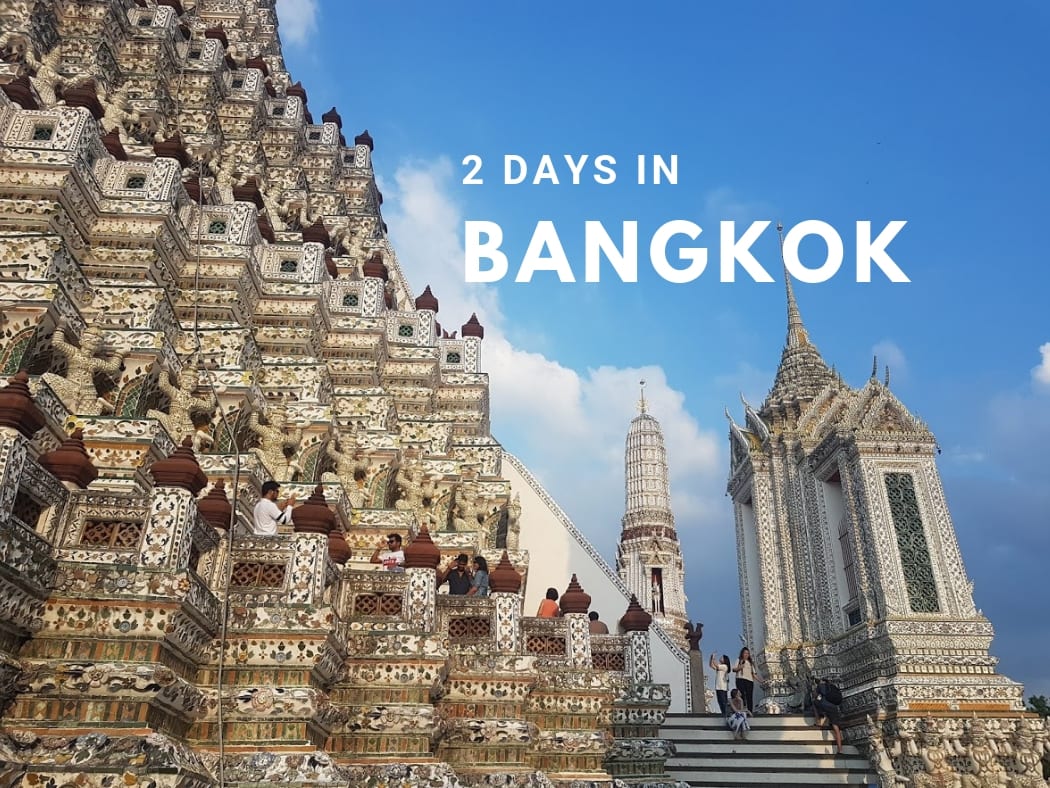 Arrive at 13.00 – 13.30, allow an hour.
Wat Arun, or the temple of Dawn, is definitely one of the most important places to visit in Bangkok in 2 days. This massive structure is reported to be between 67 and 86 metres tall, but it looks absolutely massive, even from the opposite bank of the river.
The temple has stood there for several hundreds of years, and it once hosted the statue of Emerald Buddha, which is now within the complex of the Grand Palace.
It has been restored multiple times, and although we found the decorations a little crude, the overall site is very imposing. The structures are white, decorated with colourful tiles, and seemed to be extremely popular with Thai women making selfies.
Tip – Some of the stairs are quite steep! So if you have mobility issues or vertigo, it might be best to skip climbing up Wat Arun.
For more information on Wat Arun temple, you can check out their website although it looks a bit out of date – when we were there, tickets were 50 THB per person.
You can now get the boat back to Tha Tien. There are also boats that can take you further up the east bank of Chao Phraya River if you want to have a longer boat ride. Ticket prices start from about 15 THB per person.

5. Golden Mount Temple – Wat Saket
Arrive at 15.00 – 15.30, allow an hour
From Tha Tien pier, take a Grab taxi. We used this app in multiple occasions in most countries in SE Asia, and found it super easy and convenient to use.
Note that you might need to walk a small distance, as taxis aren't allowed to pick up or drop off people in some areas of Bangkok.
Although the Golden Mount was high on our list of things to do in Bangkok in 2 days, when we arrived there it was so hot and humid that we decided to leave it for another day – and then never returned. But if you want great views of Bangkok, the Golden Mount Temple is definitely ideal.
The Golden Mount is free to visit, but you need to be prepared to walk up the hill and stairs barefoot. On top of the temple, there is a viewing platform, from which you can take in views of this huge sprawling city.

6. The Metal Castle – Loha Prasat – Wat Ratchanatdaram
Arrive at 15.00 – 15.30, allow a half hour
If, like us, you decide to give Wat Saket a miss, you can always cross the street and go to Loha Prasat instead. The 37 metal spires, representing the 37 virtues towards enlightment, are pretty impressive and quite unique architecturally.
Bonus – the site is fairly quiet – we didn't see one single tourist.

7. Lumpini Park
Arrive at 16.30 – 17.00, stroll around for an hour or so
By now, you may have had enough of sightseeing in Bangkok. If the weather allows, a great option for your early evening is to go to Lumpini Park and see local life in one of the few open public spaces in Bangkok.
From Wat Saket get a Grab taxi, and get to the park. As you walk around, you are likely to see the locals exercise – when we were there we saw literally everything from tai chi, to a full-on aerobics class!
If you are in the park at 6pm, you will hear Thailand's National Anthem come up. Like everyone else, stay still for a minute or so to pay respect to Thailand's King, a very prominent and revered figure.
Things to do in Bangkok at night
Still have energy to burn? It's time to see what nightlife Bangkok has to offer! Here's a couple of suggestions on some things to do at night in Bangkok.
**Bangkok by Night Tuk Tuk Tour: Markets, Temples & Food**
8. The famous Patpong area and the ping pong shows in Bangkok
After you've left Lumpini Park, it's time to have some dinner and then hit one of Bangkok's best known and most touristy places to see: Patpong.
If the name doesn't ring a bell, you should know that Patpong is Bangkok's world-famous red-light district area for go-go bars, Thai ladyboys and many obscure strip shows, including razors, ping-pong balls and other everyday items used in strange ways – so I've heard.
Alongside the numerous night clubs, there is also the Patpong night market, where you can find souvenirs and Thai clothes at prices that are likely higher than in most other markets.
Depending on your style of travelling, your interests and your mood on the evening, you might decide to check out one of those shows – I didn't, so I don't have my own opinion.
As a side note, the area feels absolutely safe, and you are likely to see some policemen – there are areas in several European cities that feel a lot dodgier and seedier.
However, if you visit any of the bars, beware of the common scams, such as buying the ladies a drink. You might end up being ripped off before you realize.
Related:
9. Rooftop bars in Bangkok
If Patpong and ping pong shows don't really appeal, don't worry – there are plenty of other things to do in Bangkok at night.
As an example, you can visit a rooftop restaurant / bar. The Vertigo bar, close to Lumpini Park, is one of the best choices as it's on the 61st floor and you will have a great sunset / night view of Bangkok.
Bangkok Two Day Itinerary – Day 2
After having seen the main tourist attractions, there are still plenty of things to do in Bangkok on day 2. One of the most interesting areas to visit is definitely Bangkok's Chinatown, a large area full of markets, shops and Chinese restaurants.

10. The Golden Buddha – Wat Traimit
Opens at 8am. Allow a couple of hours and definitely check out the museum (closed on Mondays).
On your second day in Bangkok, start by visiting the Temple of the Golden Buddha, Wat Traimit. This particular Buddha statue is not just golden coloured, like many other Buddha statues you are likely to see in SE Asia, but it is actually made of 5,5 tons of real gold.
The statue was originally made around the 13th century, and was subsequently covered in plaster and stucco to prevent thieves from knowing its actual value. It definitely served its purpose – after several decades, the value of the statue was forgotten by everyone!
Rediscovering the Golden Buddha
Around the beginning of 19th century, the plastered statue was moved to a temple in Bangkok that eventually got abandoned in 1931, and therefore it was decided that the statue be moved again to Wat Traimit, its present location.
In the process of moving the statue, parts of the plaster came off, and the gold was exposed. Imagine the people's surprise when they realized that the whole statue was made of gold.
The Wat Traimit complex also hosts an exhibition about the history of the Chinese community in Bangkok.
This section alone needs at least an hour, and provides a lot of information about the first Chinese immigrants who came to Bangkok, and how many of them became wealthy and successful. It offers a great introduction to the next activity of the day.

11. Bangkok's Chinatown
Walk around for an hour or two.
Get out of Wat Traimit temple, and you are a five minute walk from Bangkok's Chinatown, which is a feast for the senses! A huge food market with anything you can (or cannot) imagine, shops, random curios, a temple here and there and people, lots of people.
Chinatown seems to be busy at any time of day, as some people are out shopping and others seem to be just hanging around. This is a great place to do some spice shopping. If you are interested in temples, make sure you visit Wat Mangkon, Dragon Lotus Temple.
There are several Chinese restaurants in the area, and obviously this is one of the best places to have Chinese food in Bangkok.

12. Shopping Malls in Bangkok
After lunch, it's time to see the city's more modern side. You might not have realized before visiting Bangkok, but the city has several HUGE shopping malls. Even if you are not the shopping mall type, and even if you are not planning to do any shopping in Bangkok, it's worth popping in one or two malls just to check them out.
Some of the most impressive shopping malls in Bangkok are Siam Paragon (luxury), MBK (tourist / cheap stuff), Terminal 21 (somehow innovative), Emporium (upmarket), Central World, Asiatique… the list is endless, and they all have something unique to offer. With 2 days in Bangkok, you will likely have time for just one mall, so make your choice.
Most shopping malls have food halls where you can have a meal, snack or juice, as well as more upmarket restaurants. In some malls, you will need to buy a token first, and then hand it over to the kiosk where you want to have your meal. Make sure you bring a jumper, as the air-condition can be lethal.
From Chinatown, you can use Bangkok's combined metro system to get to one of the malls. There are two main lines in Bangkok, the MRT (marked on Googlemaps with dark blue) and the BTS (marked on Googlemaps with two shades of green).
From Chinatown, walk to Hua Lamphong MRT station, and buy a single token to Sukhumvit, which is connected to Asok station on the BTS line. Now you can either visit Terminal 21 Bangkok, which is right there, or take the BTS to one of the more luxurious malls, like Siam Paragon.

13. Asiatique Bangkok – Night Market And Muay Thai Show
Arrive at 18.30 – 19.00. Closed on Mondays.
In the evening, it's worth checking out a Muay Thai show at Asiatique Bangkok. These popular shows are a mix of acting and acrobatics, as they combine the ancient martial art of Muay Thai with a theatrical element. The show is on daily, apart from Mondays. It begins at 20.00 and lasts for an hour and a half, so make sure you get there in time.
After the show, stroll around the Asiatique Night Market, where you can hang around and also get a late snack if you want.
To get to the Asiatique Bangkok, take the BTS to Saphan Taksin and then take the free shuttle at the end of the pier. Note that the last boat back to the BTS is at 23.00, but if you miss it you can always take a taxi or Grab.
What To Do In Bangkok Thailand with more days
While many people go to Thailand for the quiet islands such as Koh Jum, beaches and nature, city lovers will definitely appreciate the variety that Bangkok has to offer in terms of culture, shopping, markets, night markets, street food stalls, massage places, and Bangkok's special nightlife.
So I'm listing below a few more activities that you might find appealing, depending on your interests.
Bangkok National Museum and Bangkok National Gallery
Closed on Mondays and Tuesdays
If you visit both those places, located close to each other in Rattanakosin, you will be unlikely to have energy for much more culture during the same day. If you want to understand a little bit more about Thailand's history and culture, it's a great combination of museums to visit in Bangkok. They are also ideal places to visit on a very hot or rainy day.
Note that they are both closed on Mondays and Tuesdays, which means that you could also visit if you had a weekend in Bangkok.
Queen Sirikit Gallery
Closed on Wednesdays
This was one of our favourite places to see in Bangkok. When we visited this gallery we were pretty much the only guests, which was a shame as it was really a great collection of artworks.
Even if you are not really into arts, you will definitely appreciate the peace and quiet, as well as the air-condition. Seriously though, try to fit it in your Bangkok itinerary, as it will give you a new perspective to Thai art.
The Amulet Market and Khao San Road in Bangkok
No particular reason to go
Among the things to see in Bangkok in 2 days, both the Amulet Market and Khao San Road are often mentioned. Unless you have a particular interest in fake dusty Buddha amulets, or are intrigued by backpacker districts around the world, I personally wouldn't see the reason in visiting those areas, unless of course you happen to be staying close by.
Weekend In Bangkok – Chatuchak Weekend Market
If you are in Bangkok for the weekend, you will probably enjoy visiting Chatuchak weekend market. Primarily designed for tourists, Chatuchak is a large market with clothes, souvenirs and jewellery, but also random goods. Worth spending a couple of hours.
Food In Bangkok – Or Tor Kor Market
Close to Chatuchak Market, there is a food market called Or Tor Kor. Here, you can find good quality fruit and veg, snacks, and cooked meals at hawker stalls, for a fraction of the price of Bangkok's restaurants.
Traditional Food Market In Bangkok – Khlong Toey Market
If you are in Bangkok for a few days and are looking for an authentic shopping experience, look no further than Khlong Toey Market.

This huge market has an incredible variety of fresh produce, from meat to fish to fruit to veg to anything you can imagine. You can also find cheap clothes, random household items, various other goods and the occasional rat.
Wear closed shoes and bring a shopping bag, as you are bound to buy some cheap fruit and veg.
Visit Bangkok In 2 Days – Bangkok Private Tours
If you are overwhelmed with the options of what to do in Bangkok for 2 days (I don't blame you!), you might be interested in checking out Bangkok Private Tours. I've listed below some of the best private tours you can take in Bangkok, to make sure you make the most of your 2 days in Bangkok.
Why we didn't visit a Bangkok floating market
Visiting one of the floating markets in Bangkok such as the Saduak floating market often features in a 2 day Bangkok itinerary.
With only two days though, something has to give, and so we decided to skip it.
I'd previously visited Bangkok about 15 years previously, and remember it was quite touristy then. I can't imagine the floating market has become more authentic since then!
Still, if you think it's a must do in Bangkok, consider putting a visit to a floating market on your list.
Where to stay in Bangkok for 2 nights
There's an abundance of accommodation to choose from in Bangkok. Here's a few Bangkok hotel deals to get you started. Remember, it's best to stay either near the Old City, or close to a metro line!


Delicious Thai food to try
You're going to need to eat to keep your energy high when visiting Bangkok! Here's some Thai food to try whilst you're there.
Pad Thai (Thai Style Fried Noodles)
Pak Boong (Morning Glory)
Tom Yum Goong (Spicy Shrimp Soup)
Som Tam (Spicy Green Papaya Salad)
Gai Tod (Fried Chicken)
Is Bangkok or Chiang Mai better for digital nomads?
During our trip through Asia, we spent 10 days in Bangkok and then 3 weeks in Chiang Mai. Both are suitable for digital nomads looking for a base to work from, although Chiang Mai just edges ahead.
Whilst we were based in a nice quiet part of the city, I found Bangkok to be rather noisy overall. Also, the air quality wasn't so great.
Chiang Mai on the other hand is a little more laid back, and set up for the digital nomad scene. The only thing it lacks, is a beach!
Onward Travel from Bangkok
Bangkok is a natural hub from which to travel to other parts of Thailand and Asia. Often times, finding information can be difficult regarding buses and boats.
What to see in Bangkok Thailand
Pin this 2 days in Bangkok must do list for later, or share it with your friends who may be planning on visiting Thailand. If you are planning your own trip, and have any questions, please leave them in the comments below.
What to see in Bangkok in 2 days FAQ
Readers who are planning a sightseeing itinerary in Bangkok for a few days often ask questions similar to:
Is 2 days enough for Bangkok?
Bangkok is a very large city, and while spending two days seeing the main highlights is a good way to experience Bangkok, a few more days would be better. Taking 2 days in Bangkok will give you a taste of its history, temples, and atmosphere, but there will be a lot more left to see!
How to plan 2 days in Bangkok?
When planning your travel itinerary for Bangkok, you'll want to allow time to see the most important places such as the Grand Palace and Wat Phra Kaew (Temple of the Emerald Buddha), Wat Pho (Temple of Reclining Buddha), and Wat Arun (Temple of Dawn). In the evenings, check out street markets and tasty street food!
What to do in Bangkok for 48 hours?
For a 48-hour trip to Bangkok, you should visit the Grand Palace, explore the temples, take a boat tour of the Chao Phraya River, shop at Chatuchak Weekend Market, try the street food, and visit a rooftop bar. These activities offer a taste of Bangkok's rich culture, history, and food scene. You won't be able to see everything, but you can experience some of Bangkok's most popular attractions.
How many days is ideal for Bangkok?
The ideal length of a trip to Bangkok depends on how much time you have and what you want to do. If you want to see the major sights, experience the food and culture, and shop at the markets, 3-5 days in Bangkok is ideal. This will give you enough time to see the famous temples, visit the Grand Palace, explore the markets, and try the street food. However, if you have more time, you can explore Bangkok at a more relaxed pace, take day trips to nearby attractions, and soak up the atmosphere of this vibrant city.
---