When I reached the town of Tupiza in Bolivia on my bike tour, I took some time off to work online. This is my first blog post from my time in Tupiza Bolivia.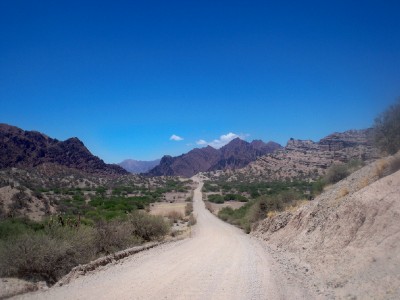 Tupiza in Bolivia
Blog post written October 27th 2010
Today was a day off in Tupiza. I wanted to get my bike looked at, which I did. (result!). The slight front wheel wobble is due to a badly molded tyre.. not great as these 26 * 1.75 tyres are incredibly hard to find.
Am hoping what I have will last until Argentina, which in my mind is a land of endless resources… guess I will see about that!
Related: Best bike touring tires
Tupiza is a lovely place, and I hope to write another budget travel guide about it, as I did with the one about Uyuni. On a positive note, the big paying Freelancer job is kicking off now… this means that I should earn a nice looking sum of cash to last me until the end of the trip.
As such, I will be taking up to a week off in Tupiza to get this writing done. This is a bit of an experiment for me… It will either work lovely, or prove to be a bit of a nightmare… Lets see what happens!
Related: Beginners jobs for digital nomads
In the mean time, I will be updating by Twitter quite often, and maybe tidying up some of the site, as well as adding some pages behind the scenes.
Read more about cycling from Alaska to Argentina