Join the Big Resignation and kick start your location independent lifestyle with this great ideas on digital nomad jobs for beginners.
Desperate to unplug the umbilical cord keeping you attached to one place, and ready to embrace the digital nomad lifestyle?
Want to quit your job to travel?
Not sure how to become a digital nomad with no experience?
This guide is for you!
Let's take a look at some jobs suitable for aspiring digital nomads, so you can start living the laptop lifestyle!
First of all though, let's define what a digital nomad job actually is.
Digital Nomad Job Types
At its very core, any job that can be performed no matter where you are in the world (well, anywhere with an internet connection), can be classed as a digital nomad job.
The benefits of being a digital nomad, are you can work from anywhere and see the world at the same time. Combined with slow tourism, it's a great lifestyle!
These types of jobs could then be split into 3 sub-sections. Remote working for one employer, self-employed but contracting to clients, a business owner working for yourself.
Remote Working For An Employer
Up until three years ago, employers were reluctant to let their employees work from home or in different locations around the world. Thanks to C-19, companies have started to be a little more flexible.
While some companies are encouraging their workers to go back to the office, others are continuing to let people work from home or any remote location.
Perhaps your digital nomad journey could begin by simply asking your current employer if you can go remote?
Digital Nomad Contractor
Most digital nomads tend to fall into this category. People who have the flexibility to work for themselves, and at the same time pick up contracts with clients as they travel around the world.
The most common form of contracting is as an online marketing or web developer freelancer. Typically, nomads who fall into this category have several different clients.
Digital Nomads with no clients (Own business)
A rarer group, is people who have no clients. You could say that I fall into this group, as I write and develop this blog (which is an online business) without working for anyone else. More common examples are currency and crypto traders, income investors, and affiliate marketers.
Which type of digital nomad is best?
Each one has its advantages. The remote worker may be guaranteed a regular income, the digital nomad contractor area is easiest for beginners, while working with no clients at all provides the most freedom.
Now that's covered, lets look into a little more detail of some of the best jobs for digital nomads.
Online English Teacher
If you are an English first language speaker, there's always opportunity to teach lessons online. At the moment we're seeing a surge in popularity of online English teaching.
Some of the most popular platforms where you can sign up as a teacher include:
English First
Learnlight
italki
SkimaTalk
Cambly
Tutoring
Open English
Preply
Verbling
Verbalplanet
English2Go
Translator
Are you fluent in two languages? There might be an opportunity for you to work as an online translator. People often need conversations or documents translating, and as good as some automated translators like Google are, they are lacking in finer details.
Social Media Manager
This is one of the more common digital nomad jobs, great for those with an eye for social media. Many businesses are happy to have someone else take care of their social media marketing, which typically involves running advertising campaigns and building up followers.
Social media management might not be something you're passionate about, but if you have some knowledge in this area , it's a great way to make some online income while you travel.
A specialist role such as this one, could also lead to more opportunities for work and better pay in the future. Some social media managers transition into building online marketing campaigns and learn new skills such as creating advertising campaigns.
Start building up your client list and reputation with smaller clients, and over time you'll be able to grow relationships into bigger projects or full-time employment.
Virtual Assistant
One of the entry level jobs with few barriers is to find a virtual assistant job. As you start looking for work as a digital nomad, you'll see a lot of people asking for virtual assistants. It can be of a catch-all title, with tasks varying from data entry, to customer support.
If you're a hard worker with good communication skills, this could be the ideal location independent job for you. You need to be able to complete tasks on time and provide regular updates about your progress.
One note: These positions tend not to be the best paid, but it is something to get you started along your journey.
Content Writing
If you are a good writer and have a passion for writing, becoming a content writer could be the ideal digital nomad career. You can easily find work that involves writing articles or blog posts for companies online.
You can start from the bottom on sites like Fiverr, but you really want to get yourself a stable of higher paying clients as soon as you can.
The beauty of this job is that it's location independent. The only downside to working in this field is that it is quite cutthroat and prices are not always great.
Copywriting
In a way this is similar to content writing, but it is more targeted at marketers and advertising companies.
Copywriters need to be good with words, and have a solid understanding of their target audience in order to produce compelling advertisements or sales pages.
There are also opportunities to work as a freelance copywriter for other small businesses online. I know several digital nomad friends who started out in this way before transitioning to other roles later on.
SEO Specialist
Do you know what makes web pages or a website rank? Can you offer clients provable results when it comes to search engine optimization? If the answer is yes to both of those questions, you might have a future as a SEO specialist.
SEO companies and/ or small businesses are always on the lookout for skilled individuals with practical knowledge in how search engines work.
Of course, the question is, if you are an SEO Guru, why work form someone else when you could build your own portfolio of websites that rank highly and earn you a regular passive income?
Programming/Software Development
If you are tech savvy and can write code, programming could be an excellent option that might enable you to earn good money while traveling the world! A lot of existing coding jobs can now be done remotely by freelancers, especially if non-specific languages like PHP and generic back-end web development skills apply.
Graphic Design
If you are artistic, consider getting into graphic design. The demand for people experienced in the field is growing every year.
It's fairly easy to find clients on sites like Upwork and Fiverr. You can even sell your services on websites such as Etsy and Cafe Press if you want to pursue graphic design as a business.
Video Production or Video Editing
You may not be aware, but a lot of video content for affiliate marketers and business owners is outsourced.
This means that it's really easy to find work as a location independent video production freelancer. You'll just need to show your past experience in the field (which can easily be shown on your YouTube channel or website if you have one).
Start a YouTube channel
Why not document your journey as a digital nomad in a series of vlogs? If you can become a top-rated YouTuber or influencer, companies will start seeking you out for sponsorship deals.
You could also make money through advertising revenue by running your channel as a business. This can be a good way to earn while traveling abroad, but it's very competitive so don't rely on this paying off in the early days. Think of it as an investment in the future.
Internet Marketing (SEO, SEM)
Tons of companies need to promote their products through various sites like Facebook and LinkedIn. If you have experience in Internet marketing techniques like paid adverts or content writing, why not offer your services online? These types of jobs are often offered on smaller specialist websites, but there's also a strong market for offering your services on sites like Upwork.
Build an online course
Possibly one of the best ways to make money while traveling is by creating your own online course! You could choose to teach people about a subject of interest to you, or stick with more tried-and-tested material like how to blog, SEO, or Internet marketing techniques.
Getting started can be tough though -do some research first! And always create something useful which you would actually want to buy yourself. Don't fall into the trap of thinking that just because it's an ebook and only takes you a couple of days to produce that you can generate instant revenue.
Always think long-term and try and produce something really high quality instead of just churning out low quality material.
Cryptocurrency Trading
There is a lot of money to be made trading cryptocurrency if you know what you are doing! The downside though, is you could lose if you don't know what you are doing. Stay away from leverage – this has the potential to cut short your digital nomad lifestyle if you get stopped out!
The beauty of making money from cryptocurrency trading is that it can all be done remotely from anywhere in the world if you have a stable internet connection.
Completing online surveys for money
There are several websites out there that will reward you for taking part in market research and social media polls. This isn't exactly a permanent career for remote workers, but can provide additional income to supplement freelance jobs. Keep in mind though, you won't be able to do this full-time!
Becoming an Online Coach or Mentor
If you have passion for something and are good at it, why not use your skills to coach others? Digital nomad lifestyles are about applying the 80/20 rule to everything. 20% of effort into work that you enjoy can earn you 80% of the rewards. This is how many digital nomads make enough money to live a location independent lifestyle -by focusing on things they're really good at doing.
Dropshipping
Dropshipping is when you sell items for a company without having to stock the products yourself. For example, you could have an online store where you advertise products from other retailers who drop ship their products directly to the customer. You would earn commission on every sale made through your website.
There are many eCommerce platforms which allow you to create an online store quickly and easily – Shopify, Magento , BigCartel etc . One of the best things about dropshipping is that once your store is set up, it can be completely automated with little maintenance needed day-to-day (although there will still be work required such as customer support).
Voice Acting
A slightly more quirky way to support your digital nomad life is to do voice over work. There is a lot of demand for voice actors from companies from all over the world. As long as you have a good microphone, this can be done anywhere with an internet connection!
Become a Virtual Assistant
Virtual assistance jobs are becoming more and more popular as people realize they don't need to work in an office anymore. The digital nomad lifestyle enables people to hire virtual assistants online who can help them run their business remotely.
A virtual assistant might do a range of task for other people. For example , you could help someone with social media marketing, writing press releases , video editing, proofreading, web research and even managing their accounting!
Building Websites for Other People
If you have experience in building websites or can learn quickly, why not offer your services online? There are many people who would benefit from having a website to help promote their business but simply don't have the necessary skills. This is where you come in!
You could build websites for others remotely, or even create prepaid hosting packages which customers pay for monthly . Many companies are looking for remote workers to help them with their projects.
Data Entry Jobs
When it comes to beginner's remote jobs, data entry jobs are usually the best option. You might think that there's no demand for data entry work anymore with technology advancing at such a rapid pace, but this is actually far from true
Data entry jobs are in high demand for many reasons – one being they don't require any specific skills or qualifications. For example , you could find work doing data entry remotely for a company in the USA, without ever having to leave your home country. This allows you to earn an income remotely while supporting yourself around the world .
Data Entry jobs are also great because they can be completed at any hour of day or night.
Transcribing
AI hasn't totally taken over transcribing audio and video. There is still a lot of demand for human transcriptions. If you're not familiar with this work, it involves listening to an audio or video recording and writing down what's being said .
For example, if someone were to record themselves speaking at a conference , you could transcribe their speech. This might then be used in a blog post on the client's site.
Beware, that transcribing is not as easy as it sounds! You'll have to be patient and a good listener in order to make a high quality transcript.
Accounting
There's always demand for people who can help with accounting . With the digital nomad lifestyle, you could travel around the world while working remotely as an accountant! As long as you have quick access to your accounting software , you can do your job anywhere.
There's a great opportunity for steady income when you get a good client base, and accountancy really can be the perfect online job for freelancers and small business owners.
Customer Support
Customer support roles are often low paying, but they're perfect for location independent jobs because it doesn't really matter where in the world you are if you're dealing with people on the other end of a phone or online.
House Sitting
OK, so technically this is not a job you do online, but you could combine house sitting with working online. This way not only are you getting income when you work remotely, but you're also getting your accommodation for free as you travel!
Blogging
Did you know you can make good money blogging? If you set it up right, it can be a great way to earn passive income online which makes it a great digital nomad job.
Take this blog for example. I've been a full time blogger since 2015, and earn good money. (Unlike some other travel bloggers I don't say how much I earn. Let's just say that I don't really need to work at all and leave it at that!).
Photographer
Are you a keen photographer that really knows what they are doing? There's plenty of ways you can combine your skills with remote work. For example, one popular option is to become a wedding photographer. If you enjoy documenting people's moments on camera , this could be perfect for you!
You could also see if selling stock photography is a good idea for you. You could take photos and sell digital copies to stock photo companies around the world .
Start a Podcast
Podcasting can be a great remote job, but it might take a while to build up a profile big enough to monetize it to a reasonable method. A little like vlogging, you may need to treat this as a side gig until it takes off.
Easiest Digital Nomad Jobs and Lifestyle FAQ
Readers looking for ways to kickstart their digital nomad careers often ask questions similar to:
How do I start a digital nomad career?
The first step is to identify what skills you have that can benefit people online. Freelance writing, digital marketing, and data entry are all examples of skills you can do for potential clients.
What kind of jobs do digital nomads do?
Almost any job that doesn't involve being in the same room as the client can be done remotely and is therefore suitable for digital nomads. Some ideas for the best digital nomad jobs include freelance writer, managing accounts on social media platforms, transcription jobs, and taking an online language teaching job.
How can I become a digital nomad in 2022?
As long as you have online skills, it's possible to become a digital nomad in 2022. Once you've identified which online skills best suit your interests, find work that matches those skills thanks to the Internet.
What are the best digital nomad jobs?
The absolute best digital nomad jobs are those that produce recurring streams of passive income and no commitment to a schedule. This way you are free to enjoy the benefits of the digital nomad lifestyle will none of the drawbacks of a traditional job.
What online businesses can a digital nomad do?
Ideas for businesses you can run from anywhere include a blog, a consulting business, and an online store. There are also many online jobs that don't require much commitment to the hours you're working.
You might also want to read:
---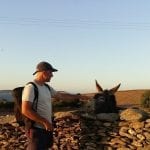 –
Dave Briggs
Dave is a
travel writer
who has been blogging at Dave's Travel Pages since 2005. In addition to this look at what digital nomads are most suited for beginners, he's written hundreds of other blog posts and travel guides which you can find by using the menu and search options. Follow Dave on social media for travel inspiration from Greece and beyond: