The Ghorepani Poon Hill Trek is a popular short trek in the Annapurna region of Nepal. This guide to hiking the Ghorepani-Poon Hill trail is based on my own experiences there.

Trekking in Nepal
Nepal is well, the Nepal of trekking. The enigmatic and rugged Himalayas cry out to be explored on foot. There are numerous trails that one can take, from short day hikes to epic multi-week treks. For someone like myself who loves the great outdoors, it's easy to imagine setting off with a backpack for a month or two. Alas on my recent trip to Nepal, there wasn't the time though. Instead, I went out on the Ghorepani Poon Hill trek. This is a popular 4-5 day hike in the Annapurna region of Nepal.
The Ghorepani Poon Hill Trek
The Ghorepani-Poon Hill trek is often thought of as one of the more accessible treks in Nepal. You don't need any technical skills, there are plenty of teahouses/resupply points along the way, and it follows well-maintained paths. I would tend to agree with this assessment.
Sure, it has its moments, such as hiking up the 3000 or so steps to Poon Hill for the sunrise at 04.30 am, but with a little grit and determination, 99.99% of people that start will finish the trek with a smile and sense of accomplishment. Ok, I made that statistic up, but you get the picture. Don't expect it to be a stroll in the park, but this is a challenge that most people can rise to, even if it nudges the comfort barrier occasionally.
In short – The Ghorepani Poon Hill trek is suitable for anyone with a moderate level of fitness.
What is the exact route of the Ghorepani Poon Hill trek?
There are many variations of this classic short trek in Nepal. Most of them don't start in Ghorepani or end at Poon Hill! Our version began in Nayapul, and ended in Kimche. This was our route for the Ghorepani Poon Hill trek:
Drive from Pokhara to Nayapul (1 hour) -Trek to Tirkhedhunga (4hrs trek) O/N Basic Guest House
Trek to Ghorepani (2987m, 6hrs) O/N Basic Guest House
Hike to Poonhill (3210m, 1hr) -Trek to Tadapani (2600m, 5hrs) O/N Basic Guest House
Trek to Ghandruk (1940m, 7hrs) O/N Basic Guest House
Trek to Kimche (30 min) -Drive to Pokhara (3-3.5 hrs)
In actuality though, the logistical start and end point is the Himalayan gateway city of Pokhara. If you are taking an organised trek in Nepal, you won't need to worry about the transport arrangements from and to there. If you are planning the trek as a self-supported adventure, you will need to arrange transport from and to Pokhara.
It's at this point I break everything down day by day, and share with you my experiences of hiking the Ghorepani Poon Hill trek route. I've also included a meme of the day. Why? Well, firstly, a picture is worth a thousand words. That means a meme is worth a thousand + the number of words on it. That means I can write less! Secondly, it's my travel blog, and I can do what I want! Ok, here we go…
Day 1 – Hiking from Nayapul to Tikhedhunga
Nepal is a country of mountains and snow right? Well, that's half right. In May the distant mountains might have snow, but when hiking the Ghorepani Poon Hill trek, you are going to experience some heat! This was certainly the case as our group left Nayapul and began the hike to Tikhedhunga.
The route was uphill (or it felt it) for some if not most of the way, and we made frequent stops. For the most part, this four-hour hike was a gentle-ish introduction to hiking along the path, with no major obstacles or dramas to speak of. It was also an introduction to the fact that prices for goods on the Ghorepani Poon Hill trek were going to be more expensive than in Kathmandu and the rest of Nepal. It's perfectly understandable of course. After all, anything that makes it into a teahouse shop up here has been transported the hard way by man or donkey. Tim from Perceptive Travel makes some good points about how the fixed price system along the trek works. You can check it out in his Nepal Tea House Trek article.
Tikhedunga
When we arrived in the village of Tikedhunga, we were given our first introduction to the type of accommodation we would be using, namely the 'teahouse'. In every village we passed through, this basic form of accommodation was available. Rooms consisted of a couple of plain beds, and bathroom facilities were a shared shower and toilet. Compared to some of the places I have stayed when travelling, it was like the Ritz to be honest, especially as there was even a WiFi connection! They might be described as 'rustic' or 'basic', but they did the job in providing a bed, a roof over the head, and somewhere to eat. What more do you need?
Meme of the day after day 1 hiking the Ghorepani Poon Hill Trek
Day 2 – Hiking from Tikehedhunga to Ghorepani
I'll be honest with you, I don't remember much about the day. Nothing in particular stood out, but of course that doesn't mean that nothing happened! We were growing used to the routine of getting up early, having breakfast, and beginning the hike. We had a guide at the front of the group, and a guide at the back, so getting lost was not an issue. Our porters would soon pass us by, carrying 30kg packs. We would meet them again whenever we stopped for a tea break.
After the first tea break, the next stop would be for lunch, where a large helping of Dal Bhat would be in order! Most of the menus were the same in all the teahouses we visited. Between us, we must have tried everything on the menu, but a Dal Bhat was the meal that most people agreed was the best!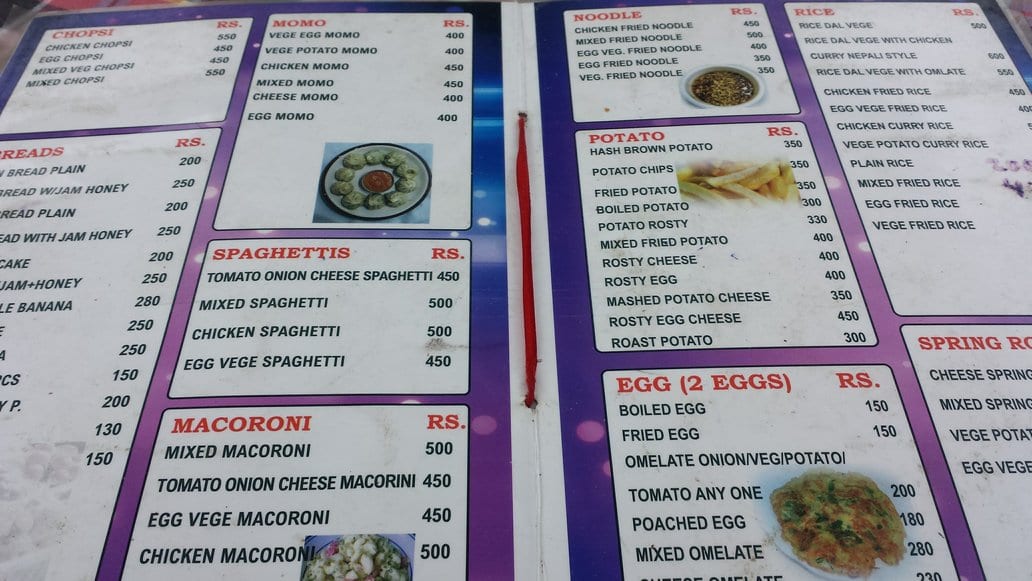 The destination of the day on this occasion, was Ghorepani itself. I just about managed to outpace the rain clouds, and was pleasantly surprised to be awarded with the pick of the rooms at the teahouse. An en-suite room with a double bed no less! Ok, it sounds a lot better than it actually was, but no complaints here. A good night's sleep would be needed for the super early start the next day!
Meme of the day after day 2 hiking the Ghorepani Poon Hill Trek
Day 3 – Hiking from Ghorepani to Poon Hill to Ghorepani to Tadapani
This is basically 2 days of hiking for the price of one, what with the 04.30am start and thousands of steps! The actual hike up to Poon hill is only about 45 minutes, but it's all uphill. Think of it like a really good workout on a Stairmaster! The idea is to arrive at the top before sunrise, so that you can see the majesty of the sun rising above the mountains.
Of course, that's assuming there is a clear day! I later found out, that it's only clear about 25% of the time. Never mind though – waiting for the sun to appear between the mountains and clouds was rewarded on several magical occasions during our time at Poon Hill. It's well worth the hike up there!
Second hike of the day
After descending from Poon Hill, it was time for breakfast, and then we hit the trail again. The destination of the day was Tadapani, and along the way we were rewarded with some great mountain views. Cue obligatory snow-capped mountain photo.
Accommodation was again in a guesthouse, where we ended up drying clothes around stove in the main room. Yep – the rain got me in the end!
Meme of the day after day 3 hiking the Ghorepani Poon Hill Trek
Day 4 – Hiking  from Tadapani to Ghandruk
The hike from Tadapani to Ghandruk was the longest day in terms of hiking (at around 7 hours), but rewarding on many levels. Whilst the hike itself was good, with many great views, it was the village of Ghandruk which made the day for me.
If you ever had an image in your head about what a village in Nepal should look like, this is probably it. We had some free time to wander around the place, and check things out. We were also invited to a community event by the women's committee of Ghandruk. This then morphed into a weird cross-over traditional dance night and party.
Think of a village rave where everyone, me included, throws shapes to a variety of music. There was some sort of traditional rap/battle of words session between men and women in Nepalese, and we also rocked out to classic hard rock songs at the end. There was a lot of strange things going on, made even more surreal by the fact that no one had been drinking. These people know how to party! What a great night! No photos from there, instead, you get one of me in front of the mountains!
Meme of the day after day 4 hiking the Ghorepani Poon Hill Trek
Day 5 – Hiking from Ghandruk to Kimche
There's not really much to say about today's hike. It was pretty much all downhill, as we headed to the jeeps waiting to take us back to Pokhara. A time to reflect, perhaps, on the experience we had enjoyed on the Ghorepani Poon Hill trek. The sights we had seen, people we had met, and challenges we had overcome. I was left with a feeling that it was all over too early, and that I wanted some more. I get that a lot when I travel!
Meme of the day after day 5 hiking the Ghorepani Poon Hill Trek
Video of the Ghorepani Poon Hill Trek
Here's a short video I made when hiking the Ghorepani-Poon Hill trail. Shout out to everyone in Adventure Group 2 who was there for #HTM2017 ! I hope you enjoy watching. Please thumbs up and subscribe if you do. Cheers! By the way, I've also created another article about things I learned from my trip to Nepal you might find useful.
Just a quick thank you to Royal Mountain and the amazing team of porters and guides who made the Ghorepani Poon hill trek so enjoyable. Maybe I will catch up with you next year, as I would love to complete a longer hike in Nepal!