Plan the perfect Greek island vacation with this guide to the best beaches in Milos Greece. There's over 70 Milos beaches to choose from!
Milos Beaches
With some of the best beaches in Greece, Milos is a perfect choice for a beach holiday destination in the Cyclades.
Often described as a good destination in Greece for couples, Milos gives you the chance to side-step the party scene of Mykonos, and see a more natural Greek island.
Use this guide to the best beaches in Milos to plan which beaches you'll visit and when. I've also included a summary of my personal favourites in case you want to check them out first!
Milos Beach Guide
If you are looking for a beach holiday in Greece, Milos is a great choice. With over 75 beaches to choose from, it offers plenty of options for a quick swim, or a whole day on the beach!
I spent over a week exploring as many of these beautiful beaches as I could so I could create this travel guide. As you might appreciate, it was a tough job, but someone had to do it!
In the end, I couldn't visit them all, but I'd like to think we experienced enough to showcase the very best beaches in Milos for you. The information about the ones we couldn't get to, we took from trusted locals.
If, like most people, you are visiting for just a few days, you will need to make careful choices to make the most of your holiday. Our guide for the best beaches in Milos can help you out!
Our favourite beaches in Milos
As a couple who prefer to stay away from crowded places, our favourite Milos beaches were:
Agia Kyriaki, a long, quiet beach with a few trees and a couple of tavernas
Firopotamos, a small beach close to an amazing rocky setting
Sarakiniko a unique lunar landscape best seen in the early morning, before the crowds arrived
Thiorichia, not so much about the beach itself, but for the unique setting with the old sulphur mines
Firlingos, because of the spectacular scenery and crystal clear water
Kleftiko, because it's so famous for its rock formations that we really couldn't leave it out!
That should be enough for most people to see in a week! How do you get to visit as many as you can on if you're short on time though?
See the best beaches in Milos by boat
If you only have a day or two on the island, your best bet would be to take a boat tour or a catamaran tour around Milos which combines sightseeing with a beach day.
I did this myself on one day, and it gave me the chance to visit some Milos beaches that I wouldn't have otherwise seen. Namely, the famous Kleftiko beach and the beach on the nearby island of Polyaigos.
With amazing views, incredible food, and plenty of swimming stops, our catamaran trip with Chrysovalandou boat was the perfect tour. Don't just take our word for it – check out these Tripadvisor reviews!
Milos beaches by car
If you have a few days on Milos, you can also take a car rental hire or hire or motorbike / ATV to get around the island.
As the western side of Milos is mostly connected by dirt roads, you will need to think carefully about your transportation. A normal car won't do, so if you want to explore all of the island a 4WD or ATV is the best choice.
My Milos Travel Guide gives more information.
Alternatively, you can take a tour with Milos Experience, a new company that offers private tours in comfortable SUVs. This was one of the highlights of our trip, as we found out a lot about the mining history of Milos.
The best beaches in Milos, one by one!
As mentioned earlier, Milos is said to have over 75 beaches! These are positioned all around the island, with some being more remote than others.
The best thing about there being so many beaches in Milos, is that when the strong winds, notably the "meltemia" winds in August, blow there will always be a beach where you can be protected from it.
For example, when the winds come from the north, you can go swimming on the south side of the island, and when the winds come from the south, it's better to head north.
We will take a look at the most important beaches in Milos, beginning from the port of Adamas and going clockwise around the island. At the bottom of the article, we've included a map to the Milos beaches.
Adamas / Adamantas
Many people choose to stay in or near Adamas, which is the capital and main town of the island. There's a good selection of restaurants and places to stay in Adamas, and there is also a small sandy beach.
Adamas beach is great for a quick dive before catching the boat back to Piraeus or to your next destination, and there are some sunbeds, so no need to bring any shade.
You probably wouldn't choose to spend all day here, but it's great for a quick dip, or even an evening swim before heading back to your hotel and preparing for a night out. Which reminds me, check out my guide on where to stay in Milos!
Lagada beach
It's possible to walk to Lagada Beach from the port of Milos, where a nice sandy beach awaits. We would class Lagada beach is non-organised, which means you would need to bring your own shade.
There are a few hotels and tavernas nearby, and small fishing boats moor in the bay during the summer months.
Klima
It doesn't really have a proper beach, but it's worth going there to see the little fishing village of Klima all the same.
It's easy to reach through an asphalt road, and apart from the picturesque houses you can find a restaurant and a couple of souvenir shops. Try to drop by as you drive to some of the other beaches in Milos.
Fourkovouni and Plathiena
You can reach both Fourkovouni and Plathiena beaches quite easily, through asphalt roads. At the time we were there Plathiena had a small canteen, and Fourkovouni didn't. Other than that, there are very few facilities nearby. (pics)
Firopotamos Beach
Firopotamos beach was one of our favourite spots on the island. It's another fishing village with a beautiful church and a canteen, lovely views and a fantastic landscape.
The beach is surrounded with trees and suitable for everyone, plus there is a small, shallow bay that is great for children. As it's fairly protected from the wind, it's a great spot for swimming and snorkelling.
Note – Canteen laws change on the Greek islands, so bringing your own food and drink just in case is advisable.
Mantrakia
Like Klima and Firopotamos, Mandrakia is not a beach, but another fishing village that you can reach fairly easily through an asphalt road.
Sarakiniko Beach Milos
Sarakiniko beach is one of the most famous and photographed beaches in Milos, and for good reason! The combination of bone-white, hollow rocks and dark blue Aegean Sea water will stay in your mind forever.
As one of the most popular Milos beaches, Sarakiniko is best visited early in the morning or late in the evening, when the crowds are gone when you may have the almost lunar-like landscape to yourself.
Sarakiniko beach itself is very small and only has one tree with a few branches, so shade is limited! If you are planning to go swimming get there really early in the day.
You'll probably want to leave before midday, when the sun reflects off the moon-like white rocks of Sarakiniko Milos making everything hotter.
If you happen to be there on a full moon night, Sarkiniko is extra beautiful! It's a really unique beach, and definitely worth going out to see when you visit Milos.
Read my full guide to Sarakiniko Beach, Milos island here.
Agios Konstantinos and Alogomandra
One of our highlights of Milos, the small fishing village of Agios Konstantinos is perhaps the most authentic one we saw. If you don't feel like going to Alogomandra, you can swim off the rocks here.
Separated by white rocks, the second cove is know as Alogomandra beach. The sand is fine, and almost white, and there is very little shade on the beach. We would say that this beach is suitable for everyone, families included.
Papafragas
Not so much a beach, but rather a small strip of sand leading to a group of several sea caves. You can reach Papafragas beach through a very steep path, and getting there is definitely not for the faint hearted! Perhaps families with younger kids should give this one a miss.
It's a very impressive setting, but please avoid Papafragas on days with strong north winds. It's worth stopping by to check the few remains of the ancient town of Filakopi.
Pahena
Another small sandy beach, it is close to Pollonia and Papafragas. This beach has no amenities, so be prepared with your own beach mats and shade. You can find some rooms for rent and a few tavernas close by.
Pollonia
We stayed in Pollonia for a few nights and really liked the peace and quiet. The main beach of the village is right next to a few tavernas. If you are staying somewhere else on the island, Pollonia can be a nice one day trip.
If you have plenty of time, you can consider taking the ferry to the nearby island of Kimolos, one of the least spoilt islands in the Cyclades.
While in Pollonia, you can also check out Polychronis beach, which has a small canteen and umbrellas and is easily accessible by car or on foot.
Voudia
Nearby Voudia beach is tiny, and can accommodate very few people so it's first come, first served. Fishing, as well as, naturism are not uncommon here.
It has a lonely feel to it, although it can be reached easily by car. It's worth walking down to if you are driving by, even if you decide not to stay there.
Tria Pigadia
If you have a boat or a suitable car, you can visit the secluded, pebbled beach of Tria Pigadia. There is some shade here, but it's best to bring your own as there may be other people before you. Bring your water and snacks, and spend the day here!
Kastanas and Kolibisionas
Close to Tria Pigadia, you will find the beaches of Kastanas and Kolibisionas. Both are accessible through either dirt roads or on a boat, and have no facilities. Ideal for those who want complete relaxation and quiet.
Thiorichia beach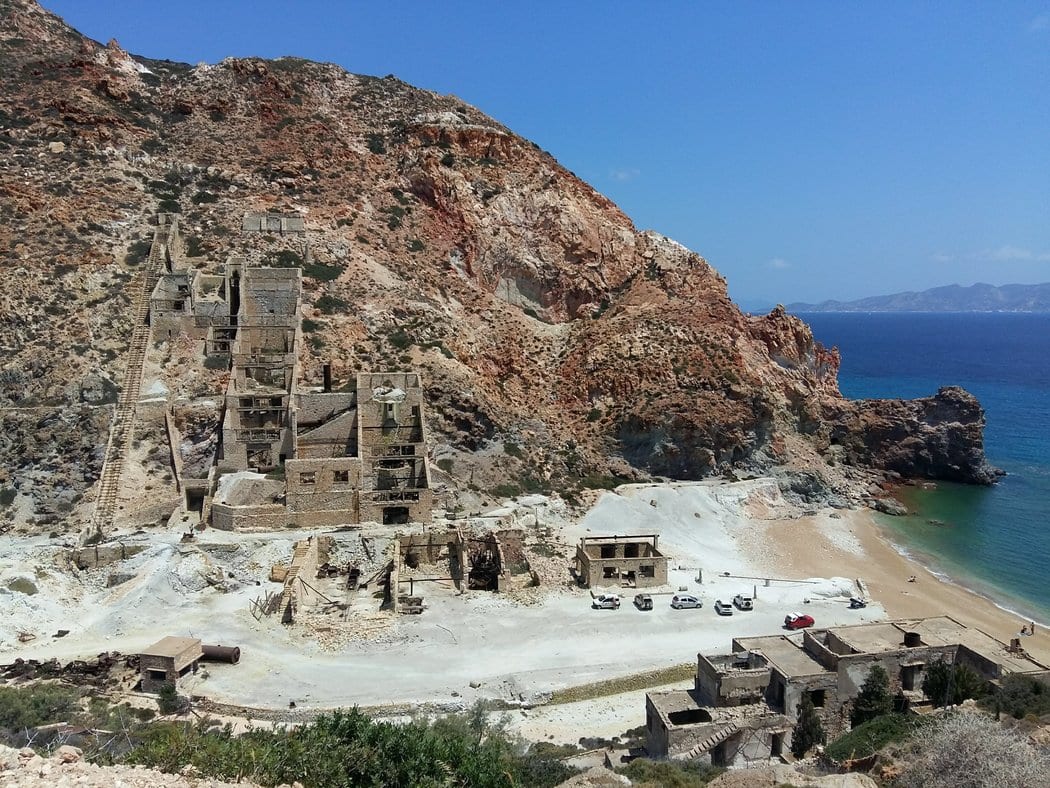 The next on our list of beaches in Milos on the east side of the island is Thiorichia beach. You can get here either by boat or by car – the dirt road was quite rough, but we saw many rented cars.
Thiorichia beach might not be the nicest beach on Milos, but it's got a really unique story. In this area, there used to be sulphur mines, as well as little apartments for the mine workers to live in. Gradually, the mines closed down – the last person recorded living there was in 1971.
Today, you can see what is still standing from both the mines and the houses. The beach itself is not too bad, but there is no shade or canteen – so if you decide to stay here for a few hours, be prepared in advance. (pic)
Firlingos
Accessible only by boat, this Milos beach is quite unique because of the colours – it's really white and red. The waters are super clean and spectacular! For those who dare, there are many sea caves that you can explore.
Paleochori Beach, Milos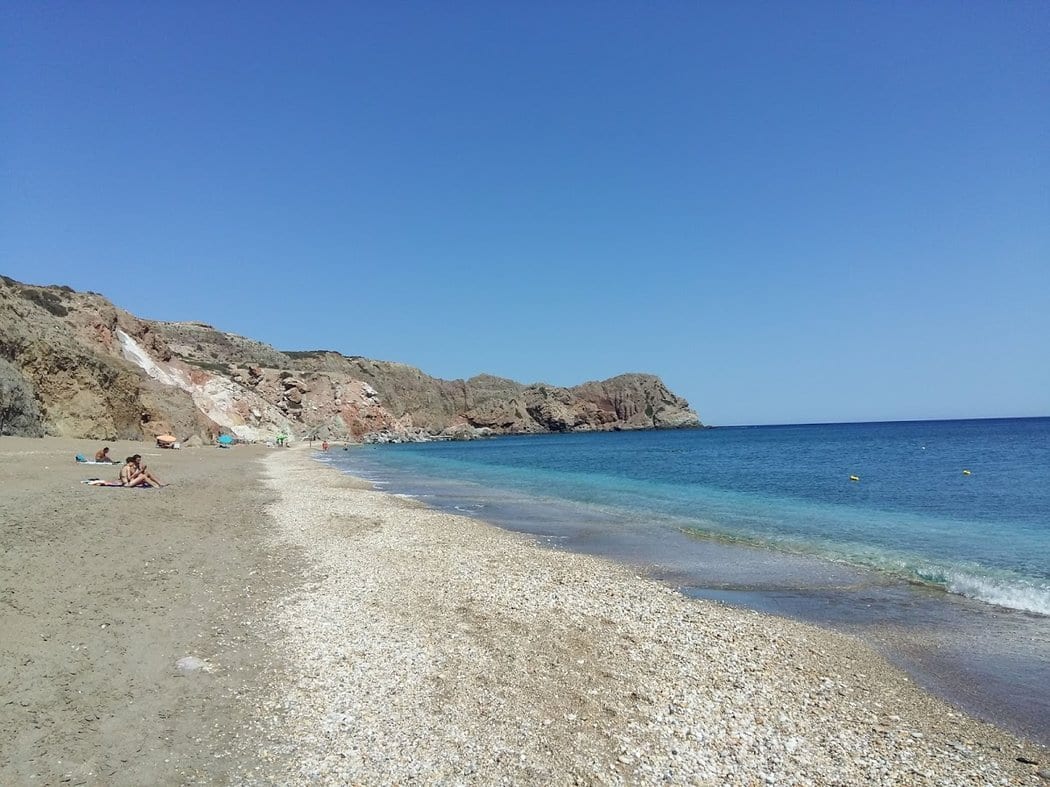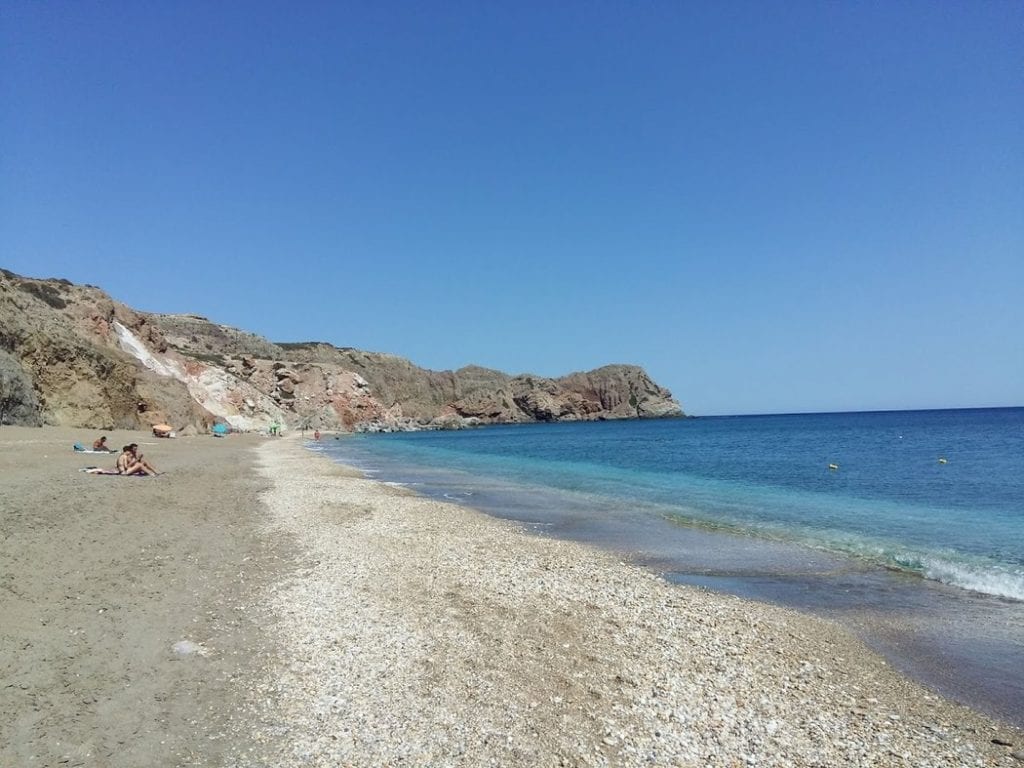 Paliochori is one of the longest beaches on Milos and also one of the nicest. It's multi-coloured rocks give hint to thermal activity, and contrast beautifully with the crystal blue waters.
The beach itself is very easily accessible and popular, and anyone spending more than a few days in Milos will go to Paliochori beach at some point.
There are a couple of restaurants / cafes with sun loungers and umbrellas, rooms to let and even water sports facilities. If you want peace and quiet, you can walk to the far left end of Paleochori beach – but make sure you bring some shade as there is none.
Agia Kyriaki
This was probably our favourite beach in Milos. Agia Kyriaki is quiet, shallow, and sandy.
There are a few trees that were perfect to provide shade – though they probably won't be enough in July or August when it gets busier with tourists. If you walk away from the beach, you will find a few small coves where you can have more privacy.
For people that prefer to rest on sunbeds and be close to a taverna, there are beds and umbrellas for rent at the front of the tavernas on the beach. Our favourite taverna at Agia Kyriaki was Thalassopetra.
In fact we liked the whole area, taverna included, so much we returned for a second time later during our vacation in Milos!
Gerakas
Only accessible by boat, Gerakas beach can be reached on a sailing tour around the island. Much like other areas on Milos, the geological formations here are rocky and unique.
When you are not swimming in the turquoise waters, keep your sunglasses on to protect your eyes from the sun and the fine white sand.
Tsigrado Beach, Milos
With its massive cliffs and amazing waters, Tsigrado is another one of Milos' famous beaches. Accessible through a dirt road and then a bit of hiking, you will have to climb on a rope to reach the beach itself.
Families with small children might want to avoid Tsigrado beach as it is more difficult to leave than to get there. There is no canteen on Tsigrado, so make sure you bring water and snacks for the day if you do decide to go.
Depending on weather, some of the boats that tour around the island might make a stop here.
Firiplaka Beach, Milos
This beach is located on the south of Milos, and is another sandy, shallow beach, surrounded by volcanic rocks. Fyriplaka beach is easily reached by road, and you can leave your car or ATV at the top of the cliffs before walking down to the sand itself.
Firiplaka beach bar is always there for drinks along with sun loungers on one side, and there's also quieter areas if you walk along the coastline. The water is crystal clear, and unless you get winds coming from the south, you can easily spend here the whole day.
Like many beaches in Milos, Firiplaka beach is suitable for everyone, including families due to the beach itself and the amenities.
Provatas Beach, Milos
The only beach in Milos with a blue flag for 2018, Provatas is home to a 4-star hotel. To us, this looked a little out of place, but it seemed very nice nevertheless.
Provatas beach itself is full of umbrellas and sun loungers, but the far end might be more suitable if you want some privacy.
We suspect that in peak season it would get quite busy, purely from people staying in the hotel.
To be honest, Provatas Beach wasn't really our cup of tea. The luxury hotel and sunbed scene gave it a bit of a pretentious edge, and there are far better beaches in Milos elsewhere.
Kipos
A quiet, secluded beach, further down from the village of Kipos and Panagia Kipou church, this tiny beach can be easily reached by car. There's a cool little restaurant nearby, overlooking the sea.
Gerontas Beach, Milos
Another off-the-beaten-track beach, Gerontas beach is best visited by boat. The wild, unique geological landscape and the clear waters make Gerontas beach, Milos worth a trip if you have time.
Kleftiko Beach
Kleftiko beach is one of the most famous spots in Milos and, arguably, the whole of Greece. It can only be approached by boat, and you will find plenty of excursion options sailing from either Adamas or Provatas.
Kleftiko Milos is technically not a beach, but rather a secluded bay with a lot of spectacular white rocks rising up from the sea.
When we were there in June, the water was crystal clear which made snorkelling there delightful. In fact, it was probably one of the most interesting places to snorkel in Milos, due to being able to swim between rock arches and caves.
Sikia
A spot that takes its name after a fig tree ("sikia" in Greek), this is another popular stop with excursion boats. Just like Kleftiko, it's not really a beach – it's a cave. Small boats can enter, but if you are visiting with a larger boat you will have to swim over.
Agios Ioannis
Another set of three secluded beaches, Agios Ioannis can be reached by a 4WD, or by boat. Despite the nearby monastery of Agios Ioannis Siderianos (St John), it's a popular spot with naturists, as well as free-campers.
If you are driving, you can either come on the south road, through Kipos, or through the road that passes from Empourios.
Triades / Ammoudaraki
Similarly to Agios Ioannis, Triades and Ammoudaraki beaches can be reached through a challenging rough road or by boat. You will love the fine sand and crystal clear waters.
If you are planning to spend some time here, make sure you've got everything you need for the day. Avoid it when the winds come from the west.
Agathia
Yet another secluded beach with no tourist facilities, Agathia beach is a long and wide stretch of sand. If you are after peace and quiet it's really worth the drive, though it's much easier to come by boat.
Vani
A small, rarely visited spot, Cape Vani is accessible on a 4WD or by boat. Much like Thiorichia beach, Vani used to be home to manganese mines.
Agios Dimitrios, Milos
Only accessible by boat, this tiny beach offers no tourist facilities, yet there is a small white church.
Empurios
The only inhabited settlement on the western part of Milos, Emporios is a small village with a taverna and a sandy area. If you are planning to go here, make sure you have an appropriate car!
Rivari
This is a small, secluded, protected beach across the harbour from Adamas, offering lovely views of the port. It is possible to get here through a dirt road. Make sure you bring what you need for the day. If you are lucky, you might see some migrating birds, as Rivari is a natural reserve.
Fatourena
Another quiet beach, Fatourena is partly sandy and partly rocky. You will first reach Agia Marina church, and then take a steep dirt road to the beach.
Achivadolimni Beach, Milos
Easy to access via a paved road, Achivadolimni Beach is the longest sandy beach on the island. There are no facilities in terms of sunbeds or umbrellas, although there are some trees for shade.
The shallow waters of Achivadolimni Beach make it ideal for families with small children, who will enjoy swimming, sunbathing, kite-surfing and windsurfing.
Thermal waters / Kanava
Part of this long sandy beach is close to one of the factories in Milos, which is not the greatest landscape. At the same time, if you like thermal baths and you have no condition that stops you from enjoying them, go for it. Do you really need a thermal bath in the summer though?
Papikinou
One of the most kid-friendly beaches on Milos, Papikinou offers some loungers and umbrellas, as well as trees. The famous taverna O Chamos (Ω! Χαμός) is located here – it's worth stopping for a taste of their hearty dishes.
And that completes our beach tour of Milos! There are more spots on the island that we haven't covered, but unless you actually spend the whole summer on Milos, or you have your own boat, you are unlikely to have time for all of them.
We visited Milos in June 2018, but as the canteen laws in Greece change now and then, don't be surprised if you find a canteen where we didn't!
Want to find out more about Milos Greece? Check out my guide on the best things to do in Milos island.
You might also be interested in: Ferry from Athens to Milos information
Map of Milos Beaches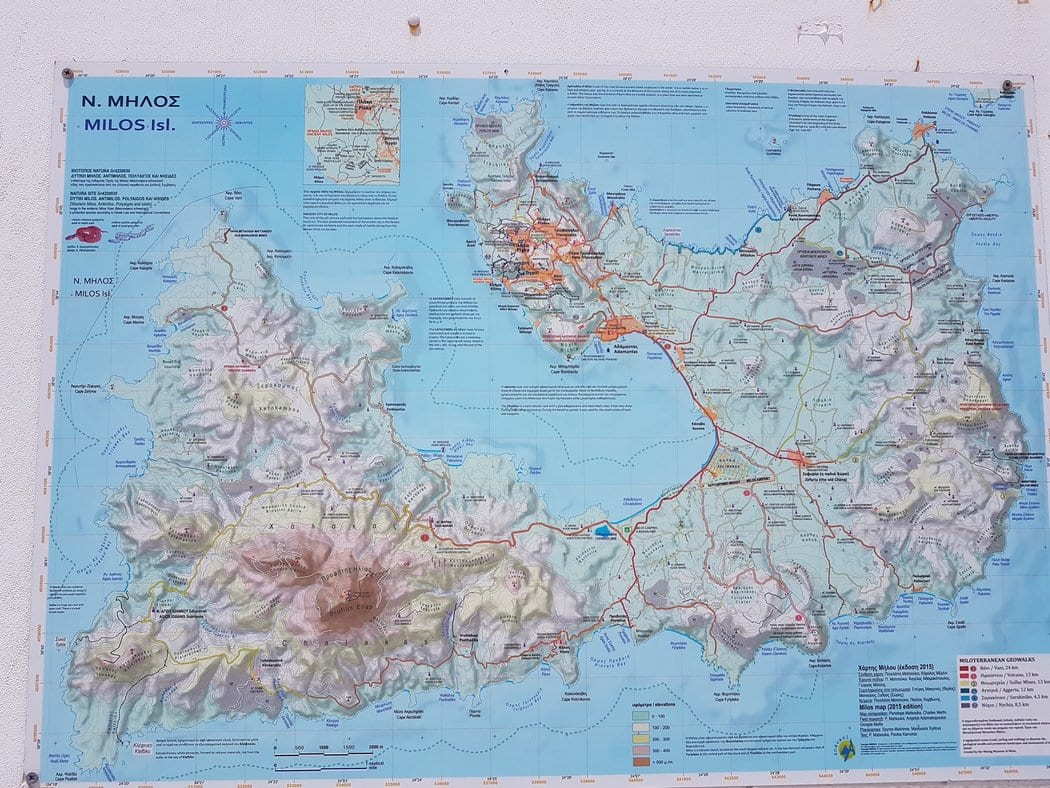 Free Greece Guides
If you plan to visit Greece, you'll find my series of free travel guides very useful. With itineraries for popular destinations in Greece along with off the beaten path locations, it's a great way to start planning your next vacation in. Just sign up using the link below!
** Click here to sign up for free travel guides on Greece **
Pin this Milos Beach Guide for later