The best beaches in Milos include Sarakiniko Beach, Paliochori beach, Agia Kriaki, and Achivadolimni beach, but there's nearly 70 other amazing beaches to choose from!
With a unique landscape and over 70 amazing beaches, Milos is a Greek island yearning to be explored!
Milos Greece Beaches
Milos island in the Cyclades of Greece has been gaining popularity over the past years, and for good reason. It combines some of the most diverse and photogenic beaches in Greece, wild landscapes, and great food.
Often described as a good destination in Greece for couples, Milos gives you the chance to side-step the party scene of Mykonos, and see a more natural Greek island.
The unique volcanic nature of the island makes Milos a geological wonder, and nowhere is this more evident than the coastline.
From stretches of fine golden sands to the signature white rocks at Sarakiniko beach, it seems there's something new to be experienced at the end of every track leading out to the coast.
In short, Milos has some of the most beautiful beaches in Greece.
Having visited over 50 Greek islands now since I started living in Greece in 2015, I've yet to see another island that comes close to matching the variety and beauty of the beaches in Milos.
Two of the most popular spots in Milos, Sarakiniko and Kleftiko, are among the best-known beaches in Greece. However, there are dozens of other Milos beaches to go for a swim.
Milos Beach Guide
Use this guide to the best beaches of Milos Greece to plan which place you'll visit and when. I've also included a summary of my personal favourites in case you want to check them out first!
Related: Best Greek Islands For Beaches
I've now been fortunate to have visited Milos twice, spending just under a month on the island in total. Almost all of that time was spent exploring as many of these beautiful beaches as I could to create this travel guide.
As you might appreciate, it was a tough job, but someone had to do it!
If, like most people, you are visiting for just a few days, you will need to make careful choices to make the most of your holiday. This guide to find the best beaches Milos has to offer can help you out!
Our favourite beaches in Milos
I've travelled to Milos island both time with Vanessa. As a couple who prefer to stay away from crowded places, we visited Milos in June and late September. On both occasions, the weather was great on most days, and there were few other visitors.
The list of Milos island beaches below are they key ones to see when exploring the island. Click on the links to be taken to their full description:
Agia Kyriaki – a long, quiet beach with a few trees and a couple of tavernas
Achivadolimni – the longest beach in Milos, which is usually sheltered from the winds
Firopotamos – a small beach close to an amazing rocky setting
Sarakiniko – famous place in Milos for its almost white rocky lunar landscape
Thiorichia – for the fascinating setting with the old sulphur mines
Firlingos – because of the spectacular scenery and crystal-clear water
Kastanas – a remote, little visited beach with colourful pebbles
Kleftiko – because it's so famous for its rock formations that we really couldn't leave it out!
Further on in this guide to the best beaches in Milos Greece, you'll find more details for these and a further 70 other beaches on the island!
Best Beach in Milos
During our first trip to the island, we really enjoyed Agia Kriaki. During our second trip to Milos, we preferred Achivadolimni beach. Who knows which one we'll think is the best Milos beach on a third trip!
As you can tell, there's plenty to see during a week! How do you get to visit as many as you can if you're short on time though?
See the best beaches in Milos by boat
If you only have a day or two on the island, my travel tip would be to take a boat tour or a catamaran tour around Milos. This trip departs from the port town, Adamas, and combines sightseeing and beach-hopping around Milos.
I did this myself on one day, and it gave me the chance to easily visit some Milos beaches that I wouldn't have otherwise seen. This is the easiest way to get to the famous Kleftiko beach and the beaches on the nearby island of Polyaigos.
With amazing views, incredible food, and plenty of swimming stops, our catamaran trip with Chrysovalandou boat was the perfect tour. Don't just take our word for it – check out these Tripadvisor reviews!
If you only have limited time on the island, it's probably best to book your Milos boat tour in advance via Get Your Guide. This is because certain trips do get sold, especially in high season.
If you have time to spare with several days in Milos, you can go for a walk around Adamas, compare the various companies and decide on the spot.
There are also several half-day options if a full-day boat trip isn't up your alley. These depart from certain beaches on the south of the island, and they only take you to a few beaches, including the famous Kleftiko. The agencies at Adamas will be able to point you to the right direction.
Note that boat itineraries may change or get cancelled due to weather conditions, most notably strong winds. It's best to plan to go on your boat trip on your first or second day in Milos. This way, if it gets cancelled, you should have an opportunity to rebook it for a later date.
How to get to the Milos beaches by land
If you have several days in Milos, you can also get to most of the beaches by land. Even though there are buses on the island, it's much better to hire your own vehicle to get around.
Generally speaking, there are six options – bus, bicycle, motorbike, car, 4WD and quad. Each of them has their pros and cons.
As the island of Milos is quite mountainous, renting a bicycle is definitely not for everyone, especially when it's warm. Still, you can comfortably use a bicycle for certain routes.
The bus service will take you to the main points of interest such as Sarakiniko, but you won't be able to get to those hidden coves and more remote beaches of Milos.
Driving in Milos
A proper vehicle can be used on most roads, but won't be covered by insurance in many areas where there are only dirt roads. You'd need to check with your car hire company as to what they will allow as there are some marked no-service zones.
We took our own vehicle to Milos, and drove pretty everywhere in our old and trusted Toyota Starlet. Some of the roads to the beaches were in pretty bad shape, but there was only we couldn't make. More about that later!
If you want to explore all of the island to reach the real isolated beaches of Milos, a small 4WD is probably the best choice.
To Quad or not to Quad?
You will see many people going around on quads, but even car agencies don't always recommend them, as they can be more difficult, and potentially dangerous, to drive.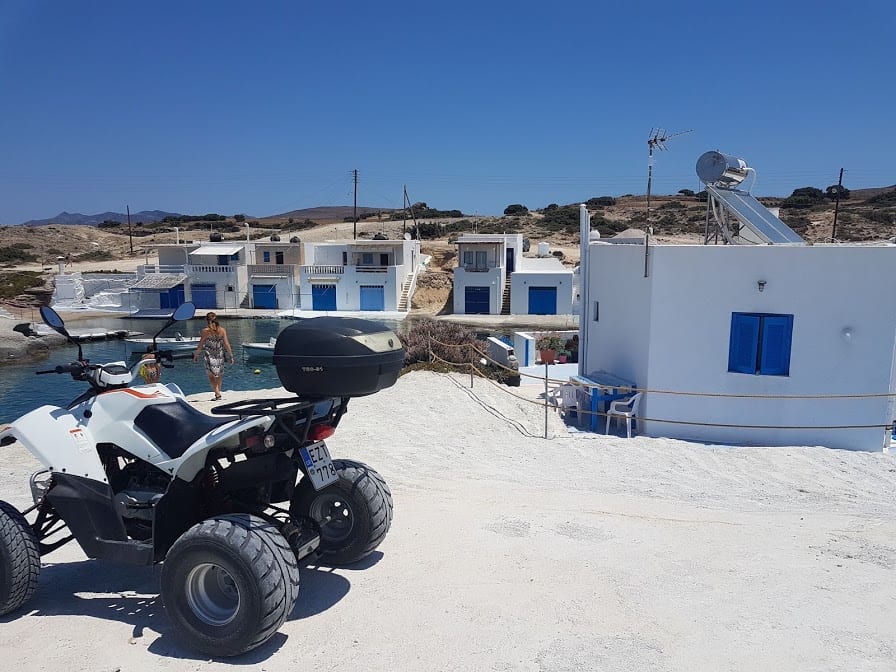 If you decide to go for a quad, it's best to rent it for a few days, so that you have time to get used to it. Also, take into account the dust and strong sun, and make sure you bring plenty of sunscreen with you.
I've a guide here on where to rent an ATV in Milos.
If you don't want to drive, I strongly recommend taking a tour with Milos Experience, a company that offers private tours in comfortable SUVs.
This was one of the highlights of our first trip in Milos, as we found out a lot about the mining history of the island. It's a fantastic, relaxed way to explore the wild side of Milos.
My Milos Travel Guide gives more information on getting around Milos.
The Milos best beaches, one by one!
As mentioned earlier, Milos is said to have over 75 beaches! These are positioned all around the island, with some being more easily accessible than others.
The best thing about there being so many beaches in Milos? When strong winds blow, there will always be a beach where you can be protected. Well, almost always.
For example, when the "meltemia" winds come from the north, you can go swimming off the shore on the south side of the island. When the winds come from the south, you should head north.
That said, we did have a day in late September when the winds seemed to blow from all directions at the same time. On such days, it's probably best to just visit the museums in Milos, or have some relaxed meals.
Related: How to keep valuables safe at the beach
Where to swim in Milos
Here's a list of the most important beaches in Milos, beginning from the port of Adamas and going clockwise around the island. At the bottom of the article, we've included a Milos beaches map.
Lagada beach in Adamas
Adamas port is the capital and main town of the island. This is where many people choose to stay, as it's the most convenient location to explore the island. Here's my guide on where to stay in Milos.
Apart from rooms to let, there's a good selection of restaurants in Adamas, as well as a small sandy beach, Lagada. It's not very special, but it's not a bad option if you just want to relax for an hour or two before you catch the boat back to Piraeus, or for a quick evening swim.
Lagada beach is right in front of a big hotel, and there are a few trees, so you don't need to bring any shade. If you don't feel like swimming, you can just check out the small fishing boats that are moored in the bay.
Klima
The little fishing village of Klima is one of the highlights in Milos. This is mainly because of the colourful fishermen's houses, some of which have been transformed into rooms to let. There isn't a proper long sandy beach, but you can still go for a quick swim.
Klima is easy to reach through an asphalt road. Apart from the picturesque houses you can find Astakas, a nice restaurant with a beautiful sunset view, and a couple of souvenir shops.
Fourkovouni, Plathiena, and Nerodafni
You can reach both Plathiena and Fourkovouni beaches quite easily, through winding asphalt roads. During both times we visited Milos, Plathiena had a small canteen with a few umbrellas, and Fourkovouni didn't. There are no other facilities nearby, so bring anything you need.
Nerodafni is a wild pebbly beach further north. Parts of the dirt roads leading there are in rather bad shape, so take care if you are in a normal car.
Make sure you follow the signs, as otherwise you will end up in a mining area. This beach is affected by the meltemi winds so avoid it on windy days.

Firopotamos Beach
Firopotamos beach was one of our favourite spots on the island. It's actually a small settlement with a few fishermen's houses that have been transformed into rooms to let, and a small beach right in front. There is an impressive church, lovely views and an overall dramatic landscape.
The beach is surrounded with trees and is suitable for everyone with a small, shallow bay that is great for children. Firopotamos is an ideal spot for swimming and snorkelling on most days, as it's fairly sheltered.
Note – While a few years ago there was a small canteen at Firopotamos Milos, we didn't see it when we visited in September 2020. As canteen laws change on the Greek islands, bringing your own food and drink is advisable.
Mandrakia
Mandrakia area, which you can easily reach through an asphalt road, is another quaint fishing village. The location is very picturesque, with dramatic white rock formations.
There are two small beaches here, Tourkothalassa and Gerania, where you can swim, depending on weather.
One of the highlights in Mandrakia is an excellent fish taverna called Medusa. Apparently, you may need to queue here for over an hour during peak season!
We loved the fish dishes and service, the chat with the owner, and the cool views. It's certainly worth the drive out to Mandrakia to eat at Medusa!

Sarakiniko Beach Milos
Sarakiniko beach is one of the most famous and photographed beaches in Milos. The combination of bone-white, hollow rocks and dark blue Aegean Sea water is extremely attractive.
Sarakiniko mostly consists of rocks and cliffs, and the landscape is lunar-like. It feels like being on another world!
There is a small sandy beach, and overall shade is very, very limited. As the sun reflects off the moon-like white rocks of Sarakiniko Milos, make sure you bring sun block and a hat with you.
If you happen to be here on a full moon night, Sarakiniko is extra beautiful! It's a really unique landscape, and definitely worth going out to see when you visit Milos.
As this is one of the most popular and easily accessible Milos beaches, it gets quite busy at most times of the day. If you want to avoid some of the crowds, try visiting early in the morning or late in the evening. Still, you can't be guaranteed that no other people will be around.
There was a small canteen in the parking area when we last visited, but bring your own drinks and snacks just in case.
Read my full guide to Sarakiniko Beach, Milos island here.
Agios Konstantinos and Alogomandra
One of our highlights of Milos was the small fishing village of Agios Konstantinos, perhaps the most authentic one we saw. There's a small sandy beach surrounded by rocks, that are ideal for underwater exploration.
Right next to Agios Konstantinos and separated by a series of tall white rocks, you will find Alogomandra beach. The sand is fine, almost white, and there is little shade. When there are no meltemi winds, Alogomandra is suitable for everyone, families included.
Kapros and Papafragas
These two spots are not exactly what you'd call sandy beaches. They are a series of impressive sea caves and rock formations, among which you will find some very small strips of sand.
Kapros is easily accessible, while Papafragas beach can be reached through a very steep path. Getting there is definitely not for the faint hearted! People with younger kids should give this one a miss as it's not family friendly to get there.
These beaches are inaccessible on days with strong north winds. In our experience, even on non-windy days, you may find a lot of rubbish in the sea, as the beaches are pretty enclosed. While they are very picturesque, I personally wouldn't see the point in swimming here.
Right next door, you can check the few remains of the ancient town of Filakopi. Even though this is a very important archaeological site, it's not always open to the public.
Some of the findings are presented in the Archaeological Museum in Plaka, which is probably the best place to visit if you want to find out more about it.
Pahena
Pahena is a wide, sandy beach, with some impressive rock formations coming right out of the sea. There are a few trees for shade. You can find some rooms for rent and a few tavernas close by.
Like other northern-facing beaches, this one isn't suitable on a meltemi day. Still, you can get quite dramatic views when there are large waves.
Hint – don't miss the Charalambakis cheese-making facility nearby, where you can buy some local cheese.
Pollonia and Polychronis Beach Milos
Pollonia is a small village on the north-east side of Milos. Even though it has a tourist resort feel to it, it is still rather charming. This is where we stayed on our first trip to Milos, and really liked the peace and quiet.
For people staying in Adamas or somewhere else on the island, Pollonia can be a nice half-day trip.
The main Pollonia beach is long and wide, with shallow water. This beach is quite sheltered, so it's ideal for families.
You will find a good selection of restaurants and tavernas nearby. We haven't tried all of them, but Yialos is definitely one of the best options on the island.
While in Pollonia, you can also check out Polychronis beach. It usually has a small canteen and umbrellas and is easily accessible by car or on foot.
Pollonia has a tiny port, from where, you can take the ferry to the nearby island of Kimolos. This is one of the least spoilt islands in the Cyclades and it's become one of our favourites. You can go for a day trip from Milos, but I recommend staying for several days if you can.
Voudia
On the east coast of Milos, you will find a beach marked Voudia. Don't get too excited – this is a long stretch of white rocks right underneath a mining factory, so swimming here is a no-no.
It might be worth a photo-stop though – or maybe not.

Kastanas, Tria Pigadia and Kolibisionas
These east-looking beaches on Milos are quite remote, and ideal for people who want peace and quiet, without the crowds. They are all pretty small, and therefore cannot accommodate too many people.
At the same time, not too many people seem to want to venture out here, and those who do are mostly locals. Come early, as the sun disappears earlier than on other beaches on the island.
We loved Kastanas beach, which is really a series of a few tiny beaches. The colourful pebbles and cool rock formations make it one of the most unique landscapes on the island.
Access was pretty easy, through a dirt road in good condition, but the beach has a lonely, hidden gem feel to it.
If you decide to come out here, note that this spot is popular with naturists and also spearfishing divers. In fact, snorkeling is really nice here, and the water was crystal clear when we visited.
Similarly to Kastanas, the beaches of Tria Pigadia and Kolibisionas are hard to reach and, as a result, secluded. We didn't visit, but it's pretty much the same setting – pebbles, rock formations and complete relaxation!

Thiorichia beach
One of the most interesting spots in Milos is Thiorichia beach, which has a really unique story.
In this area, there used to be sulphur mines, which were in operation from the 1890s to the 1960s. Apart from all the mining constructions, there were also little apartments for the mine workers to live in.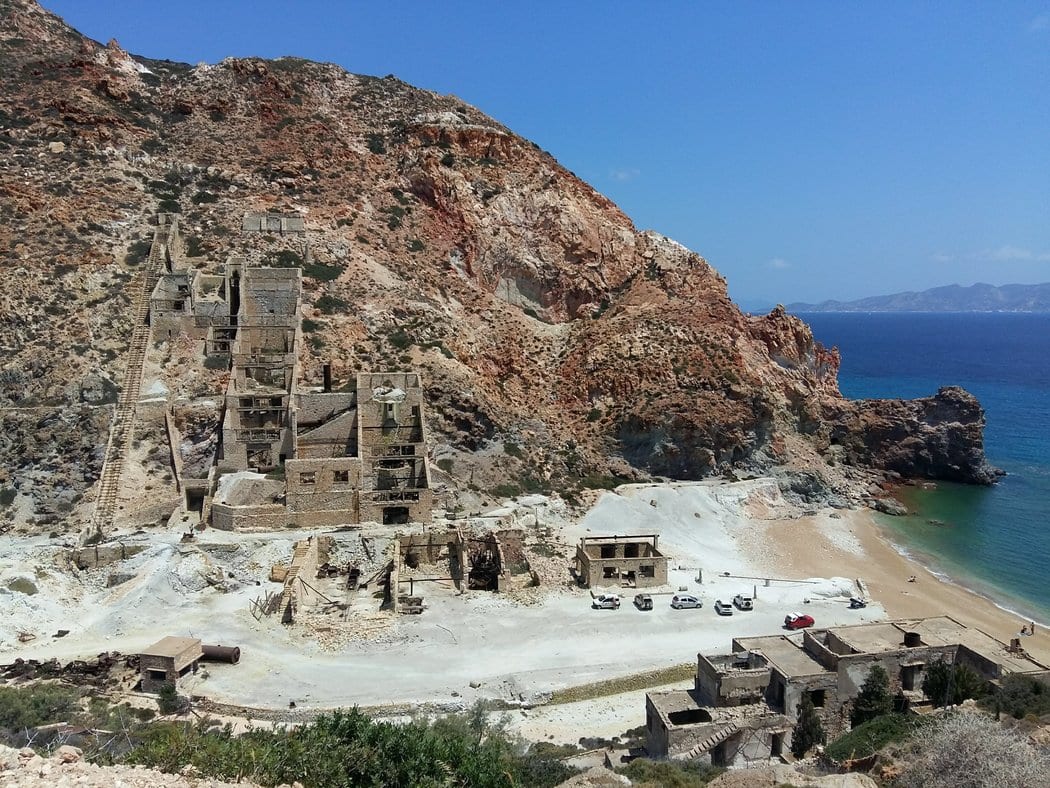 Over the decades, there was less and less need for sulphur from Milos, and the mines eventually closed down. The last person recorded living there was in 1971.
Today, you can see what is still standing from both the mines and the houses. If you like abandoned places, you really must visit Thiorichia. Just be extra careful if you are going inside caves or crumbling buildings.
As for the beach itself, it could be best described as yellow. There is no shade or canteen, so if you decide to stay here for a few hours, be prepared.
You can get here either by boat or by 4WD. If you have a normal car or quad, leave it a couple of kilometres away, and then walk down to the beach, as the dirt road is quite rough. In fact, this was the only route in Milos where the Starlet didn't make it!

Firlingos
Accessible only by boat, this Milos beach is quite unique because of its colours – it's really white and red. The waters are super clean and spectacular!
For those who dare, there are many sea caves that you can explore.
Paliochori Beach, Milos
Paliochori (Paleochori) is one of the longest sandy beaches on Milos and also one of the nicest. Its multi-coloured rocks give hint to thermal activity, and contrast beautifully with the crystal blue waters.
The beach itself is very easily accessible. As such, it's pretty popular – anyone spending more than a few days in Milos will go to Paliochori beach at some point.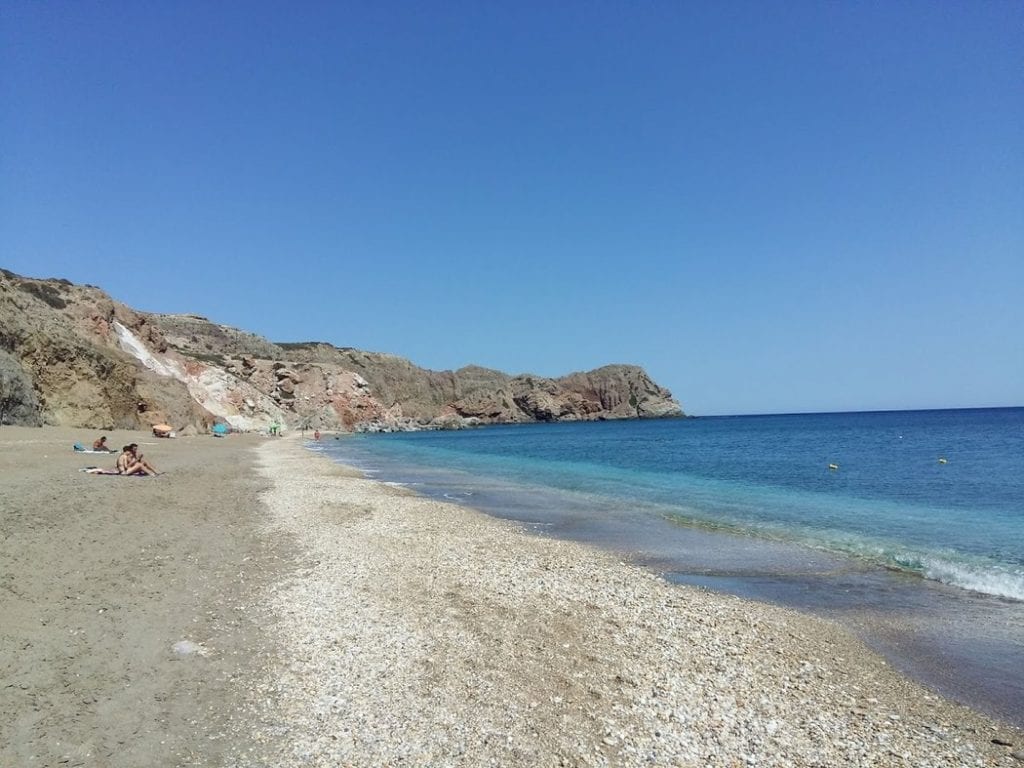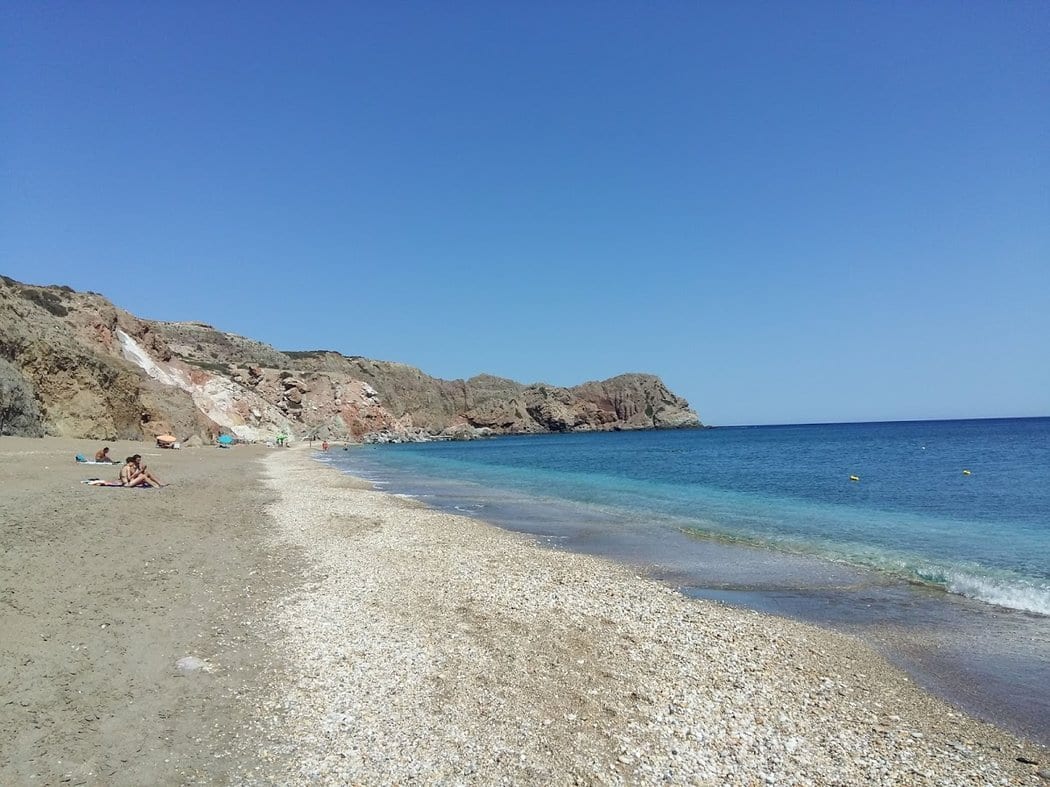 There are rooms to let, sun loungers and umbrellas and a couple of restaurants / cafes. Sirocco restaurant is considered one of the best places to eat in Milos, so check it out. Watersports are also available.
For more privacy, you can walk to the far-left end of Paleochori beach, and climb over the rocks. If you are planning to spend a few hours here, consider bringing some shade, as there is none.

Agia Kyriaki
Agia Kyriaki was one of our favourite beaches, and we returned a few times during our vacation in Milos. It is quiet, shallow, and sandy, and it wasn't too crowded on any of the times we visited.
There are a few trees that are perfect to provide shade, though they probably won't be enough in July or August when it gets busier with tourists. If you walk away from Agia Kiriaki beach, you will find a few small, secluded coves.
There are sunbeds and umbrellas for rent at the front of the tavernas on the beach. We really liked Thalassopetra taverna – in fact, we came here twice!
Gerakas beach Milos
Gerakas beach is only accessible by sea, and is normally included in sailing tours around the island. Much like other areas on Milos, the geological formations here are rocky and unique.
When you are not swimming in the turquoise waters, keep your sunglasses on to protect your eyes from the sun and the fine white sand.
Tsigrado Beach, Milos
With its massive cliffs and amazing waters, Tsigrado is another one of Milos' famous beaches.
Accessible through an easy dirt road and then a bit of hiking, you will have to climb on a rope to reach the beach itself. Some of the boats that tour around the island might make a stop here.
We visited here on a day with south winds, so we saw little point in going down to the beach. In all honesty though, we didn't think the beach itself was very special. Hopefully next time it will be calmer and we can check it out.
Needless to say, there is no canteen here, so make sure you bring water and snacks for the day if you decide to go.
Firiplaka Beach, Milos
Fyriplaka beach is one of the most picturesque beaches in Milos. It's a long, sandy, shallow beach, surrounded by impressive volcanic rocks.
It might come as a surprise, but there is a beach bar with sun loungers and umbrellas on one side of the beach. As a result, this beach is quite popular. If you walk along the coastline, there are much quieter areas towards the right-hand side of the beach.
Like many beaches in Milos, Firiplaka is suitable for everyone, including families. The water is crystal clear, and unless you get winds coming from the south, you can easily spend the whole day here. This was not the case on this day, when the waves were great for surfing!
You can reach Fyriplaka through an easy dirt road. You will leave your car or quad at the top of the cliffs before walking down to the sand itself.
Here you will also find an outdoors company, Milos watersports, who offer guided kayaking trips around the coast, towards Tsigrado and Gerakas.
Provatas Beach, Milos
Provatas is the only beach in Milos that constantly receives the prestigious blue flag award. It is also home to a 4-star hotel. To us, this looked a little out of place, but the hotel seems very nice nevertheless.
Provatas beach itself was full of umbrellas and sun loungers back in 2018 when we first visited as you can see in the picture above.
It was very different in 2020, when the hotel didn't open as you can see in the beach photo below. It's a nice sandy beach, and is quite popular as access is very straightforward.
All in all, Provatas Beach wasn't really our cup of tea when the umbrellas were up. We liked it more when the luxury hotel was closed, but still found it fairly crowded and not very special compared to other beaches in Milos.
Kipos
A quiet, secluded beach, further down from Panagia Kipou church, Kipos can be easily reached by car. There's a cool little restaurant here, overlooking the sea.
If you are planning to explore western Milos, this will be your last place to buy water or snacks. Also, this is where the Delfinia boat tours depart for Kleftiko beach.
Gerontas Beach, Katergo Beach
Two more off-the-beaten-track beaches, Gerontas beach and Katergo beach are often included in boat trips of the island. The wild, unique geological landscape and the clear waters make them both worth a visit.
If you like exploring and hiking, there are also hiking paths to get here. It will only take you 10-15 minutes to get down to each of these two beaches from the parking spot, and you may find yourself on your own.
While it's possible to walk down in sandals, it's best to bring proper shoes at it gets rocky and steep in a few places.
When we visited Gerontas beach, the winds were blowing from the south, so we didn't have much luck swimming there. Regardless, this didn't take anything away from the amazing setting.

Kleftiko Beach
Kleftiko beach is one of the most famous spots in Milos and, arguably, the whole of Greece. Strictly speaking, Kleftiko Milos is not a beach. It's a secluded bay with a lot of spectacular, iconic white rocks rising up from the sea.
The easiest and most popular way to get to Kleftiko is by boat. You will find plenty of excursion options sailing from either Adamas, Agia Kyriaki or Kipoi.
Some of these tours last a few hours, while other take up a full day as they stop at many other beaches on the way.
Note that boats will only run when the winds allow, and the exact itinerary cannot always be set in stone in advance.
Kleftiko Bay Hike
If you are feeling adventurous, it is also possible to hike to Kleftiko Bay. The beginning of the hiking path is roughly two kilometres after St John's monastery, up on the mountain.
The road to the monastery is generally in good condition, but the part to the beginning of the hiking path is rather rough.
The hike took us around around 40-50 minutes to get to Kelftiko, and the same coming back. The trail is easy to follow but it gets quite steep in places, so I recommend hiking shoes.
In fact, what many people don't realize is that Milos has a species of red viper whose bite can be deadly, so all in all it's best to wear closed shoes. Bring water, snacks and snorkeling gear.
We've a guide here: Hiking to Kleftiko Bay.
When we were in Kleftiko in June 2018, the water was crystal clear and snorkelling here was delightful. In fact, it was probably one of the most interesting places to snorkel in Milos, due to being able to swim between rock arches and caves.
Unfortunately, in September 2020, the south winds that had been blowing on the previous days didn't help at all!
Sikia
A spot that takes its name after the Greek word for "fig tree", this is another popular stop with sailing boats. Just like Kleftiko, it's not really a beach – it's a cave. Small boats can enter, but if you are visiting with a larger boat you will have to swim over.
There is also a hiking path to get here, but we were told it might have shut down due to recent rainfall, so we haven't tried it ourselves.
Agios Ioannis
Agios Ioannis area is a set of three rather secluded beaches, close to the monastery of Agios Ioannis. It is possible to get here in a normal car, but the road is very rough, so a 4WD or a quad is better.
We heard that the beach is popular with naturists and free-campers, but we didn't see any. We saw a few spearfishing divers though, as well as this friendly duck!
If you are driving here, it's best to come on the north road, as the south road going through Kipos is a lot rougher. The landscape is great though, so if you have a suitable vehicle by all means try the south road.
If you happen to be in Milos around the last week of September, note that there is a celebration at the monastery on the 26th. It's worth stopping by to see what's happening.
Triades / Ammoudaraki
Similarly to Agios Ioannis, Triades and Ammoudaraki beaches can be reached through a challenging rough road or by boat. You will love the fine sand and crystal clear waters, as well as the peace and quiet.
If you are planning to spend some time here, make sure you've got everything you need for the day. Avoid them when the winds come from the west.
Agathia
Yet another secluded beach with no tourist facilities, Agathia beach is a long and wide stretch of sand. If you are after peace and quiet it's really worth the 4WD drive.
Like other beaches in Milos, it's much easier to come here by boat.
Vani
A small, rarely visited spot, Cape Vani is accessible on a 4WD or by boat. Much like Thiorichia beach, Vani used to be home to manganese mines.
Agios Dimitrios, Milos
Only accessible by boat, this tiny beach offers no tourist facilities. As is often the case in Greece, you will find a small white church here, Agios Dimitrios.
Empurios
The only inhabited settlement on the western part of Milos, Emporios is a small village with a famous taverna and a sandy beach.
If you are heading to the taverna, note that they are normally closed on the week around September 26, when the panigiri of Agios Ioannis happens.
Rivari and Fatourena
Rivari is a small, protected beach in Milos across the harbour from Adamas, offering lovely views of the port. It is possible to get here through a dirt road.
At certain times of the year, you might see some migrating birds, as Rivari is a natural reserve. All in all, it's a rather unusual landscape.
Nearby Fatourena is partly sandy and partly rocky. To get here, you will first reach Agia Marina church, and then take a steep dirt road down to the beach.

Achivadolimni Beach, Milos
Achivadolimni Beach is around 1,5 kms long, which makes it the longest sandy beach on the island. It is easily accessible via a paved road, and there are a few points where you can leave your car and get to the beach.
The shallow waters of Achivadolimni Beach make it ideal for families with small children, who will enjoy swimming, sunbathing and relaxing.
There are no facilities anywhere on the beach in terms of sunbeds or umbrellas, although there are some trees for shade. The right side is a designated nudist area, and we were surprised to see a few nudists all along the coastline.
At the time we visited, it was not as crowded as other beaches on the island, and was very relaxing.
Thermal waters / Kanava
Milos has several spots with thermal waters, but Kanava is maybe the most famous. Unfortunately, part of this long sandy beach is close to one of the factories in Milos, which is not the greatest landscape.
I didn't stop here personally, but if you do, let me know what you thought!
Papikinou
One of the most kid-friendly beaches on Milos, Papikinou is a long and narrow stretch of sand with some loungers and umbrellas. There are also several trees for shade. This location faces the sunset, so it's a great spot to spend your evening.
The famous taverna O Hamos (Ω! Χαμός) is located right on Papikinou. We've eaten here twice, and totally recommend stopping for a taste of their hearty dishes.
Try to come at random times if you can, or you will have to queue, especially if you visit in peak season. If you are staying in Adamas, it's not far to come here on foot.
Beaches in Milos
And that completes our beach tour of Milos! There are more spots on the island that we haven't covered, some of which might actually not have a name.
Unless you actually spend the whole summer on Milos (maybe all your life even!), you are unlikely to have time for all of the Milos greece beaches in any case.
Travel tip – The majority of the beaches in Milos have no facilities. Bring some water and perhaps some snacks with you, and enjoy the nature and landscapes!
Want to find out more about Milos Greece? Check out my guide on the best things to do in Milos island.
You might also be interested in: Ferry from Athens to Milos information
Map of Milos Beaches
You'll find maps like these all over the island when you visit to you can more easily located the best Milos beaches when you're there.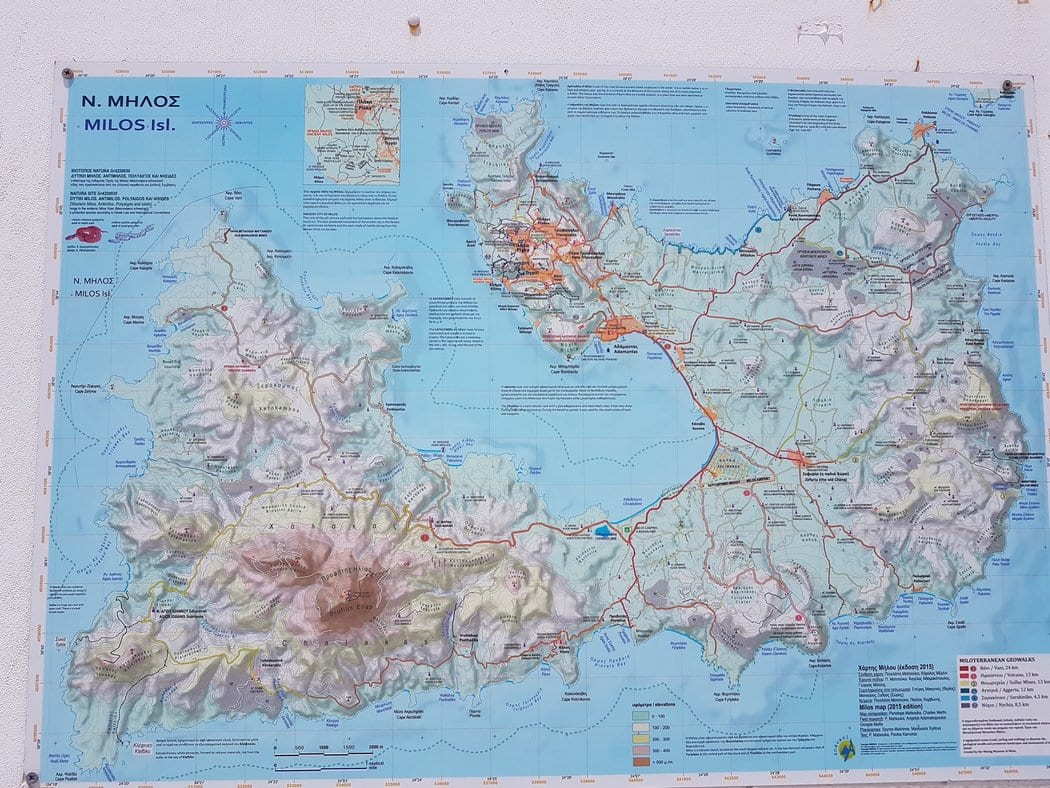 Beaches Milos FAQ
Adventurous travelers who want to check out all the gorgeous beaches the Cyclades island of Milos has to offer, often ask questions such as:
Is Milos or Santorini better?
While Milos has far better beaches and feels more natural and wild, Santorini does offer some stunning views and beautiful Cycladic settings. In a perfect world, you should visit both during a vacation in Greece!
Does Milos have sandy beaches?
Milos has some incredible beaches, many of which are sandy. Achivadolimni beach is the longest beautiful sandy beach on the island, and is a nice family-friendly choice for swimming and sunbathing.
Is Milos very touristy?
The island's magnificent beaches undoubtedly attract a large number of visitors each year. Nonetheless, Milos is less touristy than Mykonos or Santorini. Visit in September for even fewer people and great weather!
Is Milos island safe?
Milos is a very safe destination, with little to no crime. Visitors should be aware though that driving on some of the unsealed roads on quads will require extra care and vigilance.
Free Greece Guides
If you plan to visit Greece, you'll find my series of free travel guides very useful. With itineraries for popular destinations in Greece along with off the beaten path locations, it's a great way to start planning your next vacation in. Just sign up using the link below!
** Click here to sign up for free travel guides on Greece **
Pin this Milos Beach Guide for later
Please pin this guide on the top beaches in Milos for later. You'll find sharing buttons in the bottom right hand of your screen.
---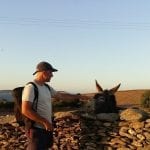 –
Dave Briggs
Dave's
travel writer
from the UK who's been living in Greece since 2015. As well as writing this travel guide to all the beaches in Milos, he's written hundreds more travel blog posts and itineraries for travel destinations all over Greece. Follow Dave on social media for travel inspiration from Greece and beyond: