There's plenty of reasons you should visit Malta, a tiny country in the Mediterranean oozing with charm, and packed with historic sites and great beaches.
Why visit Malta?
Is Malta a country worth visiting? The short answer is a resounding yes! This Mediterranean gem boasts a rich history, diverse cultural influences, stunning natural wonders, and a plethora of activities for all ages. From exploring ancient UNESCO sites to savoring mouthwatering cuisine and soaking up the sun on pristine beaches, Malta has something for everyone.
As a massive history geek, for me what makes Malta so special are the megalithic temples of Malta and the fortifications around the harbour. I've been to Malta four times now, and as I keep returning, I guess I've found plenty of reasons to!
Let's dive into the many reasons why a Malta vacation should be on your Europe bucket list.
Highlights of visiting Malta
Explore Malta's rich history and unique culture with its UNESCO sites, ancient city of Mdina, prehistoric temples, fortifications & medieval architecture.
Enjoy the diverse cuisine & architectural styles while learning about the Maltese language.
Visit stunning beaches for swimming or adventure activities like scuba diving and rock climbing, explore Gozo and Comino islands, experience Valletta's vibrant nightlife scene or a family day out at Popeye Village!
Related: Things to do in Malta in 3 days
Malta's Rich History and UNESCO Sites
Did you know that Malta's history dates back to around 5900 BC? This small island, situated between North Africa and Southern Italy, has been ruled by various civilizations, including the Greeks, Romans, Arabs, Knights Hospitallers, and Brits.
With so much history at every turn, Malta is a treasure trove for history buffs and curious travelers alike.
Ancient City of Mdina
The ancient city of Mdina, also known as the "Silent City," is a must-visit destination during your Malta vacation. Located in the middle of the island, Mdina is a walled city with a charming medieval atmosphere.
The city's stunning architecture is a testament to its rich history dating back to the Middle Ages. As you wander through the narrow streets, you'll be transported back in time, making Mdina an unforgettable experience.
Don't miss out on the opportunity to join a guided walking tour of Mdina and Rabat. This is the best way to explore the city on foot and learn about its fascinating history – It's also surprisingly affordable!. From the awe-inspiring Mdina Cathedral to the impressive city walls, a visit to Mdina is a journey through Malta's past.
Prehistoric Temples
Malta is home to some of the world's oldest manmade structures – the Megalithic Temples. These impressive temples date back to 3600 BC and are recognized as UNESCO World Heritage Sites. Among the most notable are the Tarxien Temples, known for their intricate stone carvings depicting animal figures and symbols.
Fun fact – the TV show Ancient Aliens used some of my video footage of the Malta Megalithic Temples in one of their episodes! And before you ask, no,I don't think that aliens built them!
Another fascinating site is the al Saflieni Hypogeum, an ancient subterranean structure that dates back to the Neolithic period. This underground burial chamber and temple complex showcases the ingenuity of Malta's early inhabitants. Exploring these prehistoric sites will leave you in awe of the island's rich history.
Fortifications and Military Architecture
Malta's strategic location in the Mediterranean Sea made it a crucial location for military defense throughout history. As a result, the island is dotted with impressive fortifications and military architecture that are worth visiting. The Three Cities area of Vittoriosa, Senglea, and Cospicua showcases Malta's military past with its fortified city walls and narrow streets.
A visit to Fort St. Elmo and Fort St. Angelo will provide you with an insight into Malta's turbulent past. These historic forts have played a significant role in the island's history, and their well-preserved structures are a testament to Malta's resilience.
Even if you are planning a beach holiday in Malta, you'll be sure to want to visit Valletta and the impressive harbour at least once. A boat trip across the Grand Harbour is highly recommended by the way!
If you want to find out more about the fortifications of Malta, there's a little interpretive museum that is worth dropping by. Check out their website for opening times.
Diverse Cultural Influences
Malta's unique cultural tapestry is a result of various influences from the Phoenicians, Romans, Arabs, Italy, Sicily, and the United Kingdom. These diverse cultural influences are evident in the Maltese language, architecture, and food.
The Maltese language is a combination of Arabic, Italian, and English, and is the only Semitic language written in the Latin alphabet. The architecture of Malta is a mix of styles, from the Baroque churches of Valletta to the traditional architecture of Malta.
Maltese Language
The Maltese language is a fascinating blend of languages, derived from a dialect of Arabic and heavily influenced by Sicilian. This Semitic language is the official language of Malta and serves as a testament to the island's diverse history.
As you explore Malta, you'll notice the unique sounds of the Maltese language, which reflect its rich cultural influences.
Architectural Styles
As you wander through Malta's historic cities, you'll notice a unique mix of architectural styles that showcase the island's diverse history. From Middle Eastern-inspired cityscapes to Greek and Roman-inspired churches and cathedrals, Malta's architectural styles are truly one-of-a-kind.
This blend of architectural influences serves as a visual reminder of the many civilizations that have left their mark on Malta.
Food and Traditions
Maltese cuisine is a delicious fusion of flavors and ingredients from various cultures. Traditional Maltese dishes, such as Lampuki Pie, Bragioli, and Kapunata, have been influenced by Sicilian, North African, and Middle Eastern cuisines.
As you indulge in Malta's mouthwatering food, you'll experience the island's rich cultural heritage with every bite.
Beautiful Beaches and Natural Wonders
Malta is blessed with an abundance of beautiful beaches and natural wonders that make it a perfect destination for sun-seekers and nature lovers alike. From the famous Blue Lagoon to the picturesque St. Peter's Pool, Malta offers both sandy and rocky beach options to suit every preference.
Blue Lagoon
The Blue Lagoon, located on the tiny island of Comino, is a must-see destination during your Malta vacation. With crystal-clear aquamarine waters and breathtaking surroundings, the Blue Lagoon is the perfect spot for swimming, snorkeling, or simply soaking up the sun.
It's no wonder that this stunning lagoon is one of Malta's most popular tourist attractions now.
Related: Best day trips in Malta
St. Peter's Pool
St. Peter's Church. Pool is another natural wonder that you won't want to miss during your visit to Malta. This unique, naturally formed pool is surrounded by limestone rocks and offers a tranquil spot for swimming and sunbathing during warm weather.
The pool's distinctive shape and crystal clear waters make it a favorite among both locals and tourists.
Sandy and Rocky Beaches
Malta offers a variety of sandy and rocky beaches to suit every preference. Some of the most popular sandy beaches include Melliea Bay, Golden Bay, and Gajn Tuffiea Bay. For those who prefer rocky beaches, St. Peter's Pool, Ramla Bay, and Paradise Bay are excellent options.
With its stunning coastline and crystal-clear waters, Malta is a beach lover's paradise.
Azure Window
Once the symbol of Malta, used on marketing materials and even as a backdrop for Game of Thrones, the Azure window is no more. This landmark collapsed in 2017, and only a few weeks after I had visited it. Strange to think that I was one of the last of say a thousand or so people to have seen the Azure window still standing!
Adventure Activities and Outdoor Experiences
For thrill-seekers and outdoor enthusiasts, Malta offers a variety of adventure activities and experiences. From scuba diving and snorkeling to hiking trails and rock climbing, there's no shortage of exciting ways to explore the island's natural beauty.
Whether you're looking for a leisurely stroll along the beach or a heart-pumping adrenaline rush, Malta has something for everyone. With its stunning landscapes, crystal clear skies, and stunning landscapes.
Scuba Diving and Snorkeling
Malta is a haven for scuba divers and snorkelers thanks to its crystal clear waters and diverse marine life. The island boasts a range of incredible dive sites, such as Cirkewwa, Um El Faroud, The Inland Sea, The Blue Hole, and Coral Gardens, which are home to an array of underwater caves, rock formations, natural reefs, and wrecks.
Whether you're a seasoned diver or a first-timer, Malta's underwater world is sure to leave you in awe.
Hiking Trails
If you prefer to explore Malta's landscapes on foot, there are numerous hiking trails that offer stunning views and unique experiences. Some of the most popular trails include the Malta Coastal Walk, Girgenti Country Trail, Dingli Cliffs and Fawwara Trail, and the Golden Bay to Gnejna Bay route.
These trails take you through the island's picturesque countryside, coastal cliffs, and lush valleys, providing a memorable way to experience Malta's natural beauty.
Keep in mind that Malta is very hot in the summer. Hiking is best done in the shoulder season months of May/June and September/October.
Related: Malta in October
Rock Climbing and Adventure Sports
For adrenaline junkies, Malta offers plenty of rock climbing and adventure sports opportunities. The island's limestone cliffs and unique terrain make it an ideal destination for rock climbing enthusiasts of all levels.
In addition to rock climbing, Malta is also home to other adventure sports, such as scuba diving, snorkeling, and island-hopping tours. No matter your thrill-seeking preferences, Malta has something for you.
Exploring Malta's Islands: Gozo and Comino
While Malta's main island is brimming with attractions and activities, its smaller islands, Gozo and Comino, offer unique experiences that are not to be missed. From the fortified city of Victoria on the Gozo island to the picturesque Blue Lagoon on Comino, exploring these islands is a must-do during your Malta vacation.
The fortified city of Victoria is a must-see on Gozo. It is home to the Citadel, a fortress built by the Knights of St. John in the 16th century. The city also boasts a number of churches, museums, and other attractions.
Gozo: Victoria and Ggantija Temples
Gozo, Malta's second-largest island, is known for its stunning scenery, relaxed atmosphere, and historical attractions. One of the must-see destinations on Gozo is the fortified city of Victoria, where you can explore the ancient citadel and marvel at the panoramic views of the island.
Don't miss the opportunity to visit the Ggantija Temples, a UNESCO World Heritage site and one of the oldest freestanding structures in the world. These awe-inspiring temples provide a glimpse into Malta's ancient past and are a testament to the island's rich history.
Comino: Blue Lagoon and Crystal Lagoon
Comino, the smallest of Malta's three main islands, is a paradise for beach lovers and water sports enthusiasts. The island is home to the world-famous Blue Lagoon, a stunning bay with crystal clear turquoise waters that is perfect for swimming, snorkeling, and sunbathing.
Comino also boasts the equally picturesque Crystal Lagoon, where visitors can enjoy more secluded swimming and relaxation. A visit to Comino is an unforgettable experience that you won't want to miss during your Malta vacation.
Island-Hopping Tours
To make the most of your time in Malta, consider embarking on an island-hopping tour. These popular tours allow you to explore the beauty and diversity of Malta's islands, including Gozo and Comino, in a fun and convenient way.
Whether you choose a boat tour, jeep tour, or even a quad bike adventure, island-hopping tours provide a unique and memorable way to experience the best that Malta has to offer.
The Vibrant Nightlife Scene
Malta has a vibrant nightlife scene that caters to a wide range of tastes and preferences. From luxurious ultra lounges to laid-back hipster bars, the island has something for everyone.
The nightlife hotspots of Valletta, St. Julian's, and Sliema offer a diverse array of bars, clubs, and entertainment options to keep you entertained well into the night.
Bars and Clubs in Valletta
Valletta, Malta's capital city, boasts a lively nightlife scene with numerous bars and clubs to choose from. Popular spots include San Paolo Naufrago, The Pub, Rumrunner, Babel Bistro, Loop Bistro Bar, Trabuxu Wine Bar, Bridge Bar, Cafe Society, Yard 32 Gin & Tapas Bar, and Gugar.
With such a diverse selection, you're sure to find the perfect venue to enjoy a night out in Valletta.
Nightlife in St. Julian's
St. Julian's is another nightlife hotspot in Malta, offering a mix of bars, clubs, and live music venues. Some of the trendiest places to go out in St. Julian's include Fuego Speakeasy, Tiffany, Hard Rock Cafe Malta, Chalice Bar & Lounge, and The Thirsty Barber.
In addition to its vibrant nightlife scene, St. Julian's also offers a variety of other nighttime activities such as comedy shows and karaoke.
Sliema's Entertainment Scene
Sliema, a popular tourist destination in Malta, also boasts a lively entertainment scene. From bars and clubs like Step Down Bar, The Jack of All Trades, Plough and Anchor, Cork's Bar Balluta Bay, Nappa Bar, Ta' Bajri Wine Bar, Salisbury Arms Pub, Tex Mex Bar and Grill, Black Gold Saloon, The Exiles Panorama Lounge, Hole in the Wall, The Skyroom Cocktail Bar & Grill, O'Clock, The Black Sheep, and Hammett's Gastro Bar, to live music venues, cinemas, and theaters, Sliema has something to offer for every type of night owl.
Whether you're looking for a place to dance the night away, catch a movie, or take in a show, Sliema has it all. With its vibrant nightlife and vibrant nightlife.
Malta's Thriving Wine Industry
Malta's thriving wine industry is another reason why this Mediterranean island should be on your travel bucket list. With a history of winemaking dating back to the time of the Phoenicians, Malta offers a unique wine experience that combines tradition with modern techniques.
From vineyard tours and grape varieties to wine tasting experiences, there's plenty to discover in Malta's wine scene.
Vineyard Tours
Malta is home to several vineyards that offer guided tours and tastings, allowing you to explore the island's wine culture firsthand. Some top picks include Emmanuel Delicata, Marsovin Cellars, Marnisi Estate, Ta' Mena Estate, and Meridiana Wine Estate.
During a vineyard tour, you can expect to learn about the history and production process of the winery, as well as sample their wines.
Grape Varieties
Malta is known for its indigenous grape varieties, such as Gellewza, Girgentina, and ellewa, as well as international varieties like Cabernet Sauvignon, Merlot, and Syrah.
These grape varieties contribute to the unique flavors and characteristics of Maltese wines, making them a must-try for any wine enthusiast.
Wine Tasting Experiences
In addition to vineyard tours, Malta offers a range of wine tasting experiences that cater to different preferences and interests. From guided tours of wineries and private tastings to wine-pairing dinners, there's a wine experience for everyone in Malta.
These wine tastings provide an opportunity to sample the diverse flavors of Maltese wines while learning about the island's rich winemaking history.
Family-Friendly Attractions
Malta is not only a great destination for history buffs and adventure seekers, but it's also perfect for families. With a variety of family-friendly attractions like Popeye Village and interactive museums, Malta offers fun and educational experiences that can be enjoyed by visitors of all ages.
From the crystal-clear waters of the Mediterranean Sea to the ancient architecture of Valletta, Malta is a destination that has something for everyone. Whether you're looking for a relaxing beach holiday or an action packed holiday.
Popeye Village
Popeye Village, originally built for the 1980 musical production of Popeye starring Robin Williams, has since become a popular tourist attraction for families. Here, you can explore the colorful houses, snap photos with Popeye and his friends, and enjoy various fun activities.
Make sure to visit Popeye Village Viewpoint for a beautiful view of the bay and the village.
Interactive Museums
Malta is also home to several interactive museums that cater to families with children. Some popular options include The Malta National Aquarium, the Malta Maritime Museum, and the National War Museum.
These museums provide engaging and immersive experiences, making learning about Malta's history and culture fun and exciting for the whole family.
Frequently Asked Questions
Some of the most commonly asked questions readers have when considering if they should go to Malta or not include:
How many days should I spend in Malta?
While you can see most of the more significant attractions in Malta in 3 or 4 days. many travelers, especially from the UK, tend to spend a week in Malta as part of their summer holiday. That said, Malta is well connected from many European cities by flight, so it also makes a good weekend break destination.
Is Malta a good place to go?
Yes, Malta is good holiday destination and is a friendly and safe place to go. With its beautiful weather and rich culture, it's an ideal spot for those looking for sun-filled getaways or sightseeing opportunities at historic sites. Whether you're on a romantic holiday or a family trip, Malta is sure to provide the perfect destination.
What is so good about Malta?
Malta is an amazing destination with sunny year-round climate, stunning beaches, natural pools, and lagoons. What's more, Malta is safe, English is widely spoken, and it offers a great contrast to crowded mainland Europe (apart from August of course!). Plus, you can visit its sister islands Gozo and Comino to experience even more of its beauty.
Is Malta cheap or expensive?
Malta is generally considered to be a mid-range destination in terms of cost. While it's not the cheapest destination in Europe, it's still affordable compared to other popular tourist destinations in the region. The cost of accommodation, food, and transportation in Malta can vary depending on the time of year and the location, but visitors can usually find reasonably priced options for all budgets. It's worth noting that prices can be higher in the peak summer season, so visiting during the off-season can be a good way to save money.
---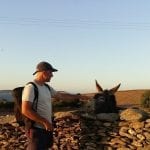 –
Dave Briggs
Dave is a
travel writer
from the UK who lives in Greece and travels around the Mediterranean regularly. As well as creating this guide on reasons to visit Malta, he's written hundreds of travel guides for destinations all over Europe. Follow Dave on social media for travel inspiration from Greece and beyond: