Whether you want to trek the Himalayas, go sightseeing in Kathmandu, or see rhinos in Chitwan, these Nepal travel tips will get you started!
Travel tips for Nepal
I've written this Nepal travel guide with first time visitors to Nepal in mind. Within, you will find some practical information to plan your trip to Nepal.
As well as general travel information and advice, you'll also discover some useful things to know before traveling to Nepal.
Hopefully, this travel blog about Nepal will make your life easier and help you to enjoy your experience more when you are there!
My Nepal Travel Blogs
I've visited Nepal twice now, and have intentions of returning many times in the future! As you might expect, I've written several Nepal travel blogs about my trips and the places I have seen there.
You can find my Nepal blog posts at the end of this guide. They cover subjects such as the best things to do in Kathmandu, hiking the Ghorepani Poon Hill trail, and have lots of useful travel tips.
Before that though, let's kick off this Nepal visitors guide right from the beginning….
What is Nepal like?
Whenever I return from a trip, people always ask me what a country is like. It was no different after visiting Nepal!
Quite simply, I love Nepal. Most people go on about the beauty of the mountains and the charm of nature, but for me, it's the people.
Friendly and welcoming, fun and hardworking, they're my sort of people. You have to go there to see what I mean for yourself!
Planning your trip to Nepal
This first section brings together some basic facts for your initial travel planning. The second section attempts to answer some frequently asked questions about travel to Nepal.
If you have any questions or other travel tips for Nepal, please leave them in the comments section at the bottom of the page!
Where is Nepal
Known as the Gateway to the Himalayas, Nepal is bordered by India on three sides and China's Tibet Autonomous Region on the other.
Nepal trip planning – When to go
Picking the best time of year to visit Nepal depends a lot on what activities you want to enjoy when there.
For example, some months are better suited to trekking in Nepal than others, whilst it's possible to go sightseeing in Kathmandu all the year around (if you don't mind dodging the odd heavy shower in monsoon season).
Broadly speaking, the best months for visiting Nepal are: October and November (peak season), March and April (shoulder season).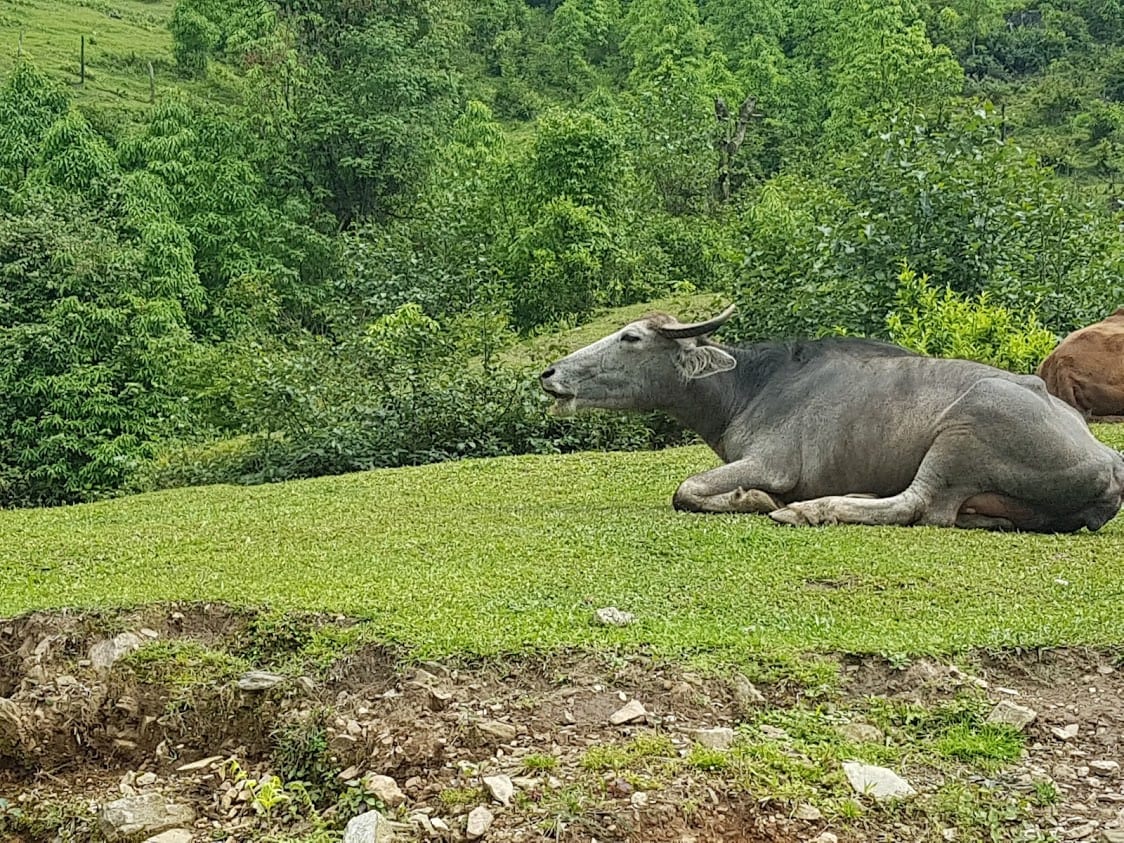 Both times I have visited Nepal has been in the month of May. The weather can not entirely be relied upon in May, and can vary from strong heat to heavy rain.
Personally, I think I had pretty good weather in May both times. If you want to visit Nepal in May, you'll probably find prices lower, and accommodation on the hiking trails easier to find than in peak season.
How to get to Nepal
The most common route that people take to get to Nepal is by air. The international airport is based in Kathmandu. Qatar Airways, Emirates, and Turkish Airlines are just some of the airlines that fly in and out of the city.
If your country does not have a direct flight to Nepal, the chances are you will use a hub airport such as Istanbul or Dubai.
I've not used any of the overland crossings into Nepal, although I know that some cyclists do cross over from India.
Related: Can you take a powerbank on a plane?
Entry Requirements for Nepal
You'll need to take your passport with you to Nepal. The passport should have one blank page (for the HUGE visa!), and be valid for six months or more at the time of entry. Pretty standard stuff there.
Visas for Nepal are available on arrival at Tribhuvan International Airport. I didn't travel over the land borders, so couldn't say what the requirements are there.
At the time of writing, a single entry visa for 15, 30, or 90 days cost $25, $40 and $100.
Note – You don't need to actually pay in dollars for your tourist visa. Euros and pounds will be fine, although I'm not sure about other currencies.
Money in Nepal
The currency in Nepal is the Nepalese Rupee. Internationally you can find the exchange rate as NPR. Locally, goods are priced in Rs.
The Nepalese Rupee is available through money changers and ATM machines. Getting hold of it is not a problem, but people aren't so keen converting it back!
When planning to travel around Nepal, it is best to make sure you have an adequate amount before hitting the trails. Whilst you'll find ATM machines in main population centres such as Kathmandu and Pokhara, you won't be finding any out on the hiking trails!
How to get around Nepal
Nepal is a relatively small country, but (and it's a big but!), it's a touch on the mountainous side.
This means that whilst distances between places in Nepal may look quite close together on a map, there's a lot of up and down in between. Add on to this a road system in desperate need of upgrading, and you'll soon realise there are some challenges ahead.
Depending on time, location, and season, visitors to Nepal might choose between bus, 4WD and plane – often in the same journey!
I'd love to have more information for two-wheeled travellers in Nepal. I've followed several cyclists blogs where they have cycled through Nepal. I haven't done this myself yet, but it's high on my wish list!
If you've cycled in Nepal, leave us some travel tips in the comments below!
Note – For some journeys, you might want to consider short flights with the local airlines which have awesome names like Buddha Air, and Yeti Airlines.
Although they'll be more expensive than other forms of transport, they can cut hours off your journey time when planning a Nepal itinerary. This is definitely worth keeping in mind when looking how to get to Pokhara from Kathmandu.
Nepal Travel Tips
Below, I'll answer a few frequently asked questions about travelling to Nepal. The answers and other insights in this Nepal travel guide are all based off my own experiences.
Is it safe to travel to Nepal alone?
In my opinion, Nepal is a very safe country to travel alone. The Nepalese culture is a friendly and welcoming one, and the people are simply awesome!
How expensive is Nepal?
This is actually a tough question to answer. A lot depends on where you are and what it is you are trying to buy. It also depends exactly how you want to explore Nepal.
For example, bottled water in Kathmandu is very cheap. When trekking in the mountains though, the higher you are the more expensive it is. This is due to either bottled water having to be carried there, or safe water being boiled, which takes more fuel the higher you are.
With accommodation in mind, you could get a $3 euro a night hostel bed or a $150 a night high end hotel room in Kathmandu. The Park Village Resort is a top end hotel, with a lovely pool!
In the mountains, rooms in tea-houses might cost between $3 and $10 per night.
Trekking permits are another expense you will need to factor in. So are any guide/porter fees and tips.
Note – My assumption is that most people reading my travel blog have an adventurous, semi-budget minded mentality. As such, I think allowing $50 per day would be more than enough.
The cost of food in Nepal
When it comes to food out on the trail, Dal Bhat is your best friend! Not only is it cheap and filling, but there are free refills as well!
I've included a menu from a teahouse below so you can get an idea of the food prices when trekking.
Please note, that these prices are 2017, and taken from a tea-house on the Ghorepani-Poon Hill trek.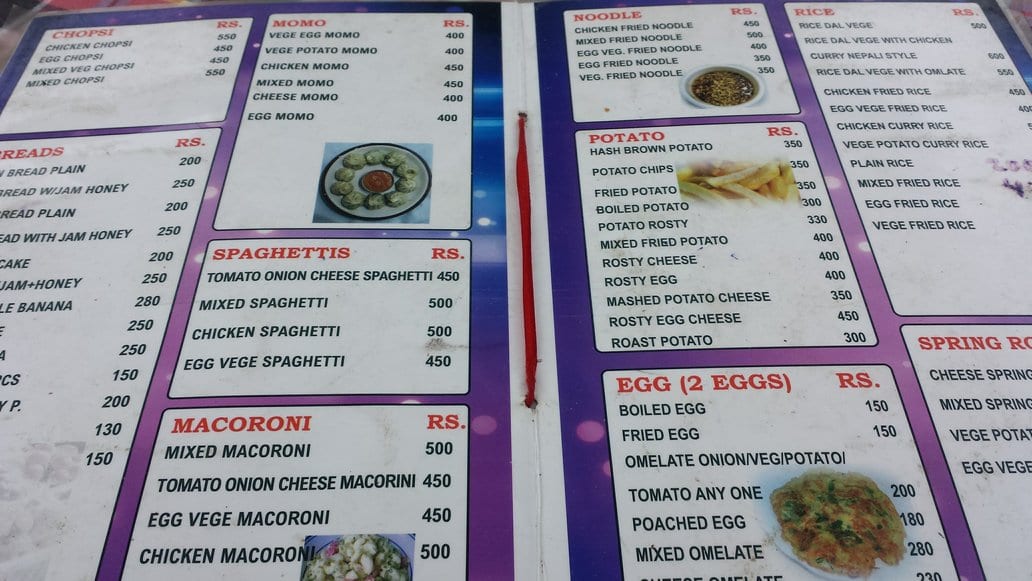 Nepali Food
I've got one word to describe Nepali food – Yum!
There's a touch of spice and a touch of colour. Nepalese food is filling, tasty, and varied.
The most famous dishes in Nepal are perhaps Momos and Dal Bhat. If you haven't eaten at least one Dal Bhat per day when trekking in Nepal, you're not doing it properly!
Is there internet in Nepal?
Yes, there is internet in Nepal! In the main population centres, you'll find WiFi in cafes and hotels. Even up on some of the trails, the tea-houses have WiFi now!
I personally found that buying a local sim card in Nepal, and topping up for 10GB was a good way to go. It cost about the equivalent of 10 dollars, and there was more than enough data to last me during my time in Nepal. Where I couldn't get WiFi, the data was a nice reserve.
Note – It goes without saying that the further off the beaten path you get, the slimmer your chances of getting internet in Nepal are. Actually, it's quite nice!
How long should I spend in Kathmandu?
I honestly think that 2 days in Kathmandu is enough. The reason is not because there is a lack of things to see in Kathmandu, but because the air quality is quite bad.
If you want to spend longer in the city, I would suggest 2 days in Kathmandu at the start of your trip to Nepal, and 2 days at the end.
Sightseeing in Kathmandu
I've got a more in-depth guide you can check here on fun things to do in Kathmandu. This teaser list of attractions in Kathmandu to see should get you started though:
Wander around Thamel in Kathmandu
Explore the Old Town
Visit the Garden of Dreams in Kathmandu
Take a trip to Monkey Temple (Swayambhunath)
See Boudhanath Stupa
Go to Whoopie Land Amusement Park (Really?!?!)
Visit the Kathmandu Valley
Take an Everest flight
What to do in Nepal
Nepal really is the home of outdoor adventure, and it is a trekkers paradise. Most visitors come to go hiking in Nepal, and the Mount Everest base camp trek and Annapurna circuit are two popular routes.
There are plenty of other adventure sports and things to do as well. From whitewater rafting to mountain biking, you'll be able to get your adrenaline fix when in Nepal!
Whitewater rafting in Nepal
There's plenty of opportunity to try whitewater rafting in Nepal. The Trishuli River area is a popular place for trekkers to experience rafting before hitting the Annapurna circuit.
If you check out the Nepal video below, you'll see a short rafting section I took before starting the Ghorepani – Poon Hill trek in 2017.
Trek the Himalayas
A trekking guide to Nepal is worth a blog post in itself. Probably more like a book!
Trekking options include hikes in the Everest region and other diverse landscapes all close by to the majestic Himalayas.
There's little point in going into massive detail here, but what I would say is look beyond those 'classic' treks.
Sure, the Everest Base Camp Trek (EBC) and Annapurna Base Camp Trek (ABC) are all bucket list items, but they are not the only treks in Nepal!
For example, the Ghorepani – Poon Hill circuit is easily accessible for people of most levels of fitness, and Mustang Valley treks have a more adventurous and authentic feel.
See Rhinos in Nepal
Yes, I'm being serious! Until visiting Nepal, I was blissfully unaware that there were any rhinos in the country. These big guys, along with other animals are waiting for you to discover them over in Chitwan National Park.
Try a Homestay in Nepal
In recent years, a network of rural community homestays has sprung up around Nepal. The basic concept is to act as a bridge between rural communities and the rest of the world.
A Nepal homestay is a great way to get a deeper insight into the real Nepal, and a fantastic opportunity to get to know some people better!
You'll be able to taste local foods, see what daily life consists of, make some friends, and learn about the local culture.
In return, the communities benefit from the extra funds brought into them, improved living standards, education, preservation of local culture and personal development. It's win-win for everyone!
Adrenaline Activities in Pokhara
Finally, adrenaline junkies can get their fix in Pokhara. Whether before or after a trek, paragliding, tandem diving, bungee jumping, and boating are all possible.
Someone showed me a video of an ultra-light flight they took between the mountains – that's definitely on my list for next time!
Nepal Travel Blog Posts
Interesting in finding out more about Nepal? These travel blogs are a great starting point to plan your trip.
Nepal Travel Tips
These Nepal travel tips will help you plan your next trip to Nepal. Each one leads through to a useful Nepal travel guide.
Nepal Travel Essentials
If it's your first trip to Nepal, here's a few things you should consider bringing with you:
Medical coverage / travel insurance
More than one passport sized photo (maybe 10?)
Water filter (don't drink the tap water!)
Trekking gear (Particularly comfortable boots)
Adapters for European plugs
Powerbank (to recharge phones on the trekking trails)
Visit Nepal FAQ
Readers who plan to visit the country for Nepal trekking trips and to explore more of this beautiful country often ask questions similar to:
What should I avoid in Nepal?
Don't approach dogs when trekking, avoid drinking tap water in Kathmandu, and always remove shoes before entering a religious place.
Is Nepal safe for travel?
Generally speaking, most travelers to Nepal will have a totally fine experience. Safety issues come mainly from the environment, where the weather can turn quickly, presenting danger to even the most experienced outdoors people.
What you need to know before traveling to Nepal?
The one thing to prepare for is bureaucracy – Whether applying for trekking permits or getting a Nepal Visa, paperwork issues can take a lot longer in Nepal than people from other countries are used to.
Do and don'ts in Nepal?
Avoid eating or giving things with the left hand, try to limit the amount of plastic you use, and always remember that whatever you buy or use in the mountains on the trekking trails had to be carried up there normally by porters.
Is Nepal trekking possible alone?
With beautiful and varied trekking possibilities, Nepal has the most stunning and diverse treks. In Nepal, trekking can be done alone or in a group tour. While trekking with a group may be an exciting experience, solo trekkers in Nepal get to experience a challenging adventure.
Please pin this Nepal travel guide for later
If you think that other people would benefit from a travel tip or two mentioned here when planning their own Nepal travels, feel free to pin this adventure travel blog to one of your Pinterest boards using the image below.