Steeped in history, culture and the arts, Biberach an der Riss is perfect for sightseeing. I explored this small picturesque town when cycling along the Donau-Bodensee Radweg. Here's the top things to see in Biberach, Germany.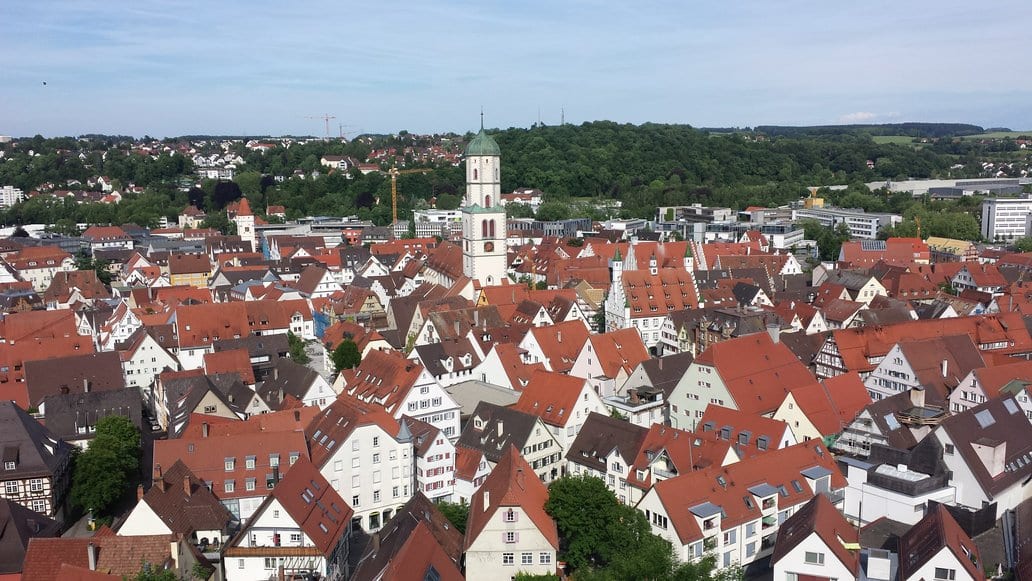 Biberach, Germany Highlights
If you live anywhere other than Germany, the chances of you having heard of the town of Biberach an der Riss are probably less than zero.
This isn't because of the lack of things to see or do though. Far from it.
In fact, Biberach an der Riß is the perfect example of just how much depth, history, and culture Germany has to offer. In our pursuit of adventures in off the beaten track locations, we often forget what is right on our doorstep here in Europe.
This guide will show you the top things to see in Biberach, including historic buildings, landmarks and monuments.
First though, here's a little background information.
Map of Biberach an der Riss
The town of Biberach an der Riss is located in southern Germany. It is the capital of Biberach district, in the Upper Swabia region of the German state of Baden-Württemberg.
How to get to Biberach an der Riss
I cycled to the town of Biberach an der Riss from the nearby city of Ulm as part of a cycling holiday in the Baden-Wuerttemberg region on the way to Lake Constance.
Other options include driving and public transport. You can take a train from Munich (MUC) to Biberach an der Riß via Muenchen Hbf and Ulm Hbf in around 2h 48m
If you are arriving from another country, the nearest airport to Biberach an der Riß is Memmingen (FMM).
Why I visited Biberch an der Riss
After leaving Ulm on my recent bike tour along the Danube to Lake Constance cycle route, Biberach an der Riss was my next stop.
On arrival, the Biberach tourism board kindly arranged for a local guide to take me around and see the sights.
The guide was a cool character, and we had an enjoyable time strolling around the town.
Of all the places we visited, I think the towers were the most impressive, as they had great views out over the city.
If you are planning to cycle the same route, or are visiting the area, here are the main things to see in Biberach, Germany.
Things to See in Biberach, Germany
I stayed in a hotel just on the edge of Biberach, and it was a 5 or 10 minute walk into the centre. Along the way I spotted this piece of street art in an underpass.
It was the first piece I had seen during my trip, although it has some way to go to compete with the street art in Athens back home!
Here's what else to see in Biberach an der Riss city center.
1. "The Donkey's Shadow" Monument
This donkey sculpture stands tall in the town's market square, with interesting and surprising details on the front that deserve a close look.
The work of German artist Peter Lenk, it is inspired by a controversial story of a donkey and an argument over who owns its shadow.
The 1774 story, by Christoph Martin Wieland, tells of a donkey that a dentist hires to take him to another town, with the donkey's owner tagging along.
One hot day, as they stopped to rest, the dentist sat in the shadow of the donkey for shade. The owner objects, saying the shade belongs to him because the dentist did not pay for the donkey's shadow.
But the dentist insists otherwise, and the two—unable to reach an agreement—get their hometown involved and take the case to court. The day of the final trial, however, angers the townspeople, who end up tearing the poor donkey into pieces.
2. Weberberg District
Step back in time with a tour of Biberach's oldest neighbourhood, set on the slope of a hill. Here you can find the charming timber-framed houses where weavers once lived, making world-renowned textile from linen and cotton at their basements.
Weaving was actually the town's main industry in the 1500s, with 400 or spinning wheels at work during the time.
3. Biberach's Oldest Structure
The longest-standing structure in town is not a building, but a house that dates back to 1318.
The house (including its roof) was constructed using experimental methods, which turned out to be key in preserving its structural integrity through the years.
It sits across the Ochenhauser Hof, a former monastery known for its now-outdated wooden nails.
4. St. Martin's Church
St. Martin's is the largest and oldest church in Biberach. A former gothic basilica, it features ornate baroque elements while maintaining an air of simplicity.
But this unique architectural blend is not the only thing that makes the church fascinating. There's also the fact that both Catholics and Protestants go here.
They've been sharing the church since the 1540s, with a timetable designed to accommodate the two religions.
5. Weißer Turm (White Tower)
Completed in 1484, this Biberach landmark was built with the features of a typical guard and defence tower from that period.
Its walls are 2.5 meters thick, and the structure itself has a 10-meter diameter and a height of 41 meters. There are nine rooms inside—rooms that were used as prison cells during the 19th century.
Today the tower serves as a clubhouse for the Scouts of St. George.
By user:Enslin – Own work, CC BY 2.5, Link
6. Braith-Mali Museum
Located in a 16th-century building, the Braith-Mali Museum spans 2,800 square meters, with sections on art, history, archaeology and natural history.
Highlights include the works of German expressionist Ernst Ludwig Kirchner, the jewelled flower basket of goldsmith Johann Melchior Dinglinger, and the original studios of animal painters Anton Braith and Christian Mali.
The museum also presents Biberach's history and Upper Swabia's landscape and animal world through interactive models, test stations, installations, and computer animations and games.
7. Wieland Museum
The museum provides a glimpse into the life and works of famed German writer and poet Christoph Martin Wieland. It is set in his original garden house, within a park created by architect Hans Dieter Schaal.
Besides being the author of the story behind Biberach's donkey monument, Wieland was working here as town clerk when he began translating into German prose some of William Shakespeare's plays.
8. Kolesch Tannery
Biberach is home to the last tannery in Germany. It is also one of the few (if not the only) left in the world that produces naturally tanned leather.
Instead of using chemicals and processing, Kolesch Tannery still relies on hammer-fulling machines and brushes dye repeatedly into the material to create a fine and hard-wearing surface.
You can see this craft in practice during a tour of the tannery. I didn't get to see it this time, but it gives me an excuse to return!
With its long and rich history, Biberach, Germany is sure to impress, amaze and fascinate tourists. From old half-timbered houses and museums to sculptures and structures, you're in for an enriching and memorable experience.
Travel Post Suggestions
You might also be interested in these other blog posts about travel and city breaks in Europe: