Here's the best things to do in Ulm, Germany. From visiting the world's largest steeple, to seeing a prehistoric carving over 40000 years old, here's the best Ulm Germany attractions.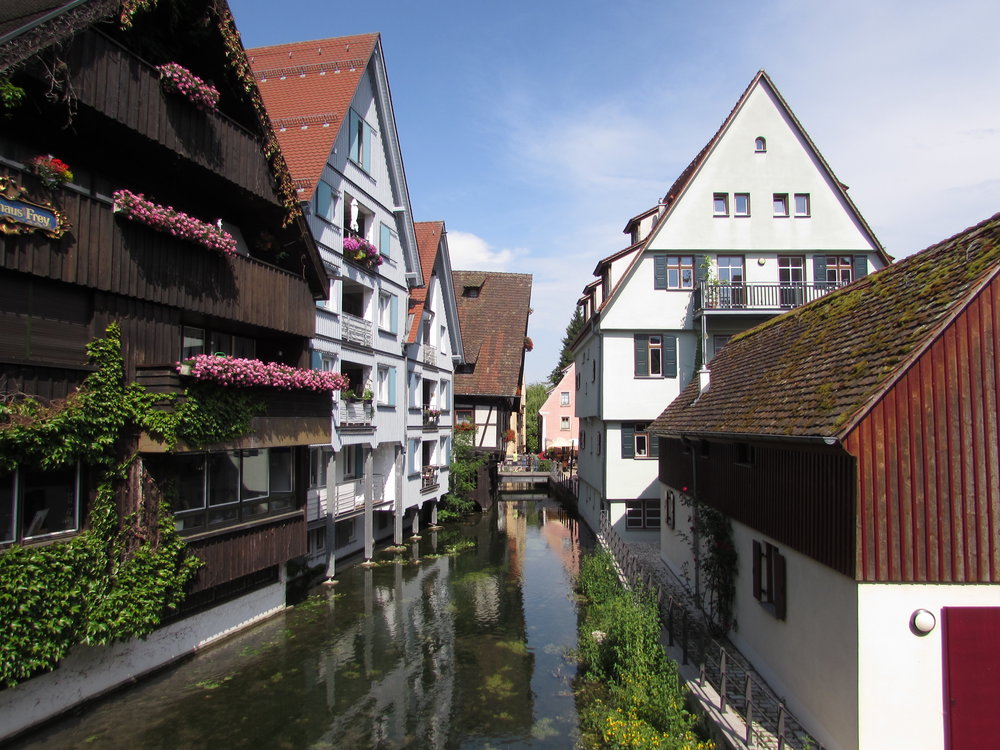 Top 10 Things to Do in Ulm
This Ulm travel blog guide features the following must see places in Ulm, Germany:
Visiting Ulm, Germany
Over the years, I have managed to cycle past Ulm, Germany twice. Once was on the way cycling from England to South Africa, and once cycling from Greece to England.
On neither occasion did I have a chance to stop and spend time in Ulm, so during a recent trip to Germany, it was third time lucky!
Ulm was to be my starting point for a bike tour along the Danube to Lake Constance cycle route which leads from Ulm to Lake Constance.
You can check out the first in a series of videos I made about this 4 day bike tour here: Cycling the Donau Bodensee Route.
First though, I spent a day in Ulm to see the main attractions!
What to do in Ulm, Germany
The city of Ulm, set in the stunning Baden-Württemberg region of Germany, offers a unique sightseeing experience, thanks largely to its rich history and traditions. Its streets are lined with shops and cafés, making it a nice relaxing stop for a day trip.
Other tourist attractions are easily accessible too, so you can cover plenty of ground even during a short visit. For a relatively small city, Ulm has a surprising amount of things to see and do.
1. Visiting Ulm Minster (Not Ulm Cathedral)
It's probably best to begin by clearing up that it is Ulm Minster, and not Ulm Cathedral. It's not hard to see why people might think it's a cathedral due to the sheer size of the building, but trust me, it's not!
Standing in the centre of Ulm the Minster is a Gothic church founded in 1377. This magnificent work of engineering also includes the world's tallest church spire, that has a height of 161.53 meters (530 feet).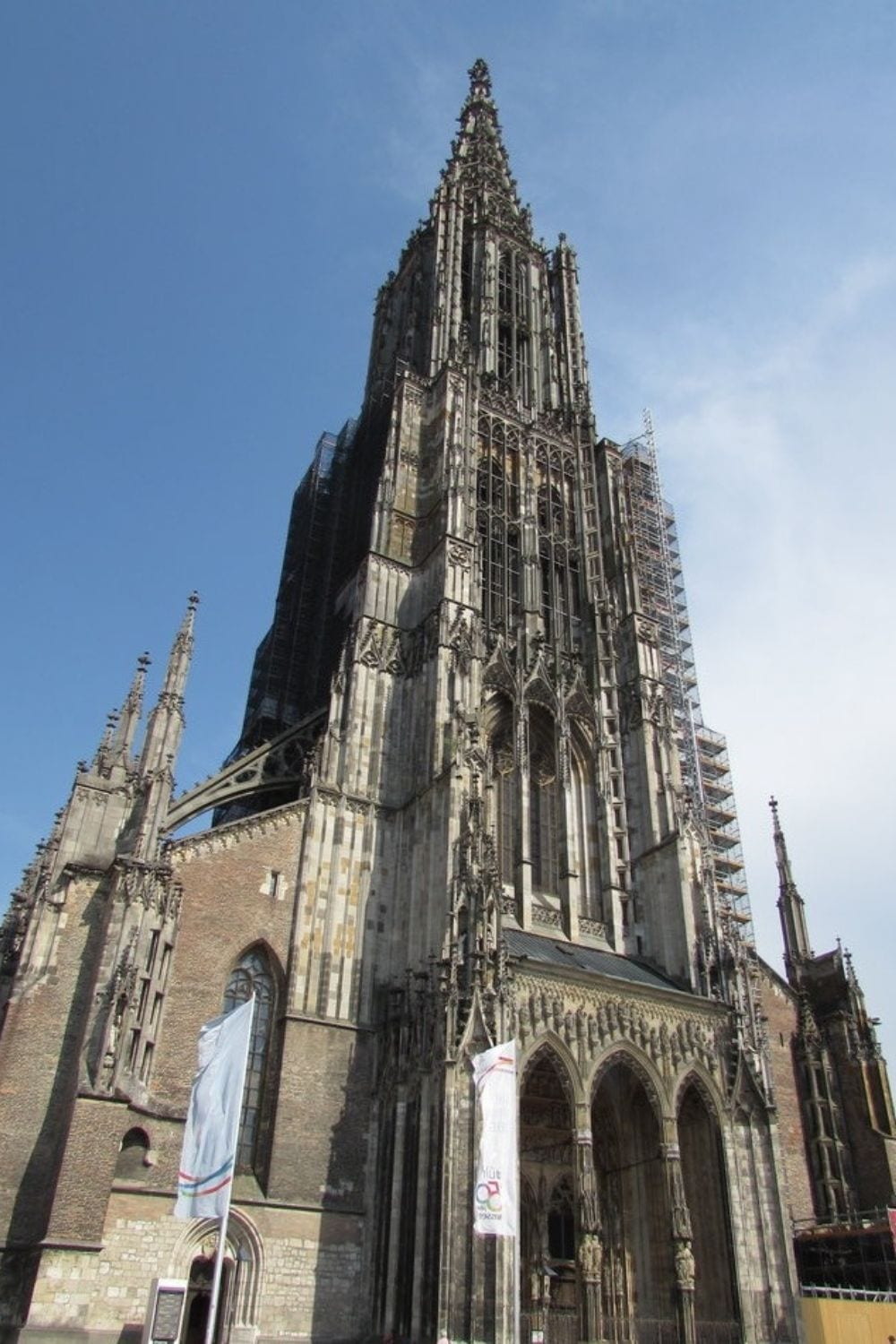 2. Climbing to the top of Ulmer Münster
Whilst I found the interior to be relatively interesting, it was really climbing to the top of the spire of Ulm Münster that made my visit worthwhile.
Sure, there's a lot of steps, but I was used to that after the recent Ghorepani Poon Hill trek in Nepal! It was quite crowded at the top with other people, but the panoramic views all around were certainly worth the effort!

3. The Lion Man of Ulm
One of the most surprising things I discovered when visiting Ulm, Germany, is that there is a 40,000 year old carving known as the Lion Man on display in the Ulmer Museum.
If you are a regular reader of the blog, you will know I am fascinated by ancient ruins and civilisations, and so this was a real eye opener for me.
I had never heard of it before, and it is quite simply incredible. Just think. 40,000 years old! If you are planning to visit Ulm, this is definitely one of the things you must see!
4. Wander around the Ulm Town Hall (Rathaus Ulm)
Ulm's town hall is situated not far from the Minster and is easily recognised by its brilliantly coloured murals and early renaissance façade.
It is—like many other buildings in this town—a work of art and a visual treat. You can wander around the painted hall and check out the elaborate ornamental astronomical clock high up on the wall outside.
5. Stroll in the Fishermen's and Tanners' Quarter
In the Middle Ages, craftsmen predominantly resided in the fishermen's and tanners' quarter. Now, the restored quarter is home to numerous restaurants, galleries and small shops with exquisite and unusual products.
You can also take a stroll in Ulm's old town—through its narrow alleyways and along the many bridges crossing the River Blau—for views of traditional half-timber houses and cobblestone streets. The Leaning House is quite a sight!
6. Check out the Albert Einstein Fountain
Besides having the church with the world's tallest steeple, Ulm is known as the birthplace of Albert Einstein. So a trip in this quaint city isn't complete without a visit to the Albert Einstein Fountain.
The Einstein Fountain consists of three elements: the rocket body (which represents technology, conquering space and the atomic threat), a large snail's shell (which represents nature, wisdom and scepticism towards man's control of technology), and Einstein's head (which shows a wild-haired, tongue-poking-out Einstein).
This fiendishly comical creation was made by Jürgen Goertz from Sinsheim in 1984. Verdict? – It's weird.
Find out about the fountain here – https://tourismus.ulm.de/en/discover/ulm-and-neu-ulm/sights/historical-sights/einstein-brunnen

7. Go for a Walk Along Fortress Way (Festungsweg)
Ulm is home to the Federal Fortifications, a huge system of defensive barracks, towers and fortress, which were built between 1842 and 1859.
The Federal Fortress has more than 800 rooms in its four wings and was the largest fortress in Germany at the time. Now it lets you enjoy a nice walk alongside the surviving buildings, with signs marking the path.
There is also a little viewing tower next to it, where you can get a sweeping view of the city, the town walls, and even of the Alps, when the skies are clear.

8. Bread Museum in Ulm
We take bread for granted in Europe, but a visit to the bread museum reveals it has a long history and interesting story. Officially titled the Museum of Bread Culture, it is located within the Salzstadel, a historic storehouse dating from the 1500s.
You can find the Bread Museum of Ulm at Salzstadelgasse 10, 89073 Ulm (Germany).

9. Oath House in Ulm
The Oath House was built on the site of the old palace of the King of Ulm which dated back to 854. Over the years, it has played a role in the wine trade, been damaged and/or destroyed several times by fire, and now acts as the local history museum.
Even if you don't have time to visit the Oath house in Ulm, you should at least pass by to grab a photo or two. Which for someone reason I didn't, hence no photo!

10. Go Cycling Along the Danube
And finally, spend some time cycling along the river Danube route! It's one of the best cycling routes in Europe, and even a short ride for a few hours will certainly be worth it.
If you turn right at the river after leaving Ulm, and follow the Danube along, you will also reach the point where the cycling route splits to become the Donau-Bodensee Radweg.
I will write more about that great cycling route in the future, although you can visit this site to find out more – www.donau-bodensee-radweg.de.
Guided Tours Of Ulm
If you have limited time, or want to explore this historic city with a guide, these organized tours might be a good idea:
Other travel blog posts in this series
You might also like to take a look at this list of European getaway breaks.
Please pin this Ulm sightseeing guide for later
Ulm in Germany FAQ
Readers who want to visit Ulm and see the historical sites in the city center and surrounding areas often ask questions such as:
What is Ulm Germany known for?
Ulm is most famous for its imposing and epic minster, the tallest church steeple in the world. Ulm is also the birthplace of Albert Einstein.
Is Ulm a good place to live?
Ulm is a wonderful place to live, and the cost of living here is much less than in more well known German cities.
Is Ulm Germany worth visiting?
Yes, definitely! Ulm is a charming and historically significant city, with plenty of things to see and do. From its impressive cathedral to its fascinating museums, there's something for everyone here.
Where in Germany is Ulm?
Ulm is located in the state of Baden-Württemberg in the southwest of the country.
When is the best time to go to Ulm?
The summer months are a popular time to visit Ulm, when the weather is warm and sunny. However, the city is also beautiful in the winter, with its Christmas markets and festive atmosphere.