Looking for the best places to visit in October in Europe? Here's our top suggestions for city breaks and warm autumn holidays in Europe in October to avoid the summer crowds.
Best places to visit in Europe in October
Beaches – Greece and Cyprus

City Breaks – Rome, Athens, Bratislava, Berlin

Cultural Events – Munich

Natural Wonders – Iceland
Why visit Europe in October?
October is a great month to visit destinations in Europe. With fewer crowds than in the summer months, and better prices, October is the best shoulder season month to see some of the most famous sites.
It's also a pretty good month when it comes to weather in the southern countries. Parts of Greece in particular are still nice and warm, and I've comfortably swum in the sea more than once in October in Greece.
In this travel guide, I've laid out a few suggestions on places you might like to consider visiting in Europe in October. These are split between city breaks, October holiday sun breaks, and places to visit for special occasions.
Let's take a closer look at what the weather can be like in Europe at that time of year first.
What's the weather like in October in Europe?
October is one of those months when you really notice the North / South divide in Europe!
Up in the North, Stockholm can experience it's first snowfalls toward the end of the month, whilst in the south, people splash happily in the still warm waters of the Peloponnese.
You must keep in mind though, that nothing is guaranteed. Just because last year people experienced great weather at the end of October in Greece doesn't mean the same will happen this year. Also, one week in October can vary wildly from another.
Typically speaking though, the further south in Europe you are, the warmer the weather will still be in October. The further North in Europe, the wetter and colder it will be.
Why is October cheaper than August to vacation in Europe?
This all comes down to the school holidays, combined with cultural trends.
Pretty much every school in Europe is closed for the summer holidays in August. In addition, some factories have enforced breaks during this period as well. The French even have a term for it – Les Grandes Vacances.
The result of all this, is that pretty much all of Europe decides to hit the beach and go on holiday at the same time! So, in August, prices shoot up as hotel spaces become rarer.
October is completely different. The prices have come back down, and there are fewer people around. For those of us fortunate to be able to choose the time of year to take their vacations, it makes October a nice choice.
Best October City Break Destinations in Europe
The cities I've listed here are popular tourist destinations no matter what time of year you visit. However, many of them are a lot busier in the summer months due to the monster cruise ships that pull into port every day.
In October, the cruise ship traffic is down, and the peak tourist traffic has take a downward turn. Whilst somewhere like the Acropolis is always going to be relatively busy, the crowds in October are nothing compared to those of July and August.
Athens in October
This is the city where I currently live, and so I can confirm that October is a great time to visit! You might need a light jacket to sit out at night for your evening meal, but hey, you can still sit outside, right?!
October is definitely a good month to experience not only the ancient sites in Athens, but also its contemporary vibe. There's a lot happening in these months, from art exhibitions to music festivals, and it's pleasant to feel the seasons changing.
I've a full guide here: What to do in Athens in October.
If you are staying for a few nights, you might also consider these day trips from Athens.
Not sure if you want to go to Athens? Check out my reasons to visit Athens which should persuade you otherwise!
If Athens doesn't appeal, Greece has more fantastic cities to enjoy. Try Thessaloniki, Heraklion, Nafplio or Ioannina instead!
Find out more: Festivals and Events in Athens.
Rome in October
Some people actually consider October to be the high season in Rome. This is because the temperatures are more bearable, which makes checking out all the places to see in Rome so much more pleasant!
So, whilst accommodation prices might not be much lower, you will find it's a nice time if year to wander around the streets of Rome, visit the must-see archaeological sites, and soak up the culture.
Want to make the most of your time in Rome? More here: Vatican and Colosseum Tours in Rome.
Florence in October
Florence is similar to Rome, in that the high temperatures have lessened, and it's far more pleasant to walk around the city and enjoy the riches dating from the Renaissance era.
You are likely to find hotel prices in Florence lower than in August, and also slightly fewer tourists making it a perfect time to visit. If you're already visiting Italy in October to see Rome, it's certainly worth adding Florence into your travel itinerary.
More here: Things to do in Florence.
Bratislava in October
Bratsilava might not be as warm in October as some of the other European cities already mentioned, but it somehow seems more charming in the autumn months.
Perhaps it's the way the leaves change on the trees, the comfort of an extra layer of clothing, or simply the sights of this beautiful city on the Danube.
It might not fly high on the wish list of places to visit in Europe, but Bratislava has enough to see and do for at least a couple of days, and will give you an indication that Europe isn't just about those 'famous' cities and countries.
More here: Bratislava in a day
Barcelona in October
In all honesty, any time of year is a good time to visit Barcelona! However, the advantage of October, is that those peak tourist numbers have faded away, and the temperatures are a lot nicer.
By the way, if you are seeing a pattern here with the temperatures in October in Europe good!
Sure, you might need a light jacket to go strolling down Ramblas at night, but what a city to explore!
More here: Things to see in Barcelona.
Paphos in October
The southern country of Cyprus is blessed with nice weather in October (more on that later!), and a city where there are plenty of things to do.
Although there is an element of tourism overload in Paphos, as indicated by the numerous places to eat and drink catering to a largely British crowd, it shouldn't detract from why people went there in the first place.
Mainly, there are archaeological wonders, history, great food, and good weather. October is a perfect month to visit Paphos.
More here: Top things to do in Paphos
Dubrovnik in October
Personally, I have mixed feelings about Dubrovnik in Croatia, but I know it's a must-visit bucket list getaway spot for many. As such, you might want to consider it as one of your October destinations.
During this month, the cruise ship numbers have lessened, and that makes a big difference to the amount of other tourists wandering around the city.
Game of Thrones fans will also enjoy walking around the city walls, and the lower temperatures make the entire experience more enjoyable than in August!
Porto in October
The southern European countries seem to come into their own in autumn, and this is certainly the case with Portugal. Porto, in particular, is a great European getaway destination in October.
In terms of weather, Porto has a rather agreeable 20 degrees as its average daily high, with lows of 12 degrees meaning you might want to take a jacket for the evening.
In terms of what you should do when there, you can check out my guide here on things to do in Porto. You should also note that October is the tailend of the grape harvest and wine making. You could consider taking a day trip out to a winery along the Douro valley.
Rhodes in October
Readers looking where to go in Europe in October might like to consider a city break in Rhodes Old Town. It's one of the most beautiful cities in the world thanks to its medieval castle walls, and its historic value has earned it a UNESCO World Heritage Site designation.
In addition to the charming town itself, staying in Rhodes Town also gives you easy access to nearby beaches to enjoy a few last warm swims of the year.
Thanks to its southerly location, the weather stays nice and warm right through to the end of October in Rhodes!
Best Autumn Sun destinations in Europe in October
If you're after some late sun, the opportunity to top up your tan one last time, and swim in the sea, these countries in southern Europe are the best for sun in October.
Greece in October
Obviously, I have to start this section about Greece, as I am currently living here! I've enjoyed some great October weather here over the last four years, and the sea temperatures have been warm enough to swim in both the Peloponnese and Crete in October.
The photo above was taken mid October 2017 in the Peloponnese.
I'll be upfront and say that no one can predict the weather these days, but it sure is a lot warmer in Greece in October than it is in dreary old London!
If you've got the time available, and want to soak up some autumn sun, Greece could be a very nice choice.
More here: Crete in October
Also check out: 25 Amazing places to go in Greece
Cyprus in October
With a slightly more southern location than Greece, Cyprus stays warmer for longer. It's been an autumn and winter destination for Brits for a long time. In fact, my parents are off to Cyprus in early November for a couple of weeks!
The country has a good mix of things to see and do. So, if you have bad weather one day, you could take a tour or visit a museum or two. On good days, head on down to the beach and relax!
More here: Excursions from Paphos in Cyprus
Malta in October
Another reasonably southern country located near Sicily, Malta makes another good choice for some autumn sun. In all honesty, I don't think that Malta has the best beaches in the world, but they're good enough when compared to dodging rain clouds in Birmingham!
There's also plenty to do in Malta. From visiting some of the oldest temples in the world, to strolling around the walls of Venetian defences, Malta is an appealing destination in October.
More here: A guide to sightseeing in Malta
Special Occasions and Festivals in Europe in October
You might also want to plan a short trip or vacation in October in Europe around the following festivals.
Oktoberfest in Munich
There can't be many people who haven't heard of Oktoberfest! Beer lovers from around the world flock to Munich in Germany during late September and early October to enjoy a beer or two in a fun atmosphere.
It's the world's largest beer festival, and every year over six million people attend. If sampling a little Bavarian culture sounds like your thing, give it a go!
More here: Oktoberfest
Concurs de Castells
This festival is officially held every two years (even numbers) in Tarragona, Spain. This festival revolves around human towers, and their competing teams. It's hard to put into words – check out the video below!
Northern Lights
October is the start of the Northern Lights season in the northern countries. One popular place to catch them, is Iceland. Fingers crossed for a clear night, and you'll be rewarded with an almost spiritual experience at this time of the year!
More here: Reykjavik in 2 days
You might also be interested in: Best places to go in Europe in November and best time to visit Europe. Want more destination ideas? Take a look at my Europe Bucket List.
Pin these October European destinations for later. Check out my blog for more travel tips and guides!
Best European Destinations October FAQ
Readers who plan visiting Europe outside of the tourist season often find that an October trip is a great month to travel. Some of the most frequently asked questions they have include:
Where to go in Europe in October?
Some of the best places to visit in October in Europe are Cyprus, Malta, Greece, and Germany. Each of these destinations offer a unique experience, and you're sure to enjoy yourself no matter where you go.
Which European cities are best in October?
Some of the best places to visit in October in Europe are Munich, Tarragona, Reykjavik, and Athens. Each of these destinations offer a unique experience, and you're sure to enjoy yourself no matter where you go.
Which country has stunning autumn foilage?
One of the best places to visit in October in Europe for stunning autumn foliage is Germany. The leaves in the northern part of the country turn shades of yellow, orange, and red, and it's a beautiful sight to behold. If you're looking for an autumn getaway, Germany should be at the top of your list!
Are the Greek islands popular destinations open in October?
Yes, the Greek islands are popular destinations open in October. Many of them offer warm weather and a great atmosphere for tourists. You'll be able to enjoy the beaches, explore the cities, and take advantage of the culture and history on offer.
Thinking of taking a winter sun destination after visiting Greece in October? Read this guide to the warmest places in December in Europe
---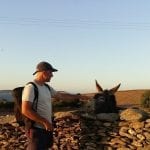 – Dave Briggs
Dave is a travel writer who's been living in Greece since 2015. In addition to writing this guide on where to go in Europe in October, he's created hundreds of travel guides to countless European destinations.
Follow Dave on social media for travel inspiration from Greece and beyond: