The warmest places in Europe in December tend to be the southernmost countries such as Cyprus, Greece, Spain, Malta, and Italy. Here's a guide as to which country in Europe in December may be best for you.
---
Warmest Places in Europe in December
The Canary Islands are the absolute warmest place in Europe in winter, followed by other southern European countries. Here's Europe's warmest places in December, January, and February.
---
Are you thinking to visit Europe in winter and want to avoid the cold?
While you won't get tropical weather, it's still possible to find warm temperatures in Europe, even in winter.
Read on, if you are trying to plan a vacation in the warmest place in Europe in December.
Weather in December in Europe
Europe may be a relatively small continent, but the weather is pretty varied. From Russia to Malta, weather can differ massively – and with global warming, weather patterns are different from what they were 50 years ago, or even 10.
December, January and February tend to be the coldest months in Europe, yet some countries enjoy mild weather and many sunny days.
As you would expect, these countries are mostly in the south, and the weather can also vary greatly between different areas in each country.
Although winter is not most people's first choice when it comes to visiting Europe, there are many benefits in going to Europe in December.
For example, December is quite an ideal time to visit places that are too warm and crowded in summer… as long as you don't mind skipping out on swimming in the sea!
The Canary Islands in December
Most people tend to define the Canary Islands as being European despite being geographically closer to Africa. This group of volcanic islands belong to Spain, but are located not far from Morocco.
The Canary Islands are the hottest places in December, and have by far the best winter weather in Europe.
The archipelago includes several well-known islands such as Tenerife, Fuerteventura, Gran Canaria, Lanzarote and La Palma. They have been a popular European winter destinations for years.
In general, temperatures in December rise above 20 degrees, and sometimes go over 25, making the Canary Islands one of the warmest places in December in Europe. This definitely beats the winter weather in the UK!
If you want to take a holiday in the winter months and come back with a tan, they are a must-visit and a perfect destination for a warm holiday out of season.
Lanzarote
The smaller island of Lanzarote is the one closest to the coast of Africa. There are plenty of beautiful beaches, and some of the landscapes are otherworldly.
At the same time, there is lots of nightlife and many theme parks, water parks and resorts, making Lanzarote an ideal destination for party animals as well as families. If you are after local delicacies or souvenirs, weekly markets happen in most places.
Some of the highlights in Lanzarote to explore in the winter months include the Timanfaya National Park, and the Cueva de los Verdes, the Green Cave where you can get inside a tube made of solidified lava. You can take a day tour and explore the best places in Lanzarote.
It has been announced that a 26km promenade, the longest in the world, stretching all the way from Puerto del Carmen to Costa Teguise, will eventually be constructed on the island, but this has not been confirmed yet.
You can expect average high temperatures in Lanzarote of 22ºC in December. Certainly warm enough to relax on the beach and enjoy soaking up some winter sun.
Temperatures drop to around 14ºC at night, so you might want to pack a light jackets or jumper for the evenings.

Gran Canaria
Possibly the warmest place in Europe in December, Gran Canaria is another island with stunning beaches.
Similarly to Fuerteventura, there is a lot of beautiful nature, including weird rock formations, beaches with black pebbles or white sand, and some great hiking trails.
The Roque Nublo park and the Maspalomas Dunes are two of the most popular attractions. If you are visiting around Christmas, make sure you visit the Las Canteras beach, where an annual sand sculpture competition takes place.
Gran Canaria has some lovely, colourful towns that you should take a trip to, like Teror and Vegueta. Many of the towns have weekly street markets selling local delicacies, fruit and veg as well as clothes, jewellery and souvenirs.
Finally, there is a fair amount of nightlife on the island, if that's what you are here for. If you are comfortable riding a vespa, you can rent one and go around the island at your own pace or you can take a leisurely boat tour around the island.
If you're looking for hot holidays in December, Gran Canaria is a great choice.

Tenerife
Tenerife, the largest of the Canary Islands, has over 100 beautiful beaches to visit.
There are fully organized beaches with sunbeds and umbrellas, urban sandy beaches, wild beaches, pebbly beaches, rocky outcrops and many secluded stretches of sand where you can enjoy the sun and the sea, even in winter.
At the same time, Tenerife is also home to the UNESCO World Heritage Site of San Cristobal de la Laguna, the beautiful Teide National Park, several hiking trails and many more destinations worth exploring.
We recommend taking an eco-friendly sailing tour around the island, to explore the amazing Los Gigante cliffs and hopefully spot some dolphins and whales.
If hot and sunny is what you're after, then Tenerife is a good choice for a winter holiday in December in Europe.

Fuerteventura
If you are a total beach bum and love nature and sand dunes, Fuerteventura is probably the best choice for you as a European destination in the winter months.
With temperatures over 20 degrees and no more than 3 or 4 rainy days in December, Fuerteventura is a great option if you want to escape colder climates without going to the tropics.
Note that, unlike most other places in South Europe, December is actually high season in Fuerteventura, so book in advance.
Apart from the beaches, the second biggest Canary Island has great nature. Make sure you visit the Corralejo Dunes Natural Park, a really picturesque place.
You might dismiss the idea of a buggy tour to begin with, but it's a truly unique and memorable experience so we totally recommend it.
The Calderon Hondo volcano is not very far either. There are also many caves all around Fuerteventura that are worth exploring.
Average temperatures for Fuerteventura in December during the day are around 22°C, while at night you can expect temperatures of around 16°C. Fuerteventura is one of the classic winter sun destinations.
More here: Weather in the Canary islands in December, January, and February

Greece in December
As we live in Greece, here is where we need to begin! Greece is one of the southernmost countries in Europe, and it's where the highest temperature ever in Europe was recorded – a whopping 48 C (118 F) back in 1977.
However, winters in Greece can be surprisingly cold and wet, especially in Northern Greece and the many mountainous areas of the country. There's even ski resorts in some of the mountain areas!
I've spent Christmas in Athens a number of times now, and whilst it's warmer than back in the UK, it's certainly not shorts and T-shirt weather! New Year's Eve in Athens is generally celebrated with fireworks, and the displays near the Acropolis are to be remembered forever – but it can be very cold!
That said, there are certain areas in Greece where temperatures are mild and some people swim all year round. Crete as well as the south Peloponnese feature among the warmest places in Europe in December.
Related: Best time to visit Greece
Crete in December
Although temperatures in Crete generally drop below 20 C (68 F) in December, they are still quite high compared to most other places in Europe.
The coastal towns generally have warmer weather than the mountain villages. Although swimming is not impossible, and some locals swim all year round, the sea temperature and general weather conditions will probably not be inviting for most people.
Bear in mind that December is Crete's rainiest month, and consider bringing some waterproof shoes and clothes. It has a more mild climate at this time of year.
Even without beach time, there is still plenty to do on this big island. You can explore the numerous archaeological sites such as Knossos.
You can also go hiking, stroll around the pretty towns of Chania, Heraklion, Rethymnon and Agios Nikolaos, and savour the delicious Cretan food.
Above all, you can enjoy Cretan hospitality without the crowds, and get a better understanding of life in Crete.
What to do in Crete in December
If you are going to visit Crete in December, you could take a wine and olive oil tour. Crete has plenty of wineries and some fantastic olive oil, and this tour will give you lots of insight to these popular traditional Greek products.
More here: Full day wine tour.
If renting a car and driving around is not your cup of tea, you can book an off-road tour to explore the island. We have visited parts of this beautiful route in summer, and we totally recommend it. There are plenty of picturesque villages, and the landscape is lovely.
More here: Full day Land Rover Tour of Crete
Southern Peloponnese – Kalamata in December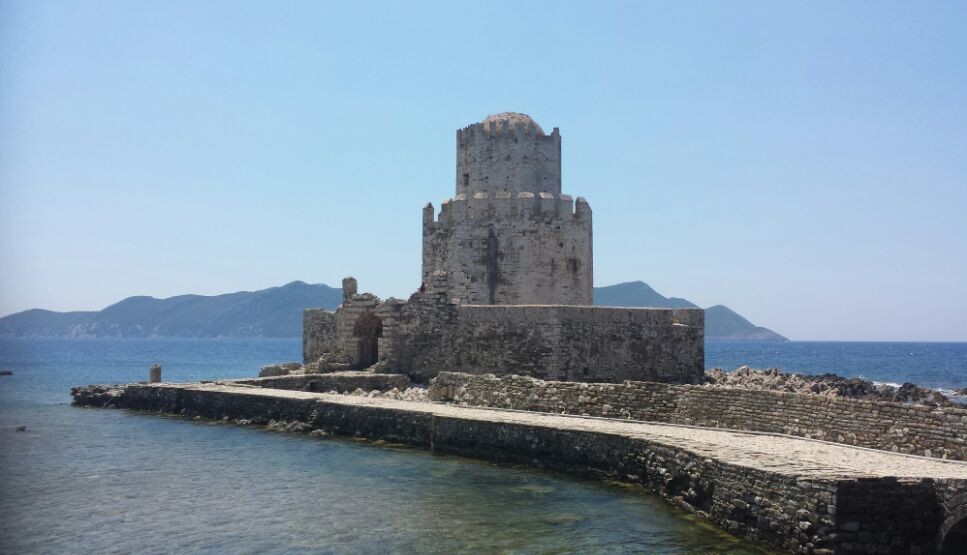 Kalamata is a quaint coastal town with a population of 55,000 people in Southern Peloponnese. You can get there in less than 3 hours if you are driving from Athens, or catch a short flight to the local airport, located a few kilometres out of town.
Kalamata and its surroundings have lots to do. You can use Kalamata as a base to explore the Peloponnese, particularly the nearby areas, such as the Mani, Diros Caves, the castles of Methoni and Koroni, Ancient Messene and Sparta.
Within the town you can see the Kalamata castle, many museums, and also enjoy an overwhelming number of cafés, restaurants and bars spreading everywhere around the town's long beach.
If you want an introduction to the area's culinary tradition, you can consider taking a food tour. Kalamata olive oil is considered to be among the best in Greece – just don't say that to a Cretan!
More here: Kalamata Food Tour
Interested in finding out more about Greece? Check out thesetravel tips and 25 amazing places to go in Greece.
Spain in December
A large country which is very popular in summer with holiday-makers, Spain has some of the warmest weather in Europe. While summers can be scorching, winters are not exactly warm, but they are a lot milder than Central and Northern Europe.
Spain has some of the best European cities to enjoy short or longer breaks in December. Again, your best bet is to head south, either to the area of Andalusia, or to the faraway Canary Islands.
Andalusia in December
This large area in Spain is where popular destinations like Seville, Malaga, Cordoba, Granada and Marbella are located.
If you want to go to Spain in December, Andalusia (spelt Andalucia in Spanish) is one of the best choices in terms of weather. The average maximum temperature in this area is about 18 C (64.4 F), but higher temperatures have also been recorded.
The Mediterranean Sea might be a bit chilly for most people, but there are still some brave souls that swim in Spain in December.
If you visit Andalusia in December, you will enjoy the gorgeous landscapes and the pretty towns without the summer crowds. The area offers a variety of things to do and you will need a long time only to scratch the surface.
If you are a UNESCO World Heritage Sites fan, you will discover plenty of them in the area.
Granada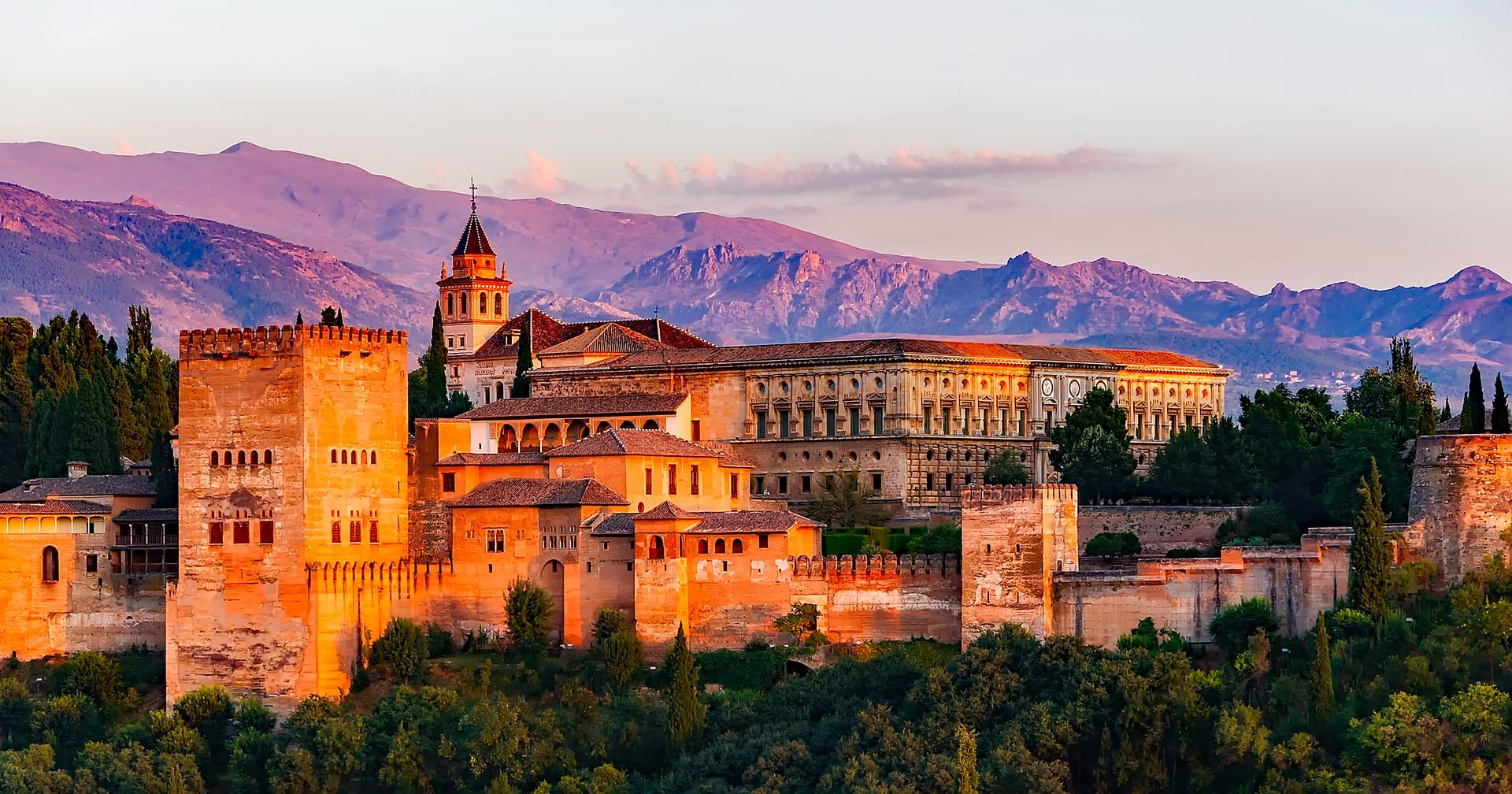 One of the loveliest cities in the Andalucia area is Granada. This old Moorish city of just under 250,000 people looks like it came out of a medieval movie setting.
In December, Grenada experiences cool and relatively mild temperatures due to its Mediterranean climate. On average, the daytime average temperature ranges from around 10°C (50°F) to 15°C (59°F). However, it's important to note that these temperatures can vary, and there may be occasional fluctuations and regional differences.
With the magnificent Alhambra Castle, the Generalife Gardens and the quaint architecture all around the city's neighbourhoods, the picturesque town is great to visit in winter, when it's less crowded.
If you want to find out more about the Alhambra Castle, it's worth getting a guided tour. Regardless of whether you take a tour or not, make sure you reserve your tickets in advance.
Granada is also at the foot of the Sierra Nevada mountain range, where you can go skiing at the southernmost ski centre in Europe.
Seville
Another city you should definitely visit in Andalucia is Seville. With beautiful UNESCO buildings, such as the Alcazar Royal Palace and the General Archive of the Indies, Seville needs at least a couple of days.
Walk around the massive Plaza de Espana and pay attention to the local painted tiles, and also make sure you go for a stroll on the bank of the local river, Guadalquivir.
This tour of the city is highly recommended: Guided tour of Alcazar with a river boat ride.
Cordoba
A city that is a UNESCO Heritage Site in its entirety, Cordoba is another place that you could visit in winter. You can expect sunny weather on some days, but you might still want to bring a jacket.
There are historic buildings and remains from several eras – Roman ruins, several towers, fortresses and palaces, the Jewish Quarter, the famous Cordoba Mosque / Cathedral, and many more sites absolutely worth visiting.
A combined Cordoba sightseeing tour would offer more insight into the city's long and complex history.
Malta in December
The tiny island-country of Malta is the only country in Europe where temperature has never dropped below 0! Although December can be quite wet, it won't be as cold as most other countries in Europe.
The average temperature during the day is around 16 C (60 F), but there is typically a lot of sunshine and it can get a lot warmer.
Malta may be a small country, but it has plenty of things to see and do. We have written a comprehensive guide for what to do in Malta in October, which you can apply for December as well. Just bring a couple of warmer clothes.
While in Malta, we were invited by the Tourism Board for some tours of the island that were totally worth it. Although the bus network seemed to be good, you can always rent a car if you are happy to drive on the left side of the road.
Alternatively, you can book a private tour and see all of Malta's highlights.

Cyprus in December
A large island off the south of Turkey, Cyprus has some of the mildest temperatures in Europe during the winter. With an abundance of ancient sites, a lovely coastline and beautiful mountains, Cyprus is a great destination for the off-season to escape the cold weather.
We visited Cyprus in September, and we found the weather almost too warm, but were told that winters are generally very mild and that swimming is possible all-year-round.
At the same time, rain is quite common in Cyprus in December, so don't be disappointed if you don't exactly get your ideal beach weather.
Still, temperatures generally reach a comfortable 19-20 C (62-28 F) during the day, dropping during the night.
The country's main airports are in Larnaca, Paphos and Nicosia, so you should be able to find a direct flight from many locations in Europe. Cyprus is a popular country for warm winter getaways.
Paphos
Paphos, to the southwest of the island, is a really popular destination.
With the impressive Paphos archaeological park that took us several hours to see properly, its medieval castle, and many churches and temples all around, it makes for a great destination for those interested in ancient cultures and history.
There are also plenty of beaches close to the town, where you can enjoy the mild Mediterranean winter. Take a look here for things to do in Paphos.
Limassol
A very picturesque city in Cyprus is Limassol. The historic centre is full of small streets where you can see the lovely old architecture, while there is a nice promenade where you can go for an evening walk.
You must absolutely visit the Ancient Kourion, an impressive ancient city close to Limassol, parts of which have been incredibly well preserved and restored.
The beach below Kourion is great to relax for a couple of hours after you've visited the archaeological site. You can also take a tour covering the wider area, including the wine villages of Cyprus.
Nicosia
If you go to Cyprus in December, you should also visit Nicosia, the world's last divided capital city.
With plenty of museums, mosques, churches and places of interest in its centre, we thought Nicosia is one of the most interesting cities in Cyprus, especially if you make an effort to understand the recent history.
Another place that we found fascinating, a few hours' drive from Nicosia, was the ghost city of Famagusta. If you don't want to drive, it's totally worth taking a tour including Famagusta, which will give you a better background of Northern Cyprus.

Portugal in December
Another country with some beautiful warm places in Europe in December is Portugal. With rich architecture, nice sandy beaches and unique culinary traditions, it's worth considering if you want to visit Europe in December.
The Algarve
The southernmost area of mainland Portugal, the Algarve, has some of the mildest climate in continental Europe.
Choosing Faro, Albufeira or Lagos as your base, you can explore the wider area, and discover great nature, stunning scenery, beautiful cathedrals and interesting museums and sites.
Make sure you take a boat tour to the nearby Ria Formosa islands, or to the magnificent Benagil Caves. The weather in Algarve in December is not super warm. It should be pleasant enough to lie in the sun, but it might be too cold to swim so don't be disappointed.
Madeira
Off the coast of Africa, and to the north of Spain's Canary islands, lies the small archipelago of Madeira. The main island, Madeira, has an overall rugged landscape with cliffs, volcanoes and mostly pebbly beaches.
It's also home to the UNESCO World Heritage Centre of the Laurissilva Forest, a natural relic estimated to be about 20 million years old.
Although you may be lucky and get some beach weather in Madeira, don't bank on swimming, given that the ocean is open and water temperature might not be pleasant for you.
There are some great hikes though, and an impressive New Year fireworks show in the capital, Funchal.

Italy in December
One of Europe's most popular destinations, Italy is a big country with a varied climate. Like in the other Mediterranean countries, if you are looking for better weather and winter sunshine, you will need to go to the south of Italy.
Your best option in terms of weather if you want to go to Italy in December, is the island of Sicily. You may be lucky enough to have some days of scirocco and possibly enjoy some swimming.
It's also a lovely place if you want to experience a less commercialized Christmas and to avoid the summer cruise crowds.
December is a great time to travel to Sicily if you want to visit the numerous archaeological sites, as you may virtually be on your own. At the same time, don't miss a day trip to the Etna volcano, which is easier to arrange through a tour.
Finally, if you are interested in opera, make sure you check out the theatres in Catania and Palermo.
Verdict – What are the warm European countries in December?
All in all, if one of your priorities while visiting Europe is to spend your time on the beach, December is definitely not the best month. Even in the warm places in Europe in December, swimming might not be pleasant. So, if swimming is important to you and you are looking for warm winter weather, your best bet is to go to the Canary Islands.
Generally speaking, southern Europe makes for a nice winter escape from your own country, but you shouldn't expect T-shirt and shorts weather!
If you are mostly interested in ancient history, some of the ideal places to visit in Europe in winter are Greece, Cyprus and Sicily. Just bear in mind that some days might be rainy, so plan some indoor activities such as museums and galleries.
If you are fascinated by medieval history and UNESCO monuments, Andalusia in Spain is the place to head for. Bring your comfy shoes and an umbrella, and be prepared to explore the historic city centres on foot.
If you want to see an interesting mix of everything, from ancient sites to baroque architecture, tiny Malta is a good choice.
You might also want to read: Warmest places in Europe in November
FAQ About Warmest Places To Travel In Europe In December
Here are some commonly asked questions about which places in Europe are still warm in December.
Where is the warmest place in Europe in December?
If we are to count the Canary Islands as Europe, they are by far the warmest European winter destination. After the Canary Islands, Cyprus would be the next warmest country in Europe in December.
Which part of Europe is warmest in winter?
The south of Europe is always the warmest part of the continent in winter. The Mediterranean countries of Greece, Cyprus, Italy, Malta and Spain have much warmer December temperatures compared to their northern counterparts. The Canary Islands are by far the most warm though.
Which is the best European country to visit in December?
Every country in Europe has something unique to offer visitors in December. For warm weather and refreshingly lower-key Christmas celebrations though, Cyprus and Greece are two excellent choices of December destinations in Europe.
Warm Weather and Winter Sun
We hope you enjoyed this guide to European winter sun destinations. Have you decided which one of these European destinations to spend Christmas? Do you know of a perfect winter sun destination in the region we've not mention? Have you visited any of these places during the winter season?
Leave a comment below, and let us know if you enjoyed Europe at that time of the year!
---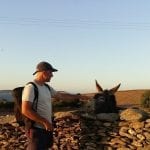 –
Dave Briggs
Dave is a
travel writer
based in Athens, Greece. As well as creating this travel guide to warm European countries to visit in the winter holiday season, he's also written hundreds of travel guides to the beautiful islands of Greece. Follow Dave on social media for travel inspiration from Greece and beyond: