The new GEGO luggage tracker combines GPS and SIM to provide real time tracking of your luggage no matter where it is in the world.
Why You Need Luggage Trackers When Flying
If you're a frequent traveler, there's a strong possibility that your luggage has ended up on a different plane than you at some point or another!
It's happened to me twice – and the second time, the luggage that went missing for a few days had most of the critical gear I needed to begin my cycling trip from Alaska to Argentina. That was an anxious couple of days waiting for it to reappear I can tell you!
9 times out of 10, your baggage that went missing from your flight will turn up a few days later like mine did. Sometimes though, you'll just never see it again.
Perhaps the labels fell off it, maybe the backpack is still sitting in a dusty neglected part of an airport somewhere. Who knows?!
Which is where luggage trackers such as the GEGO GPS device step in. Combining real time tracking and a long battery life, you just put it inside your luggage and then check your app to see where it is in the world.
It doesn't solve the hassle factor of losing your luggage for a few days, but you can track down where it is very quickly. You'll be able to get the airline to get their act together faster, and have the baggage re-routed to you quicker.
Related: Airport Instagram Captions
What Is The GEGO GPS Luggage Tracker?
The GEGO universal tracker is a relatively small device. Past iterations were about the size of a credit card, but the increased battery life and location tracking enhancements have seen the new device change dimensions.
It's now about the size of a large Swiss army knife or a couple of matchboxes (Funnily enough when writing this GEGO review, it was really difficult comparing its size and shape to something!). It has a solid design, and feels like it can stand up to the rigors of travel very well.
You get three flashing lights on the front which indicate it's on, the GPS is working and the SIM card is working. I actually found these lights to be unhelpful and confusing – I'm pretty sure one light saying its on would have been enough.
At the top of the GEGO tracking device is the on/off button which I found to be a real pain to use. This is probably a good thing though, as there is practically zero chance of this luggage tracker accidentally turning itself off when packed in a bag.
At the side is a covered USB C port for recharging, and a couple of screws you can undo to take out the SIM card – although I am not sure why you would want to do this.
The battery life on this gadget was amazing. I got a week out of the standard usage mode, which I found so good I didn't even bother to test the battery saver mode!
Related: Air Travel Tips
GEGO App
You need to install the GEGO app on your phone in order to make use of the device. In addition, you'll need a subscription. There are various subscription packages available, and you can even just activate a plan for a month at a time – ideal of you have a vacation planned but don't need to use the GEGO GPS luggage tracker in regular life.
The app is simple to use, and you can check out the location history for the last 24 hours, switch between three different tracking modes, and even get directions so you can go from your location to where your tracking device is located. I can see this being handy if someone has snatched your bag, or maybe even if you forgot where you parked the car!
For the most part, I found the location of the device updated in real time with an accurate location. There were a couple of instances where this wasn't the case .
One was when a car with the tracking device in it was parked in an underground parking. This took a while for the location to 'catch up'.
Another was when my plane landed at an airport. I suspect this is because my bag was packed in the luggage hold and its signal was blocked. When the bags started to be unloaded though, the location updated just fine.
My Experiences Using GEGO Tracker
I've now used the GEGO luggage tracker on multiple flights during a recent trip in Europe, as well as used it in a car and even on my bicycle!
Overall I am very impressed with its performance and would definitely recommend it to anyone who wants peace of mind when travelling. It's a great luggage tracking tool which is easy to use and very reliable.
The next trip I plan to use it on is when I fly to Iceland with my bicycle to begin my cycling trip around Iceland. I intend to use it by putting the device in with my bicycle bag, so I'll know where it is if it doesn't turn up at my destination!
You can buy the GEGO tracker here on Amazon: GEGO Universal Tracking
Pros and Cons of the GEGO Luggage Tracking Device
So far, I've had overwhelmingly positive experiences with the GEGO GPS device and app. It's very simple to use, does what it says it will, and is fairly priced.
Pros:
– Small and lightweight, robust design that can withstand the knocks and bangs involved when traveling
– Incredible battery life of around 7 days in standard mode
– Easy to use mobile phone app with lots of features such as location history, notifications, battery saver mode, and directions
– Reliable tracking, even in remote areas
– Reasonable prices for the subscription packages if you need it just a month at a time. A one year plan would be around 167.4 dollars.
Cons:
– Can be difficult to turn on and off
– Three lights can be confusing and are not necessary
– Weak signal in certain areas (underground car parks, luggage holds)
– Found that not all USB C chargers / leads could power it up. Fine using phone fast chargers.
Overall the GEGO GPS luggage tracker is a great device that offers peace of mind when travelling. It's reliable and easy to use, so I would definitely recommend it to anyone who wants to make sure their luggage is safe and sound, wherever it may be.
Related: How to minimize jetlag
GEGO Luggage Tracker FAQ
Some of the most commonly asked questions people have when looking to buy a luggage tracking device such as the new GEGO GPS tracker include:
How does GEGO Tracker work?
The GEGO GPS luggage tracker works by using a combination of 4G network technology and Assisted GPS (AGPS) for maximum accuracy when it comes to tracking your items. Yu receive real time updates on the GEGO app.
How long does a GEGO battery last?
Using the GEGO GPS luggage tracker, I've gotten up to 7 days on a single charge in standard mode. It also has two other tracking modes which can save battery life – 'airplane mode' and 'low power mode'. Both of these modes can extend the battery life further.
Are GPS luggage trackers worth it?
GPS luggage trackers are definitely worth it, especially for travellers who value safety and security. With a GEGO GPS tracker device and app, you can get accurate location updates of your luggage in real-time, even when travelling to remote destinations or in areas with weak signal.
How do I turn off my GEGO tracker?
To turn off your GEGO tracker, you will need to press and hold the 'Power' button on the top of the device for a few seconds. This can be quite fiddly to do, so be patient!
Is the GEGO tracker ok to use with checked luggage?
The GEGO tracker is perfect for use with checked luggage. The devices are TSA, FAA, IATA compliant, which means the GEGO GPS is compliant with all federal and local air travel regulations.
Related posts:
---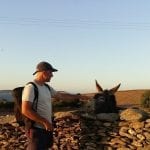 –
Dave Briggs
Dave's a
travel writer
from the UK who's been blogging at Dave's Travel Pages since 2005. As well as writing this review of the new GEGO GPS luggage tracker, he's written hundreds more travel posts, reviews, and guides on this blog. Follow Dave on social media for travel inspiration from around the world: