These day trips from Athens are all great suggestions if you find yourself with extra time in the Greek capital. Take your pick from visiting beaches, UNESCO sites, Greek islands and seeing a memorable sunset.
With its abundance of things to see and do, Athens is a great place to visit during your vacation in Greece.
It is also ideally positioned so you can reach a number of interesting places and important historical sites in Greece on day tours from Athens.
What Are The Best Day Trips From Athens?
From quaint Greek islands, to the remains of ancient civilizations, there's plenty of choice when it comes to excursions from Athens.
If you're looking for some interesting places to explore outside of Athens in order to see different parts of Greece, this guide is just for you!
I have put together some of the most popular and interesting excursions around Athens, along with all the information you might need.
Do It Yourself or Book A Tour
All of these popular day trips can be made independently or by organised tour. If you have some days free and want to combine a few of these trips, you could do it yourself by hiring a car.
This will most likely work out cheaper and more convenient for 3 or more people travelling together. It will also give you more time to explore each destination at your own pace, which you can't necessarily do on a guided tour.
If you only have a day free though, it will probably be easier to book a tour. I have included details for both cases.
---
1. Cape Sounion and Temple of Poseidon
This is one of the most popular tours, and for good reason. Not only do you get to visit a magnificent Ancient Greek temple, but you see an amazing sunset as well.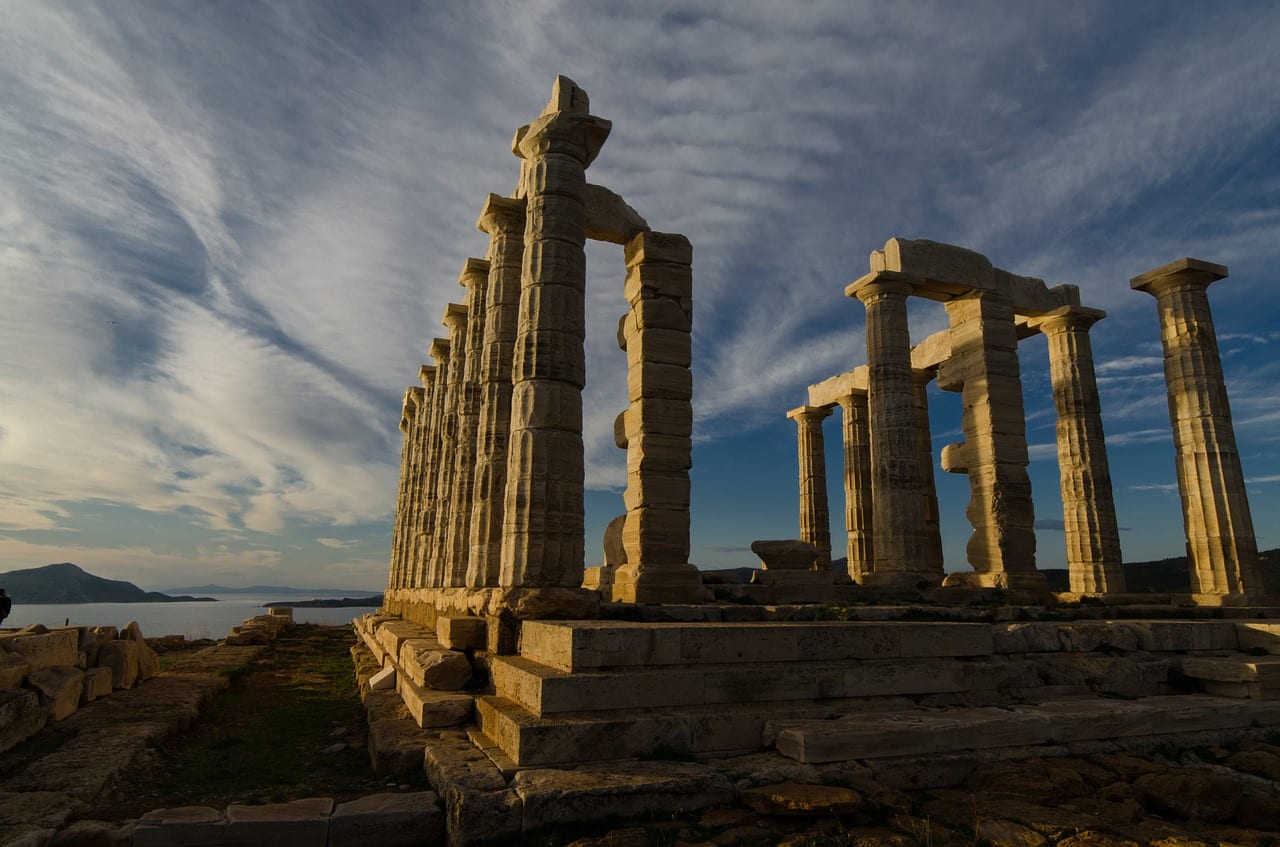 Many people choose to visit Cape Sounion and the Temple of Poseidon as an afternoon half-day tour from Athens. The drive there takes you along spectacular coastal roads, and you may even find time to check out a few beaches on the way in the summer.
By arriving at the archaeological complex an hour or so before sunset, you can take a look around the temple, and then watch the sunset. I love visiting this temple, and it's a very memorable trip!
Note – Make sure you know where your bus driver will be if you go wandering off from the guide. It's a long walk back to the city!
Do the Sounion tour independently: Read more about how to visit Cape Sounion.
---
2. Delphi Day Trip From Athens
Delphi was one of the most important areas in Ancient Greece, and is also one of the most visited archaeological sites today. A day trip to Delphi will take in the Temple of Apollo and the museum, and usually pay a visit to the town of Arachova.
The UNESCO site of Delphi has an important place in Ancient Greek mythology and history. The site of the famous oracle, it was also thought to be the navel of the world.
Today, the remains of the Temple of Apollo, stadiums and theatres can be seen, as well as stunning views of the surrounding countryside. The Delphi Museum is also magnificent, and it's essential to visit here as well to fully understand the site.
I've been fortunate to have visited Delphi several times now, and love the setting and ambiance. It's a place I really recommend visiting if you can.
Visiting Delphi With A Tour: Visiting Delphi is one of the most popular bus tours from Athens. There are a number of different types available, most of which are priced around 90 Euros.
Visiting Delphi Independently: The best way to visit Delphi would be by car. You can find information here about hiring a car in Athens. I have previously written an article about Delphi which you can read here – Delphi. You can also find out about My Big Fat Greek Road Trip!
---
3. Greek Island Day Trips: Hydra, Poros, and Aegina
The islands of Greece are all individual, unique and special. Although many of them are not reachable on a day tour from Athens, these three are.
Hydra, Poros and Aegina are part of an island chain located in the Saronic Gulf. They are just a few hours away from Athens by ferry, but it's much easier to visit them all as part of an organised tour.
Visiting them will give you a taste of what the islands of Greece are all about. You'll get to spend a few hours on each one, which will give a chance to explore some of the port towns and other highlights.
This trip is sometimes known as the classic '3 Islands cruise from Athens', or the Saronic Gulf islands tour.
A cruise to the nearby islands of Hydra, Poros and Aegina is ideal for anyone who is visiting Greece, but who is unable to travel to any of the other islands during their vacation.
Pro Tip – Prices on board these ferries to Hydra and other islands for soft drinks and food are very high. I suggest you bring plenty of your own water for the day trip.
Visit the three islands independently: It is possible to do this, but is probably going to be a pain for most people. A combination of different ferry times, prices, and ever increasing ferry strike action makes it a hassle you probably don't want on your vacation. It's easier to visit just Hydra if you're determined to do it yourself, and it will give you more time to discover the beaches by water taxi.
You can read more about my experiences visiting these islands here – Three islands Cruise. Yes, this was on an organised day cruise!
---
4. Athens Excursions : Mycenae, Epidaurus, Nafplio
Of all the possible day trips from Athens, I think this one offers the most value in terms of what you can see during one day. You get to visit two UNESCO World Heritage sites, as well as a town often described as the prettiest in Greece.
Starting from the city, you would drive out to the Peloponnese, and most likely stop at Corinth Canal along the way. A stop at Ancient Corinth is also a possibility, but in my opinion, it's ruins are not the best in Greece.
After that, you would continue on to the ancient sites of Mycenae and Epidaurus, before reaching the wonderful town of Nafplio.
This tour is a must for anyone who is interested in Ancient Greece and Greek history. The archaeological site of Mycenae is arguably the birthplace of Greek civilisation, being the most important centre during the bronze age. The incredible walls still amaze to this day, due to the sheer size of the rocks used.
Epidaurus is also a very important place, known mainly for the unique acoustics in the theatre. You can quite literally hear a pin drop!
The Healing Sanctuary of Asklepios at Epidaurus is also a must visit when on the site. This acted as a place of pilgrimage for people seeking cures from ailments. People from all around the ancient Greek world and beyond would travel here to be healed!
Finally, Nafplio is often cited as the prettiest town in Greece. You will see why when you visit and wander through its charming streets!
Visit Independently: You are going to need to hire a car to do this trip by yourself. Or, as I did one time, a bicycle. Personally, I would visit the three places but choose to stay overnight at Nafplio if driving rather than returning to the city in one day. You can read about my experiences in Mycenae here.
---
5. Athens Day Tours: Corinth and Olympia
This is one of the longer bus tours you can take, but certainly worth the effort.
Ancient Olympia was of course the home of the original Olympics, thought to date back at least 3000 years. It's an impressive archaeological site, and remarkable to think that ancient Greek city states would have a truce period so their athletes could travel and compete there!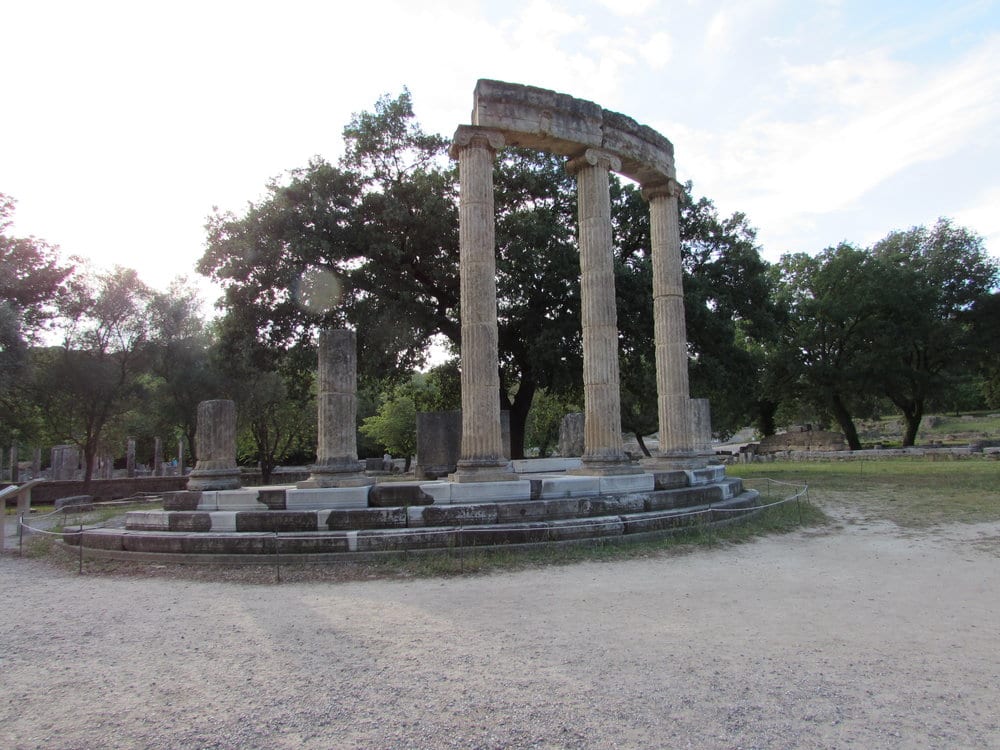 Visit Independently: There's no escaping the fact you are going to need a car if you want to visit Corinth and Olympia on a day trip from Athens! In reality, you would probably want to stay the night at Olympia. You could then tie it in with seeing some other places of interest on the Peloponnese.
Somewhat randomly, I took some tourists on a 2 day tour of the Peloponnese, which included a trip to Olympia (this is not something I normally do!). You can find out more here – My 2 day tour of the Peloponnese.
---
6. Meteora Day Trip
Now, I am not going to lie to you, Meteora is a LONG way from Athens. This is going to be a really full-on day trip, with a lot of time spent on a train or in a car.
If it is your only chance to visit Meteora though, I strongly suggest you give it a go. The area is quite simply breathtaking.
Meteora is a UNESCO World Heritage site situated in central Greece. It is famous for its monasteries which are built somewhat precariously on the top of huge rock pillars.
This is an area of Greece where nature and man have connected harmoniously.The views and scenery are simply incredible. Due to its northerly location, this is the longest of the day trips from Athens, but still very possible.
I've visited the Meteora World Heritage area 4 or 5 times now, and will go once again in the future because I enjoy it so much. There's something indefinably appealing about the view of the natural rock formations and feeling of wandering around the area.
---
Visiting Meteora
Visit Meteora Independently: The most sensible option is to hire a car in Athens, and drive to Meteora. This way you will have the use of the car to drive around the area, which I highly recommend.
I have written several articles about Meteora which you may find useful, including Meteroa – Mountains, Monasteries, and Monks. In my opinion though, you would be better spending the night at Meteora. I've put together a useful list of hotels near Meteora here.
---
Further Reading About Athens
My Newsletter – I'll share the best of the best blog posts about Athens with you. No spam. No BS. Sign up here.
Sightseeing – My 2 days in Athens itinerary has proven to be very useful for hundreds of people!
Accommodation – If you are looking for accommodation in Athens, I have put together this guide to the best hotels near the Acropolis.
Museums – Athens has over 80 museums to choose from! The most popular are the Acropolis Museum, and the National Archaeological museum. This is a full list of all the museums in Athens.
The best places to see in Greece on a road trip – If you want to go beyond choosing from individual excursions, maybe a road trip is more your style? This huge resource will help you plan the ultimate Greek road trip.
Temple of Poseidon – Some more information about the Temple at Sounion.
If you are looking for more Greek adventure itinerary ideas, then you will find this post useful.