These day trips from Athens are all great suggestions if you find yourself with extra time in Athens. Take your pick from visiting beaches, ancient sites, Greek islands and seeing a memorable sunset. Read on to find out more about the best Athens day trips.
Day Trips From Athens
The best Athens day trips:
Cape Sounion and the Temple of Poseidon
A day trip to Delphi
Greek island trips to Hydra, Poros and Aegina
Meteora
Nafplio
Corinth and Olympia
Have you followed my 2 days in Athens itinerary, and now find yourself with extra time in the Greek capital? Are you looking for some interesting day trips from Athens, because you want to see more of the surrounding area? This article is just for you! I have put together some of the most popular and interesting excursions around Athens, along with all the information you might need.
All of these day trips from Athens can be made independently or by organised tour. So, if you have a few days free and want to combine a few of these trips, you might want to do it yourself, and look at Athens car rental. This will most likely work out cheaper and be more convenient for 2 or more people travelling together. If you only have a day free though, it will probably be easier to book a tour in Athens. I have included details for both cases.
Cape Sounion and Temple of Poseidon
This is one of the most popular day trips from Athens, and for good reason. Not only do you get to visit a magnificent Ancient Greek temple, but you see an amazing sunset as well.
Many people choose to visit Cape Sounion and the Temple of Poseidon as an afternoon half-day tour from Athens. The drive there takes you along spectacular coastal roads, and you may even find time to spend on a beach. By arriving at the archaeological complex an hour or so before sunset, you can take a look around the temple, and then watch the sunset. It's a very memorable trip!
Take a tour: Try this half-day tour to Cape Sounion.
You might also be interested in: A full day private day tour in Athens including trip to Sounion.
Do the Sounion tour independently: Read more about how to visit Cape Sounion.
Hydra, Poros, and Aegina
The Greek islands are all individual, unique and special. Although many of them are not reachable on day trips from Athens, these three are. Visiting them will give you a taste of what the Greek islands are all about.
A day trip from Athens to the nearby islands of Hydra, Poros and Aegina is ideal for anyone who is visiting Greece, but who is unable to travel to any of the other islands. They give a taste of what life is like, the architecture, and the people.
Visit the three islands on a tour: By far the easiest option. There are plenty of tours available, of which this is a good example – Three islands tour from Athens. Pro Tip – Prices on board these ferries for soft drinks and food are very high. I suggest you bring plenty of your own water for the day trip. 
Visit the three islands independently: It is possible to do this, but is probably going to be a pain for most people. A combination of different ferry times, prices, and ever increasing ferry strike action makes it a hassle you probably don't want on your vacation. You can read more about my experiences visiting these islands here – Three islands day trip from Athens.
Delphi
Delphi was one of the most important areas in Ancient Greece, and is also one of the most visited archaeological sites today. A day trip to Delphi will take in the Temple of Apollo and the museum, and usually pay a visit to the town of Arachova.
The UNESCO site of Delphi has an important place in Ancient Greek mythology and history. The site of the famous oracle, it was also thought to be the navel of the world. Today, the remains of temples, stadiums and theatres can be seen, as well as stunning views of the surrounding countryside. I have previously written an article about Delphi which you can read here – Delphi.
Visiting Delphi With A Tour: Visiting Delphi is one of the most popular day trips from Athens. There are a number of tours available, most of which are priced around 90 Euros. This is a typical tour – Day Trip To Delphi From Athens.
Visiting Delphi Independently: The best way to visit Delphi would be by car. You can find information here about hiring a car in Athens. I have information about the site itself in the article I have already mentioned. You can also find out about My Big Fat Greek Road Trip!
Meteora
Now, I am not going to lie to you, Meteora is a LONG way from Athens. This is going to be a really full-on day, with a lot of time spent on a train or in a car. If it is your only chance to visit Meteora though, I strongly suggest you give it a go.
Meteora is a UNESCO World Heritage site situated in central Greece. It is famous for its monasteries which are built somewhat precariously on the top of huge rock pillars. This is an area of Greece where nature and man have connected harmoniously, and the views and scenery are simply incredible. Due to its northerly location, this is the longest of the day trips from Athens, but still very possible.
Visit Meteora on a tour from Athens: If you have to visit Meteora as a day trip from Athens, this is the best option. There are a number of tours are in operation, and they mostly include a train journey to reach the area. This tour is a typical example – Meteora tour on train from Athens.
Combine Delphi and Meteora: Another good option is to take a two day tour from Athens that combines Delphi and Meteora.
Visit Meteora Independently: The most sensible option is to hire a car in Athens, and drive to Meteora. This way you will have the use of the car to drive around the area, which I highly recommend. I have written several articles about Meteora which you may find useful, including Meteroa – Mountains, Monasteries, and Monks.
Please Pin for Later!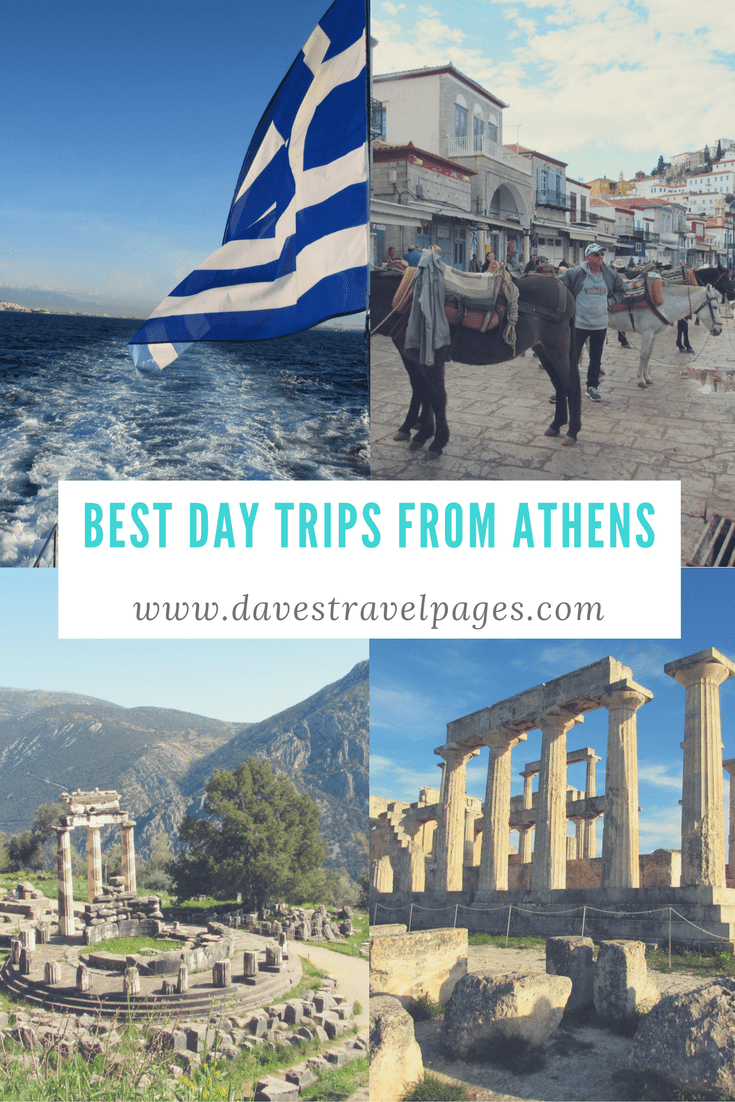 Further Reading About Athens
Accommodation – If you are looking for accommodation in Athens, I have put together this guide to the best hotels near the Acropolis.
Museums – Athens has over 80 museums to choose from! The most popular are the Acropolis Museum, and the National Archaeological museum. This is a full list of all the museums in Athens.
The best places to see in Greece on a road trip – If you want to go beyond choosing from individual day trips from Athens, maybe a road trip is more your style? This huge resource will help you plan the ultimate Greek road trip.
If you are looking for more Greek itinerary ideas, then you will find this post useful.