These day trips from Athens are all great excursions if you have extra time in the Greek capital. Discover more of Greece on one of these popular tours from Athens.
Here's the best day tours from Athens to ancient sites, Greek islands, and historical landmarks such as Delphi, Mycenae, Epidaurus, Meteora, Hydra and more!
What Are The Best Day Trips From Athens?
From quaint Greek islands, to the remains of ancient civilizations, there's plenty of choice when it comes to excursions from Athens.
Athens Tours and Side-Trips
With its abundance of things to see and do, Athens is a fascinating place to visit during your vacation in Greece. The Acropolis and Parthenon along with other sights and attractions such as the Temple of Zeus are certainly must-sees when exploring Athens.
The city is also ideally positioned so you can reach a number of interesting places and important historical sites in Greece on day tours from Athens center.
I've been living in an Athenian neighborhood for nearly 6 years now, and have visited all these places of interest and archaeological sites more than once on side trips.
Whether you are a traveler arriving by cruise ship and are looking for shore excursions, or are staying several nights, these Athens tours are my top choices.
---
1. Cape Sounion and Temple of Poseidon
This is one of the most popular things to do, and for good reason. Not only do you get to visit a magnificent ancient temple, but you see an amazing sunset as well.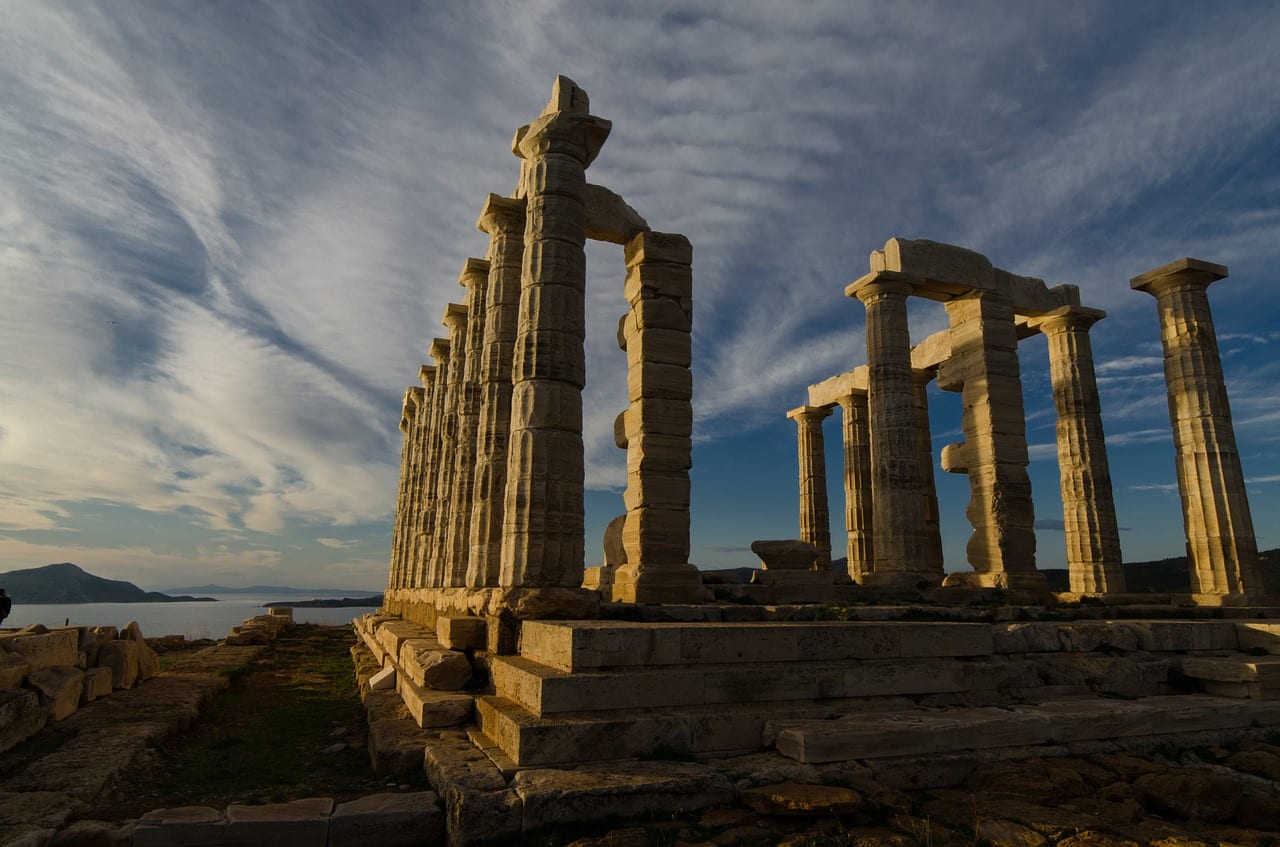 Many people choose to visit Cape Sounio and the Temple of Poseidon as an afternoon half-day tour from Athens. The drive there takes you along spectacular coastal roads, and you may even find time to check out a few beaches on the way in the summer.
By arriving at the archaeological complex an hour or so before sunset, you can take a look around the temple, and then watch the sunset. I love visiting this temple, and it's a very memorable trip!
Note – Make sure you know where your bus driver will be if you go wandering off from the guide. It's a long walk back to the city!
Additional: If you are arriving by cruise ship at Piraeus Port and want to do this as a shore excursion, check you have time.
You might also be interested in: A full day private day tour in Athens including trip to Sounion – Click here.
Explore Sounio independently: Read more about how to visit Cape Sounion.
---
2. Delphi Day Trip From Athens
Delphi was one of the most important areas in Ancient Greece, and is also one of the most visited archaeological sites today.
A day trip to Delphi will take in the Temple of Apollo and the museum, and usually pay a visit to the town of Arachova.
The UNESCO site of Delphi has an important place in Ancient Greek mythology and history. Site of the famous Delphic oracle, it was also thought to be the navel of the world.
Today, the remains of the Temple of Apollo, the sanctuary of Athena Pronaia, stadiums and theatres can be seen, as well as stunning views of the surrounding countryside. The Delphi Museum is also magnificent, and it's essential to visit here as well to fully understand the site.
I've been fortunate to have visited Delphi several times now, and love the setting and ambiance. It's a place I really recommend visiting if you can.
Visiting Delphi is one of the most popular bus tours from Athens. There are a number of different types available, most of which are priced around 90 Euros.
An English-speaking tour guide will accompany, explaining features of the site as well as the Delphi Archaeological Museum.
** Check out a typical Day Trip To Delphi click here. **
Visiting Delphi Independently: The best way to visit Delphi would be by car. You can find information here about hiring a car in Athens. I have previously written an article about Delphi which you can read here – Delphi.
If you'd like to go by public bus, you'd need to check the KTEL schedule and which bus station it leaves from. Take as long as you can at the site, and you'll have the best day out from Athens!
---
3. Greek Island Day Trips: Hydra, Poros, and Aegina
The islands of Greece are all individual, unique and special. Although many of them are not reachable on a day tour from Athens, these three Saronic islands are.
Hydra, Poros and Aegina are part of an island chain located in the Saronic Gulf. They are just a few hours away from Athens by ferry, but it's much easier to visit them all as part of an organised tour.
Visiting them will give you a taste of what the islands of Greece are all about. You'll get to spend a few hours on each one, which will give a chance to explore some of the settlements such as Aegina Town and other highlights.
This trip is sometimes known as the classic '3 Islands cruise from Athens', or the Saronic Gulf islands tour.
A cruise to the nearby islands of Hydra, Poros and Aegina island is ideal for anyone who is visiting Greece, but who is unable to travel to any of the other islands during their vacation.
Visit the three islands on an organized cruise:
By far the easiest option. There are plenty available, of which this is a good example –
Three islands tour from Athens
.
Pro Tip – Prices on board these ferries to Hydra and other islands for soft drinks and food are very high. I suggest you bring plenty of your own water for the day trip.
Visit the three islands independently: It is possible to do this, but is probably going to be a pain for most people. A combination of different ferry times, prices, and ever increasing ferry strike action makes it a hassle you probably don't want on your vacation.
It's easier to visit just the small island of Hydra if you're determined to do it yourself, and it will give you more time to discover the beaches by water taxi.
You can read more about my experiences visiting Egina, Poros and Hydra here – Three islands Cruise. Yes, this was on an organised day cruise!
---
4. Athens Excursions : Mycenae, Epidaurus, Nafplio
Of all the possible day excursions from Athens, I think this one offers the most value in terms of what you can see during one day. You get to visit two UNESCO World Heritage sites, as well as a town often described as the prettiest in the country.
Starting from the city, you would drive out to the Peloponnese, and most likely stop at Corinth Canal along the way. A stop at Ancient Corinth is also a possibility, but in my opinion, it's ruins are not the best in Greece.
After that, you would continue on to the ancient sites of Mycenae and Epidaurus, before reaching the wonderful town of Nafplion.
This sightseeing tour is a must for anyone who wants to see Corinth Canal and is interested in Ancient Greece and Greek history.
The archaeological site of Mycenae is arguably the birthplace of Greek civilisation, being the most important centre during the bronze age. The incredible walls of this ancient city still amaze to this day, due to the sheer size of the rocks used.
Epidavros is also a very important place, known mainly for the unique acoustics in the ancient theater. You can quite literally hear a pin drop in the open-air theater!
The Healing Sanctuary of Asklepios at Epidaurus is also a must visit when on the site. This acted as a place of pilgrimage for people seeking cures from ailments. People from all around the ancient Greek world and beyond would travel here to be healed!
Finally, Nafplio is often cited as the prettiest town in Greece. You will see why when you visit and wander through its charming streets! The harbour with its views to the Bourtzi and Palamidi fortress is magnificent.
Note: Few people know that Nafplio was the first capital of the newly independent Greek state 1823 and 1834.
Taking a guided tour is probably the best way to experience these places if you have limited time. Find out more about visiting Mycenae, Epidaurus and Nafplio on a guided tour
here
.
Visit Independently: You are going to need to hire a car to do this journey by yourself. Or, as I did one time, a bicycle. Personally, I would visit the three places but choose to stay overnight at Nafplio if driving rather than returning to the city in one day. You can read about my experiences in Mycenae here.
---
5. Athens Day Tours: Corinth and Olympia
This is one of the longer air-conditioned bus tours you can take, but certainly worth the effort.
Ancient Olympia was of course the home of the original Olympics, and t became a center of worship of Zeus and Hera. Thought to date back at least 3000 years, it's an impressive archaeological site.
It's truly remarkable to think that ancient Greek city states would have a truce period so their athletes could travel and compete there!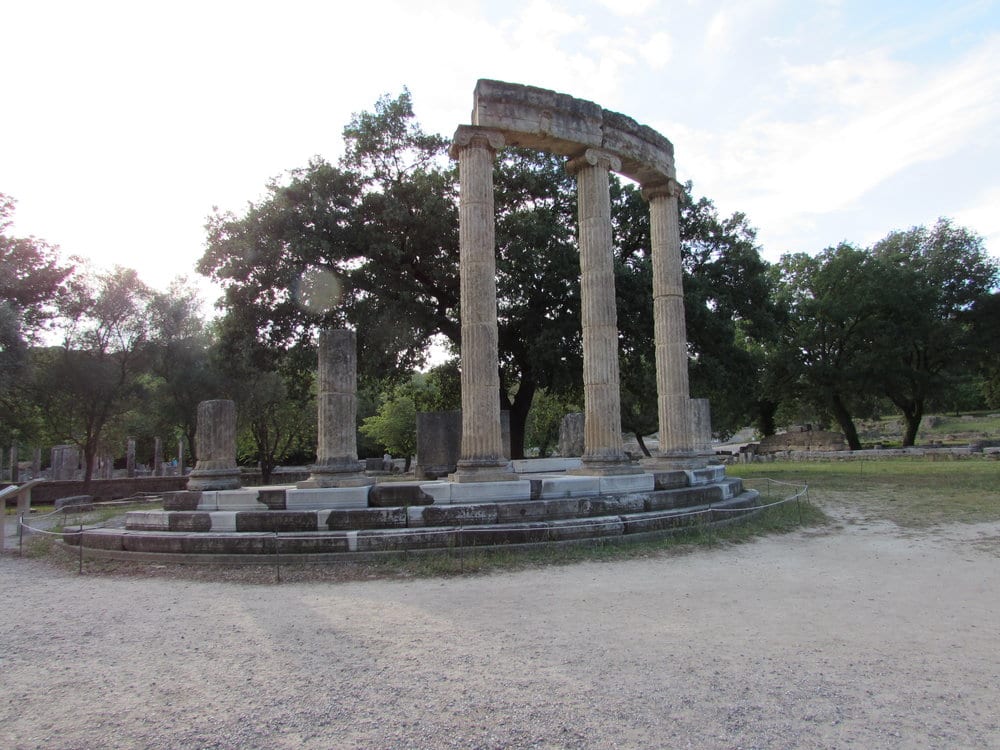 Due to the distances involved, this is really only possible when taking a private tour as opposed to a group one. It's also more expensive of course! Still, if this is the only way you can see one of the most important archaeological sites in Greece, it's worth considering.
Visit Independently: There's no escaping the fact you are going to need a car if you want to visit Corinth and Olympia on a day trip from Athens! In reality, you would probably want to stay the night at Olympia. You could then tie it in with seeing some other places of interest on the Peloponnese.
Somewhat randomly, I took some tourists on a 2 day drive in the Peloponnese, which included a trip to Olympia (this is not something I normally do!).
You can find out more here – My 2 day drive around the Peloponnese.
---
6. Meteora Day Trip
Now, I am not going to lie to you, Meteora is a LONG way from Athens. This is going to be a really full-on day trip, with a lot of time spent on a train or in a car.
If it is your only chance to visit Meteora though, I strongly suggest you give it a go. The area is quite simply breathtaking.
Meteora is a UNESCO World Heritage site situated in central Greece. It is famous for its monasteries which are built somewhat precariously on the top of huge rock pillars.
This is an area of Greece where nature and man have connected harmoniously. The views and scenery are simply incredible. Due to its northerly location, this is the longest of the day trips from Athens, but still very possible.
I've visited the Meteora World Heritage area 4 or 5 times now, and will go once again in the future because I enjoy it so much. There's something indefinably appealing about the view of the natural rock formations and feeling of wandering around the area.
---
Visiting Meteora
If you have to visit Meteora as a day trip from Athens, an organised one is better than doing it yourself. There are a number of tours are in operation, and they mostly include a train journey to reach the area. This is a typical example –
Meteora tour on train from Athens
.
Combine Delphi and Meteora:
Another good option is to take a two day tour from Athens that combines
Delphi and Meteora
.
Visit Meteora Independently: The most sensible option is to hire a car in Athens, and drive to Meteora. This way you will have the use of the car to drive around the area, which I highly recommend.
I have written several articles which you may find useful, including Meteroa – Mountains, Monasteries, and Monks. In my opinion though, you would be better staying the night at nearby Kalambaka. I've put together a useful list of hotels near Meteora here.
---
Hop-on Hop-Off Bus at Piraeus Port
If you've already visited Athens before, but have a cruise stop, you might like to choose a hop-on hop-off bus route instead.
There are several that might appeal, including ones that will take you along the Athens Riviera and to Vouliagmeni. Take a look at our best selection below.
---
FAQ About Day Trips from Athens Greece
Readers planning to spend some time exploring Athens and the surrounding areas often ask question similar to these:
What are the best day trips from Athens?
Visit the centre of the ancient world at Delphi or brush up on your history with a visit to Mycenae. Take a train to Meteora's monasteries for some breathtaking views as well as an opportunity to explore Greece's religious side, before heading out onto scenic Cape Sounion where you can enjoy sunsets over one of Europe's most stunning coasts.
Where should I travel from Athens Greece?
The best day trips and getaways from Athens include:
Delphi – Delphi is a popular tourist destination, but it also has religious importance for thousands of years! It's the city where Apollo spoke to Zeus on behalf of Earthlings in his temple there–a good spot to contemplate our own place among all living things.
Meteora – This region offers breathtaking views that will take your breath away as you see these majestic monasteries perched atop mountainsides at dizzying heights not accessible by car or foot traffic (unless we're talking about wingsuit flying!). On top of looking amazing, they offer some really cool history too with more than 30 different structures built between 1450-1540 CE.
What are the closest islands to Athens?
The Saronic islands are perfect for a weekend away from the hustle and bustle of city life in Athens. They're only 1-2 hours by ferry–great if you want to get out on a day trip or spend an entire weekend exploring what these charming little islands have in store!
The Saronic Islands, which can be found just over one hour's boat ride from Athens' port Piraeus, offer travelers everything they could hope for: beaches with white sand shores; ancient ruins like those at Aegina Town dating back 2200 years ago; friendly locals who invite visitors into their homes to share stories and food. These small but splendid isles will make great places to escape while still being close enough to enjoy on a day out from Athens.
Can you do a day trip from Athens to Santorini?
Whilst it may be theoretically possible to do a day trip to Santorini from Athens, it wouldn't be very practical. A day trip to Santorini would involve taking the very first flight out from Athens to Santorini, and then taking the latest flight from Santorini back to Athens. In a best case scenario, you might have 8 hours to do some sightseeing in Santorini, but it would be a LONG day!
Plan a trip to Athens, Greece
In addition to my top picks for tours and shore excursions in Athens, you may find these articles useful when travel planning:
---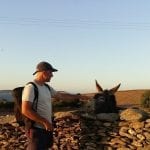 –
Dave Briggs
Dave is a
travel writer
originally from the UK, and now living in Greece. As well as creating this travel guide to day trips out of Athens, he's written many more blog posts about destinations in Greece. Follow Dave on social media for travel inspiration from Greece and beyond: