During the summer, there can be up to 8 daily Athens to Paros ferries, and 5 flights per day from Athens to Paros. This guide has all the details to make your trip planning easier.
Getting to Paros island in Greece from Athens
The Greek island of Paros is located in the Cyclades island group. It is a popular destination to visit from Athens, and is connected by flights and ferries.
Paros might not be as well known internationally as Santorini and Mykonos, but it appeals to a wide range of visitors. It's got lovely beaches, the typical Cycladic quaintness, and a great landscape.
Whether you're looking for a club that doesn't close until the small hours of the morning, or a quiet village far away from the crowds, Paros has it all!
Traveling from Athens to Paros
Thanks to its popularity, Paros is also one of the best connected islands when it comes to ferry services from Athens.
There's daily direct ferries from Athens to Paros even in winter, and the island also has its own airport. Ferries leave from all three Athens ports – Piraeus, Rafina, and Lavrio.
Most people will choose to travel to Paros from Athens by ferry.
** I recommend using the Ferryhopper site when booking Athens to Paros ferry tickets. **
Ferries to Paros from Athens
Paros is one of the easiest Cyclades islands to reach by ferry from Athens. In the summer, ferries leave from all three Athens ports – Piraeus, Rafina, and Lavrio.
There can be between 3 and 8 ferries per day sailing from Athens to Paros, with normally 3 daily ferry crossings leaving from Piraeus. Blue Star Ferries and Seajets both operate daily ferries from Piraeus to Paros island.
Quick boats with few stops along the way get from Athens to the island of Paros in around 4 hours. The ferry trip on slower boats, making stops at other Greek islands such as Andros, Tinos, and Mykonos along the way can take upward of 7 hours.
Ticket prices start from 20.00 Euros for the slower boats. Faster high speed ferries can be around 33.00 Euro.
Note: People staying in Athens city center normally find Piraeus Port more convenient to take a ferry from.
For up to date ferry schedules, timetable and tickets, take a look at: Ferryhopper.
Rafina Boat From Athens to Paros
I personally find Rafina port to be my favourite departure port from Athens, as its nature is a lot less chaotic than Piraeus! Rafina is a good choice of port to reach Paros if you want to get to your ferry directly from the airport. It also makes sense if you are staying in the northern suburbs of Athens or have your own vehicle.
In 2022, Golden Star ferries have a boat called Superferry II making the trip out of Rafina to Paros. It's quite a long journey though, taking between 6 and 7 hours depending on the day of the week.
If you find a good connection from Rafina to Paros, I'd suggest taking it.
For the ferry companies operating this route in high season, as well as other information about sailing from Rafina Port to Paros by ferry, take a look at: Ferryhopper.
Lavrio Port to Paros
Lavrio or Lavrion port is the Athens port that most visitors never hear about. This ferry port only has a limited number of routes, but Paros is one of them.
You'll find the Blue Star Ferries boat Artemis sails of Lavrio to Paros a couple of times a week during peak season.
The trip duration is rarely under 7 hours as it's a slower conventional ferry. The ticket price for this ferry ride is the cheapest though starting at just 20.00 Euros.
For up to date timetables and to book ferry tickets online, take a look at: Ferryhopper.
Piraeus to Paros ferry
Piraeus Port has the more regular connections, and so many people may find it the best port to leave from when sailing to Paros. Ticket prices for the Piraeus Paros journey start at around 33.00 Euro for a 4 hour and 15 minute journey on the Blue Star Ferries boats.
For up to date ferry schedules, timetable and tickets, take a look at: Ferryhopper.
Flights from Athens to Paros
Paros is one of only a few islands in the Cyclades to have an airport, so it is possible to fly there. There are occasional charter flight connections with a handful of destinations within Europe, which means that some nationalities may be able to fly directly.
Two domestic airlines fly from Athens to Paros airport, which are Sky Express and Olympic Air.
International travelers might consider flying first into Athens International airport, and then taking a domestic flight from Athens to Paros. You should note, that unless the flights line up perfectly, this option may be longer than taking a ferry.
Take a look at flight schedule availability during the summer season at SkyScanner.
Paros Island Travel Tips
Start your Paros trip planning the right way with these travel tips and insights:
Ferries arrive at the main port town of Parikia in Paros. Parikia is also one of the more popular areas to stay on the island. Booking has the greatest selection of hotels in Paros, all easily booked online.
---
Paros ferry tickets can be purchased online from the Ferryhopper website. This is also a good site to use if you want to continue your Greek island hopping adventures on to other islands such as nearby Naxos. Tickets can also be booked at travel agencies in Athens and the other Greek islands.
---
Be at Greek ferry ports an hour before you are due to sail, especially in Piraeus Port. The same applies to Parikia (Paros Port) for your departure, as during the summer it can become quite busy.
---
Welcome provide an easy way to pre-book taxis to and from the ferry ports in Athens. It's a good way to get from Athens city center to Piraeus, as public transport options may involve you walking quite some distance to your desired departure gate.
---
Paros can be busy in the peak month of August. If you plan to travel then, make your bookings as soon as possible, especially accommodation. I've a guide here on where to stay in Paros.
---
Transport geeks should check out my ridiculously in-depth guide to Ferries in Greece. You'll find out more about the different ferry companies and the types of vessels they operate.
---
---
What to see in Paros Greece
Some of the best things to see and do in Paros include:
Visiting the Panagia Ekatontapiliani (Church of 100 Doors)
Walk through the streets of Old Town And Port Of Naoussa
spending time in the Town of Lefkes
Relaxing at Kolombithres Beach
Hiking through Paros Park
Make sure to visit AntiParos!
You can find out much more here: Things to do in Paros, Greece
Check out my guide to the best beaches in Paros.
Ferry from Athens 2022
Important note: Please keep in mind that 2022 may be a slightly different experience when it comes to traveling in Greece by ferry. As the tourist season begins, testing may be a thing we all need to get used to.
Please take a look at my Greece travel advice for summer 2022 for up to date details.
FAQ About Traveling To Paros
Other people planning to travel between Athens and Paros ask questions such as:
How do you get to Paros from Athens?
The most popular way to get to Paros from Athens is by ferry. Paros island does also have an airport with domestic connections to Athens Airport, so flying can be an option.
Is there an airport on Paros?
The island of Paros has an airport (IATA: PAS, ICAO: LGPA), and now receives seasonal charter flights from some European destinations, in addition to having connections with Athens Airport.
Where does the Paros ferry leave from in Athens?
Ferries to Paros leave from all three ports in Athens – Piraeus, Rafina and Lavrio. The most regular year-around connections are from Piraeus, with the Rafina Paros route operating during the summer. Ferries from Lavrio to Paros operate on a more occasional basis.
How long does the Athens to Paros ferry take?
The ferry to Paros from Athens can take between 3 and 7 hours, depending on if the ferry is high speed, which Athens port it leaves from, and how many stops it will make between Athens and Paros. Generally speaking, the quicker the ferry journey the more expensive the ticket will be.
How do I buy ferry tickets for Paros?
Ferryhopper is a very good website to check Paros ferry schedules and to buy tickets online. You can also wait until you are in Greece, and then use a local travel agency to reserve Athens to Paros ferry tickets. Note that ferries can become sold out during the peak month of August, so buying tickets as soon as you can makes the best sense.
Share this Athens to Paros ferry guide
If you found this guide on taking the Paros ferry from Athens useful, please share it on social media. As Paros is also a popular island to visit after Santorini, you might also want to read my Santorini to Paros ferry guide.
You'll find sharing buttons in the bottom right hand corner of the screen, and the image below of how to get to Paros would look great on one of your Pinterest boards!
---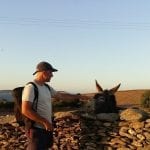 – Dave Briggs
Dave is a travel writer who's been based in Greece for the last five years. During that time, he's written hundreds of travel blog posts including this one about getting from Athens to Paros island by ferry. He has a somewhat ambitious goal of visiting every Greek island (there's over 200!) and writing about them all.
Follow Dave on social media for travel inspiration from Greece and beyond: