Let's take a look at the best way to carry a laptop on a bike when touring and bikepacking. Includes practical tips and insights.
Taking a laptop in a bike tour
Nowadays a laptop is an essential tool for many bicycle tourers, whether you're making notes and updating blogs, editing videos, or working online as you travel.
Apart from my first bike tour in 1999 when I didn't own a laptop, I've taken a laptop on all my long distance bicycle tours.
This includes short one and two week tours, as well as the more epic ones such as cycling from England to South Africa, Alaska to Argentina, and Greece to England.
I've taken various types of laptop, which include ones with traditional hard drives , as well as ones with solid state drives (SSDs). I've also taken laptops that are built for travel, and ones that aren't.
Tips for carrying a laptop when cycle touring
If you're thinking to take a laptop on a bike tour, you may be wondering how to pack and carry it. Here are some of the ways that I've successfully carried a laptop when bicycle touring that you might also want to use.
Wrap the laptop in your clothes
The first time I took a laptop on a bike tour was in 2006 when cycling from England to South Africa. The idea was to use the laptop to update my website as I travelled.
At the time I was really cycling on a budget, so most things were improvised including how I stored my laptop when cycling. Basically, I wrapped my clothes around the laptop, and put the clothes plus laptop inside a packing cube. This packing cube then went inside my rear pannier.
This method worked quite successfully, although it wasn't so optimal when most of the clothes were in urgent need of some laundry!
At the end of the tour, the laptop still worked, so we could consider that this method of carrying a laptop on the bicycle worked well. Especially when you consider it was a regular hard drive machine.
Also read: Are packing cubes worth it?
Use a padded laptop sleeve
if the idea of wrapping your laptop in your clothes doesn't appeal, or you're worried about damaging your computer, then investing in a laptop sleeve may be the best option.
I recommend looking for a neoprene sleeve that has good padding to offer better protection against bumps and knocks. Sleeves may also have some space to store the power cable and some other accessories.
A water resistant sleeve would be a great choice, but you could always put the padded sleeve inside a plastic bag.
Electronic Organizer Bag
In a similar way to a laptop sleeve, a good sized electronic organizer bag can be a good way to pack your laptop during a bicycle tour.
I have a Bagsmart organizer in which I can keep my cables, power banks, SD cards, and is also big enough to put my laptop in. This also means I have just one bag with my electronic devices in so it's easy to keep track of. It's not waterproof though, so…
Put it in a waterproof bag
The last thing you want is for your laptop to get wet. I would suggest that whatever packing method you use, you should also put this into a waterproof bag.
Of course, your cycling panniers are most likely waterproof as well, but the extra layer of waterproof protection might be a good idea.
Bike Laptop Bag
If you are commuting, then a laptop bike bag might be a good asset. For bike touring, I wouldn't really recommend it.
Wearing a laptop backpack when cycling for any great distances is not a good idea (I talk from experience!), and this also applies to laptop bike bags.
Put the laptop in the rear panniers
Once you have wrapped your computer using whatever method suits you better, I suggest that you aim to store it in one of your rear panniers. It will be more stable there, and this also makes it more difficult to steal especially if you have a rack pack on top of it.
I tend to pack the laptop on the inside of the pannier, closest to the rack. This is probably the most protected place it can be on the bike. I then make sure that the pannier is packed tight so that nothing can move.
No liquids in the laptop pannier
Even if it is wrapped in an additional waterproof sleeve, I don't keep any liquids in the same pannier as my laptop. Common sense goes a long way to keeping the computer safe and in good working order on a cycle tour!
Avoid bumps in the road
With your laptop wrapped and packed, perhaps you want to look at the route and terrain you are cycling in. If you are riding through a very bumpy area, go slowly so as to avoid bashing the laptop up and down.
Messenger Bags
In the same way that I don't recommend a backpack for carrying your computer, I think a messenger bag would also not work out well as part of a long term bikepacking setup.
Eventually, the shoulder straps will become uncomfortable and cause rubbing, and the extra weight on your back won't do you any favours in the long run.
FAQ readers have about cycling with a laptop
These are some of the most common questions people have when thinking to ride with a laptop on a bicycle trip:
How do you carry a laptop on a bike?
You can carry your laptop on your bicycle either in a padded laptop sleeve, an electronic organizer bag, or in a waterproof bag.
How do you carry your stuff when cycling?
Bicycle racks and panniers are the most popular way of carrying gear on a bicycle tour. Frame bags used in bikepacking are also gaining in popularity as a way to carry equipment when cycling.
Is it safe to cycle with a laptop?
You can carry your laptop on either side of a bicycle in many different ways. It is safe to do so if you take precautions to make sure that the laptop will be protected against bumps and falls.
How much weight can a touring bike hold?
Most long distance cyclists on a bike tour carry around 25 kg of gear which may include food and water. I've seen some cyclists touring with an astonishing 50 kg of weight when bike touring.
The laptop sleeve or a bigger bag are both useful things to carry your laptop on a bike tour. Both of these can help make sure that your laptop is protected from spills, bumps, and thieves. When it comes to which type of bag you should get, it's really up to what fits the best with the way that you ride or how you want to transport your laptop.
I hope this article has helped you find some information on how to carry a laptop when bike touring. Remember, it all comes down to the individual and what is more convenient for them.
Bike Touring Tips
You might also like to spend some time reading these other guides and insights:
Best way to carry laptop on bike
By storing your laptop in a waterproof pannier on the bicycle's rear rack, you make it more difficult for thieves to steal and also give it vibration protection from bumps in the road. If you are riding through a very bumpy area, go slowly so as to avoid bashing the laptop up and down.
Have you got any tips for bikepacking with a laptop? Leave a comment below to share them with the cycling community!
---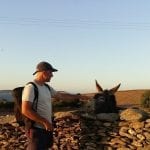 –
Dave Briggs
Dave is a
travel writer
who has been sharing bicycle touring tips on this website since 2005. If you enjoyed this guide carrying a laptop while bike touring, you might also like his other blog posts about camping, bike touring, and travel. Follow Dave on social media for travel inspiration from Greece and beyond: